Fall in love with your makeup with these hot looks to get you prepared for Valentine's Day! Each look features sparkling shadows, highlights, lips, and sparkling ladies to match. I created this article with the help of some very talented, up-and-coming makeup artists to give you and your friends inspiration or simply some recommendations of new products to try - most of these looks will have a corresponding detailed product list and personal favorites, fit for most any beauty diva on a budget, and then additionally are titled appropriately based on the hues used and styles of each woman featured.
---
1. Callie


LOOK #1: "Old Hollywood Glamour Meets Cupid"

With a bold red lip and glowy/gilded eye-makeup you're sure to turn heads anywhere you go on February 14th. To achieve this look, Callie used:


Eyes: Anastasia Modern Renaissance palette: Warm Taupe and Burnt Orange for center base, Golden Ohcre for crease. Then Tarte In Bloom palette: Jetsetter for crease and Leader for outer corner and Flower Child for brow bone. Anastasia Modern Renaissance in Primavera and Kat Von D Metal Matte palette in Flash for sparkle center. Tarte Tarteist mascara.
Highlight: Anastasia's Sweets Glow Kit in Butterscotch.
Lips: Makeup Forever liner in Red, Anastasia's lip primer, and Anastasia's liquid lipstick in Sarafine.
Primer: eye shadow primer is the Urban Decay original eye shadow primer potion in Nude.
Face: Lancôme Teint Idole Ultra 24H makeup foundation, It Cosmetics Sculpted Face Contour Kit used in the darkest shade, Mac blush in Harmony, Anastasia Sweets Glow Kit in Grape Soda.
Brows: Anastasia's Brow Wiz in Ebony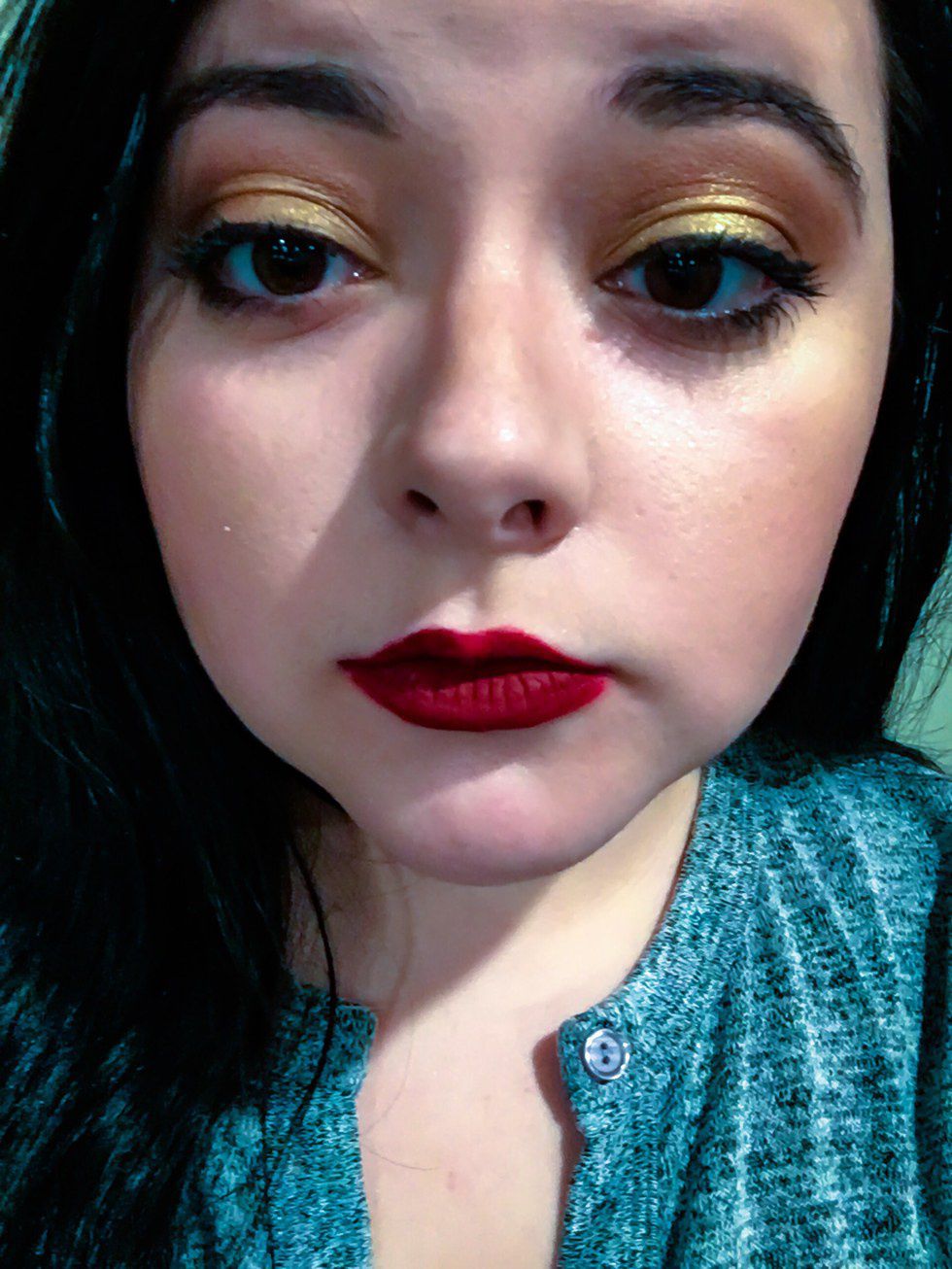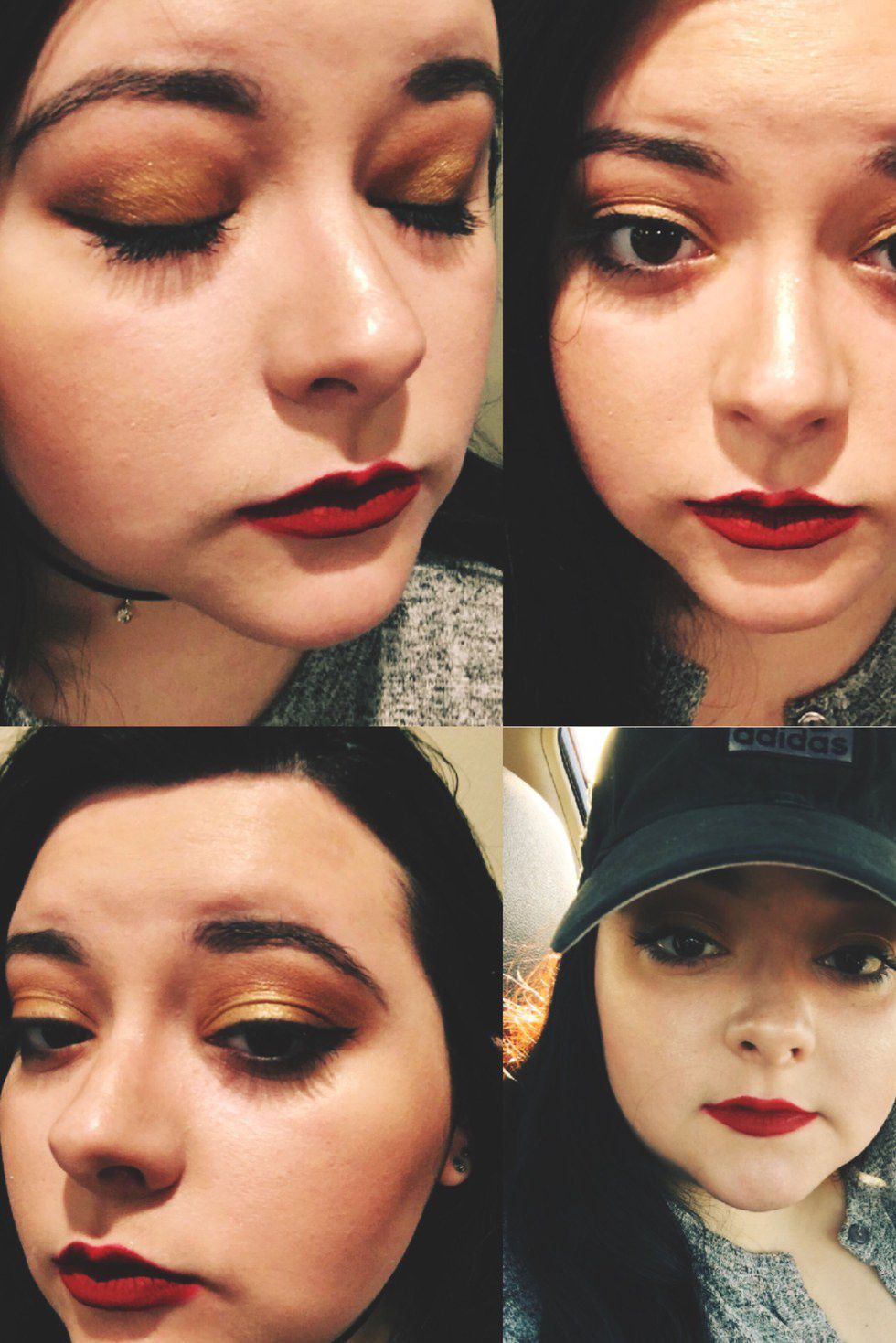 ---
LOOK #2: "Sultry Dark Rose"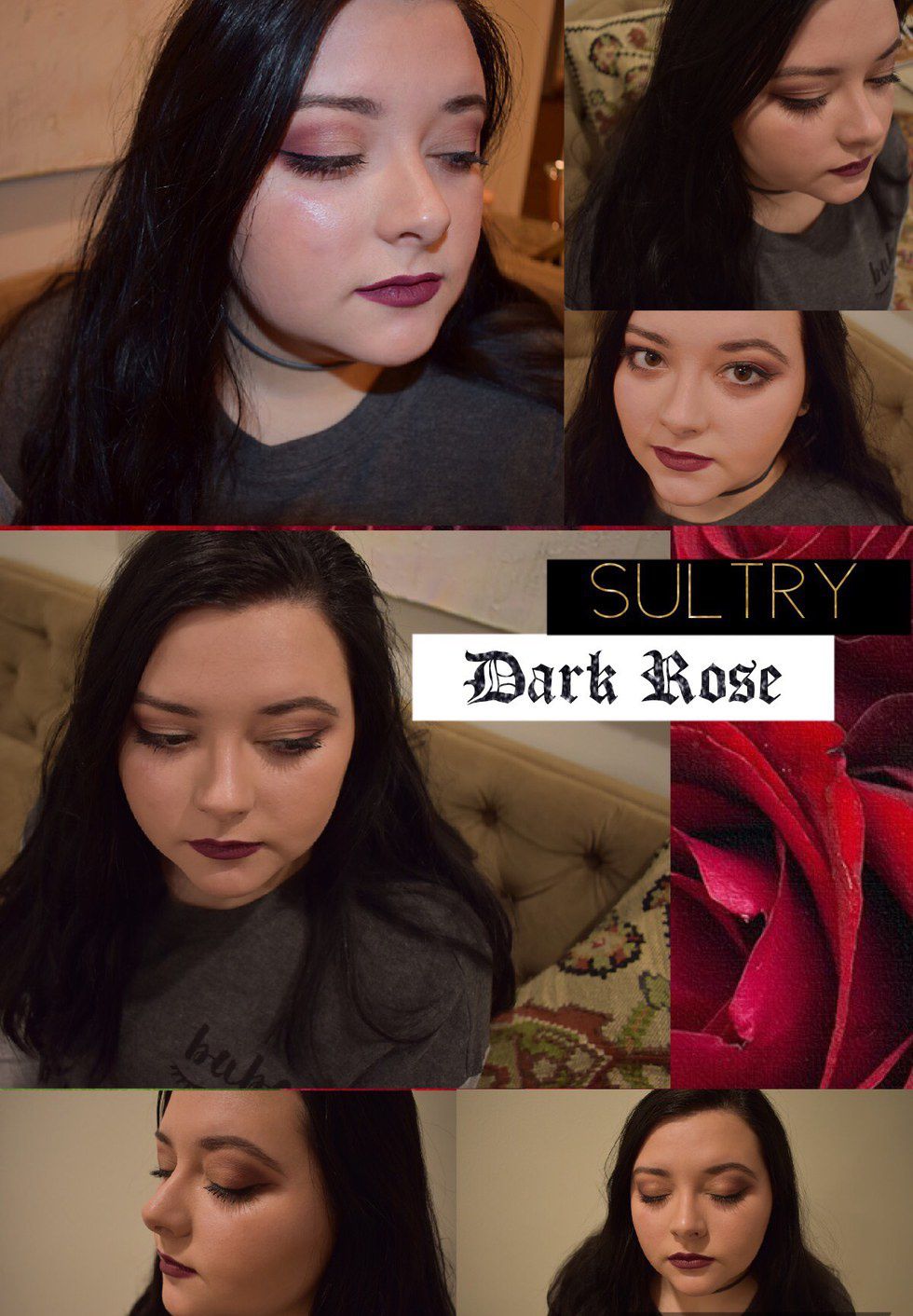 Going to dinner that night or have a hot date with a bottle of the finest Red money can buy? Refer to this sexier, edgier look for inspiration!

Products Callie used:

Eyes: Tarte's Tartelette In Bloom palette: Flower Child and Smarty Pants all over, Jetsetter for crease, Charmer for brow bone and Leader for outside corner lash line. Kat Von D Metal Matte palette: Silk and Velvet for outer corners, Glitz for center. Silk and Velvet also used underneath the eye. Anastasia Modern Renaissance palette in Love Letter used on outer corner. Anastasia's Sweets Glow Kit used on center in Grape Soda. Stila liquid liner in black. Tarte Tarteist mascara (black and gold).
Face: Lancôme Teint Idole Ultra 24H makeup foundation, It Cosmetics Sculpted Face Contour Kit used in the darkest shade, Mac Blush in Harmony, Anastasia Sweets Glow Kit in Grape Soda.
Brows: Anastasia Brow Wiz in Ebony.
Lips: Urban Decay lip liner in Venom, Anastasia lip primer, and Lime Crime liquid lipstick in Beet It.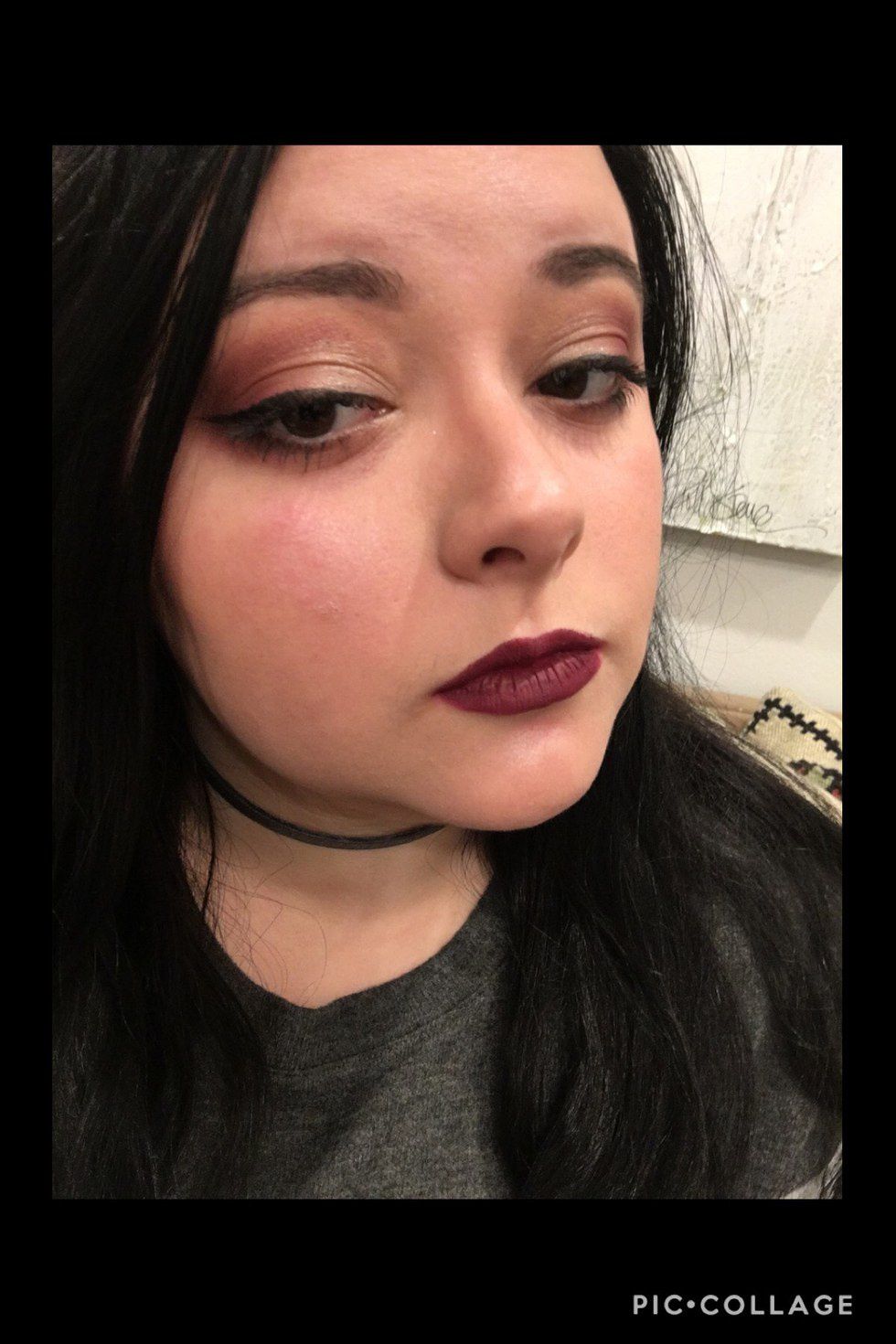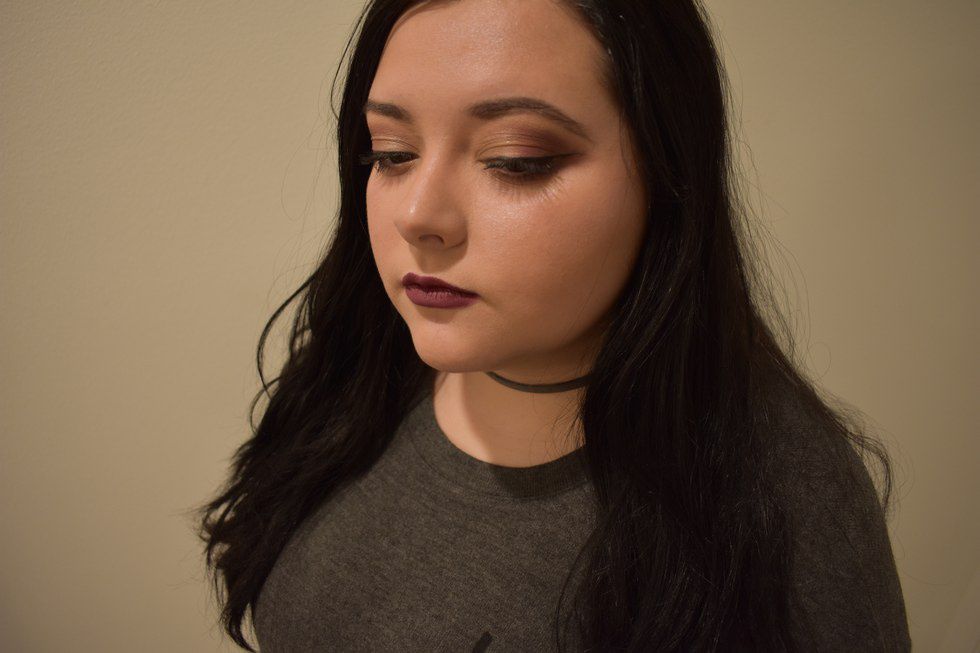 ---
2. Cameron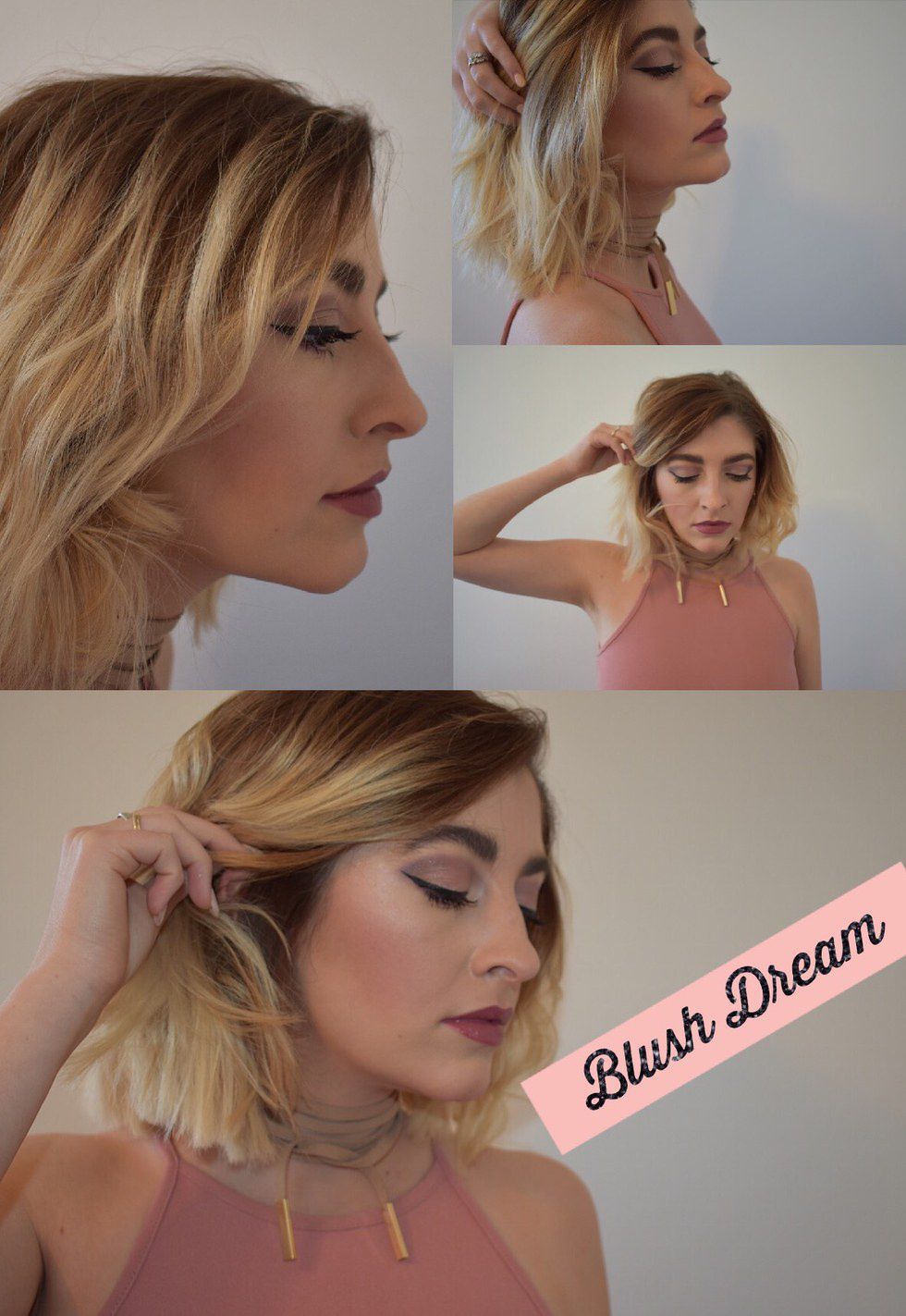 LOOK #3: "Blush Dream"
To achieve these vibes of girly and playful, Cameron used blush tones to create an adoring and strikingly beautiful Valentine's look.
Face: Glossier. Priming moisturizer. Fiona Stiles matte finish foundation (05).
Contour: Too Faced Cocoa Contour (mix of deep and medium mocha).
Highlight: Cocoa Butter from the Carli Bybel Palette.
Blush: MAC Love Joy.
Brows: ABH Dip Brow (dark brown).
Eyes: Carli Bybel palette (The colors aren't labeled.)
Crease: top 4th from the left
Outer corner: top 5th from the left
Lid: top 2nd from the left
Middle lid: middle 2nd from the left
Eyeliner: Tarte's Tarteiot liquid liner
Lips: BH Cosmetics Nude Lips palette (The colors aren't labeled.) A mix of 4th row 2nd to left and 2nd row 6th to the left.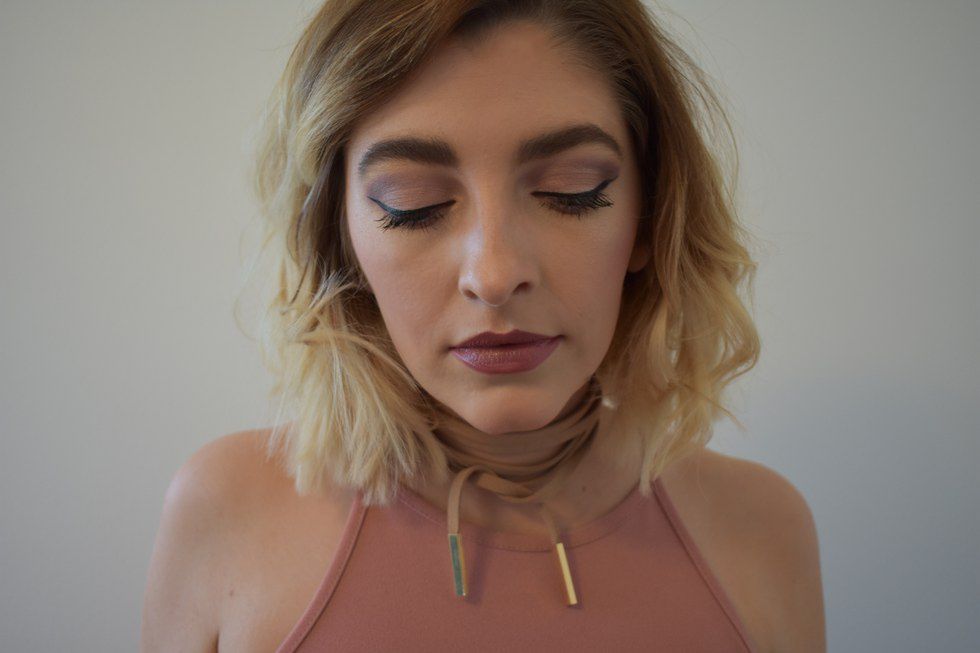 ---
3. Brittany


LOOK #4: "Heart of Rose Gold"
For an ultra chic, yet inviting look, try this combination that is sure to steal some hearts!

Key Products used are pictured above, but to create this look at a friendlier cost, Brittany suggested: The Makeup Revolution London Iconic 3 palette and Covergirl Outlast All Day Lip Color in Ultra Violet.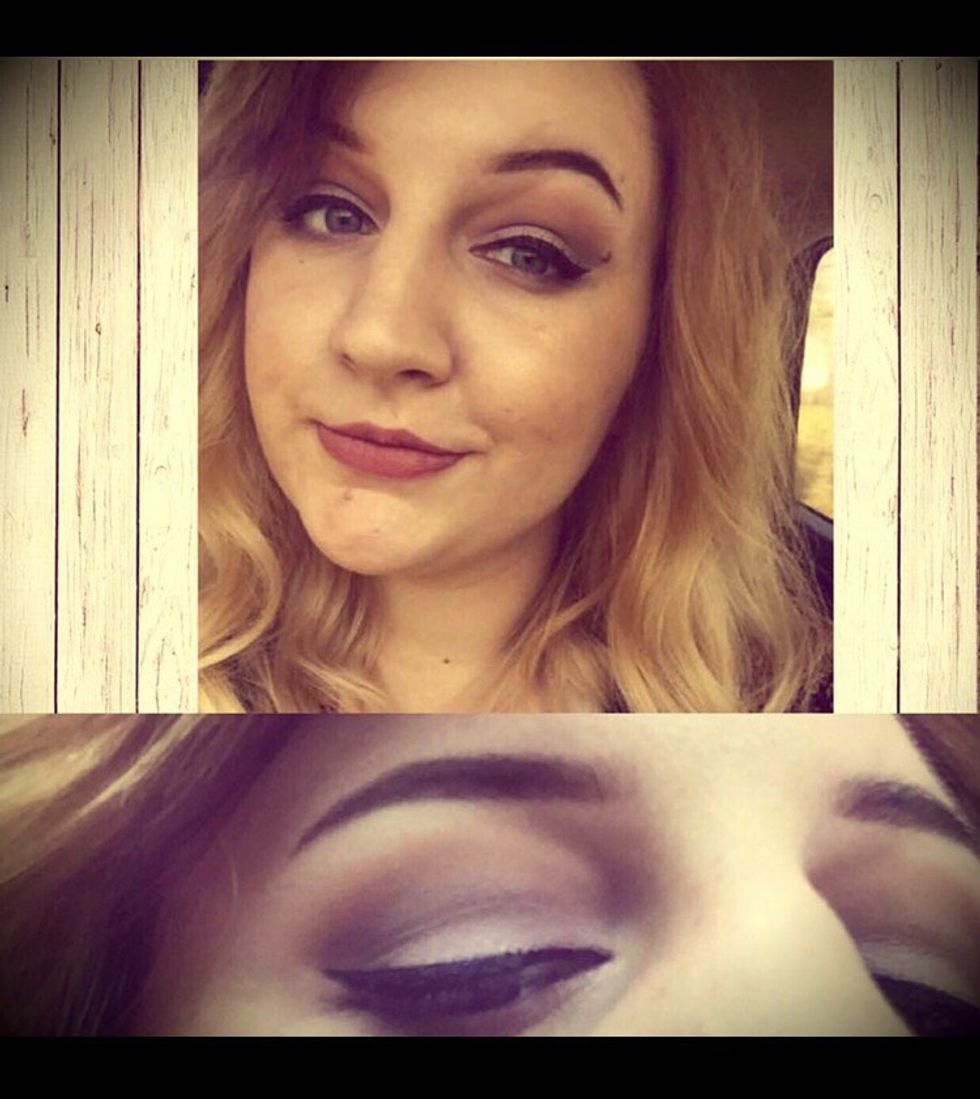 ---
4. Danera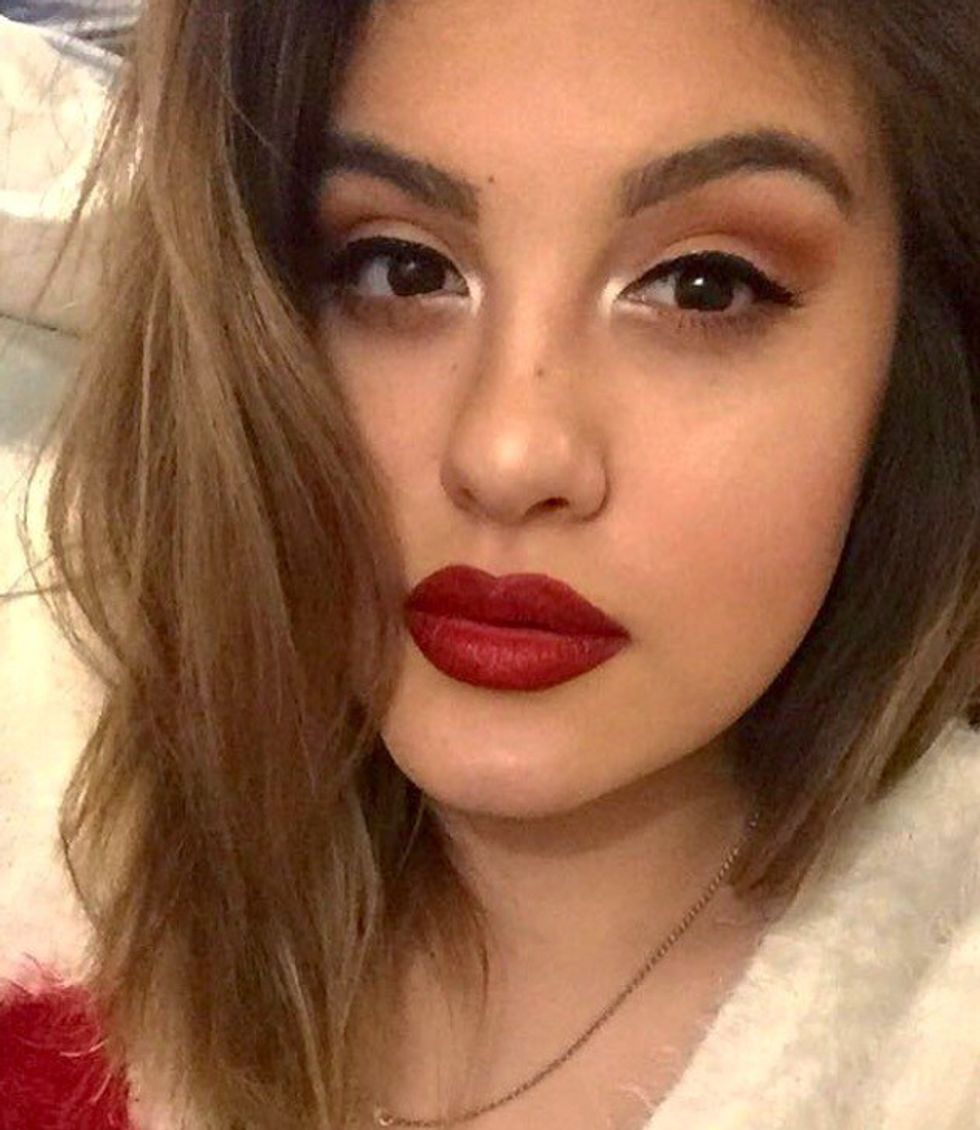 LOOK #5: "Romantic and Vivid"
Vintage ballad meets modern love story with this dark red lip and natural tones with gold hints on the eyes.

Products used: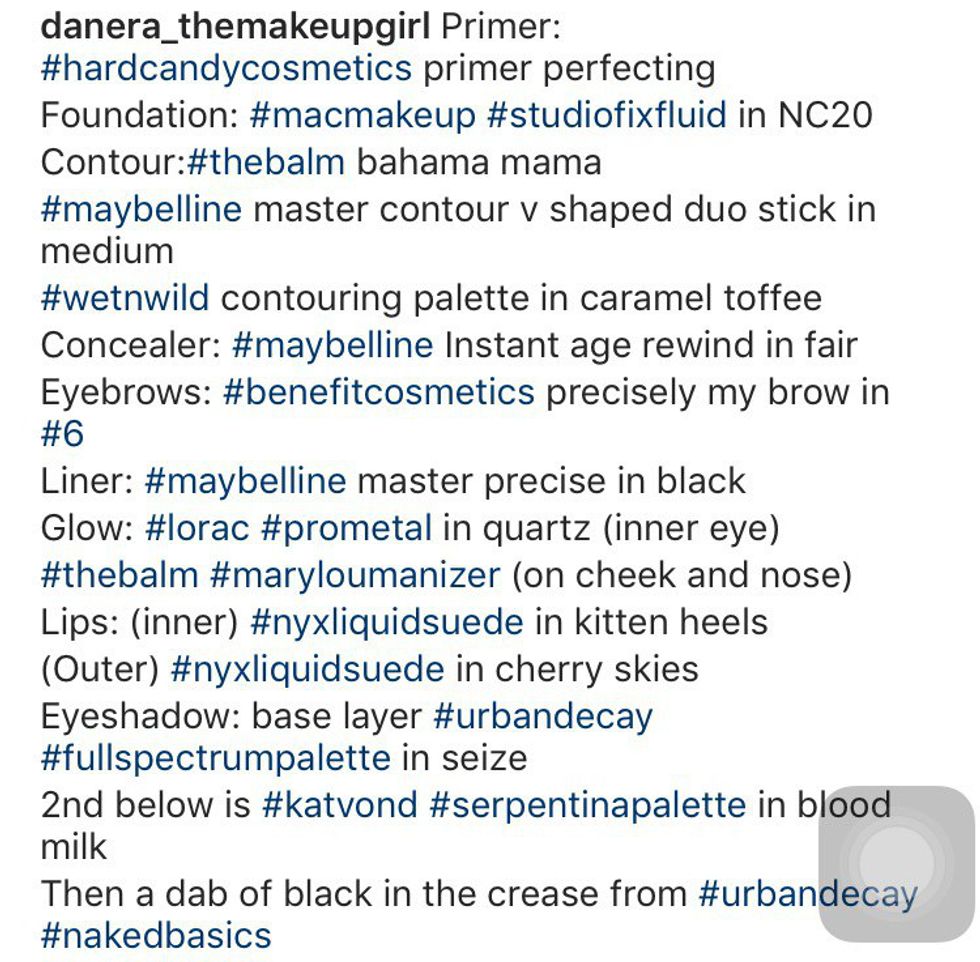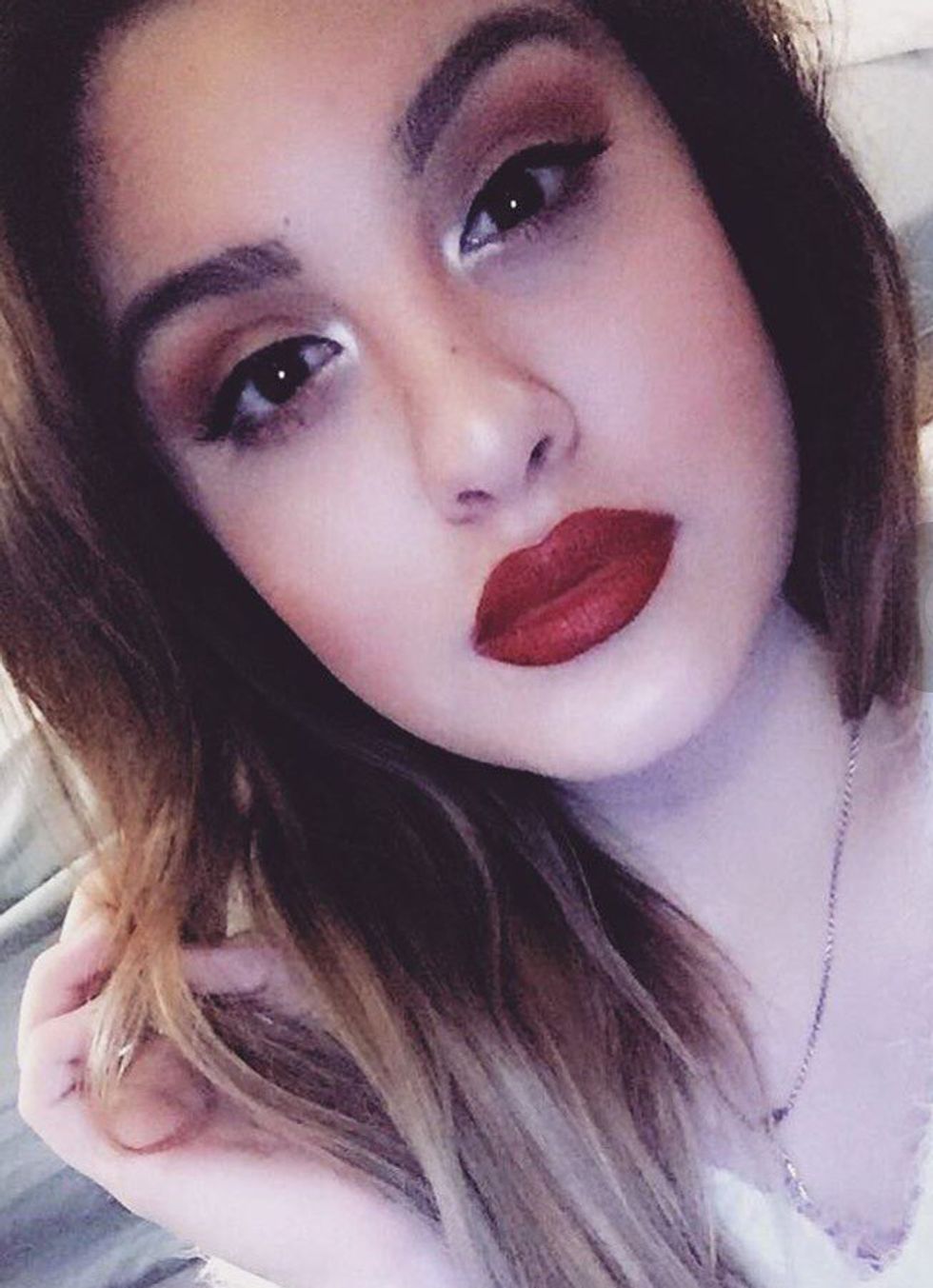 ---
5. Aidan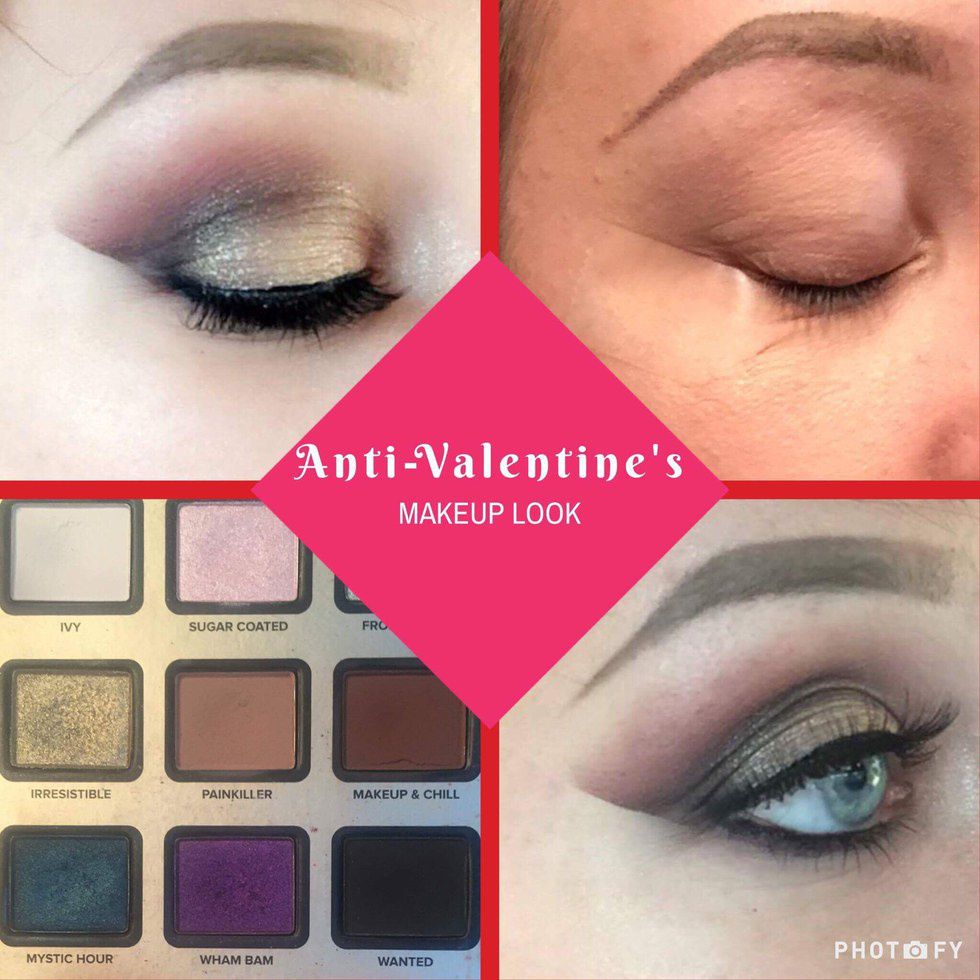 LOOK #6: "Anti-Valentine's Day"
Over the hearts and flowers thing? Couples make you kinda sick? Or does the thought of wearing pink & red to excess disgusts you? Well, maybe you should object to it all by going ANTI-Valentine's day! Sexy-grunge vibes FTW!

For this makeup masterpiece, Aidan used Too Faced Nikkie Tutorials The Power of Makeup palette: for the featured eye look she used shades, Painkiller and Makeup and Chill, and Irresistible. Wanna know her big secret? She used an LA Color blush from the dollar store for the crease color!
---
6. The author of this article ...ME!



LOOK #7: "Pink Sweetheart"
For a sweet as candy look, try using soft pinks and lots and lots of sparkles!


Products I used for my Valentine look:
Eyeshadow: Estée Lauder PURE ENVY Makeup Essentials palette, shades Fierce Safari, Defiant Nude, Fiery Saffron, Provocative Petal, Currant Desire, & Dark Ego. Also used: Rue Beaute Neon Metallics palette and NYX eyeshadow in shade Platinum Pink.
Eyeliner: Rue 21 HD felt tip eyeliner
Mascara: L'Oréal Voluminous Lashes.
Face: Maybelline FitMe in 115 liquid foundation, ULTA minerals powder foundation, Wet N' Wild Megaglo contouring palette in shade Dulce de Lette.
Lips: Rimmel London lipstick in shade Candy 002, and light pink glitter gloss - Sparkle and Shine Victoria's Secret lipgloss.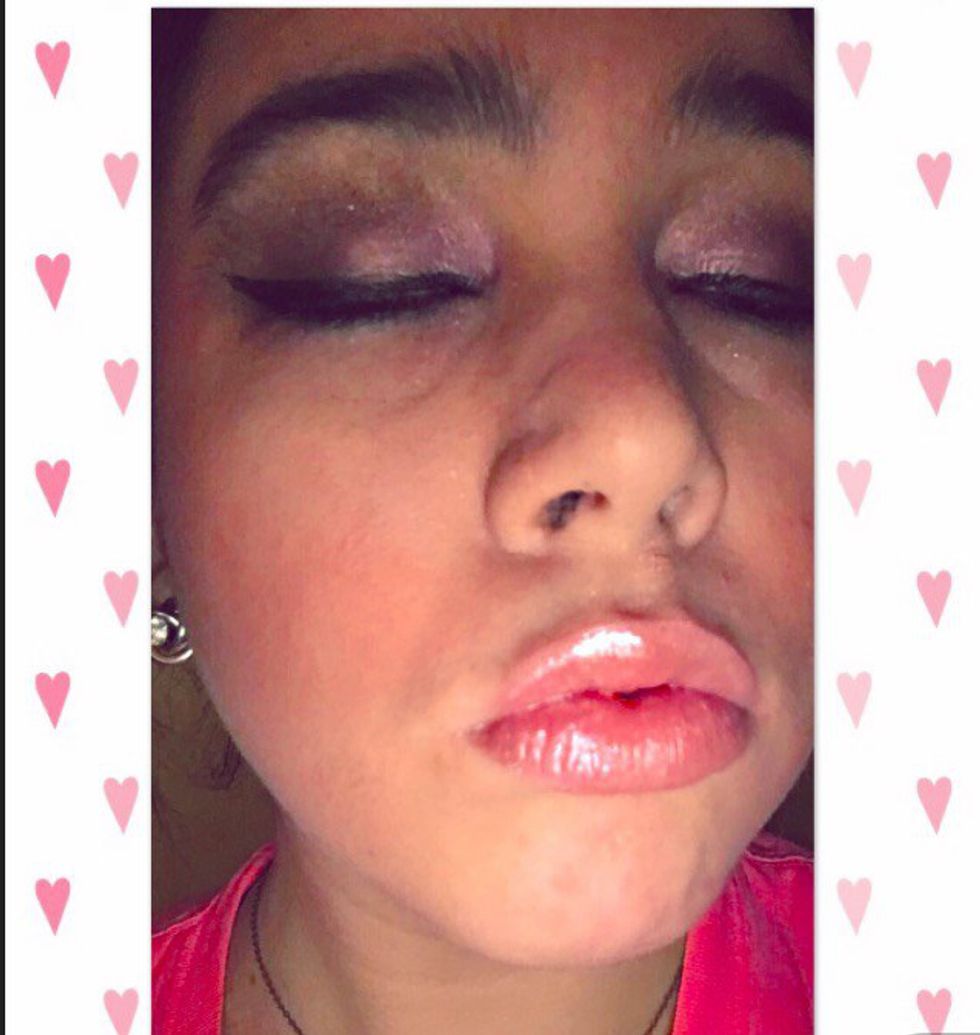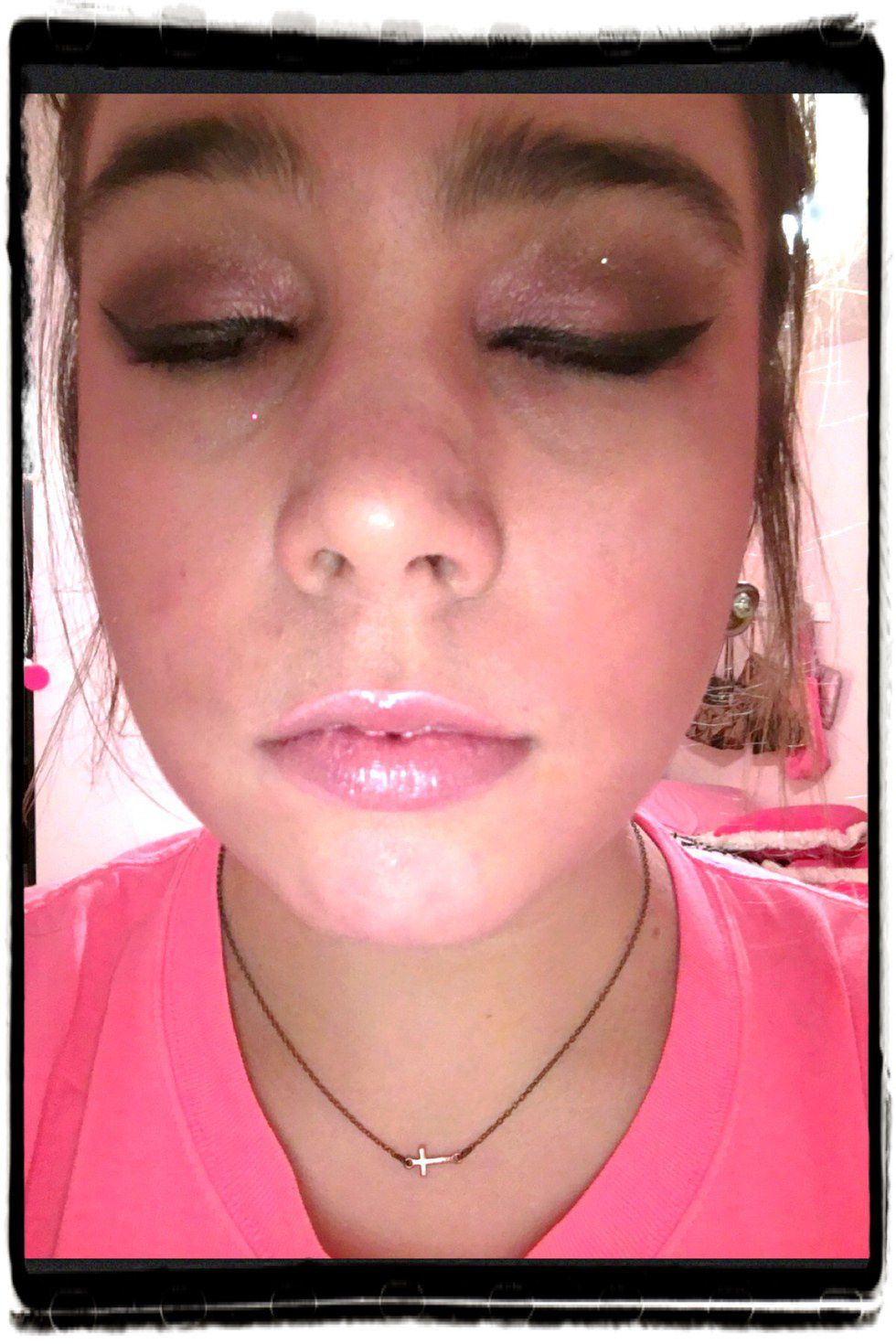 ---
LOOK #8: "Adoring Pinks"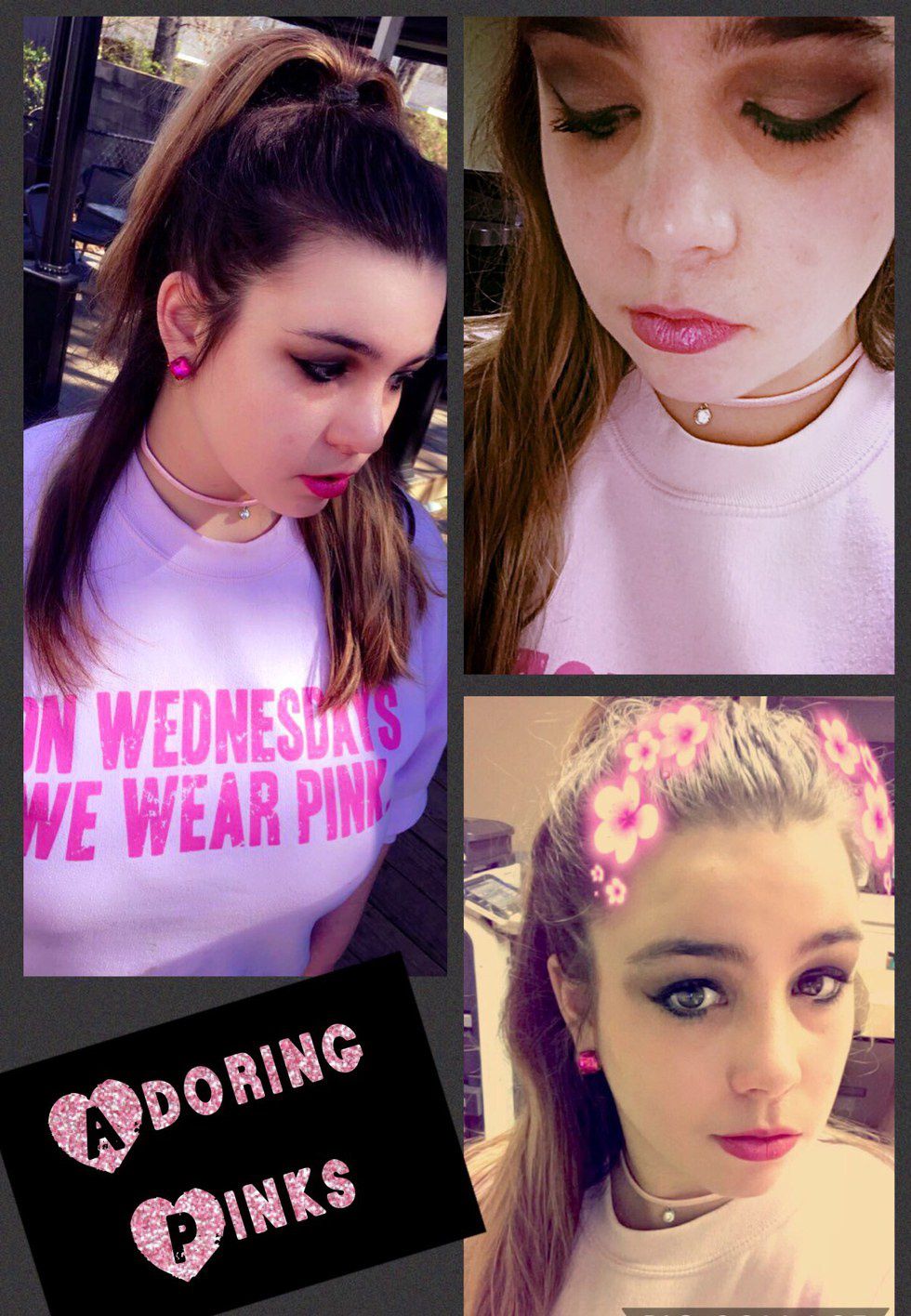 A more relaxed smokey eye look looks FAB with bright hot pink matte gloss and pink accessories.

Products I used:
I used most of the products mentioned in my first look, except here I'm using some basic shades from the Urban Decay Naked 1 eye palette: Virgin, Naked, & Hustle. For eyeliner I used Estee Lauder's blackest black, and for my lips I'm wearing Taffeta by Lime Crime.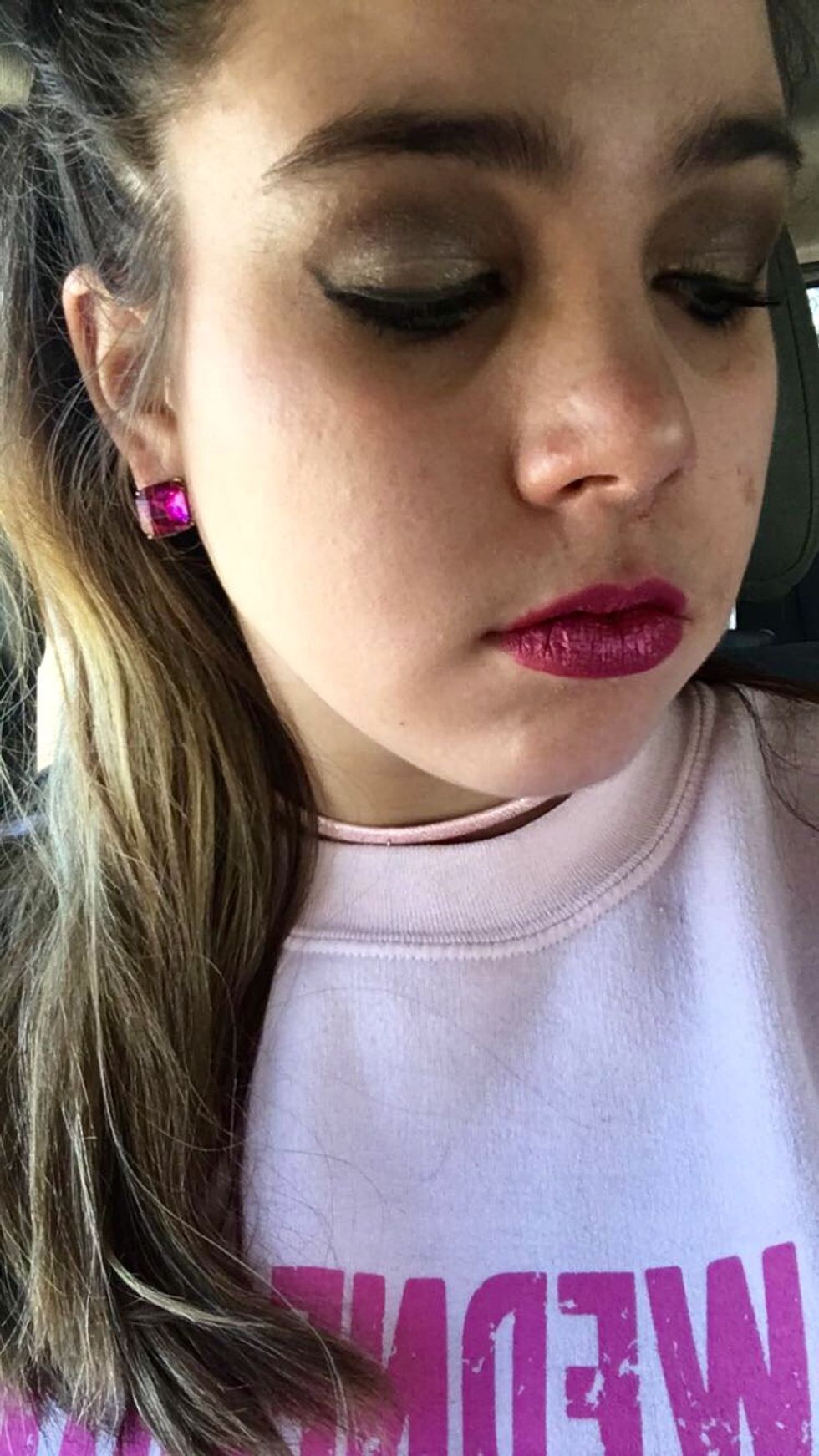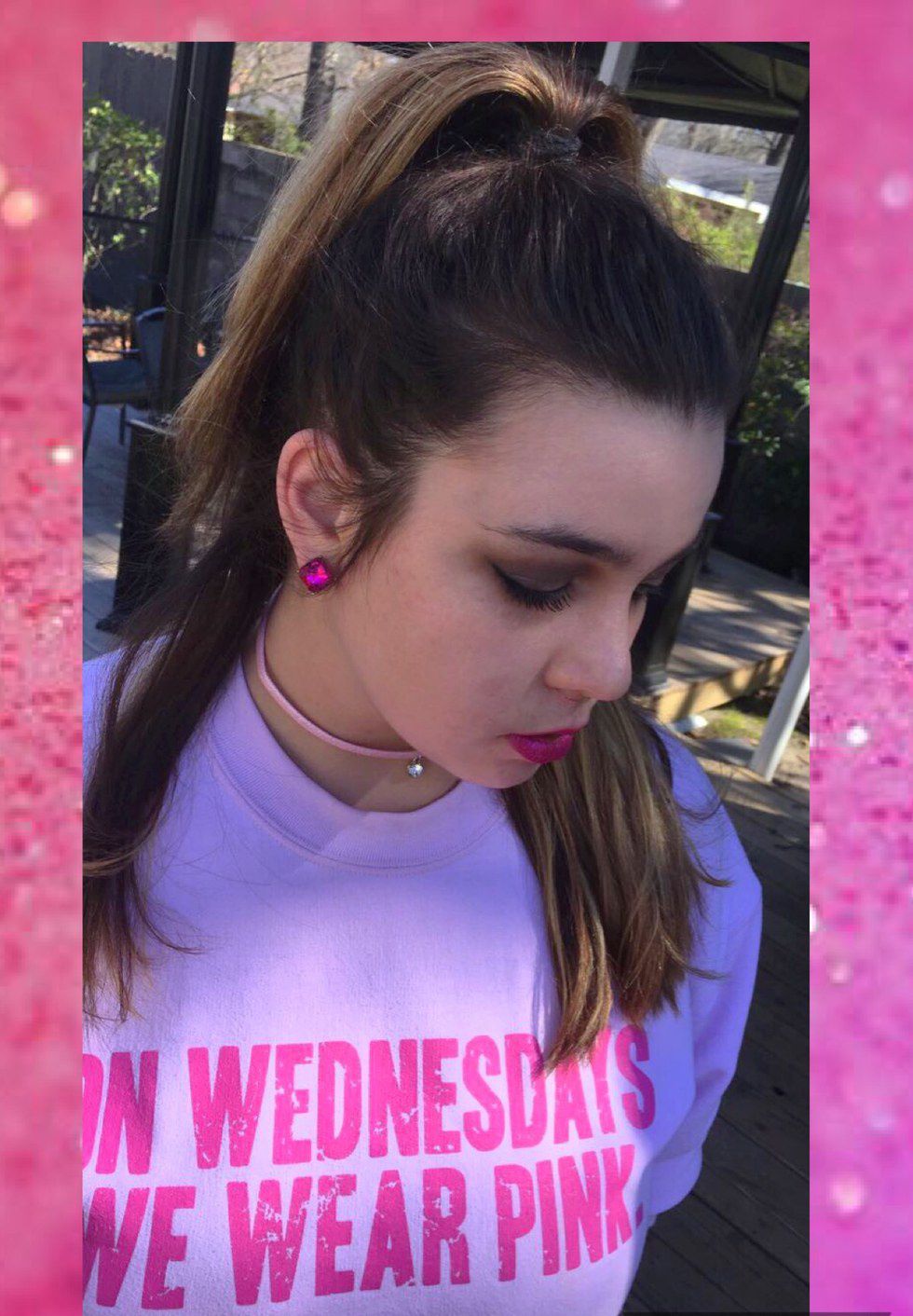 ---
7. Mimi





LOOK #9: "Be Mine Metallics"
For this look, I did my mom's makeup. And while most of the pics don't do it justice, as we kept laughing the whole time, I was going for a sassy/sweet combo.

Products used:
Face: foundation/base: Age Defying L'Oréal base. Estee Lauder blush from Estee Lauder Pure Envy palette. Ulta bronzer. Physician's Formula Happy Booster cheek tint/bronzer. Ulta eye primer.
Eyes: Urban Decay Naked 1 & 2 eyeshadow palette. Maybelline black eyeliner. Maybelline Falsies Mascara in black.
Lips: NYX Lip Lingerie in Exotic and NYX Cosmic Metals matte lip gloss.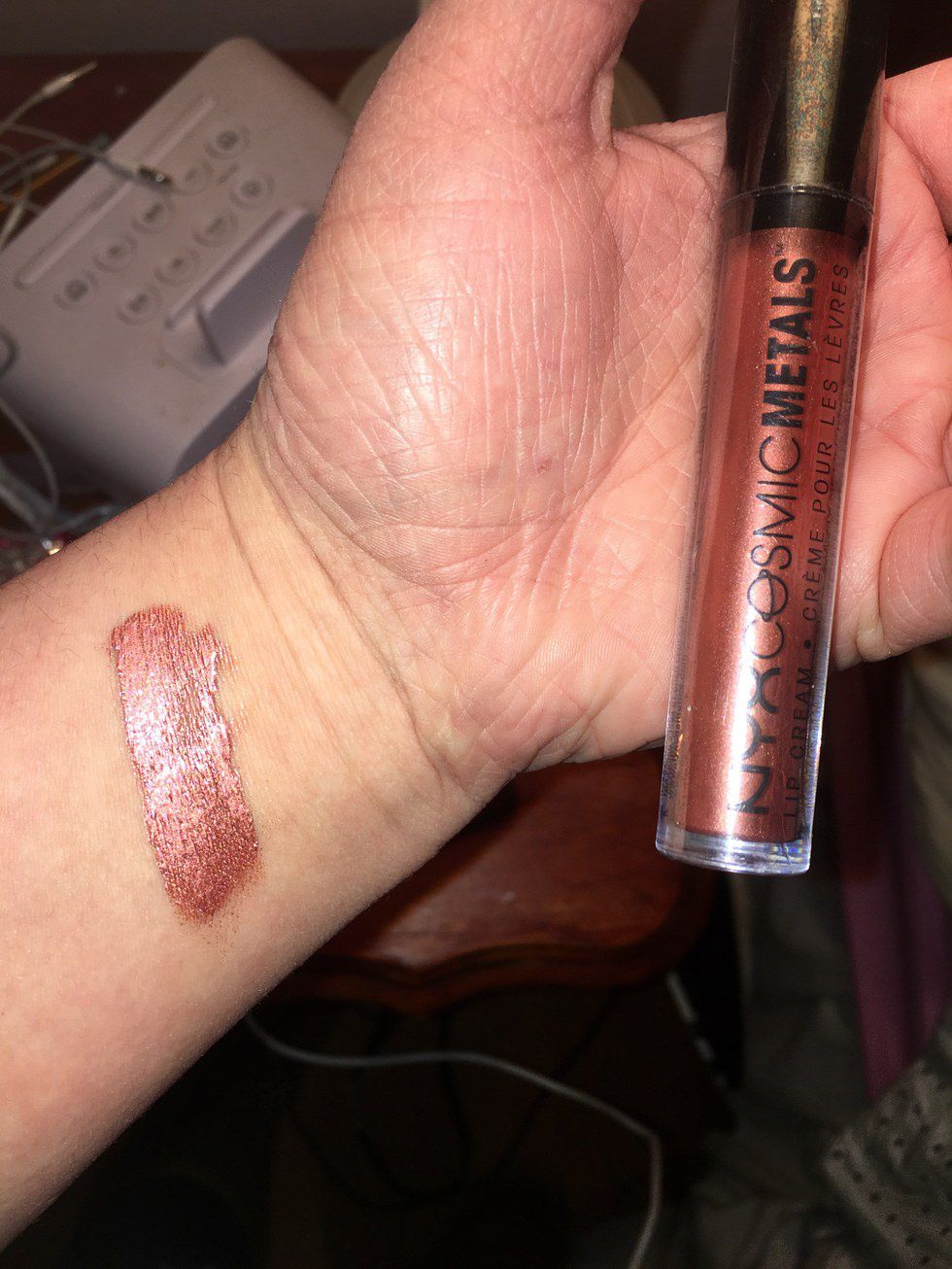 ---
Additional beauty product recommendations:

Lime Crime's matte lip glosses in shades Wicked, Polly, Red Rose, Jingle (also known as Red Hot), Vibe, Happi, and Pink Champagne.
Anastasia's liquid lipsticks in shades Veronica, Sarafine [the perfect red], Ashton, and Sad Girl.
NYX gloss in shade Bedtime Flirt.
Kat Von D Everlasting Lip in shade Exorcism.
Tarte Lillie Lingerie in shade Envy.
For natural gloss, Lancôme's Piece of Cake gloss.
Tartelette 1 & 2 eyeshadow Palettes.
Smashbox for lip gloss and lipsticks.
Benefit They're Real mascara.
Drugstore brand shimmer powder (trust me!).
Victoria's Secret Velvet matte lip gloss.

---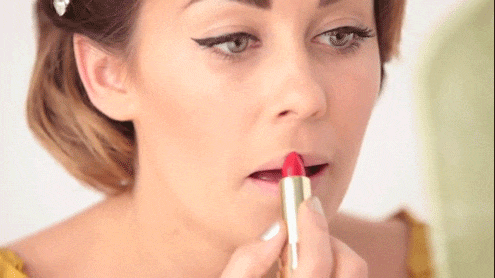 May your eyeliner wings always be sharp as a knife, your lips bold and smooth, and your face dewey and glowly. Happy Valentine's Day to all the beautiful women and men out there and remember you're a beautiful god/goddess even without the shimmer and lines!