I'll forever be grateful for the night my roommate asked "Do you wanna watch Grey's together?" I always told myself I'd never watch it; it looked boring, and to be honest, I thought it'd be stupid. But, I wouldn't pass up an opportunity to bond with my roomie, so I said yes. We started watching it together, but she eventually went on without me and I had to decide whether I really wanted to watch it anymore. I ended up watching episode after episode, but figured I'd eventually stop. I couldn't. I just finished watching season 12 on Netflix, and I can't wait for more! Grey's has been an emotional rollercoaster, and through it, I've picked up some tips to apply to my own life via my favorite character, Cristina Yang. Of the many lessons from her, these five stick out to me the most.
1. Dance it out.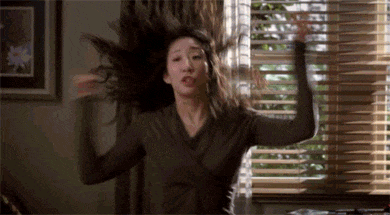 "Shut up! Dance it out."
Whenever Meredith and Cristina need to chill out, they dance it out. Relationship problems? Dance it out. Work was rough? Dance it out. Missing someone? Dance it out. Saying goodbye? Dance it out. I tend to find myself dancing it out alone in my house, and it just feels good. When in doubt, dance it out. Dancing is just liberating, no matter the circumstance.
2. Don't let people take pieces of you.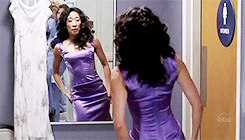 "[Burke] took something from me. He took little pieces of me. Little pieces over time, so small I didn't notice ... He wanted me to be something I wasn't and I made myself into what he wanted."
Stand firm in your self love. To do that, you've got to be a person that you want yourself to be. People will try to take parts of you or change you, no matter how much you love yourself as you are. Learn from Cristina and don't take that from anyone. Stand firm and be unapologetically you. Learn the difference between making sacrifices for someone and letting them take pieces of you. Once you learn that, you'll be unstoppable, able to make sacrifices while still standing firm.
3. Do what you need to do to get back to yourself.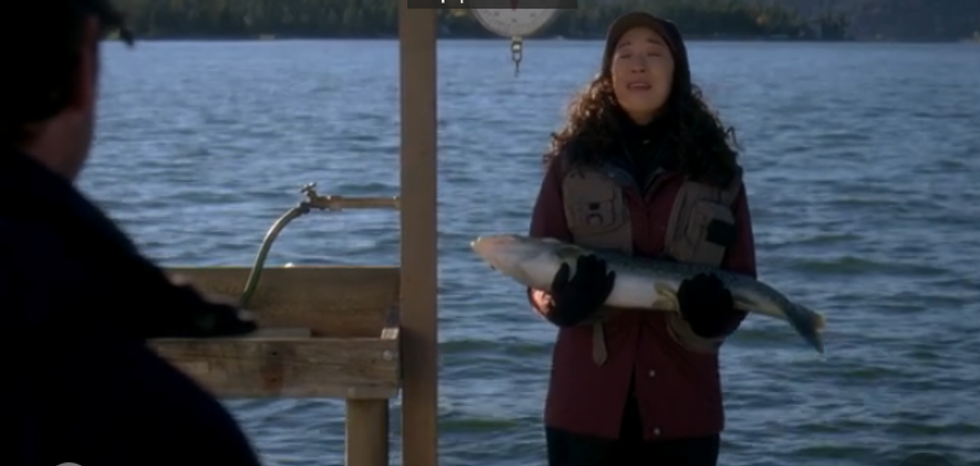 "I can't stop. I can't turn my mind off."
When in the midst of an incredibly rough patch, Cristina quit her job, became an inadequate bartender, renovated/redecorated her whole apartment, butchered her roommates haircut, and went fishing. Finally, she got back to herself. She showed me that you can be a complete train wreck and come out of it stronger. Things often get worse before they get better, but when you finally have that breakthrough moment, when you catch the fish, you'll know.
4. Don't compromise big parts of yourself in any relationship.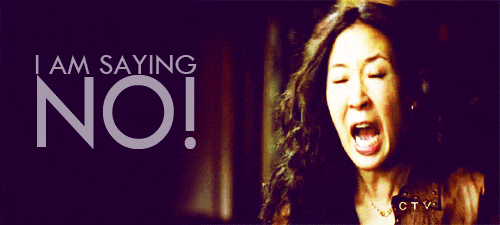 "Do you know who you are? Do you know what's happen to you? Do you want to live this way?"

My favorite couple on Grey's is Cristina and Owen. I ship them so hard, but I knew that, ultimately, their relationship would fail. Owen wants, almost needs, kids, but Cristina cringes at the thought. Cristina weighed her options, but made the decision to end everything between them. Not wavering in your wishes in life isn't selfish. It's taking care of yourself, something you have to do before you can even dream about taking care of someone else.
5. Recognize yours and other's worth.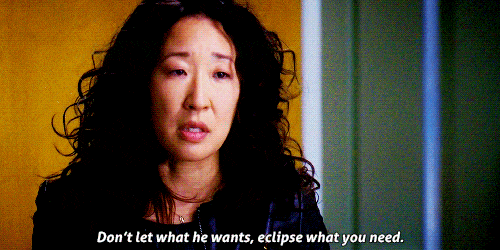 "Don't let what he wants eclipse what you need. He's very dreamy, but he's not the sun. You are."

With this quote, Cristina is directly giving advice to Meredith. Cristina, through her many seasons on the show, has learned her worth. She knows it, but she also recognizes other's need to shine. Sure, we can find balance with other people, but don't let them eclipse your shine; Shine together. Recognize your own worth, recognize other's. The sun is just a star, after all, so make constellations.