Welcome back
Sign in to comment to your favorite stories, participate in your community and interact with your friends
LOG IN WITH FACEBOOK
Subscribe to our
Newsletter
Featured
A Texan's responsibilities when introducing an out-of-stater to Texas culture.
41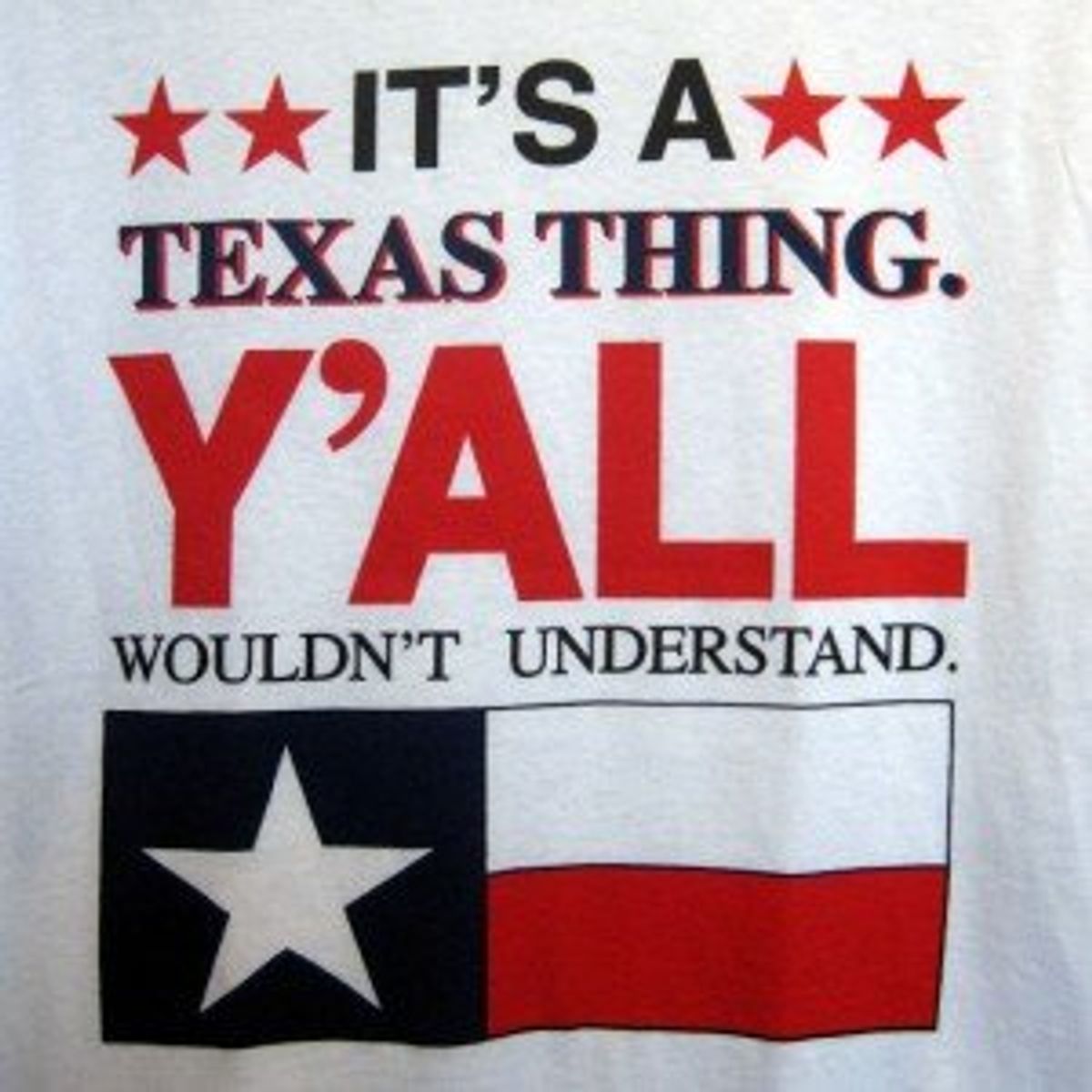 While in college, you are bound to be friends with at least one person who is not from Texas. Now Texas is a culture of its own, and it is up to you to help introduce them to some good ole Texas traditions during their time here. Show your friends that famous Southern hospitality!
First and foremost, take your friends to Whataburger. It should be illegal to go more than a week in Texas without ever having had a honey butter chicken biscuit.
Persuade them to invest in a good pair of cowboy boots. They'll thank you later.
Show them real BBQ. Not burgers or hot dogs, but brisket and ribs.
While we are on the subject of food, make sure they try some texmex. "The Mexican food sucks north of here anyways" isn't just a line in a song.
Take them to a rodeo. What's more American than bull riding and cattle roping?
Clarify what it means to be a Texan. Not every Texan lives on a ranch or rides a horse. Texan is more than a way of living, its a state of being.
Help your friend get accustomed to the heat. We know it gets hot in other places, but Texas heat (a blood-boiling combination of high temperatures and high humidity) is something else.
Convince your friend to switch from Coke to Dr Pepper. They'll be better off for it.
Hit up Buc-ee's. You'll be surprised how much a gas station can impress your friend.
Take your friend to get some Blue Bell. Listeria aside, it's the only brand we trust.
Attend a music festival. SXSW, ACL, and FPSF provide good music, good food, and a good time.
Take pictures in the bluebonnets. Every Texan has at least one.
Grow a love of football in them if they don't already have one because they'll need it.
Teach them that Texas should not be about bigotry or close-mindedness, but kindness and acceptance. Everything is sweeter in Texas, including the people.
Now these aren't all of the things that it takes to be a Texan, but it is a good start. Help your friend learn about the culture they'll be living in during college and remind them of the saying, "Don't mess with Texas!"
Keep Reading...
Show less
Featured
Some appreciation for the month of March.
670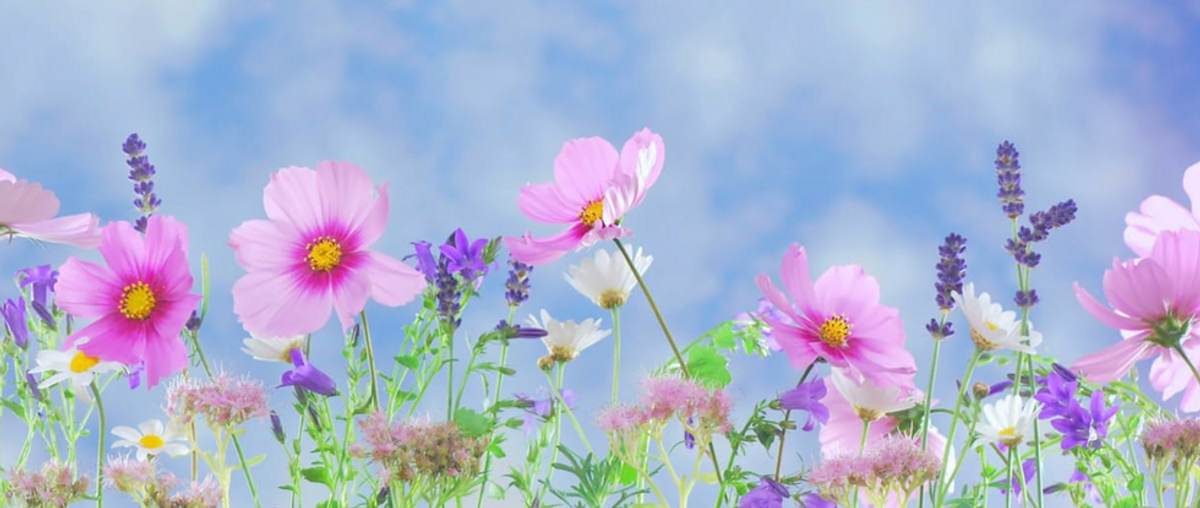 Pexels
I love the entire year. Well, for the most part. I'm not a big fan of Winter, but even then, every month has something that's pretty great. November? Thanksgiving. December? Winter Holidays. January? New Year's. February? Valentine's and Single Awareness Day. May? Existential dread during finals. But for me, March has always been my favorite month of the year, and for good reason.
I'll admit, I'm a bit biased--after all, one of the larger reasons that I like March is that my birthday is on March 20th. So, yeah, there's that. But, you know what else March has? The beginning of Spring. Which, coincidentally, is also my birthday (the Vernal Equinox). So, that's pretty cool! The beginning of Spring is always a bonus, if I do say so myself. (My birthday bias aside.) Also, it seems as if my birthday is Alien Abduction Day. Which is also pretty... interesting. Fun fact!
The flowers begin to bloom, allergies begin to flare up, and the weather can't decide whether it wants to rain, snow, or be unseasonably warm. (Gotta love that Cleveland weather.) But, hey, at least it's no longer ungodly cold (as often), and the sun's been staying out longer. The small victories. To that effect, Daylight Savings is this month as well--March 12, to be specific. We may lose an hour of sleep, but that extra hour of sunlight is definitely worth it!
March also has St. Patrick's Day, which is a pretty big deal where I'm from (near Cleveland). Though I'm not Jewish, Purim is also happening--so, happy Purim to all who celebrate it! In Japan there's White Day, and Pi Day is the same day as well!
For this year, not only is Beauty and the Beast being released in live-action, but the Nintendo Switch is being released as well. And, hey, it's Women's History month! So, that's pretty awesome as well.
Most of all, the crowning point of March, the point that everyone is waiting for with baited breath, is Spring Break! At least, for my college. But, in general, Spring Break is in March. Or, as I like to call it, "that moment after your midterms when you can finally function like a normal human being again". It is worth marching through March just to get to that break. I can almost taste it. (I say, as I am basically drowning in my midterms at the moment.)
Still, that aside, March is a pretty great month overall, my personal opinions aside. There are lots of holidays, the year is beginning to shift toward Spring, and all in all, don't forget that March is a month of wonderful holidays and events. So, as March goes on, march through it with that in mind. It will make your month all the more fun!
Keep Reading...
Show less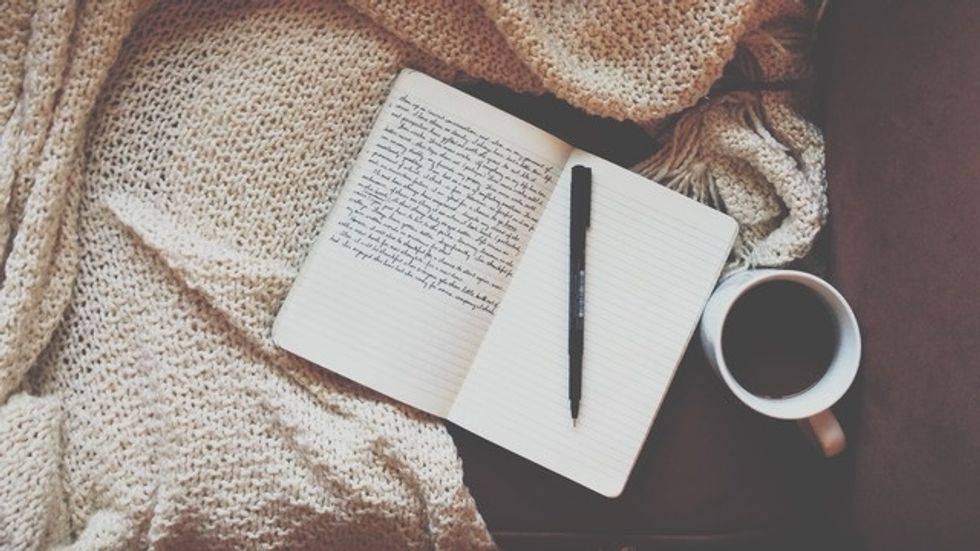 gouletballet.files.wordpress.com
Welcome to post-spring break week on Odyssey! Our creators have a fresh batch of articles to inspire you as you hit the books again. Here are the top three response articles of last week: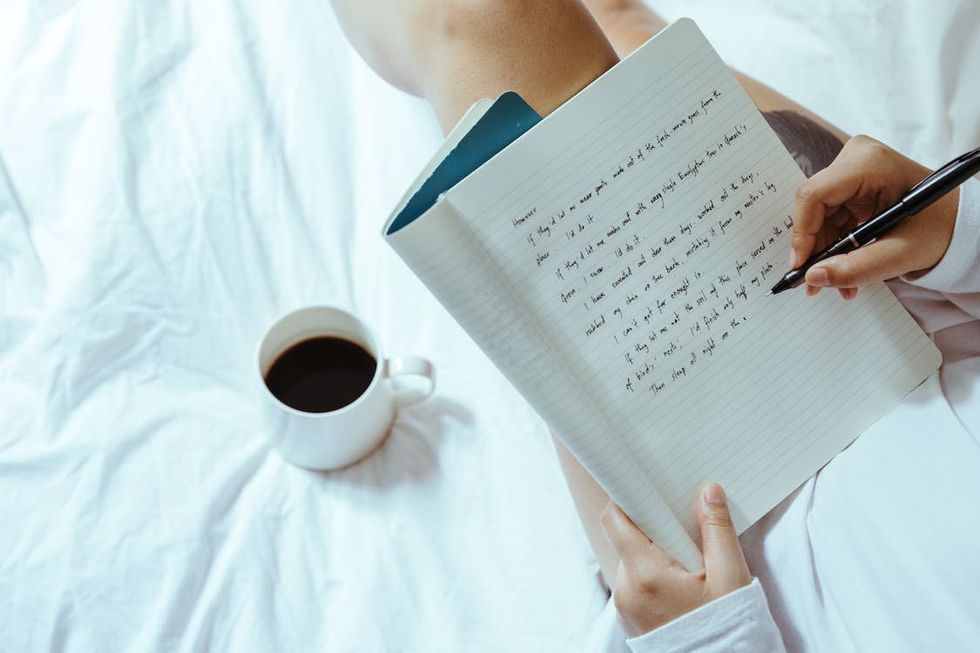 A Girl And Her Pen
Or keyboard, in the modern society...
This is a response to When You Give A Girl A Paint Brush.
'Tis The Season! How To Thrive on Green Beer Day by Emily Templeton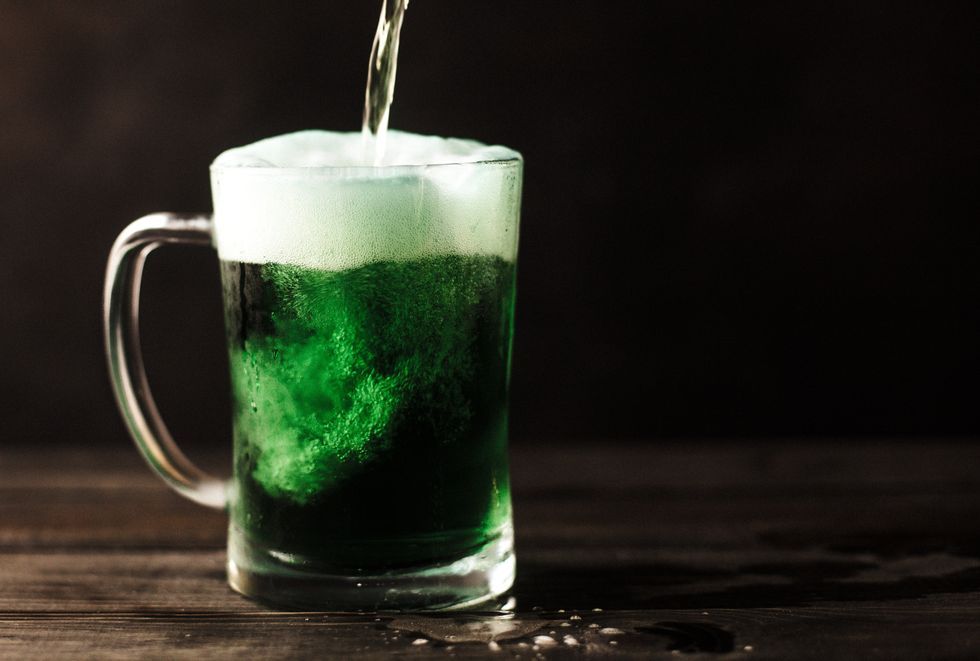 'Tis The Season! How To Thrive on Green Beer Day
To drink or not to drink. The history of the holiday and tips on how to celebrate safely.
This is a response to 10 Things You Can Do Instead Of Drinking Or Partying On St. Patrick's Day.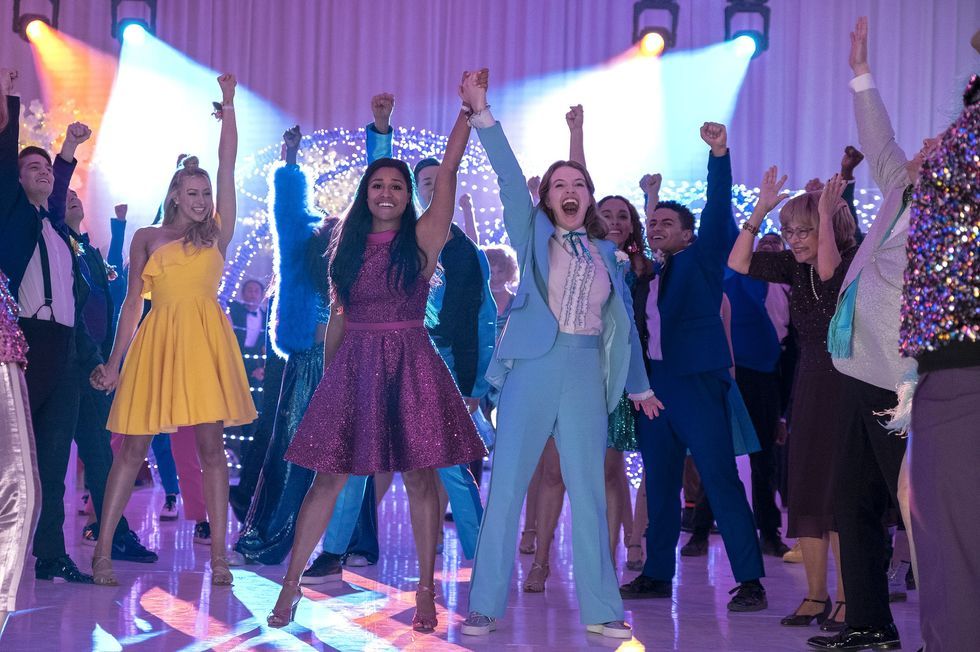 Exploring The Expectations
Just another thing ruined by the pandemic.
This is a response to From Buying The Dress, To Finding The Perfect Date, Prom Is Worth It.
Congratulations to all the writers! We'll continue to spotlight top response articles every week on our homepage and in our Overheard on Odyssey newsletter. Click here to subscribe!
Want to write for us? Our response writer community is looking for new members! Your work will be shared across Odyssey's website, newsletter, and social media platforms. Plus, you'll be compensated by HQ at $10/response for your first 10 articles.
To join the team, write to glorie@theodysseyonline.com. We're excited to hear from you!
Keep Reading...
Show less
Featured
Trade School Graduates Make Lucrative Careers Without College Debt
4936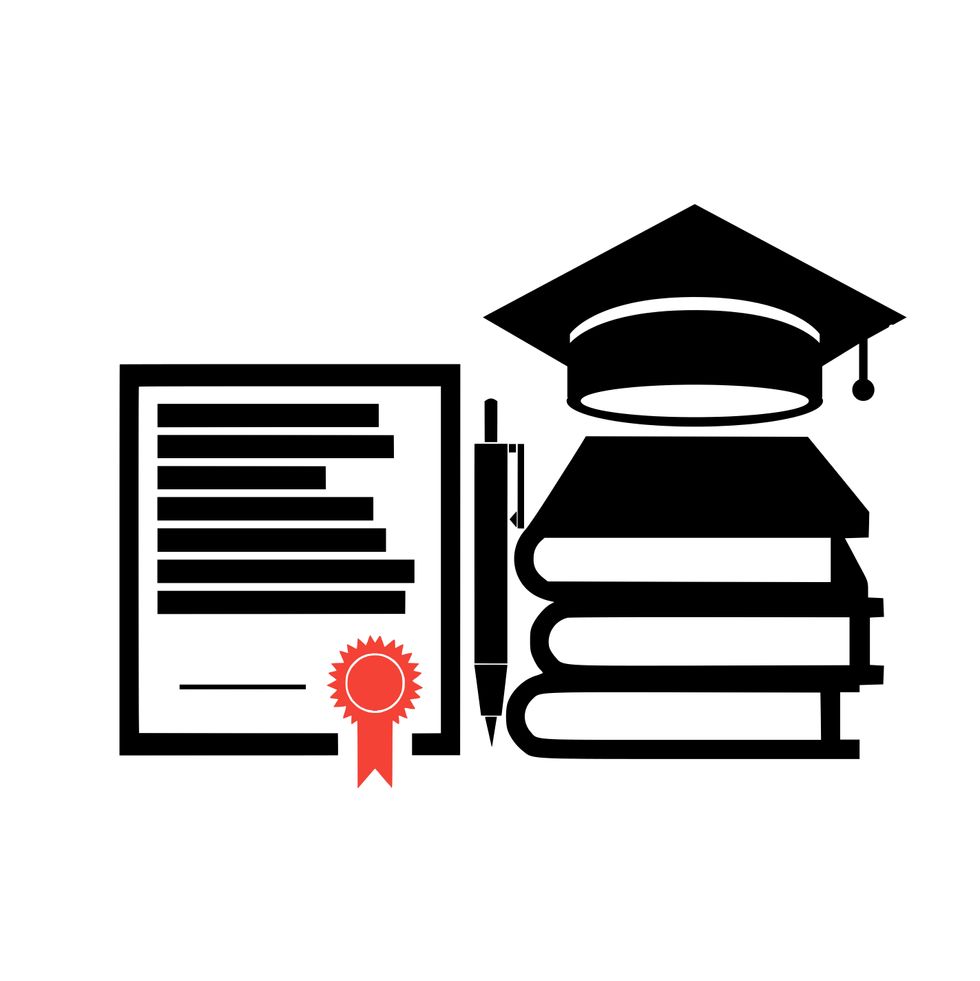 The common belief that a college degree is a prerequisite for a high-paying job is no longer as accurate as it once was. In today's fast-paced and ever-evolving world, many lucrative career opportunities do not require a traditional four-year degree. As an expert in career development and workforce trends.
President Biden, in his State of the Union address this month, spoke of "jobs paying an average of $130,000 a year, and many do not require a college degree." In all, some 30 million jobs in the United States that pay an average of $55,000 per year don't require bachelor's degrees, according to the Georgetown Center on Education and the Workforce. Here are 5 avenues to explore.
1. Skilled Trades: Skilled trades have always been a cornerstone of our economy, and their demand continues to grow. Electricians, plumbers, and HVAC technicians, for instance, can earn impressive salaries. After completing a vocational program or apprenticeship, individuals in these fields can expect to make anywhere from $50,000 to over $100,000 annually, depending on their experience and specialization.
2. Entrepreneurship: Entrepreneurship provides a unique opportunity for individuals to create their own success. Founders of startups and small business owners can potentially earn substantial incomes without the need for a college degree. While entrepreneurship requires a diverse skill set and a high degree of risk tolerance, it allows for unparalleled freedom and financial rewards for those who persevere
3. Creative Professions: Creative professionals, such as graphic designers, photographers, and content creators, can build lucrative careers without a college degree. With the rise of digital marketing, demand for these skills has increased exponentially. By developing a strong portfolio and networking within their industry, creative professionals can earn between $50,000 and $100,000 or more per year
4. Software Development: The technology sector has consistently demonstrated rapid growth, and software development is no exception. Although many developers hold degrees in computer science, it is not a strict requirement. Self-taught developers, as well as those who have completed coding bootcamps, can secure well-paying jobs in the industry. Salaries for software developers can range from $60,000 to well over $100,000 per year
5. Real Estate: Real estate agents and brokers can achieve significant financial success without a college degree. By obtaining a real estate license, building a strong network, and staying informed about market trends, agents can earn substantial commissions on property sales. Top-performing real estate professionals can make six-figure incomes or higher.
While these career paths do not require a college degree, it is important to remember that they still necessitate dedication, hard work, and continuous learning.
Keep Reading...
Show less
Featured
Its the 50 year anniversary
4880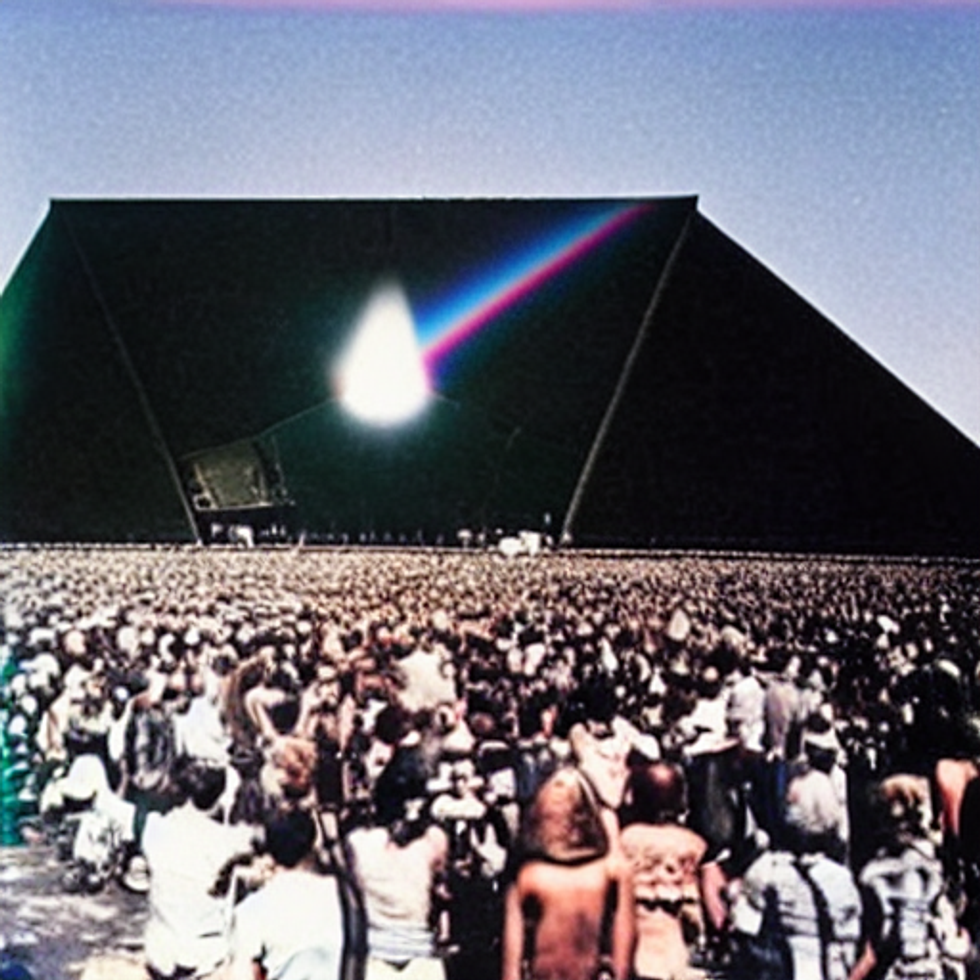 Since its release on March, 1973, Pink Floyd's "Dark Side of the Moon" has stood the test of time as one of the most iconic and influential albums in the history of rock music. Combining thought-provoking lyrics, innovative production techniques, and a captivating album cover, it captured the imagination of millions of listeners and continues to hold a special place in the hearts of fans worldwide. In this article, we delve into the making, themes, and enduring influence of this groundbreaking album.
Source: https://www.legacyrecordings.com/2023/01/19/50th-anniversary-of-pink-floyds-the-dark-side-of-the-moon-celebrated-with-new-box-set/

This was the eighth studio album by Pink Floyd, an English rock band formed in London in 1965. The band's lineup during the recording of the album consisted of Roger Waters (bass, vocals), David Gilmour (guitar, vocals), Richard Wright (keyboards, vocals), and Nick Mason (drums). The concept album that explores themes of life, death, mental illness, and the human experience. The lyrics, primarily written by Roger Waters, touch on topics such as the passage of time ("Time"), the pressure of modern society ("Money"), and the fleeting nature of life ("Breathe"). The album's title and artwork are inspired by the lunar landing and the idea that there is a "dark" or hidden side to human existence that often goes unexplored.
"Dark Side of the Moon" was an immediate success upon release, reaching number one on the US Billboard 200 chart and staying on the chart for an astounding 951 weeks (over 18 years). The album has sold over 45 million copies worldwide, making it one of the best-selling albums of all time.
The album's influence can be felt in the music of countless artists who have followed in Pink Floyd's footsteps. Bands like Radiohead, Porcupine Tree, and Muse have all cited "Dark Side of the Moon" as a major inspiration for their own work. The album's innovative production techniques and thematic depth have left a lasting impression on the world of progressive rock and beyond.
50 years and it has ensured its place in the annals of rock history as a true masterpiece.

Keep Reading...
Show less
Subscribe to Our Newsletter