Girls:
3:47 PM: "OK, here goes nothing, I'm just going to download this app for fun before I go out. I'm like, so casual. Maybe I'll meet the love of my life, though. You never know, right?"
3:48 PM: Get distracted on insta. Stalk your Ex's new girlfriend.
3:56 PM: "Of course she was homecoming queen in high school."
3:48 PM: Remind yourself Jason sucks. Reevaluate life.
4:02 PM: Forget about homecoming queen/ evil new girlfriend Becky. You're definitely meeting the love of your life on Bumble. Text group message: "Who's going out tonighttttttt?"
4:05 PM: Open app store.
4:06 PM: "Wait, what's my iCloud password again?" Attempt to answer security question.
4:10 PM: Finally remember answer to security question. "First concert? Oh yeah, Hannah Montana: meet Miley Cyrus. What a banger."
4:12 PM: Pour glass of wine. It's five o'clock somewhere.
4:31 PM: Make profile. Include strategically cropped picture from Cabo. Include picture where you look skinny that might possibly be from Senior Prom but that doesn't mean it isn't a cute picture, OK?
4:32 PM: Start swiping.
4:33 PM: "This is actually kinda fun."
6:02 PM: "Wait, where did the past hour go?" Refill empty wine glass for third time. Tell yourself you need to get off the couch and start getting ready.
6:30 PM: *Finally gets off couch.*
6:32 PM: Get distracted by your group message, which is attempting to make the most intricate pregame plans known to man.
6:35 PM: "Oooh, a new match."
6:36 PM: "Wait, he's like, really cute. I'm gonna message him. Take that, Jason."
6:38 PM: "I have to sound fun and cute."
6:39 PM: "OK, this is harder than I thought."
6:46 PM: Literally forgot how to string English words together.
6:47 PM: "Maybe I'll be more fun and cute after margaritas at dinner." Decide to get ready now and make your move later.
6:48 PM: Debates washing hair.
6:50 PM: Dry shampoos hair.
6:52 PM: Try to do a smokey eye.
7:11 PM: Hate smokey eye.
7:30 PM: Take off makeup and start over.
8:06 PM: Arrive at dinner 20 minutes late.
8:07 PM: Margarita #1. Tortilla chip basket #5.
8:25 PM: "Does anyone feel like taking a tequila shot?"
9:17 PM: "OK, I feel like I could definitely think of something good to message him now." Margarita #3.
9:32 PM: Leave dinner for pregame. Somehow fit 10 girls into an Uber X.
9:33 PM: "Sir, do you have an auxiliary cord?" Prepare to scream-sing.
9:34 PM: "I FEEL LIKE A MILLIONAIREEEEEEEEEE"
9:34 PM: Uber snapchat video.
9:34 PM: "AYYEEEE SHE MUST BE THE MONEYYYYY"
9:35 PM: Check to see if Jason saw your story.
9:36 PM: Check again.
9:37 PM: Remember cute bumble match. "Do you guys think now is a good time to message him?"
9:49 PM: Arrive at pregame an hour late.
9:50 PM: Take shot.
9:51 PM: Make awkward eye contact with that guy you made out with that one time.
9:53 PM: Take another shot.
10:12 PM: Lose count of shots.
11:35 PM: Arrive at bars.
11:37 PM: Make that guy in your chem class buy you a drink.
11:45 PM: Make a new best friend in the bathroom.
11:46 PM: Ask new best friend what you should say to your Bumble crush.
11:48 PM: "OMG THAT IS THE BEST ADVICE EVER. I LITERALLY LOVE YOU. I'M GONNA MESSAGE HIM RIGHT NOW."
12:01 AM: Start to type out message.
12:09 AM: Almost drop phone and accidentally press send.
12:09 AM: Panic.
12:09 AM: "OH MY GOD WHAT DID I SEND HIM."
12:09 AM: Phone dies.
12:09 AM: "NOOOOOOOOOOOO."
12:27 AM: Take another shot to forget the fact you just ruined your only chance at love.
12:32 AM-8:57 AM: Slightly unclear.
8:57 AM: Open eyes.
8:58 AM: Remember the accidental message sending incident from last night.
8:58 AM: FREAK OUT.
8:59 AM: Go through every possible embarrassing thing you might have possibly sent him last night.
3:15 PM: After hours of thinking, realize you need to stop thinking about it and decide the only logical thing to do in this situation is to blame autocorrect and respond.
3:18 PM: "Damn autocorrect, let me try this again -- Heyyyy." Second time's the charm.
3:31 PM: OMG HE RESPONDED. IS THIS REAL LIFE?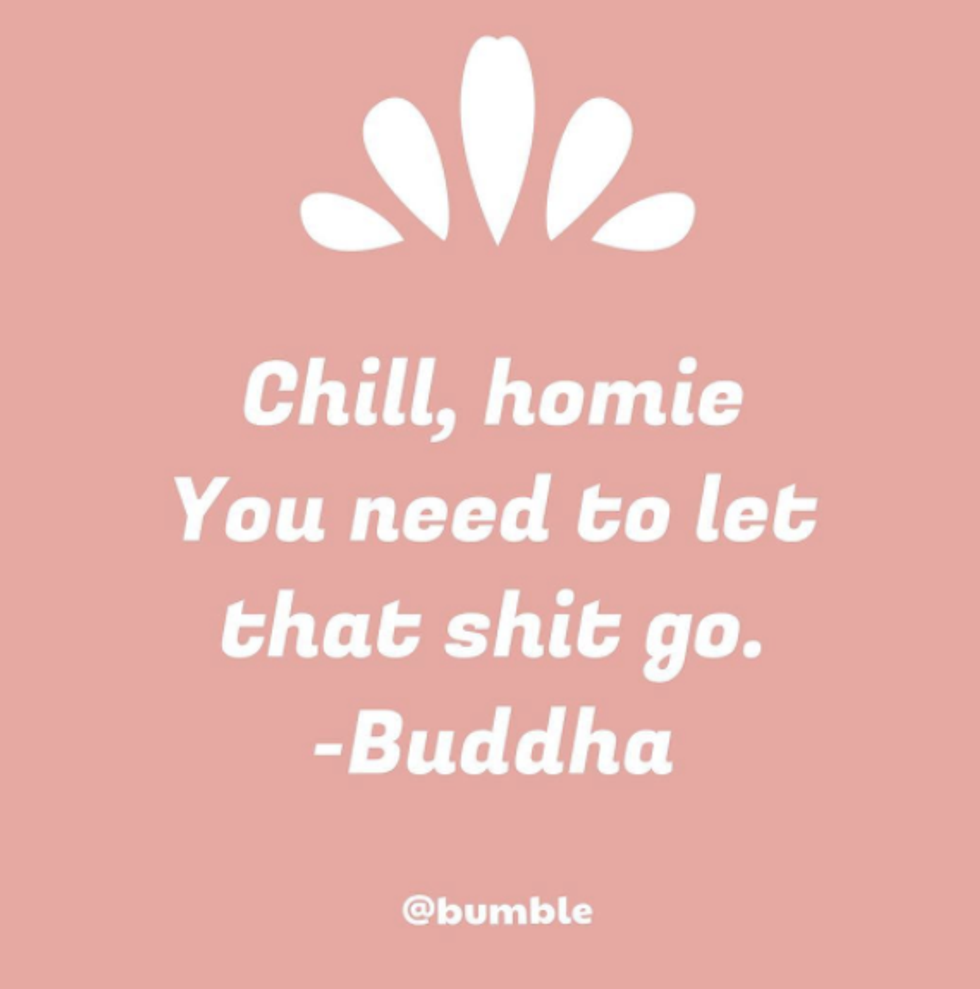 Guys:
3:47 PM: Open beer.
3:48 PM: Call of duty.
6:34 PM: Open fifth beer.
6:35 PM: Look at new Bumble match.
6:36 PM: "She's pretty hot, at least from what I can see of her in this weirdly cropped picture from Cabo."
6:37 PM: More beer.
12:08 AM: Pass out on fraternity house couch.
1:34 PM: Open eyes.
1:35 PM: Check phone. One new message from Bumble match at 12:09: "Heyyy )-6*"
1:36 PM: "Is that supposed to be a smiley face? Did she have a seizure or something while typing that?"
1:37 PM: "She's still kinda hot though. I'll message back."
4:00 PM: "Hey, what's up? Looks like you had a fun night lol"
4:01 PM: Open beer.
So as you can see, men and women can have completely different experiences using the app. But nevertheless, don't overthink it ladies! Be strong and confident in yourselves that even when the dude reads "Heyyy0-6"at 1:35 in the morning, he'll be stoked you reached out.
Bumble is a female empowering dating, friend finding, and networking app that takes the pressure off of guys and puts the women in charge.