As a Professional Writing major, I am greatly disturbed by spelling and grammar mistakes. I admit I sometimes make them, but it's not because I'm too lazy to use the correct word or check my spelling. I do a lot of writing, so I'm bound to mess up when I'm rushed or otherwise distracted. I'd like to help you avoid making those mistakes. Trust me, you'll look, and feel, a lot smarter.
1. To try and go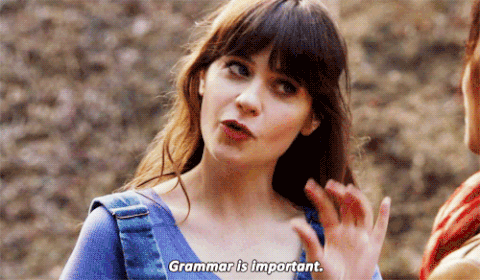 https://giphy.com/gifs/brett-main-Rt1oTe6GlRAiI
The words 'try' and 'go' can be replaced with any verb. The point is that 'and' is not the correct word. 'To' is. Since 'to' is always followed by a verb, it should be an infinitive (to+verb). For example: I'm going to try to go to the store later.
2. To not go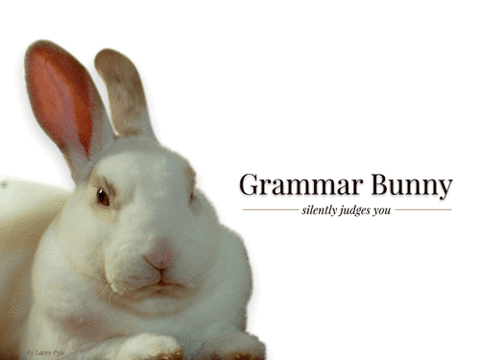 https://giphy.com/gifs/bunny-grammar-St7UsUGuJU9RS
This is another example of an infinitive. 'To' always needs to come right before the verb. Instead of 'to not,' it should be 'not to.' For example: I don't know how not to think about you. (This is a line from the song How Not To by Dan + Shay, which is featured in another article of mine.)
3. I like it to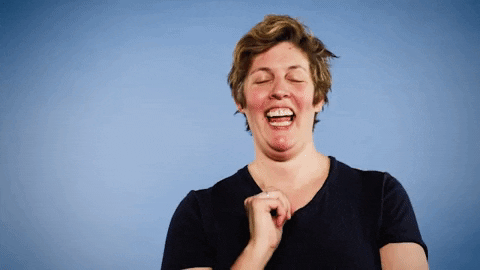 https://giphy.com/gifs/theoppositeofhate-sally-kohn-oppositeofhate-55offP4umeJUAvWwHP
If you're meaning to say 'also,' then the correct word is 'too.' When you use 'to,' it is usually followed by a verb. 'Too' is a stand-alone word that expresses agreement or addition. If someone says they like dogs, you could say, 'I like dogs, too.' It could also mean you're adding something. 'He is coming, too.' However, 'to' and 'too' are most often confused in the first case. Keep in mind that 'too' is always preceded by a comma.
4. Your pretty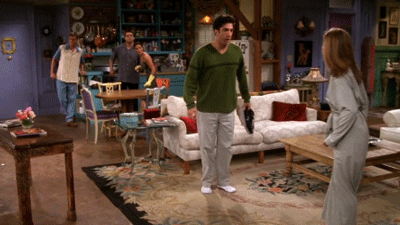 https://giphy.com/gifs/hd-yLV9y5wb0Qb1m
Can we get this right, once and for all? This is the incorrect use of 'your.' 'Your' is possessive. It indicates that the following noun belongs to you. For example: Your dog; Your house; Your happiness. The correct word to precede 'pretty' is 'you're,' which is technically two words: You are. If you're trying to figure out when to use 'you're,' separate it out into its two words. If you can't use contractions properly, then don't use them.
5. Its a nice day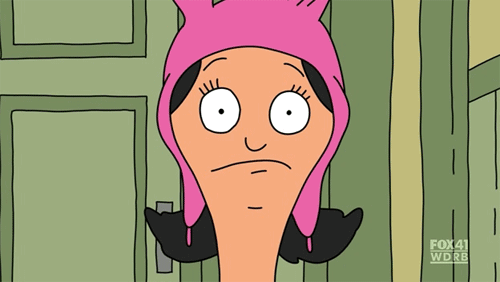 https://giphy.com/gifs/lz9lPkqddgoec
While it may be a nice day, that's not how you say it. 'Its,' like 'your' is possessive. The proper use would be: Every dog has its day. 'Its' is used when the gender of something is unknown or when referring to a group. In the sentence above, the correct word to use is 'it's,' which is a contraction that expands into 'it is.' Again, if it helps, don't use the contraction.
6. Their taking there vacation they're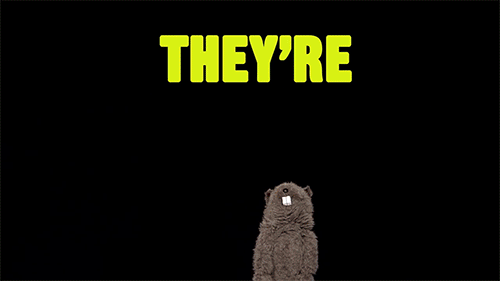 https://giphy.com/gifs/puppets-grammar-hGmKNYHathgJi
While this sentence may sound right, it's actually very wrong. Those three words are homonyms, which means they sound the same but have different meanings. They are not interchangeable. The proper order of the sentence above is 'They're (they are) taking their (belonging to them) vacation there (in that place).'
7. I could care less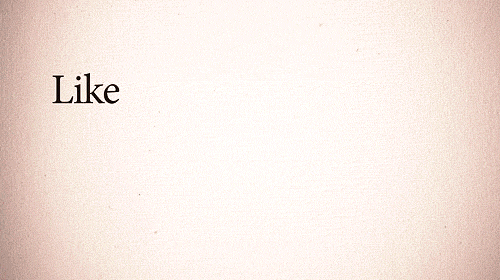 https://giphy.com/gifs/weird-al-yankovic-word-crimes-iMrbBXl7F1HJ6
This is a pet peeve of mine. When people say this, they want to convey that they don't care at all. However, they are saying it is possible for them to care less, which means they care at least a little. The proper way to say this is 'I couldn't care less,' which means you care as little as possible.
8. I have less food then him

https://giphy.com/gifs/animography-animated-typography-font-gnDSYE7CLJDk4
'Then' is not the correct word. It should be 'than,' which is used in comparison with something else. Remember math? In x<y, x is less than y. 'Then' indicates time. 'I did this, then I did that,' or 'I was younger then.'
9. I have less than ten water bottles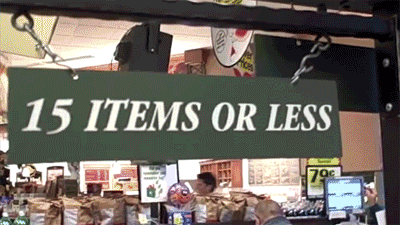 https://giphy.com/gifs/english-weird-al-yankovic-supermarket-S7eS8P4HTX8K4
This may seem right because a lot of people forget about the other word that's used when 'less' doesn't work. It's 'fewer.' I admit that I, too, make this mistake from time to time. 'Less' is used when referring to mass objects such as water, food, or money. 'Fewer' is used with objects you can count, such as pillows, bottles, or tables.
10. To who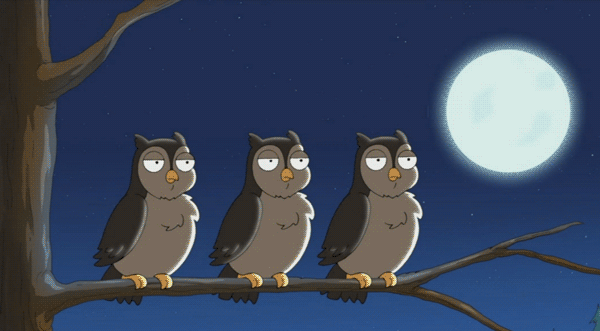 https://giphy.com/gifs/owl-grammar-family-guy-JEIRAmTTfUgYE
I bet you can guess what I'm going to say. It should be 'whom.' No, I'm not just being fancy. There are actually certain times when 'whom' should be used. You can think of 'whom' as going along with 'him' or 'them,' which also end with 'M.' It also goes with 'her.' 'To whom are you referring?' 'To him.'
Now that I've familiarized you with basic grammar and spelling, I'm going to give you a fun video to reference in case you forget. Weird Al Yankovic made a parody of Blurred Lines called Word Crimes. It's entertaining and educational.
Also, here's a moment from the show Psych that involves grammar:
Chief Vick: It goes without saying, Mr. Spencer, that your father is in no way to participate in this investigation. He's no longer on the force, and his meddling could compromise the case in court. Do I make myself clear?
Shawn: Yes, you do, Chief. What isn't clear is why people always say 'goes without saying,' yet still feel compelled to say the thing that was supposed to go without saying. Doesn't that bother you?
Chief Vick: No, and frankly, I could care less.
Gus: Now, that's the one that bothers me. Why do people say, 'I could care less' when they really mean, 'I couldn't care less?'
Chief Vick: Well, why don't you tell me how to properly say this? If you share any official information about this case with your father or let him anywhere near any new evidence, then the two of you will have to find another police department to work for, and I will personally see to it that each of you is charged with obstruction of justice.
Gus: You split an infinitive.
Shawn: Good catch, Gus!
Chief Vick: You two realize I carry a gun, right?
Gus: That was perfectly elocuted.