"There are only two possibilities as to how life arose; one is spontaneous generation arising to evolution, the other is a supernatural creative act of God, there is no third possibility. Spontaneous generation that life arose from non-living matter was scientifically disproved 120 years ago by Louis Pasteur and others.
That leaves us with only one possible conclusion: that life arose as a creative act of God. I will not accept that philosophically because I do not want to believe in God, therefore I choose to believe in that which I know is scientifically impossible, spontaneous generation arising to evolution." -- Dr. George Wald, evolutionist, Professor Emeritus of Biology at the University at Harvard, Nobel Prize winner in Biology
There is a common misconception of the Christian community that we don't believe in dinosaurs or that the Bible cannot explain dinosaurs. Both of these assumptions are wrong.
I am going to attempt to explain what the Christian community generally accepts about the existence of dinosaurs and how the Bible can back up some of these views.
1. First of all, to my knowledge, all Christian communities accept the existence of dinosaurs.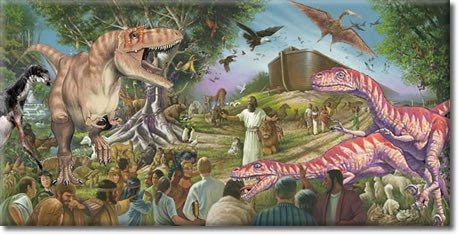 There is no hole in our psyche that makes us ignorant to that fact. We are not stupid, we just have a different perspective based on our worldview – based on the infallible testimony that is in the Bible. However, just because we accept that dinosaurs exist does not mean we have to accept the theory that they were walking on the Earth millions of years ago. (I will discuss this later)
2. Dinosaurs lived the same time as humans and they are mentioned in the Bible.
Of course in biblical times, they had different names.
"Look now at the behemoth, which I made along with you; he eats grass like an ox. See now, his strength is in his hips, and his power is in his stomach muscles. He moves his tail like a cedar; the sinews of his thighs are tightly knit. His bones are like beams of bronze, his ribs like bars of iron. He is the first of the ways of God; only He who made him can bring near His sword. Surely the mountains yield food for him, and all the beasts of the field play there. He lies under the lotus trees, in a covert of reeds and marsh. The lotus trees cover him with their shade; the willows by the brook surround him." Job 40:16-22
Some may argue that this description could be of an elephant, however, elephants do not have tails "like a cedar" tree. This description however perfectly depicts the characteristics of a sauropod, like a brontosaurus or brachiosaurus.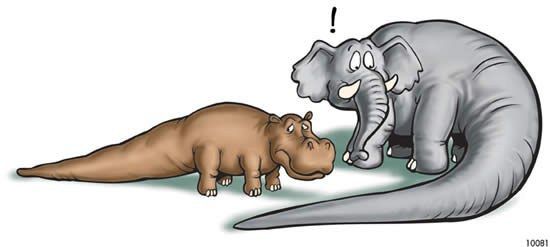 The "Leviathan" is another animal that is unlike today's modern animals and is mentioned many times in the Bible.
"His rows of scales are his pride, shut up tightly as with a seal…" Job 41:15

"His breath kindles coals, and a flame goes out of his mouth." Job 41:21

"His undersides are like sharp potsherds; he spreads pointed marks in the mire." Job 41:30
This description fits a creature than many deem mythical: a dragon. Creationists believe that in many instances, the "dragon" was used as a term meaning dinosaur before the word 'dinosaur' ever existed.
"...and he shall slay the dragon that is in the sea." - Isaiah 27:1
In fact, in addition to the Bible, dragons are mentioned thorughout ancient literature.
3. Most dinosaurs were killed off by the flood.
Evolutionary scientists have had an incredibly difficult task of trying to figure out what wiped out so many dinosaurs at one time.
There are many theories in the scientific community about what caused this sudden mass extinction ranging from drops in temperature or a meteor hitting Earth or volcanic eruptions.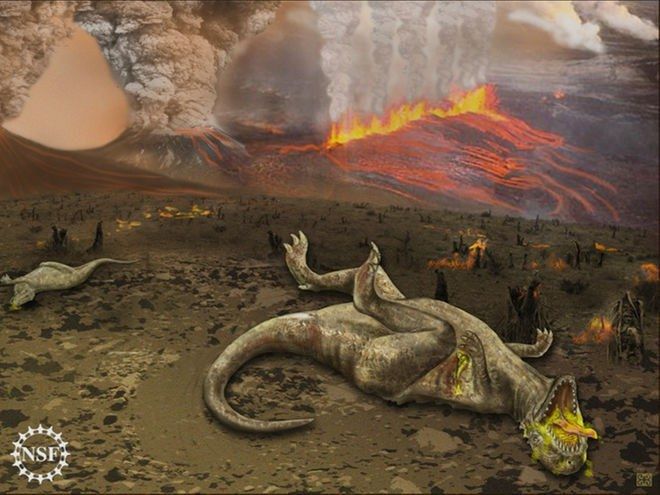 In fact, one author in "A New Look at Dinosaurs," basically supported the idea that scientists were merely grasping at straws trying to explain this extininction:
"Now comes the important question. What caused all these extinctions at one particular point in time, approximately 65 million years ago? Dozens of reasons have been suggested, some serious and sensible, others quite crazy, and yet others merely as a joke. Every year people come up with new theories on this thorny problem. The trouble is that if we are to find just one reason to account for them all, it would have to explain the death, all at the same time, of animals living on land and of animals living in the sea; but, in both cases, of only some of those animals, for many of the land dwellers and many of the sea-dwellers went on living quite happily into the following period. Alas, no such one explanation exists." -- Alan Charig, (p. 150)
There is only one huge event in the Bible that could explain the death of so many creatures at generally the same time: the flood.
The Bible says two of each land animal (seven of some) were brought onto the ark, which means that some dinosaurs made it onto the ark and after the flood, lived alongside humans, which we have evidence of in Job.
The flood supports the idea of selective extinction since many dinosaurs survived the event because they were on the ark.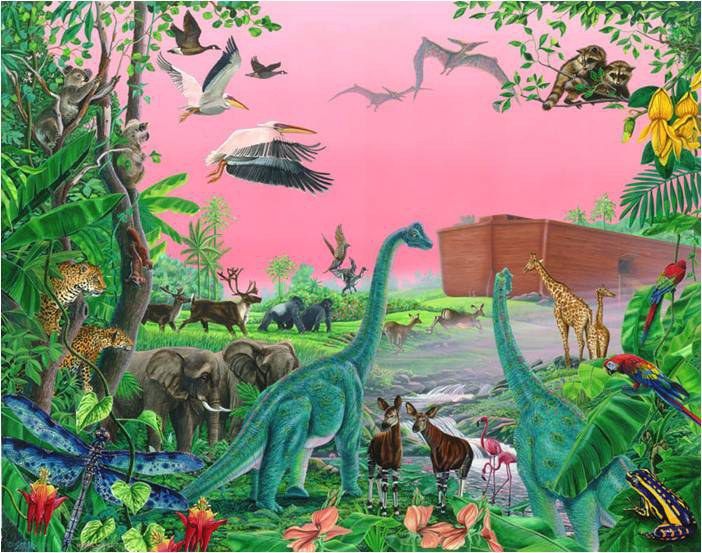 2. Carbon dating is based on false information.
Carbon-14 dating is supposedly used to prove evolutionary theory – to prove that dinosaurs are millions/billions of years old. However, carbon dating can only be used to give a time frame of death in the thousands of years, not millions. There are two assumptions in the scientific community that are used to create carbon dating.
The Earth is billions of years old.
There has always been the same amount of Carbon-14 in the environment – a critical point of observation used to determine time ranges in scientific theory.
These assumptions helped to form the process for carbon dating. So while the process may be based in science, the information used to calculate this process, and therefore the conclusion, is based on assumptions that have little or no basis. This is called circular reasoning, where one idea can not be proved without the other, but each idea is based on the other idea. No idea can be proved independent of the other idea.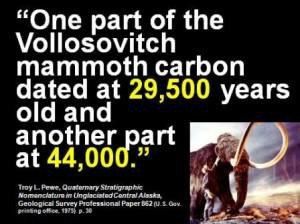 Scientists merely use evolutionary theory and carbon dating to back up their original premise that the Earth is billions of years old, which has never been proven.
For more information about the inaccuracy of carbon dating, you can find Answers in Genesis.
---
The truth is that, despite enormous efforts on behalf of the scientific community, there hasn't been anyone that has been able to come up with any fact that refutes the Bible. In fact, the Bible has been proven to be historically accurate. The only hard "evidence" people believe they possess is the idea of evolutionary theory, which is entirely a belief created by naysayers of religion.
The truth is that evolutionary theory is just as much a belief as, or arguably less so, believing in God. In reality, large-scale evolutionary theory is the manifestation of the arrogance of men who refute God because they wish to be masters of their own universe. And if they cannot be deciders of their own fate, they choose to have no fate at all.
"My attempts to demonstrate evolution by an experiment carried on for more than 40 years have completely failed.....It is not even possible to make a caricature of an evolution out of paleobiological facts...The idea of an evolution rests on pure belief." -- Dr. Nils Heribert-Nilsson, noted Swedish botanist and geneticist, of Lund University
As Christians, we have no need to explain away the facts of life when we have the only text that upholds all facts of life.
"It is my conviction that if any professional biologist will take adequate time to examine carefully the assumptions upon which the macro-evolution doctrine rests, and the observational and laboratory evidence that bears on the problem of origins, he/she will conclude that there are substantial reasons for doubting the truth of this doctrine.
Moreover, I believe that a scientifically sound creationist view of origins is not only possible, but it is to be preferred over the evolutionary one." -- Dean H. Kenyon, professor of biology at San Francisco State University