Hey, all you sports cuisine aficionados! Whether you are a football fan, girlfriend of a football fan or you simply love to recreate your favorite bar foods, look no further. I'm going to share with you these DANK chicken bacon ranch fries that I made for the 2020 NFL Draft. The recipe is idiot-proof and will make you feel like such a successful adult that you'll go bragging to your friends. I'll save you the fluff of some long blog post or the how the NFL managed to hold The Draft despite being quarantined. LET'S GET AT IT.
Dank Chicken Bacon Ranch Fries
# of servings: 2-4 as a meal, 4-6 as an appetizer
Prep-to-serve time: an hour AT MOST
Calories: don't even think about them. This is a meal for your soul.
What you'll need:
•A stove and an oven. We're making the most of our kitchen.
•An instant pot. Stay with me. There are other ways to do this recipe which I mention below, but I find an Instant Pot so efficient and all-encompassing for the kitchen that it becomes essential. Seriously, I can answer any questions for you to prove my point.
•A deep pan for frying or a deep fryer
•A regular frying pan or skillet
•An 8x8 baking dish
•Helpful tools/utensils: A sharp chef's knife, a cutting board, a plate lined with paper towels, tongs, kitchen skimmer, forks for serving
•Non-stick spray
•Your favorite seasonings for chicken (my recs are in the preps section)
•Ranch
•Vegetable oil
•1/2 cup onion, diced
•2 chicken breasts
•2 potatoes, sliced
•2 fresh jalapeños, sliced
•4 thick-cut slices of bacon, diced
•4 oz (half package) shredded extra sharp cheddar cheese
•32 oz (one package) chicken broth
•Your favorite form of entertainment to get the party started!
Prep

Put on a movie, TV show, podcast, or song playlist to set the mood for a positive cooking experience. I chose Get Him to the Greek, and time literally escaped from me as I laughed and cooked. I'd love to hear what you choose!
1. Unload the chicken breasts, chicken broth, and seasonings into the Instant Pot. I like to use salt, pepper, garlic, oregano, thyme, basil, bay leaves. Technically, you only need 16 oz of broth to get great results for pulled chicken, but I like to maximize the JUICINESS. Set that Instant Pot to the pressure cook setting on high for 15 minutes. Make sure the top of your Instant Pot is set to "seal" and not "vent" so that it will work properly. If you don't have an Instant Pot yet, there are many helpful recipes on Google for boiling chicken to get shredded chicken. Bonus meal hack: the leftover flavored broth/chicken you don't use makes the perfect soup.
2. Using a sharp chef's knife, dice the onion and slice the jalapeños and set them aside. I mention the knife for two reasons: a chef's knife is an essential kitchen tool that will tackle anything from vegetables to meat, and a sharp knife helps prevent the dreadful weeping and burning that chopping onions can cause.
3. Chop the potatoes into desired shapes and lengths. If you choose to keep the skins on (skins is always the winning team, in my opinion) don't forget to wash the taters beforehand.
Time to Fry

1. Put about 1" vegetable oil into a deep pan and turn the stove on high. Adjust oil usage for larger pans/deep fryers. When the oil is hot, use a skimmer to carefully load a batch of potatoes. Remove the potatoes using the skimmer when they are soft and golden brown and place them onto a plate lined with paper towels to soak up excess grease. Place them in the 8x8 baking dish after a few minutes of cooling.
2. Likely the chicken will be finished as you're cooking the fries. Without opening the Instant Pot, set the lidto "vent" and allow the pressure to release naturally. Don't burn yourself.
3. Set stove to medium high and drop the bacon into the other frying pan/skillet. Remove the bacon with tongs when they are crispy and place them onto a plate lined with paper towels to soak up the excess grease. When they cool down, chop them into pieces and set aside.
Layer and Bake

Netflix doesn't even have time to ask, "Are you still there?" You're on the home-stretch at this point. LET'S GO, BABY. Need some pictures to remind you why you need to make this meal?
Mix the chicken with the fries.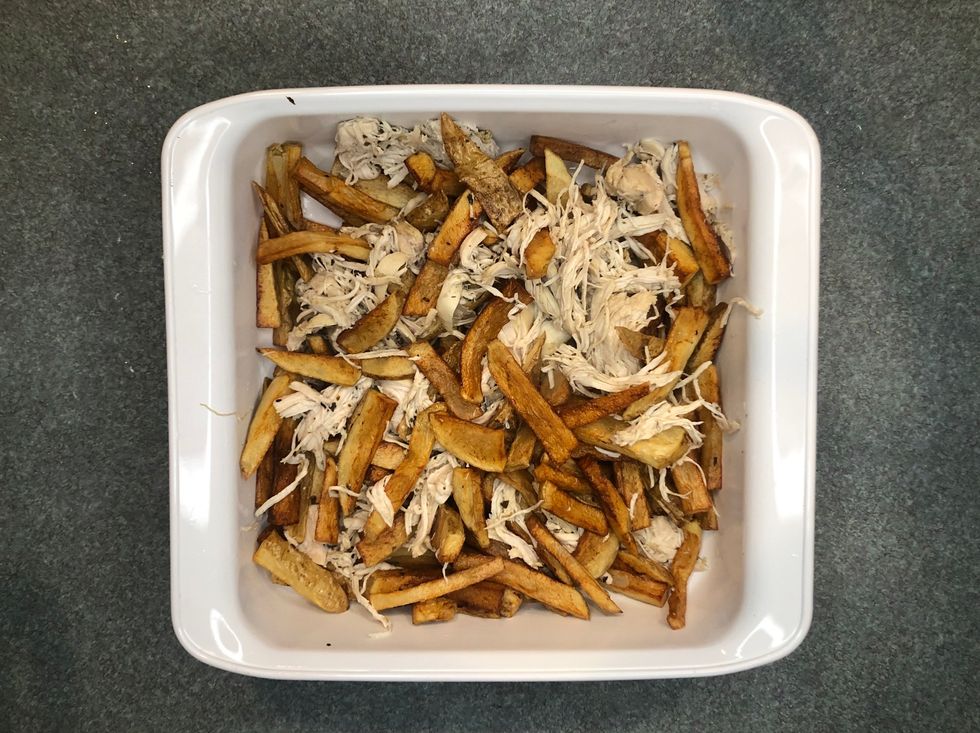 Open the Instant Pot. Tear apart the chicken breasts and use tongs to transfer the shredded chicken into the 8x8 baking dish. Mix up the chicken and fries. You may or may not use both breasts, depending on how chicken-heavy you want your fries to be.
Add a layer of shredded cheese.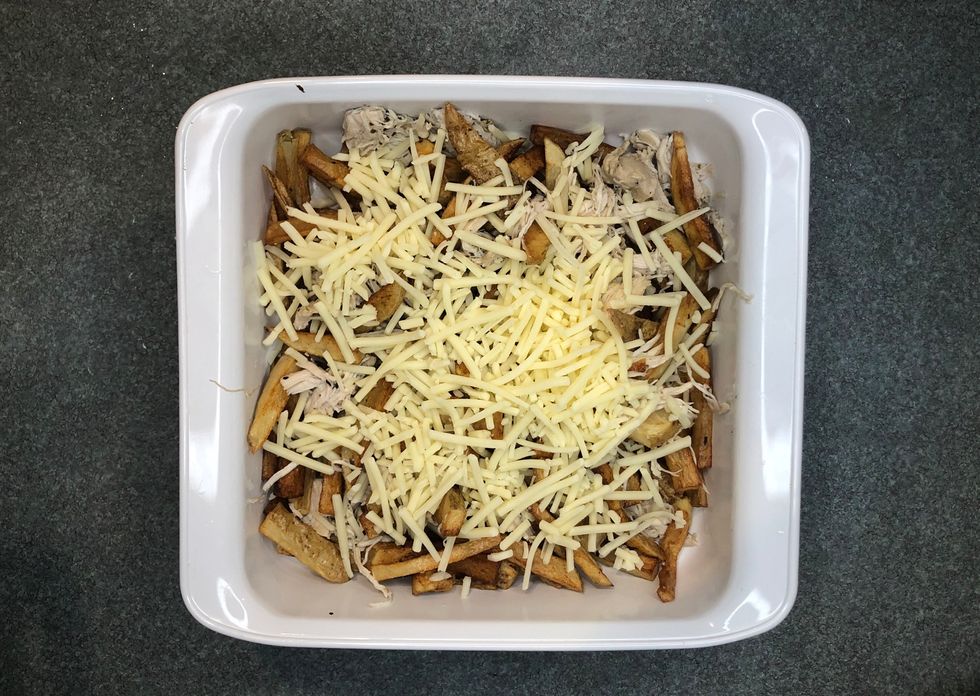 Use about 2 oz of shredded cheese, because you'll have another layer on top.
Add your bacon.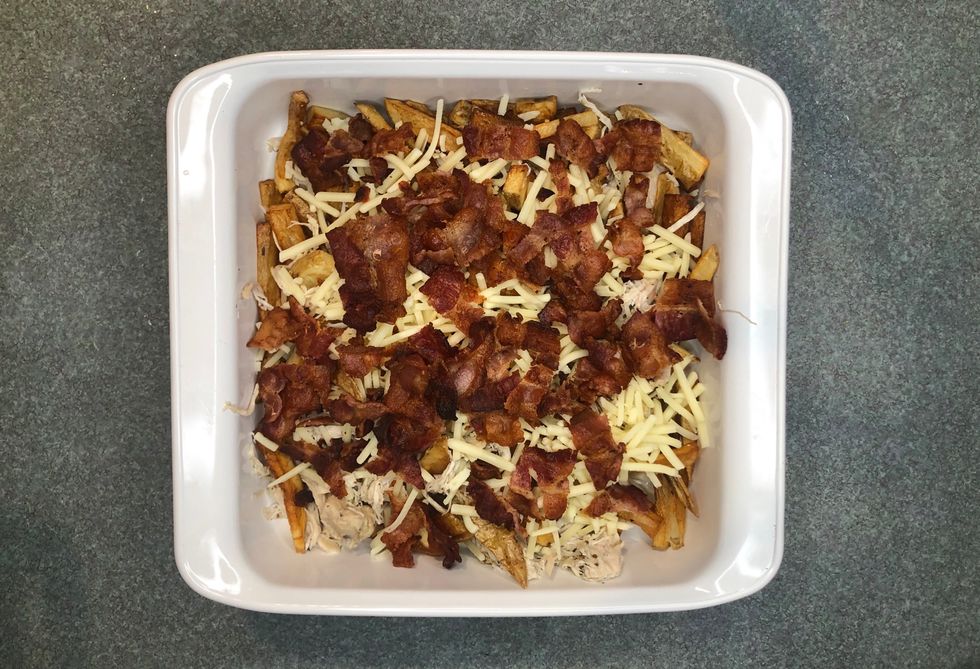 SO. MUCH. BACON.
Add your onions.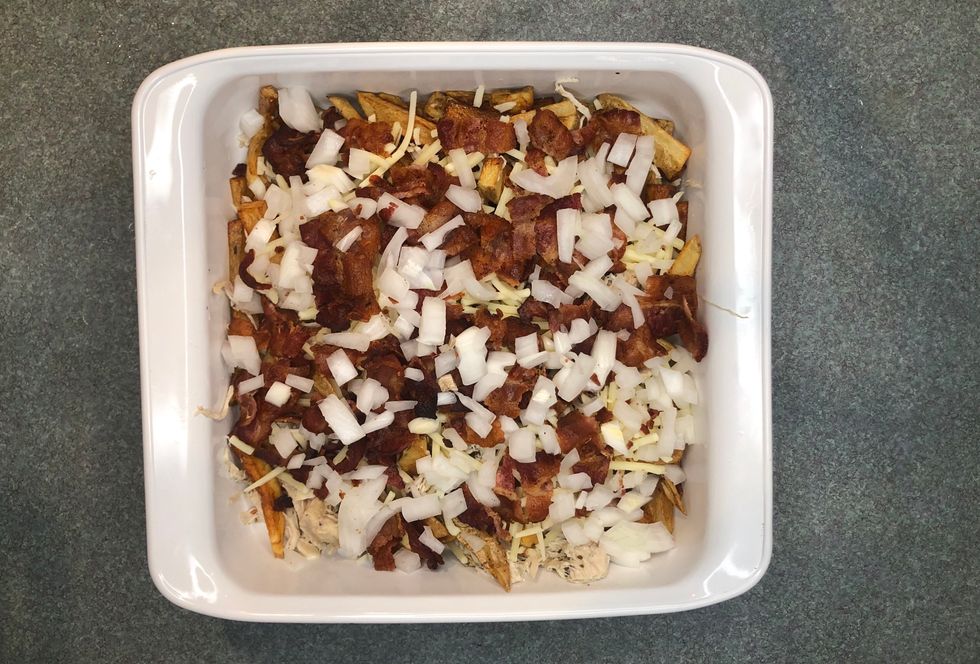 If you're smelling like an ogre after this, you should get that checked out.
Add your jalapeños.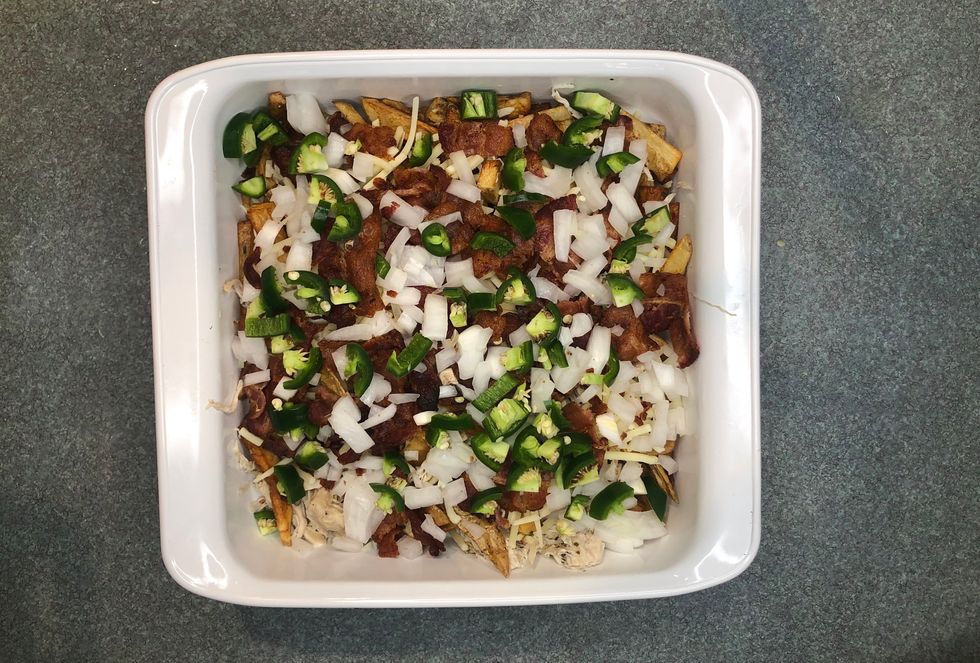 Bring on the spice, girls!
Add another layer of cheese.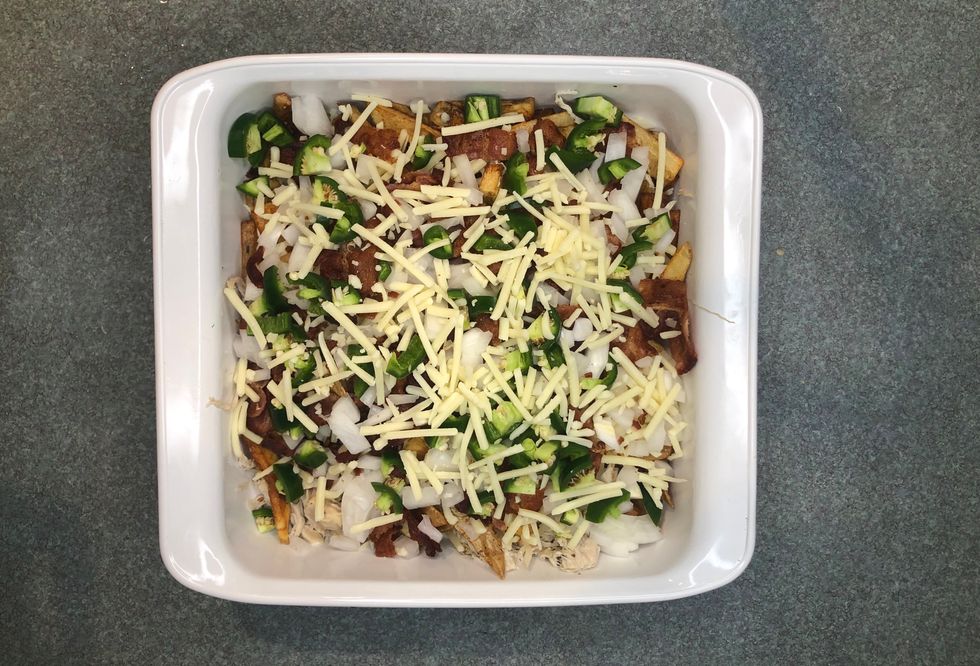 Be sure to take a picture because you'll definitely be cheesin'.
Drizzle on some ranch.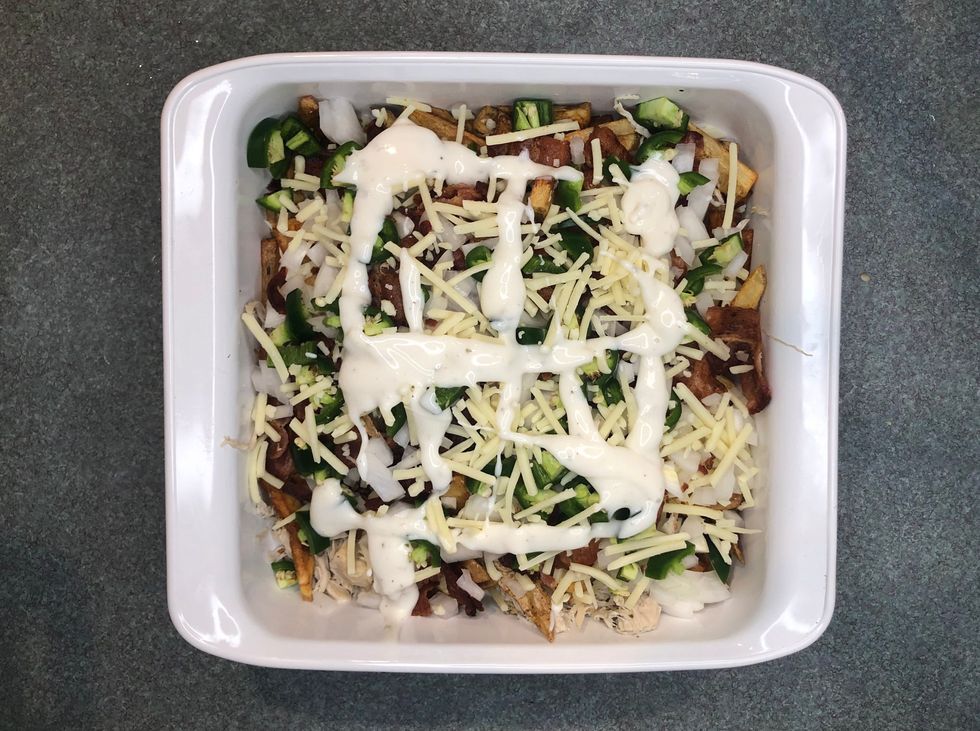 Don't be shy. It's ranch.
Broil on high for 2 minutes, or until cheese is melted and golden-brown.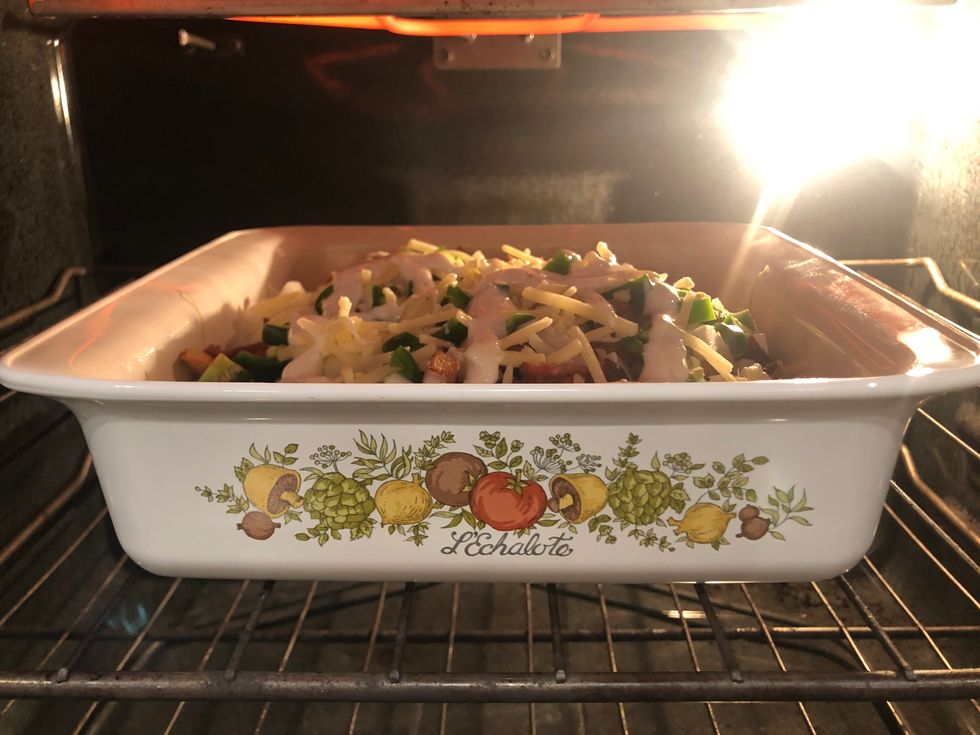 Put it in the oven for your baby and you (or just you, if you're alone).
It's pretty obvious that everyone will be dying to try your fries as soon as they come out of the oven, so serve the fries fresh out of the oven (you'll probably want to use a fork to eat them). You're welcome.
Did you find this recipe helpful? Would you like to see more? Comment below or contact me on IG, FB, Twitter, Pinterest: @kaehlamaurer.