One of my summer obsessions is the show "Greenleaf" on OWN. It's a show full of scandal from pedophilia to adultery. I have been hooked since the first episode.
In this particular episode, the protagonist, Grace, slept with her former lover even though he was engaged. His fiancée found out and called the wedding off. When I'm finished watching an episode, I go to the Facebook page dedicated to "Greenleaf" to see other's opinions. One commenter stated that he did not see why the fiancée called the wedding off just because he slept with someone else. I kid you not; he did not see the issue in that scenario.
The commenter was a guy and admitted that might have something to do with why he did not understand the problem. Gender should not be an issue when it comes to infidelity. It is wrong no matter who does it. This scenario made me realize how society views infidelity when it comes to women versus men. It is almost expected for a man to cheat and a woman should find it in her heart to forgive and move on. So many women use the excuse "well, a man is going to be a man" if their boyfriend or husband is unfaithful.
Amber Rose, a proud feminist, has even been quoted saying that every man cheats, but if he loves
you then you won't find out.
There are mothers who tell their daughters things similar to this also. Women are conditioned to accept unethical behavior from their partners. If you leave you are accused of being "disloyal" and not knowing how to stick it out in a relationship.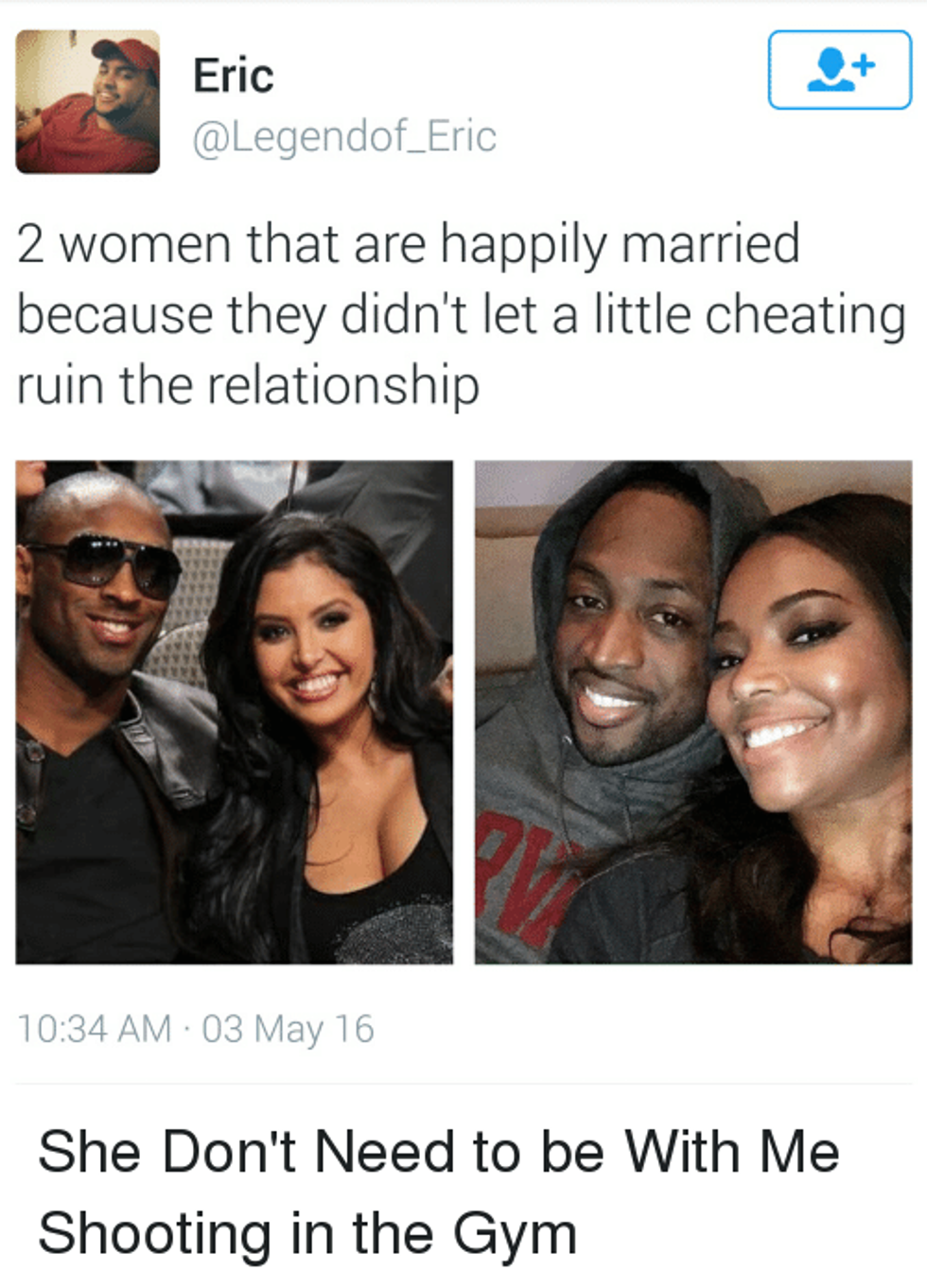 Derrick Jaxn, author and entrepreneur, encountered a similar meme to this one and made a video of his response. If you are adverse to crude language, I advise not watching this video.
If a woman cheats on a guy, she is shunned and called every foul name you can think of. For example, when singer Kehlani was accused of cheating on her boyfriend, Kyrie Irving, she was publicly shamed so much that she attempted suicide. Can we stop these double standards?