I am one of the least disorganized people ever. You can ask anyone who knows me, and they'll tell you this is true. There are cheap ways to make life a bit easier and more organized. So here are some of those ways to do so with DIY projects you can do at home. You may not even have to buy any materials, if you're lucky!
1. Shoe Hanger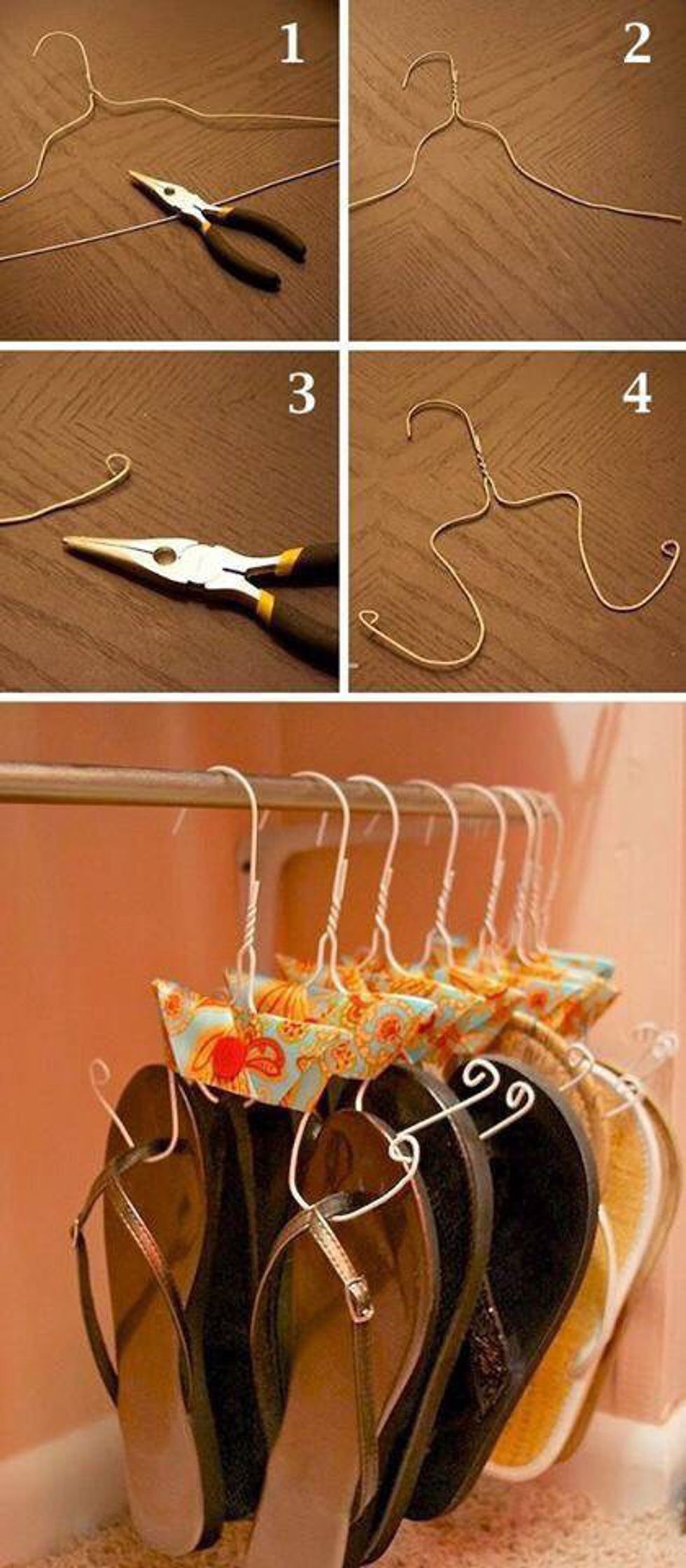 The image makes it somewhat self-explanatory, but I'll explain it anyway. You're going to need wire hangers and a pair of pliers. Scissors don't really work well on the hanger. You'll clip off the bottom third of the triangle shaped hanger. Then, you'll bend the end half of the two sides that are left upwards, as shown above. You probably won't need the pliers to do that. Then, hang the shoes on each side! You can decorate them with ribbons or other decor, as shown above.
Source: Hey Wanderer
2. Indoor Faux Cactus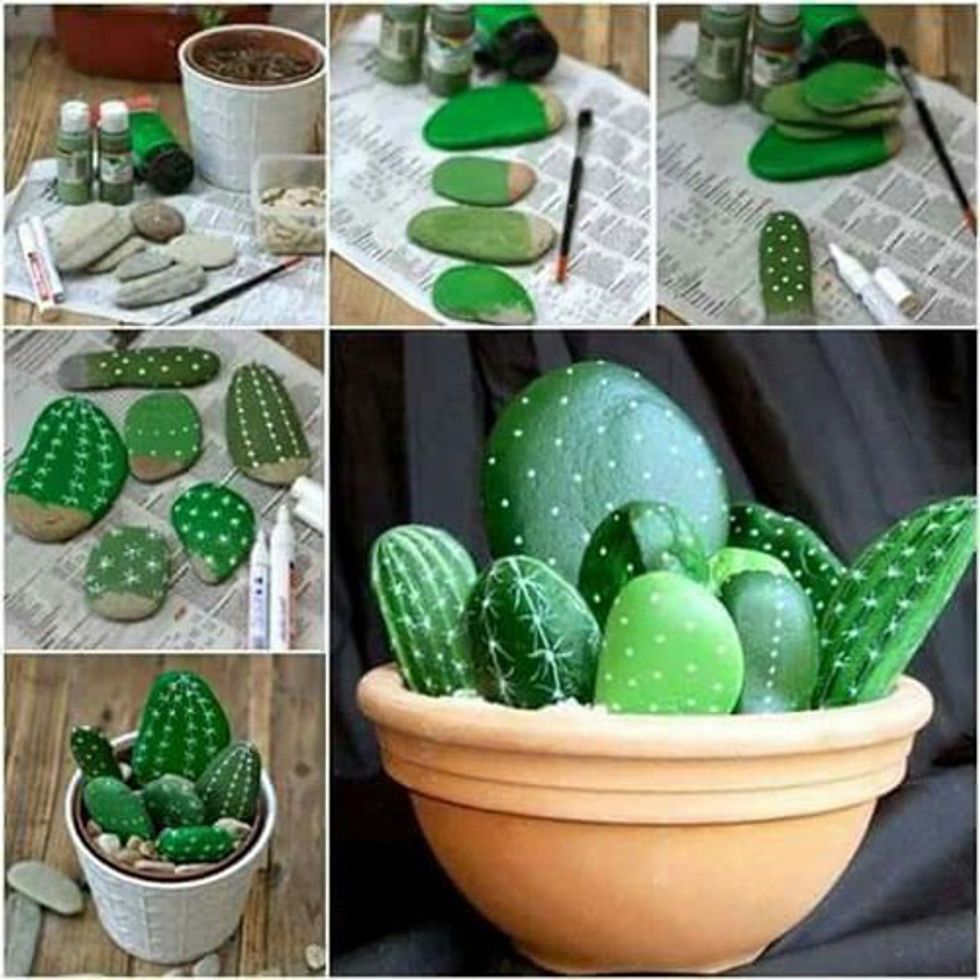 So, if you're anything like me, you might not be very good at keeping up with watering and taking care of your plants. Yet, if you want the more natural feel of a plant without the responsibility, this DIY is perfect and easy. You'll need a plant pot, green and yellow paint, and some stones. You're going to want to find some flatter and smooth stones. You can find them or even buy them at a craft store. Then, get a pot and fill it with smaller rocks or other filling materials. On a sheet of newspaper, paint your stones green, let them dry, and paint the details of a cactus (spikes and such) on top of the green. When those are finished drying, put the painted stones in the filled pot as shown above. Voila! You have a low to no maintenance plant.
Source: Fab Art DIY
3. Paper Filer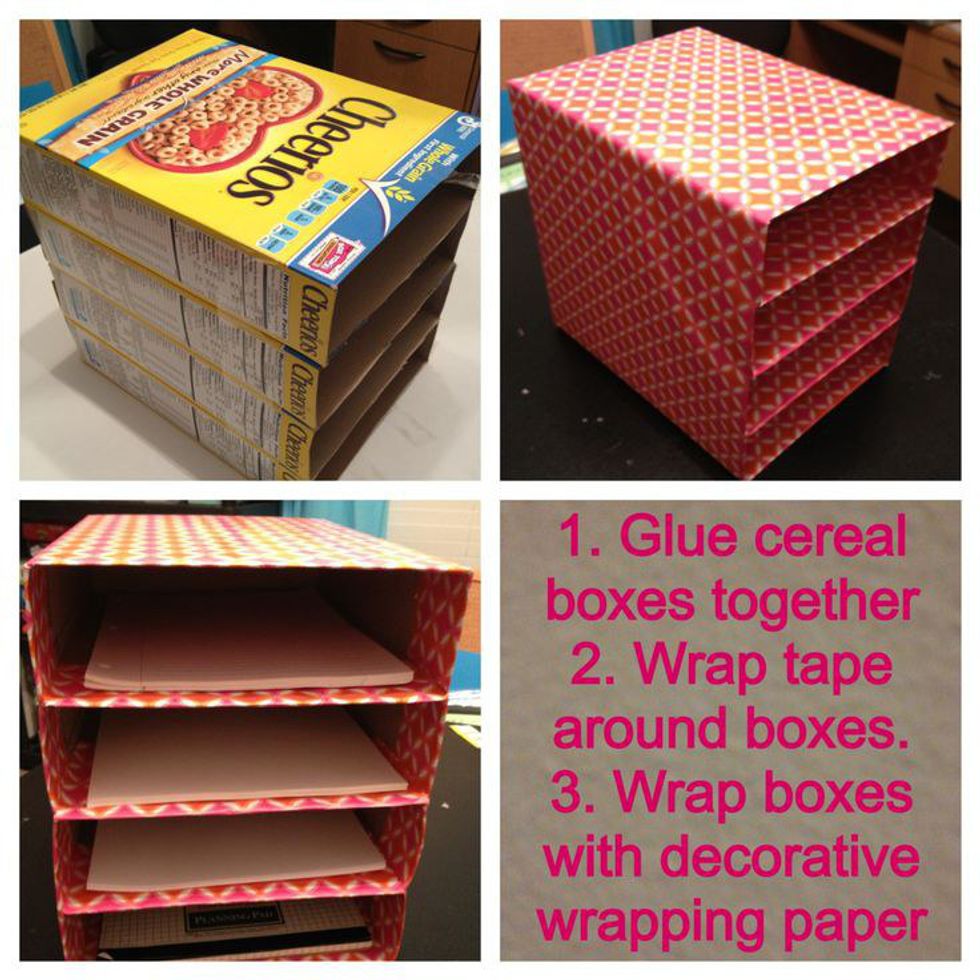 This is nice if you have a lot of papers that need to be organized and separated. The boxes in the picture are great if you have large packets, but you can use thinner boxes if you are just filing single sheets of paper at a time. You'll need several cereal boxes (shown above is four, but you can add or subtract as many as you would like), glue (preferably hot glue), and wrapping paper, if you want to decorate. First, glue the boxes on top of each other on their sides, as shown above. Then, wrap the boxes with wrapping paper, if you choose to do so. Lastly, organize your papers. Easy!
Source: Pinterest
4. Bathroom Holder for Miscellaneous Items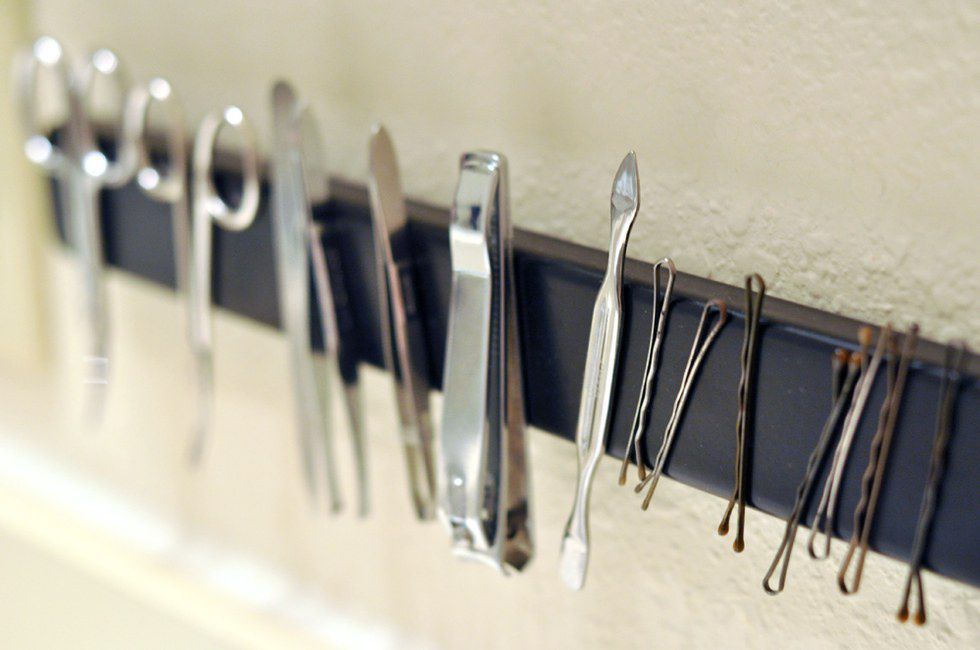 This one is great for keeping all of those small, easy to lose bathroom items in one place. All you need is a magnetic strip and command strips. You don't need a magnetic strip as thick as the one shown above either; just something you'll find at your local store will do. You just put command strips on the back of the magnet, and put the magnetic strip where you want it to go - a medicine cabinet is a great place for this - and hang all of the little metal bathroom pieces on it.
Source: Good Housekeeping
5. Dry-Erase Paint Chip Calendar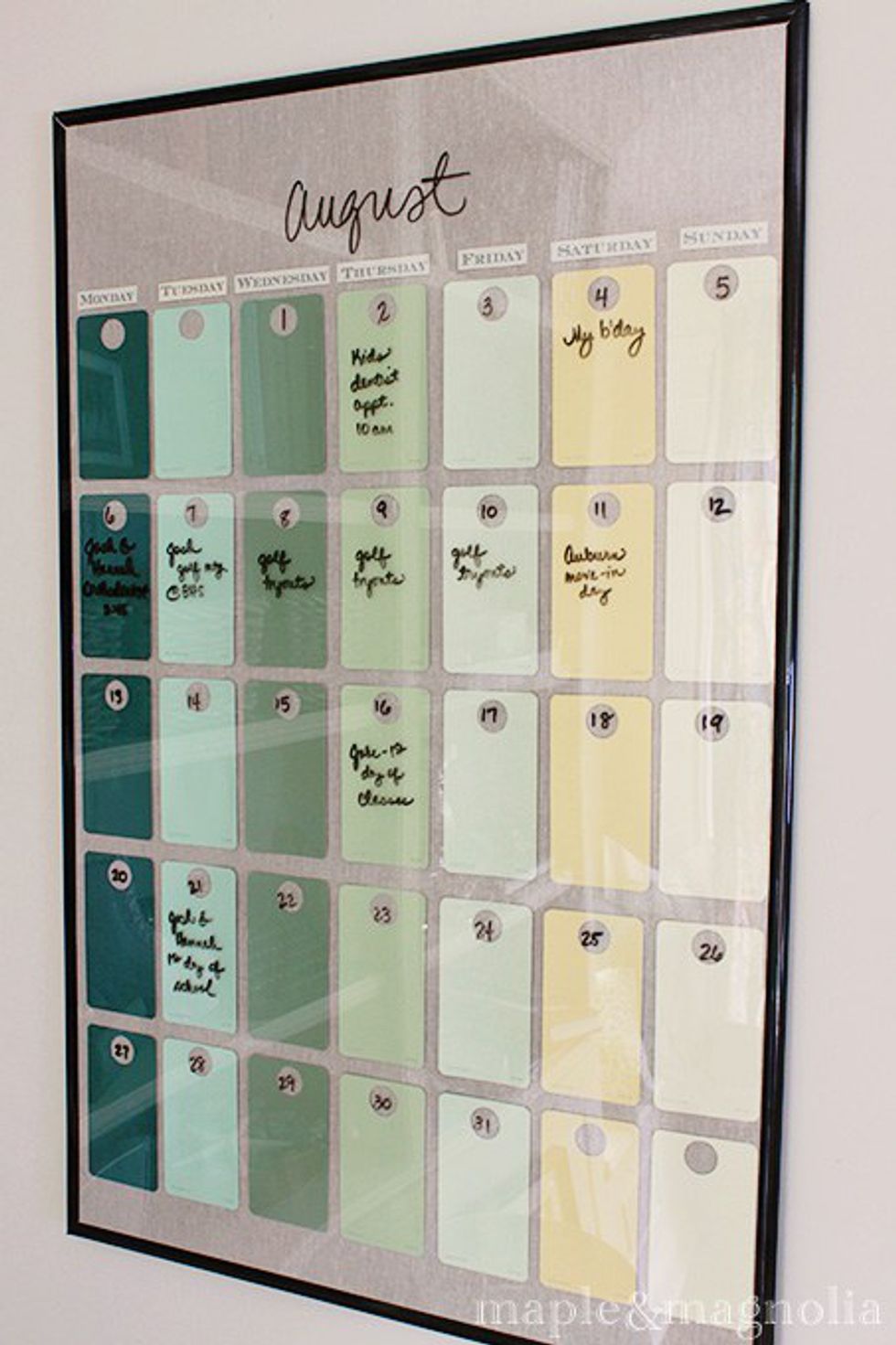 I personally have one of these in my room and I love it! Calendars are really helpful to me, but they're kind of expensive to keep buying, so this is a lifesaver! All you have to do is buy a large, $15 or so picture frame (only about $5 more than a one-year calendar) and get 35 paint chips of any colors you would like. Just cut the paint chips so that you can fit 6 paint chips across each row and 5 paint chips down each column. The circle in the middle for the date is an optional addition - I just put the numbers in the upper left-hand corner. Change it each month. What's nice about this is that if you want to adjust your schedule, you don't have to worry about scratching out pen or having marks from previous pencil marks. Just wipe it clean!
Source: Huffington Post
6. Hair Tie Organizer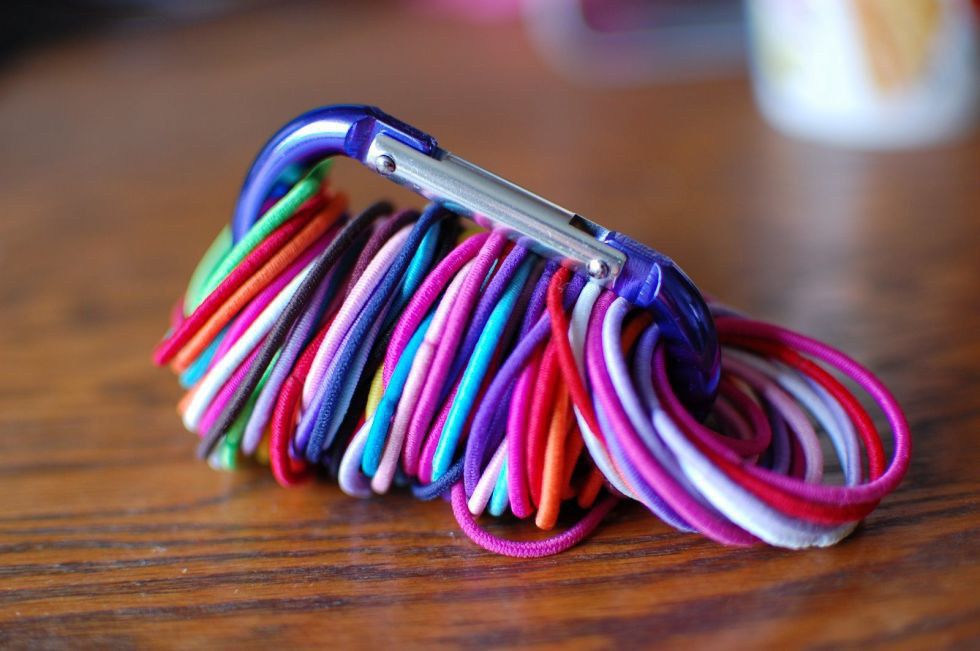 It's hair ties. On a Carabiner. You don't even have to do anything once you have the materials. Just go to the dollar store, or even a local event, and you will get one of these for either $1 or free. Put the hair ties on the carabiner. Done.
Source: Good Housekeeping