BTS has made its name known all over the world as the biggest K-Pop boy band ever. Their songs have reached number one worldwide for years and their music videos have billions of views collectively. They are being talked about again for something other than their catchy music. On June 4th, 2020, BTS tweeted about the massive Black Lives Matter, BLM, movement and their supportive words brought encouragement and hope to fans everywhere around the world. They did not stop here though.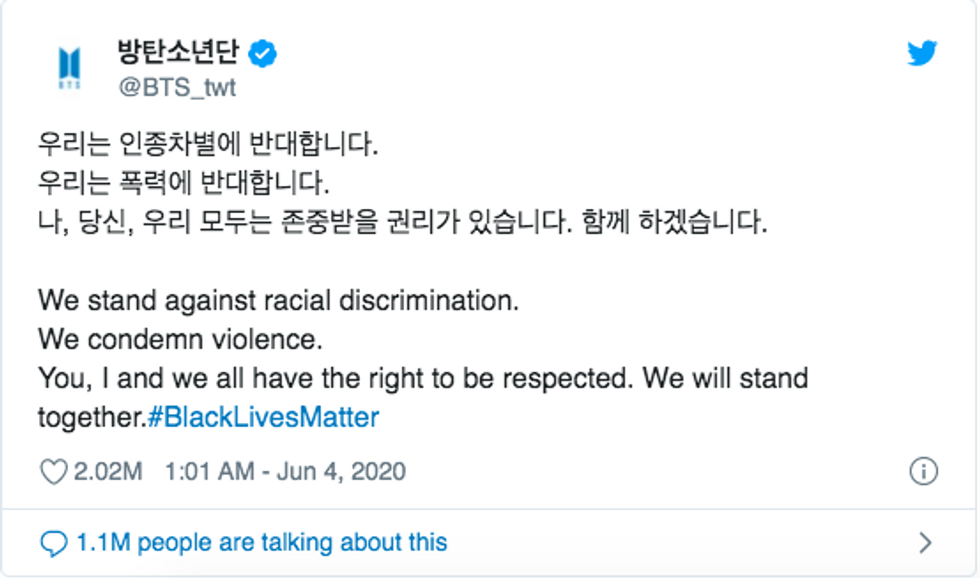 @BTS_twt on Twiiter
A few days later, a spokesperson for BTS confirmed that the Korean boy group donated $1 million to the BLM movement. The fans were prompted to get involved as well by signing petitions and donating any amount possible for the movement. Only 24 hours after the initial donation, over $800,000 was raised by BTS fans. This past weekend was the start of a fund-raising campaign for Black Lives Matter, Movement for Black Lives, and various other organizations. The campaign started on Twitter under the hashtag, #MatchAMillion.
BTS fans, also known as ARMY, have started dozens of campaigns and fund-raisers for tons of organizations over the years. The amount of support from fans is truly amazing and overwhelming. ARMY plans to aim for a $3 million donation once they reach $2 million. With all the support ARMY is giving, their goals are definitely obtainable.
K-Pop fans have shown so much for the Black Lives Matter movement in so many ways including donations for protester's bails and when police departments asked people to send in "illegal activity" from the protests, they overwhelmed the police with concert videos and fancams in order to hide protesters.
To this day, ARMY and other K-Pop fans are actively showing support for the various amounts of Black Lives Matter organizations. Almost $2 million has been donated for the #MatchAMillion campaign and they do not plan to stop. Donate for yourself with the links below.