Nearly a month after releasing his "Bobby Tarantino II" mixtape — see my review of the project here — and making the shocking announcement that he and his spouse, Jessica Andrea, were getting a divorce, Maryland rapper, Logic, may be on his way to an entirely new level of fame — one that contains rap beef and, possibly, some eventual bad press as a result.
While Logic has been around for some years now, many rap music fans didn't know who he was until his hit single, "1-800-273-8255," rose to the top of the charts — then Logic, himself, followed almost right after.
He went from being a rapper who was living a very quiet, simple life to being known as well as almost anybody in today's rap game, but a hit single wasn't the only reason for that.
Logic dropped his mixtape, "Bobby Tarantino II," a month ago and since then, it has already peaked at number one on the Billboard 200 chart, though it currently sits at number six.
It's pretty rare to see a mixtape reach the top spot on the charts so that's an impressive feat accomplished by Logic — I just hope this newfound fame doesn't go to his head.
While this month has held a number of successes for Logic, he has also suffered a heartbreaking failure — both for himself and his fans — when he announced that he and his wife, Jessica Andrea, were getting a divorce after two years of marriage.
The couple, though I guess you can't call them that anymore, made their split public on Instagram just days after rumors speculating the divorce began spreading all over social media.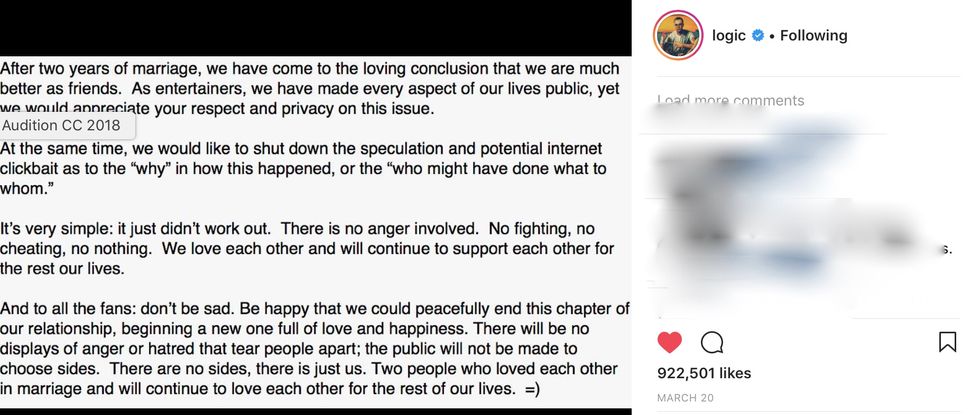 There have been plenty of rumors going around saying that Logic wanted the divorce because he didn't want to be tied down in a marriage with the notoriety he has finally achieved and would just prefer to be single, but I'm not so sure it's as simple as that.
Yes, Logic is insanely famous now and would probably like to show love to his groupies after performing shows, but according to both Logic and Andrea, being faithful was not the issue.
They "just didn't work out" and are better off in more of a platonic relationship.
Perhaps a relationship consisting of two individual music careers and tours puts too much strain on a relationship — or just makes it feel like there isn't even a relationship at all.
One thing we do know for sure, though, is that Logic is single for the first time in a while, and it'll be very interesting to see if his music will differ from the projects released when he was still married.
On "Bobby Tarantino II," we may have a caught a taste of this "new Logic" as he got more sexual with his lyrics at times and we even saw some anger come out as he addressed his haters on a number of songs off of the mixtape.
One of the people believed to be a part of the "haters" that Logic was referring to is Joyner Lucas — though Logic denies he was talking about Lucas, there is no one else hating on him on a grander scale.
I have personally followed this rap beef for many months and, up until recently, I was completely on Logic's side.
The quick way of telling the tale of this rap drama, which has been going on for a little over a year now, is that Logic and Joyner were both on "Siracha" together, a song that was released on Tech N9ne's album, "The Storm," and Joyner felt as though Logic wanted no part of this collaboration.
Joyner gave the details behind "Siracha" and more when he appeared on Complex's "Everyday Struggle" (before Joe Budden left so you may still find it entertaining).
Logic has yet to confirm if any of what Joyner said is true or not — and I really hope it's not because it would make me think very differently when it comes to the kind of artist that I think he is — but Joyner Lucas has definitely made this an interesting beef regardless with the release of songs like his "Mask Off" and "Look Alive" remixes, where he made it very obvious he was coming for Logic.
Whatever the truth is behind Logic's divorce or his rap beef, I just hope he continues to do what he does best: rap and preach "peace, love and positivity." You can hear "Bobby Tarantino II" on iTunes, Spotify, Apple Music and more so be sure to check it out!