Until Saturday, February 24th, the Aicon Gallery features "Born of Fire: A Tale for Our Times," the debut solo show by Jayasri Burman. A mere four-minute walk from the Bleecker Street station on the 6 train, the Aicon Gallery specializes in non-Western, and more specifically, South Asian art. There, they seek to ensure that contemporary South Asian artists can access a platform whereby their artistic goals can be realized, and their audiences can be represented. The current exhibit prominently features "eleven large-scale works on paper, centered around the story of Draupadi."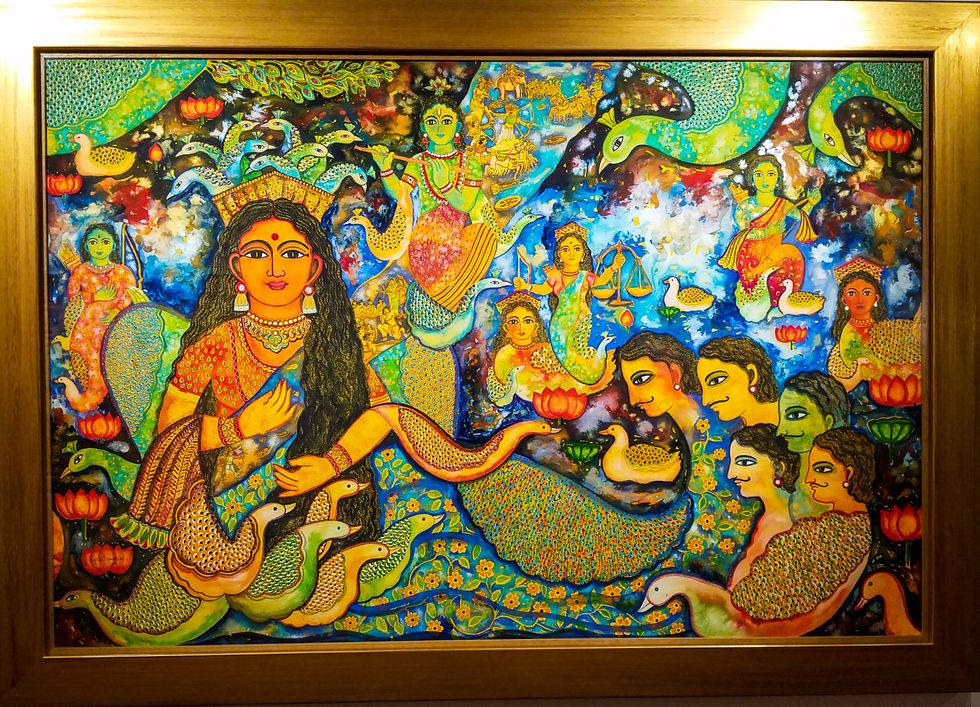 Hindu deities are a common subject for Indian artists, and images of Draupadi are no rarity. In the Mahabharata, a Hindu epic, Draupadi is- per the title of the exhibit-born in a pyre of flames.
As the press release accompanying the exhibit so concisely provides,
"She was married to a group of five Pandava brothers...Though she was a clever and savvy leader who directly contributed to her husbands' political empire, Draupadi is best remembered for being consistently victimized by men, all while having no say in her own destiny. Despite her intelligence and skill, she finds herself characterized according to her value as either an object of desire, wife, or daughter."
Burman's work seeks to transform the lens through which Draupadi and goddesses like her are popularly portrayed. She veers from sexualizing them or making them secondary objects, as artists have historically tended towards. The exhibit brings these figures to the forefront, imbued with bright colors and light. The gallery aids this directly, placing them against a stark white wall in one room and then against a subdued navy in the next.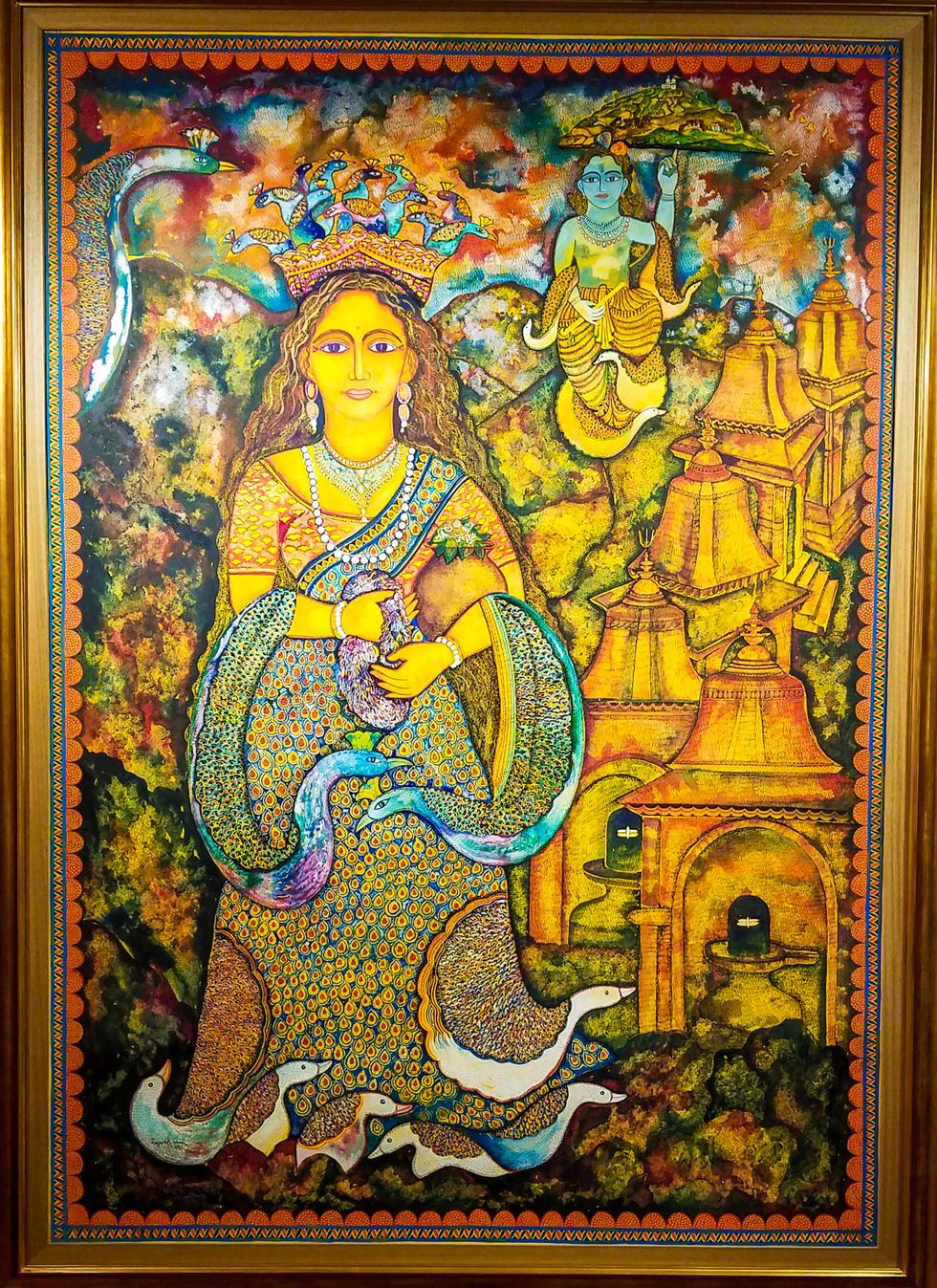 Per Burman's interpretation, Drapaudi is nothing short of a feminist icon. Here is a story of political skill, self-determination, and most certainly, relatability. The timeliness of this exhibit is not lost. Amidst the #MeToo and #TimesUp movements, and amongst an ever-growing number of others, it is vital that female figures be given the respect and credit that they've often been denied. That even in their more somber moments, Burman portrays her subject as composed and vibrant, indicates a regard for their strength and resilience that is too frequently ignored.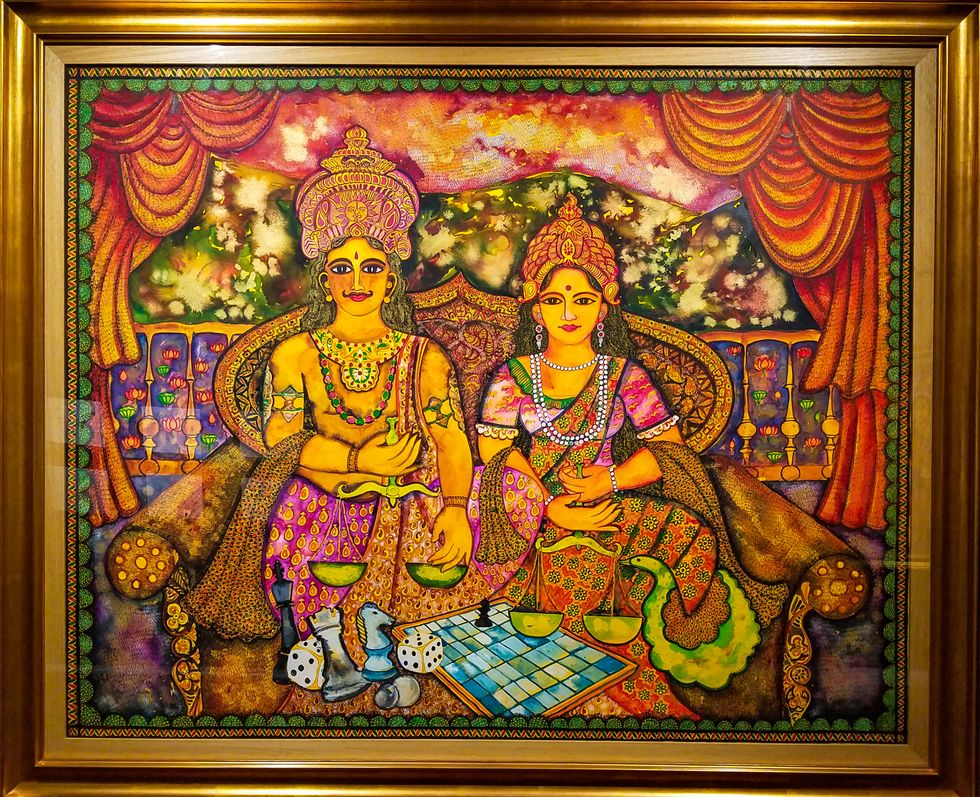 Like many of the Aicon Gallery's exhibits, viewers of this exhibit have much to gain. Burman's work is an ode to the female subject and serves as a reminder of the reverence that the art world owes to it.