Bockarie Amara, better known by his stage name Boregard, is an Atlanta-based rapper and member of the hip-hop collective, Bassmint. The 21-year-old artist was especially popularized by his music video for "honey, did you know about this" and singles he has dropped over the past year, most notably "Knowwhatsup," "Obama," "action," and "Jigsaw." Now, Bo has finally meshed his creativity and skills together to birth his latest EP, Trustfall, released November 1st, 2016. Through this project, Boregard expresses his youthful enthusiasm with the maturity of a man with a defined vision.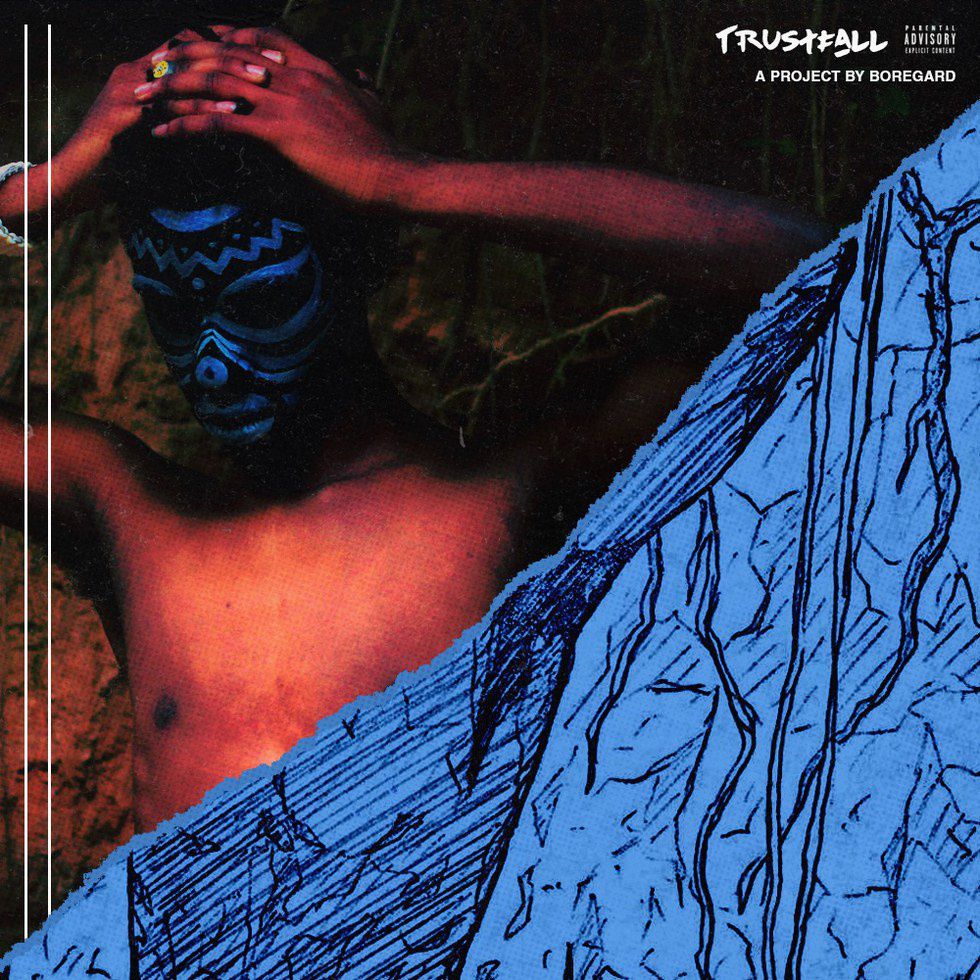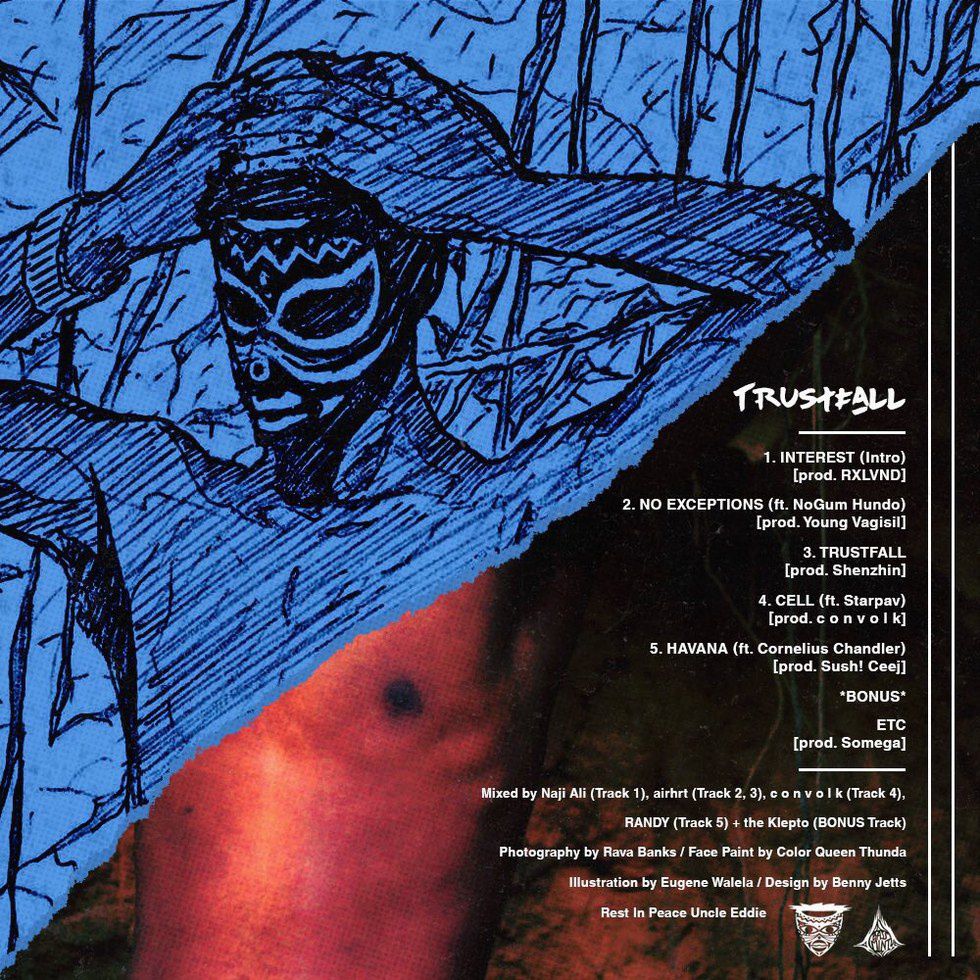 While his musical content tends to focus on his thoughts and experiences, Boregard's creative expression is authentic in maintaining his distinct character. Boregard is unintentionally goofy, but lyrically intelligent. His style rejects limitations, as he constantly embraces his lifestyle, African culture, and individuality. This is part of what makes Boregard both relatable and inspiring at the same time. Everyone, especially in this time of young adulthood, is searching for a meaning and a better understanding of oneself.
For Bo, making music is his "medicine," an opportunity for him to be himself and express himself to others. While Bo stays true to his influences, he remains unique among a sea of upcoming and established Atlanta-based rappers. Boregard employs multiple elements into his music, mixing southern hip hop beats with pop energy, and even a little soul at times. His brand as an artist blends the explicitness of Kanye with the smooth-talking tones of Fabolous.
When asked about his thinking and general philosophy behind Trustfall, Bo had this to say:
"While creating this project, I experienced a wide range of emotions. This year, I truly began to see the world in it's purest form. I don't mean pure as in perfect, but pure as in unfiltered. The world is not a perfect place, and we are not perfect people. That leads me to believe that there is no singular perfect way to live your life. It seems like we are so content in following instructions, that when the opportunity to innovate arises, we find ourselves afraid or unprepared. I may be speaking for myself, but I do believe one thing: those who have achieved greatness made mistakes in the process, and those who have made mistakes are capable of achieving greatness. So why not trust your own judgment?"
Those are wise words for a young man. So, let's take a more in-depth look at the project.
INTEREST (prod. RXLVND)- At some point in a rapper's career, the topic of money becomes pressing enough to talk about. This song is a more laid-back and subtle expression of Bo's business and street acumen. It is stylized with softer vibes on a simpler set of beats. The focus is less on the sound of the music, instead highlighting his flow and offering insight into his thinking.
NO EXCEPTIONS ft. NoGum Hundo (prod. Young Vagisil)- This song is a blatant and swift change of mood from the last. It is open and true to the artistry in his lyricism, while maintaining a sense of fun. The beat itself is imaginative and, combined the original cover art, seems to portray Boregard's exploration in his work.
TRUSTFALL (prod. Shenzhin)- Swift and fleeting, this song offers a more raw view of Bo's flow. Even the melody of the song seems to express a sense of vulnerability. This perception is further strengthened by his repeated question, "tell me why I should trust another." There is a duality here: he seems to feel unbound, yet he remains inhibited by his lack of trust in perhaps others or himself.
CELL ft. Starpav (prod. CONVOLK) This song is heavy, emphasizing a kind of intensity in its attitude. The song does not exactly come across as villainous, as one might infer from the character on the cover art, but it is ambitious and deliberate in its message. He's "the captain of the ship," in control of himself and confident enough to brush off "haters" and figuratively "trust fall" with his own judgement.
HAVANA ft. Cornelius Chandler (prod. CEEJ of Two9)- This song was the only single released before the EP itself. As the name might imply, the song has more wavy, downtempo tones. It is more of a harmonious compilation of different sounds, carefree and experimental in its approach. The washed out layers of voices and melodies in the song offer a relaxing vibe.
ETC (prod. Somega)- Although it is only a short bonus track, this song is hype enough that I wish it was longer. From the start of the song, it may become clear who produced it: Somega. Somega easily captures the excitement in each song that he produces for Boregard. Perhaps the lively mood of this song is meant to reflect Bo's own upbeat spirit. He feels like "Kuzco," getting his "groove on" on stage. For Bo, "winning is the only option," and that is exactly what he is does with this song.
Anyone who knows Bo well can likely understand how strongly this EP embodies Boregard's persona. It is assured, but always curious and questioning. Boregard is not just an individual character; at the heart of his brand, Boregard is an idea, symbolic enough to be conveyed through a sticker and a mask. His inventive style invokes a combination of liveliness and vulnerability in the form of 6 songs and several photography pieces. Part of his goal in this stage of his career may just be to be more uninhibited in his musical exploration.
As both a student in Emory University's Goizueta BBA program and a hip-hop artist, Bo clearly has the intelligence and motivation of a businessman. He has a clear eye for his resources, and he is quick to employ a variety of methods from his toolbox to succeed in his endeavors. From my discussions with Bo, I found that he constantly has thoughts and ideas racing through his head. There is always a task to complete with an underlying goal in mind.
Identifying how to connect his ideas was especially vital to accomplishing his goal of creating Trustfall. Whether it was arranging time to hit the studio, meeting with talented photographers, artists, and audio engineers, connecting with individuals to help organize his shows and plans, or simply freestyle rapping to inspire new lyrics, Boregard jumped at every opportunity he found to finish his quality project.
Boregard gives special thanks to everyone involved in Trustfall EP, as well as SOUL ASYLUM STUDIOS and MODERN MEDICI MANAGEMENT for providing the studio time.
When asked about his future plans as Boregard, Bo hinted that Trustfall may just be a "teaser for a future album." So be on the look-out! Also, be sure to follow Boregard on social media and check out some of his other creative involvements (below):
Soundcloud: https://soundcloud.com/boregardmusic
Instagram: https://www.instagram.com/therapgamebojackson/
Facebook: https://www.facebook.com/boregardmusic/
Twitter: https://twitter.com/ElBoMoLoco
Tumblr: http://noregard4thelaw.tumblr.com/