I've been a Beyoncé fan since she was still a Child of Destiny. I vividly remember singing along with "Say My Name" at four years old (can we all agree that "The Writing's On The Wall" is a classic?) I have followed Beyoncé's discography from her debut until present day. Through all the stages of Queen Bey's career, my favorite stage began in 2011 with the release of her album "4". "4" was her first album, in my opinion, being unapologetic about her artistry; this era paved the way for artistic projects such as "Beyoncé" and "Lemonade". Under the reign of "4", Beyoncé also revealed her pregnancy, and ultimately introduced us to her daughter, Blue Ivy Carter. Blue was born January 7, 2012, a princess in her own right. After all the speculation Beyoncé received during her pregnancy, I was happy that a beautiful baby girl was here. Yet, the arrival of baby Blue brought about even more disgusting rhetoric.
People's disdain for Blue came for many reasons. Some people just hate Beyoncé, therefore, they felt the need to move that hate onto her child. Many people made fun of the fact that Blue looked like her father, Jay Z. Jay Z has received years of ridicule for being "ugly", although I think it has more to do with the fact that he has very African features, but that's another topic for another day. The fact that Beyoncé chose to let her baby's hair be natural and free only added fuel to the fire. Nasty memes, tweets, and posts were made about Blue, all because she had untamed, natural coils and natural black features. A child, a baby was being ridiculed for her looks, and many people didn't see a problem with her being the butt of the joke.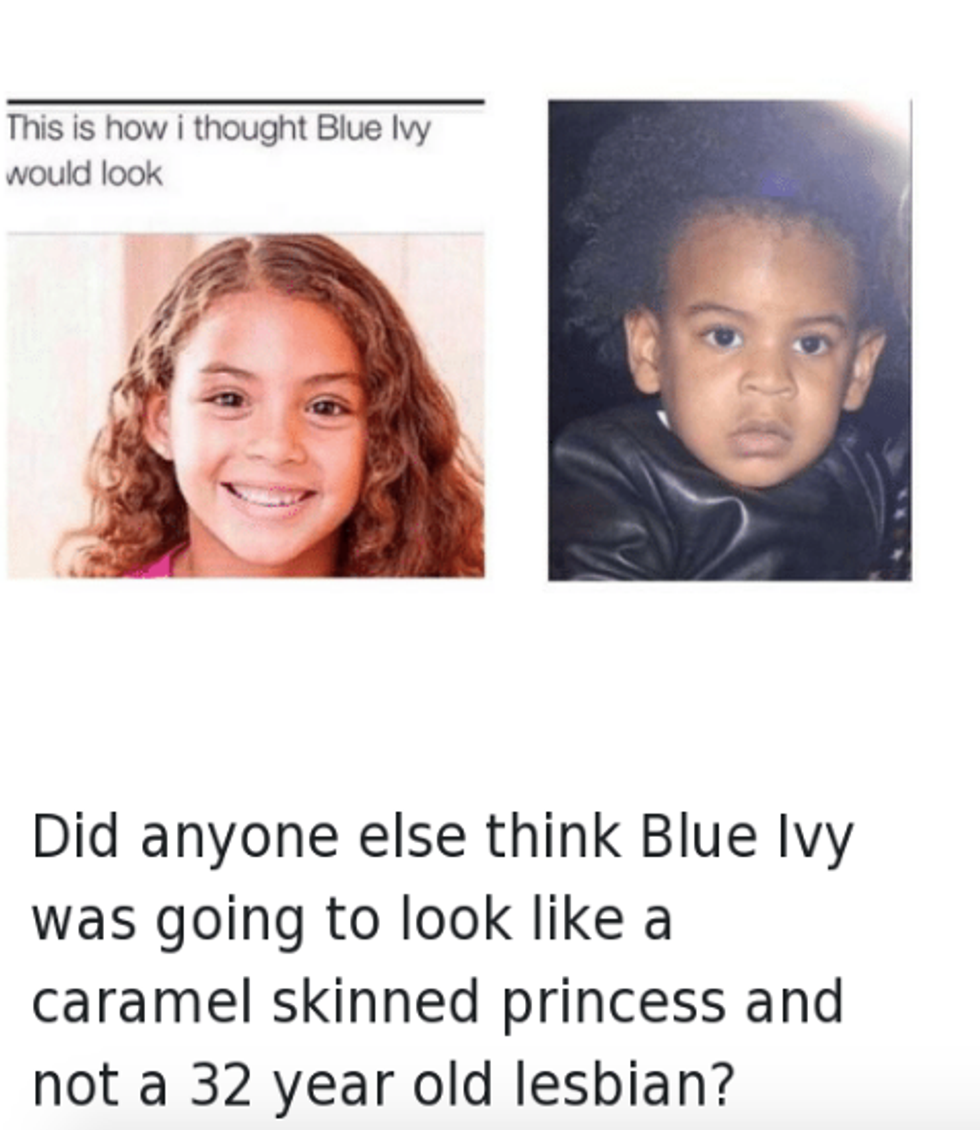 Fast Forward to present day. While many people finally understand that Beyoncé likes her "baby's hair with baby hair and afros," a lot of people still can't understand why Bey is so unapologetic about her daughter's blackness. Even still, Blue is being made the butt of the joke. Last week, Shane Dawson, an American Youtube personality, made a joke about Blue in one of his videos. In reference to a face mask he was reviewing he said "This is the size of an adult. Do kids have adult faces? I've seen some babies that have some adult ass faces. Beyoncé's kid? He looks like he's 48 and works at a bank. Like no thank you Ivy, I'm good. I don't need a savings account."
While the comment is dripped in not only racism, but transmisogyny, people have still found a way to take this as "just a joke." Yeah, right.
Here's why I can't see it that way.
All of the jokes I have seen about Blue have been rooted in racism. People were angry about her hair because Beyoncé chose to let it be free and untamed (which is a great method for growing a child's hair, btw.) However, children of celebrities with a looser grade of hair never get the ridicule that Beyoncé and Blue got for wearing their locks untamed and messy. Blue is a little black girl who never asked to be born into the spotlight, and yet at four years old, is being ridiculed so harshly. What can that do to a child's self esteem?
I love that Beyoncé is raising Blue to be a carefree little black girl. I love Blue's tightly coiled hair, and I love Blue's big personality. When I look at Blue I see every little black girl. I see the ridicule they will face, the ridicule that they have already begun to face, and the spirit of resilience that black women possess even from an early age. When I look at Blue I see my future daughters, and I see the me that I used to be. Black women already have to tolerate a lot, but to see this disdain for black women be passed on to babies is truly disheartening. For that reason, I will continue to stan for Blue and all that she represents.
Sweet Blue, know that you are beautiful. Never let the negativity of others stop you from staying true to yourself. When I speak to Blue, I speak to every little black girl. They will make fun of your features, they will make fun of your hair, but never let that discourage you. You are beautiful and you matter. Oh, how you matter. Never let them take your shine.