Here is a list of the best products to protect your skin in the summer heat.
Neutrogena Clear Face Liquid-Lotion SPF 55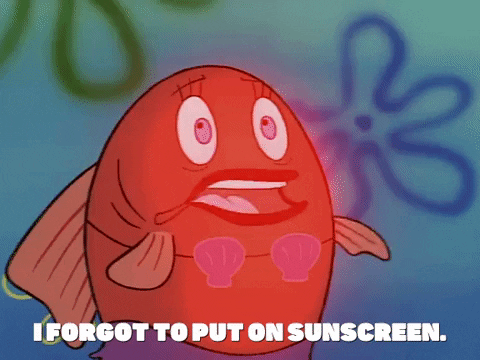 https://giphy.com/gifs/spongebob-season-1-episode-2-3ohuPC5W8XSZiDyXny
This product is great and should be applied after you moisturize. It is always best to get a lotion that is SPF 50 and up. It can be tricky to apply lotion on the skin evenly so getting higher SPF gives extra protection to areas that you might be missing. This lotion is formulated for the face so it applies very light almost like a primer and it gives your skin a dewy glow while keeping you hydrated and protected.
Aveeno Positively Mineral Sensitive Skin Sunscreen
If your are like me and you suffer from sensitive skin, this is the sunscreen for you. It is extremely light and good for everyday wear in the summer.
La-Roche Posay Anthelios Ultra Light Sunscreen Liquid 
If you are planning a day to the beach or the pool this is the SPF lotion you should be using. It is stronger than the Aveeno and better for days when you are going to be in direct sunlight.
Banana Boat Sport SPF
If you are an athlete or just love your outdoor sports, an SPF that is sweat proof is definitely a product to invest in. Banana boat Sport is light and comes in a spray bottle for easier reapplication. It dries down nicely and has a very pleasant smell.
Sun Bum Sunscreen Lip Balm SPF 30
It can be easy to forget to apply sun protection to our lips. The skin on our lips is the most sensitive skin on our body and can be prone to sun damage and blistering when exposed to extreme sunlight. Sun Bum lip balm comes in many different scents such as coconut and pomegranate.