A little bit of Asia. A little bit of Vienna. Your crazy American friend shoving them together.
Fried rice that tastes like a bagel isn't your usual dish but IT TASTES AWESOME, so let's give it a go...

4 Servings // Prep Time: 15 minutes // Cook Time: 7 minutes
INGREDIENTS
12 slices half cooked bacon
1 cup pulled pork
3 cups long grain rice
12 thinly diced baby carrots
2 cups shittake mushrooms
4 whole eggs
pinch of salt
1 tablespoon black pepper
1 teaspoon ground cloves
1 teaspoon ground basil
8 tablespoons olive oil
1 tablespoon butter
2lb bag of frozen peas
8 tablespoons Everything Bagel seeds
4 tablespoons tamari
PREP
1. Cook the pork. Cook the bacon but not all the way through. Cut both into thin, centimeter-wide slivers.
2. Steam the rice, as according to the packaging.
3. Thinly slice the baby carrots and mushrooms.
4. Beat the eggs in a bowl. Add the salt, pepper, cloves, basil, and 4 tablespoons of Everything Bagel. Mix.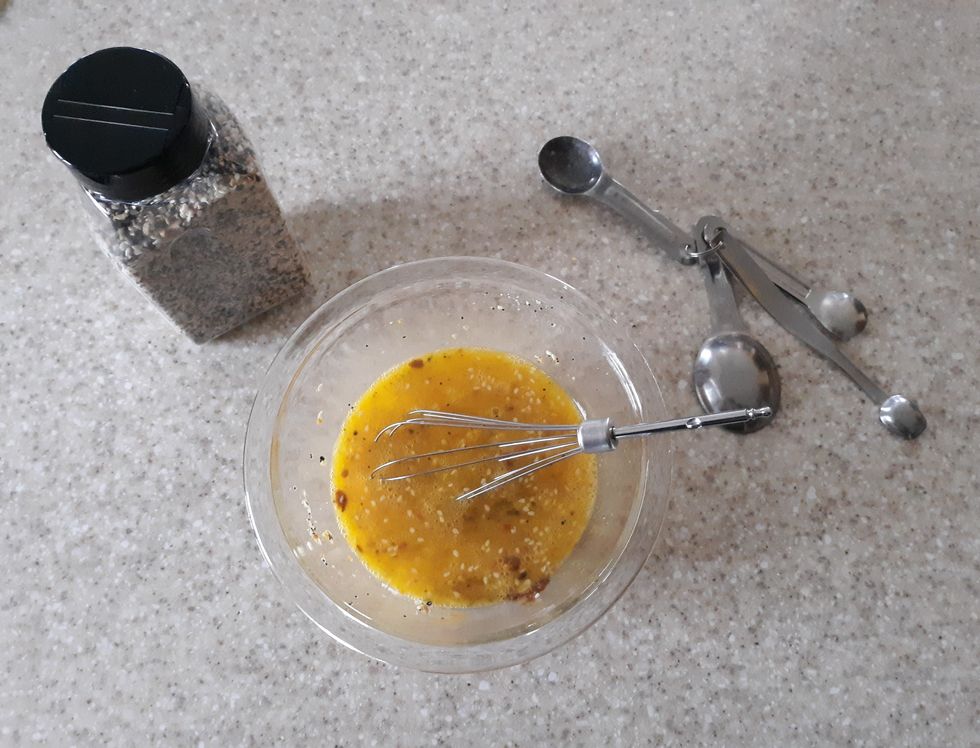 COOK
1. In the largest cast iron pan you own (SERIOUSLY), heat up 2 tablespoons of olive oil and the butter, for about 30 seconds on high.
2. Add half of the egg mixture into the pan and stir for 30 seconds.
3. Add the bacon, pork, carrots, mushrooms, and frozen peas. Stir for 1 minute and 30 seconds.
4. Add the rice. Stir for 1 minute.
5. Add the last 4 tablespoons of Everything Bagel seeds, tamari, other half of the egg mixture, and the last 6 tablespoons of olive oil. Stir for 2 to 3 minutes.
6. Let cool and serve.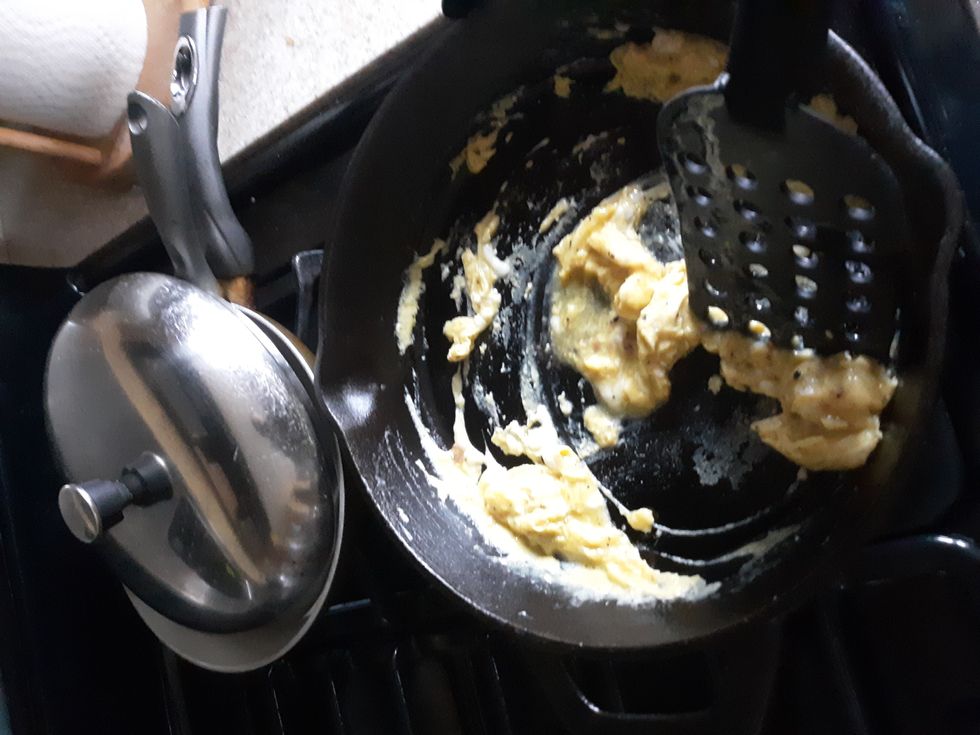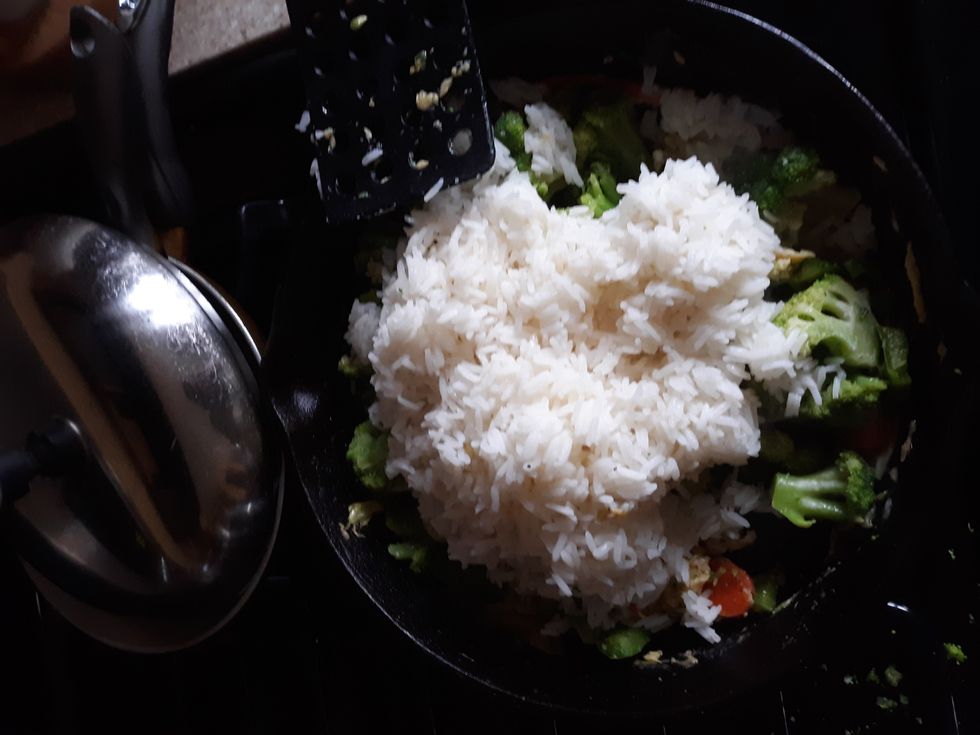 NOTES

Add more olive oil as needed. In the final stirring portion, I added olive oil until I was certain the egg, peas, and meats were cooked all the way through.
Don't over do it on the tamari. You probably won't get the dark brown appearance you're expecting but that's OK. Like all soy sauce variants, tamari is extremely salty. One slip and you'll be drinking a salt lake for dinner… or you'll create your typical Chinese dinner, while miss out on the bagel part entirely.
The reason the eggs are poured in in two waves is because the first wave of eggs evenly covers most of your other larger ingredients. The second wave typically gets caught on the bottom of the pan, unevenly stirred in or stirred in too slowly, producing a heavenly dose of scrambled egg pieces for the mix.
Be prepared to clean the stove. My fellow stir-master flipped wrong once and a wave of rice crashed into the other burners. When perfecting the recipe, I'd done it again! I think messy flipping is only natural, especially when the pan is brimming with ingredients.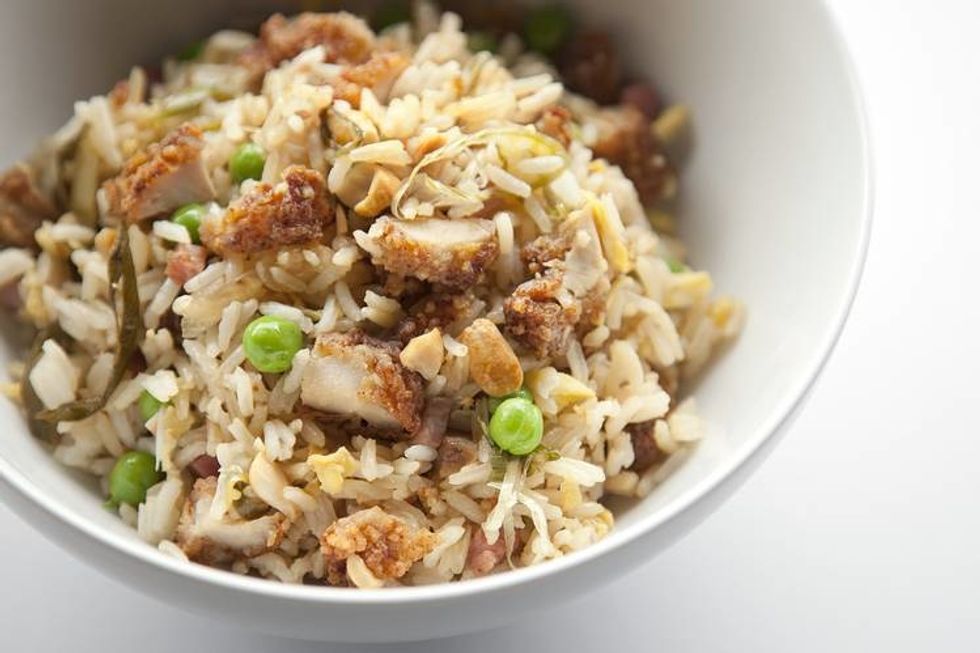 Happy eating!
Hannah Myers