Almost a month after the mass shooting that killed 17 schoolchildren in Parkland, Florida, lawmakers in Florida pass the Marjory Stoneman Douglas High School Public Safety Act, honoring the school where the shooting took place. In many ways, this act is an amazing step towards full gun control in the United States. They've raised the age required to buy firearms, required more thorough mental health background checks for those buying them, created the Office of Safe Schools within the Department of Education, and banned specific acts pertaining to the sale and use of bump fire stocks (additions to firearms that can make shooting in rapid succession much easier).
However, there's one important addition to this new act that seems to have taken a step in a completely different direction – and that's the Coach Aaron Feis Guardian Program, which honors the Stoneman Douglas coach that died protecting his students. This program lets each individual school district and their local sheriff's department decide on whether or not they want to arm teachers. This could potentially have the opposite effect on school safety and could have devastating consequences, furthering the problem.
It's been proven again and again that the only way to create a safe environment and prevent mass shootings is to create strict gun control laws all over the country, not just in one or two states, and to not introduce more guns into the country. Nations like Japan and Australia are among some of the ones that have the strictest gun control laws, and they are also among the countries that have the lowest rates of mass shootings and gun related deaths.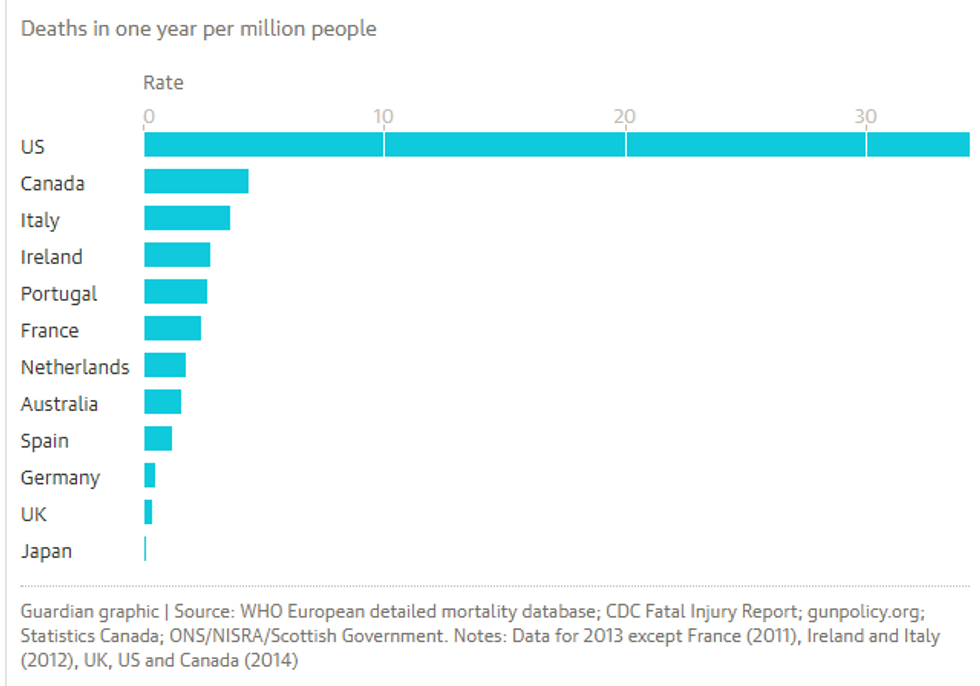 Introducing guns in classrooms are just going to make things worse. During an emergency, the teacher could be overwhelmed by their students and have the gun taken from them. Or, because of their proximity to students, they could accidentally shoot one of them, instead. Since people would know which teachers are armed and which ones aren't, perpetrators could use this to their advantage and escalate the situation by taking control of those guns, too. And if the counterargument to this is that the guns would be locked away and protected by a safe or kept somewhere other than the teachers' classrooms, then how can they even be grabbed in time to act in an emergency situation?
Furthermore, arming teachers is an even bigger threat to minority schoolchildren. Black children already face an extremely disproportionate amount of punishment than white children, and adding guns into the mix is creating more problems. If in the event of an emergency, a white teacher hears gunshots and looks outside of his classroom and sees one of his students, a person of color, running down the hallway with a hand his pocket, what's to stop the teacher from panicking and shooting his student? Even the student's hand was only holding his phone so he could text his parents as soon as he reached a safe area to do so? Many people are worried that poorer, more Republican school districts with white teachers and students of color will opt into this program, now creating further danger. Kids who aren't white are already being taught to run away from police officers because of their unfair treatment to people of color. They shouldn't have to fear their teachers, the people who are supposed to be nurturing and helping them grow, too.
Instead, schools should up security and make it much harder to enter into the building without an ID. Station police officers who are specially trained for schools. Teach students what to do in an emergency situation. Offer better mental health counseling. The country can do its part by tightening gun regulations, just as the Marjory Stoneman Douglas High School Public Safety Act proposed.
Already, the act is under fire from the National Rifle Association. The NRA is suing because they believe that raising the age limit is a violation of the Constitution, and they will stop at nothing to make the most money and sell the most firearms. However, they had no protest against the possibility of arming teachers. Do we really want to do something that an organization like the NRA supports?
This Wednesday, students all over the United States walked out of their schools to protest the lack of gun control in the United States. Let's not give them another reason to do so again.