If you don't already know (which you should unless you live under a rock), New Jersey-based band, A R I Z O N A's debut album "GALLERY" was dropped everywhere on May 19th! If you are looking for a "Summer 2017" album people, this is the one! I saw A R I Z O N A play live just a few weeks ago when they opened up for COIN in Minneapolis, Minnesota and they were incredible. I wish I could have listened to them play all night long. At the show, they even played a few songs from "GALLERY" which was fantastic until I went home after the show and wanted to listen to them again but couldn't because the album wasn't out yet. Thankfully, it now is, and I don't know about you, but I am so thankful! It feel as if I have waited for this moment for years, so I am super pumped and decided to share my thoughts on each track! Check them out:



1. "Annie"-

Being the opening track, this is the first song that I played, and by the second verse, I was already jamming. As I write this, it has only been about ten hours since the album dropped and I already have the song memorized which is a definite sign that this song is a good one. If you are looking for a song to jam to in the car with your windows down, sunroof open, and hair blowing in the wind, this is the one, I'm telling you!
2. "I Was Wrong"-
Listening to this song caused many different emotions and thought to go throughout my mind. For a while, it made me reflect on past relationships and just reflect a bit on my life. I feel like this is a song that many people will be able to relate to in multiple different ways, which is always cool.
3. "Feed The Beast"-
Ok, this one is another window-down jam! It even has a beat that will have your head banging, hand tapping on the steering wheel, or even your foot stomping on the floor. Seriously, you won't be able to sit still when listening to it.
4. "Where I Wanna Be"-
This song was released about a year ago but is still a total bop. If this isn't on your Spotify/Apple Music summer or road trip playlist it definitely should be! My friends and I have such a fun time jamming to this song and Every. Single. Time. It comes on it brings a smile to my face. The lyric, "Sets me free to where I wanna be," makes me think of my happy place, and when I listen to this song I feel like I am there, as cheesy as that sounds.
5. "Not A Single Day"-
THIS. IS. SO. BEAUTIFUL!
6. "Cross My Mind"-
This is probably my favorite A R I Z O N A song of all time. "Cross My Mind" was released as a single this past year to give us a taste of what the album would be like. When listening to this song, you can tell that it is one that has a story, and possible a really deep one. For me, I find this song to be truly special because when listening it takes me away, to another place and makes me feel something deep in my heart. It makes me think of people who I have lost including past lovers, family members, and friends. It is a song that I have made a real connection to, and that is hard to come across. The lyric, "I know I haven't been perfect, but give it some time, Cause not a single day goes by where you don't cross my mind " just really gets to me.
7. "Electric Touch"-
"Electric Touch" was also released as a single before the album release. It is a song that definitely pulls on your heartstrings! The music video for the song is super awesome and tells a heartwarming story about two girls in love and their struggles that they have learned to overcome in their relationship. If you haven't seen it yet, you better get on that!
8. "Brave Enough"-
"Brave Enough" is the 8th track on the album and it is a fast-paced jam. While listening, the lyric that stuck out to me was, "I've been telling myself To love myself before I love you ." I really needed to hear that at the exact moment that I did. It was actually crazy and honestly freaked me out a bit regarding the perfect timing. Recently, I have forgotten just how important loving yourself before anyone else is, and this was a great reminder.
9. "Running"-
As I listened to this song, I was lying on the floor in my dorm room while preparing for my final. While I listened, I closed my eyes and just let the music control my mind. The song just made me feel content, which is odd because it is pretty fast paced. I definitely needed it though because finals week has had me beyond stressed and my anxiety levels to be through the roof.

10. "Are You"-
"Are You" is so pretty! It has a soft sound and has a very pleasant rising and falling pattern of sounds. The lyric, "I don't wanna hurt you, I just wanna open up your heart" is so lovely and you can't deny it.

11. "Ain't Gonna Leave"-
"Ain't Gonna Leave" is one of the songs that I hadn't heard before the album release. I love the first verse of the song:
"I fight myself; I fight everything
To make you who I want you to be
And I keep coming back for more
Through the fires and my fantasies
So what if I don't know what to do?
Don't care too much about the truth, the truth
Oh, I learn the hard way ."
Overall, all of A R I Z O N A's music is very relatable and touching. In just about every song you can make a connection between the lyrics and an event or emotion from your own life, which is so special.
12 "Oceans Away"-
"Oceans Away" is probably A R I Z O N A's song that most people are familiar with. This is another great song to listen to on a nice summer day. It just makes you happy, but I bet at the same time can pull on your heartstrings. I am sure that when people listen to the song, they think about many personal things, the main one being relationships. Personally, when I listen to the song, it makes me think about my internet friends (who have become my best friends) who live all around the world. Even though we all are a "few thousand miles and an ocean away " we are closer than ever, and this song never lets me forget it.
Well, if you can't tell... I LOVE this band and their music. Maybe someday I will get to go to one of their own shows and jam & take some photos and share my experience as I did recently at The 1975's show and Chance The Rapper in St. Paul, MN!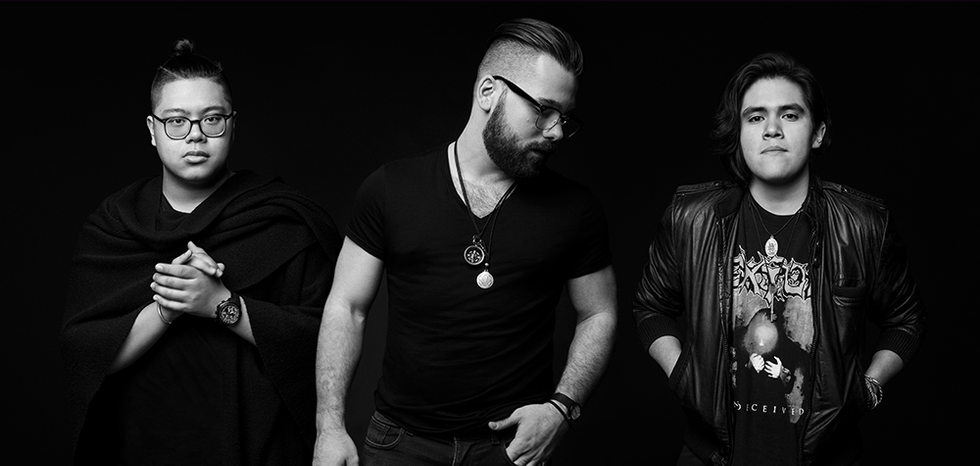 A R I Z O N A's Social Media:

Website: http://thisisarizonamusic.com
Facebook: https://www.facebook.com/thisisarizonamusic/
Twitter: https://twitter.com/arizona_music
Instagram: https://www.instagram.com/thisisarizonamusic/
Youtube: http://youtube.com/thisisarizonamusic
Spotify: https://open.spotify.com/artist/7hOGhpa8RMSuDOWntG...
Itunes: https://itunes.apple.com/us/artist/a-r-i-z-o-n-a/i...
Sound Cloud: https://soundcloud.com/thisisarizonamusic