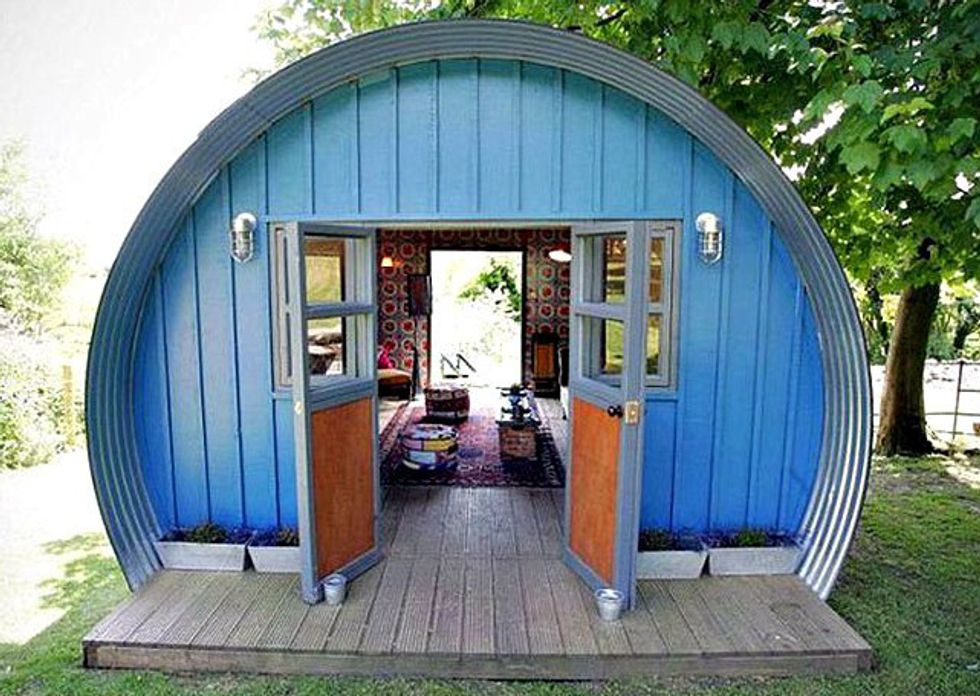 Image courtesy of Cuprinol and The Telegraph.
Within the last year, modest backyard dwellings known as She Sheds have seduced stressed-out women everywhere. Designed to counter the culturally-accepted 'man caves,' She Sheds are gardening storage spaces converted into sanctuaries for women to self-reflect and nurture hobbies, all within walking distance from their back doors.
These throw-pillowed lodges tend to be open living spaces that favor wooden or glass framework and sharp pops of color. The possibilities for She Sheds are endless; they've served as workspaces, craft rooms, guest houses and even hot chocolate/coffee bars. They can be dressed up or down – you'll find some decked out in ivy while others contain dripping chandeliers. But no matter their function, She Sheds revolve around one single purpose: to escape into a world of comfort and personal paradise.
It's no wonder that this humble retreat has quickly caught the consumer's attention. Home decoration magazines like Country Living and HouseBeautiful have featured DIY techniques for building personalized She Sheds. Lowes has set up video tutorials on their website for creating different She Shed looks while Home Depot published a She Shed DIY checklist on their blog. Department stores have released mass-produced assembly kits and She Sheds have even gone so far as to appear on television sitcoms like Last Man Standing ("That's What 'She Shed'"). FYI is also currently casting for a reality show called He Shed, She Shed.
But despite all of their DIY and design recognition, there is still one untapped market She Sheds have not surfaced in yet: vacation and travel. Think about it: if people are willing to leaf through magazines reading about She Sheds, spend thousands of dollars constructing their own She Sheds, and even watch TV shows about She Sheds, then wouldn't travelers be just as intrigued to spend the night in one?
Realistically speaking, the easiest way to market the She Shed vacation experience would be on Airbnb. Even though there are several factors that come in to play to design and market a successful Airbnb space, you'll find these trendy cottages are more than up to the task. With their quirky yet homey atmosphere, multi-purpose functions and influence on rural communities, She Sheds can be become bed and breakfasts in sleepy towns, pastoral country sides and vibrant suburbs.
A Quirky and Cozy Living Space for Travelers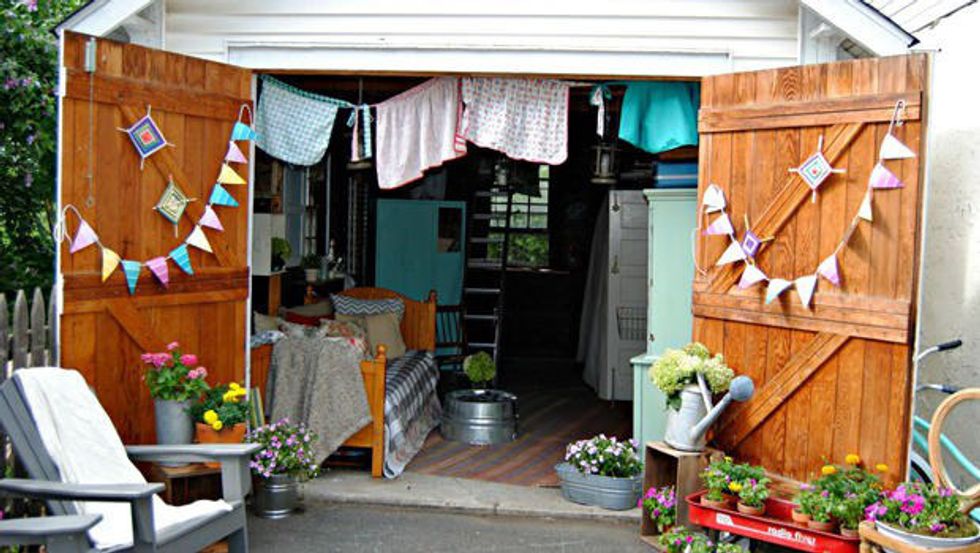 Image courtesy of Denise Sabia.
When people imagine winning the lottery, they usually daydream about all stuff they would buy. This usually includes a brand new, overpriced and overstocked home with a crystal figurine collection or a home movie theatre. But when we picture a private, personalized retreat, there often isn't much glamor or glitz involved. What a mother with a newborn baby wouldn't give for a space to take a nap or pick up the guitar or a woman working 50 hours a week would sacrifice to make room for a Pilates session.
This desire for low-key getaways is what has made Airbnb and similar peer-to-peer lodging successful and why She Sheds could easily fit in to this style of hospitality.
In a recent survey conducted by the Goldman Sachs Group Inc., Steven Kent and his team concluded that once travelers used small, bed and breakfast housing provided by Airbnb, FlipKey or HomeAway, they are likely to never go back to using hotels; "If people have stayed in peer-to-peer lodging [P2P] in the last five years, the likelihood that they prefer traditional hotels is halved (79 percent vs. 40 percent) … We find it interesting that people 'do a 180' in their preferences once they use P2P lodging."
This sudden change of heart among tourists isn't surprising to Airbnb hosts. According to Peter Bahouth, the owner of the Atlanta in-town treehouses named the No. 1 Airbnb wish-listed property in the world, a good vacation experience has to be "above average … Because most things aren't above average; most things are homogenized, pasteurized and franchised."
In fact, in a list released by Airbnb last January, the top ten most popular places on Airbnb travelers' wish lists included uncommon living spaces like an igloo, a van, a lighthouse, a cave and a yurt. The article went on to mention that, "All 10 of the most Wish Listed properties are not villas, but rather tiny homes, treehouses, and cottages."
Like these popular Airbnb sites, She Sheds do not offer luxury services like hotels but provide intimate experiences in an unpretentious space. Much like an ashram, a She Shed is not a flashy social gathering space but rather a reclusive sanctuary that people often admire from a distance but rarely have the opportunity to experience for themselves. This intrigue makes a She Shed more desirable because there could be anything inside – a yoga studio, a library, a tea house etc. – and if more She Sheds were available on Airbnb, a traveler could pick and choose their own realm of relaxation tailored to their interests and needs.
Not to mention the fact that redecorated sheds have already garnered positive attention on Airbnb, vacationers have given four and five star ratings to a tin shed, a garden shed and many cabin/loft sheds. One boat shed residence in particular linked with a Tasmanian fishing community in Strahan, Australia, has received several glowing reviews such as "Quaint, cosy, iconic; set amongst a community of other equally cute and colourful miners shacks," and, "The arrangement of the house is great and we felt at home right from the start." Both reviews were posted within the last month and were written by women. Therefore, the shift to feature She Shed accommodations on Airbnb is likely to be met with just as, if not more, enthusiasm and success.
A Gender-fluid space that increases Productivity and Creativity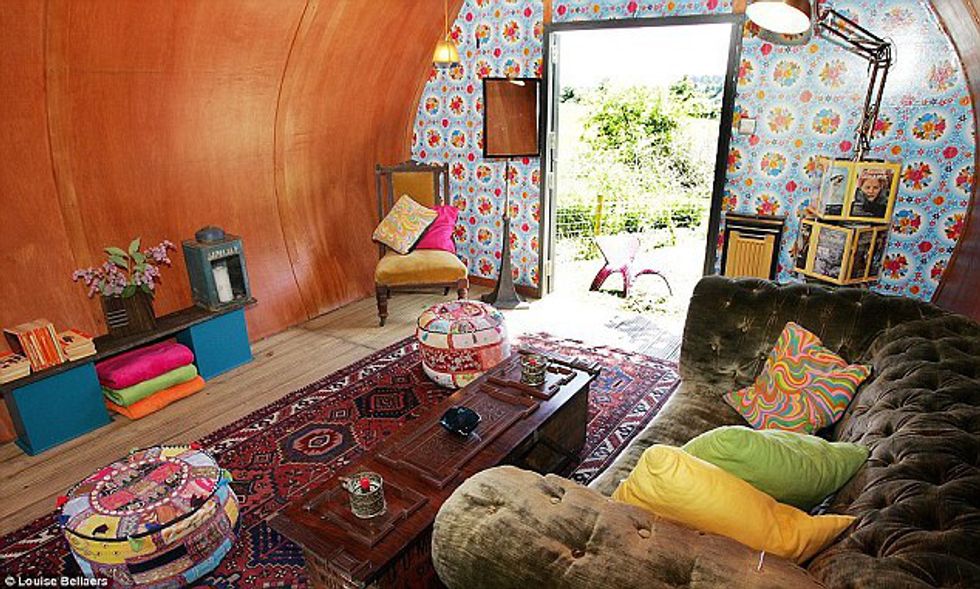 Image courtesy of Daily Mail.
It should be addressed that the name "She Shed" reeks of one-sided gender appeal. However, the reason why so many women have clamored for She Sheds of their own is because they provide an emotion-driven service, a home away from home. The private and comfortable design of a She Shed is only matched by their true job, to provide a room where a woman can set aside her responsibilities and do whatever she wants.
With that being said, a She Shed could attract all kinds of female guests and their partners: mothers and daughters, best friends and even couples – young or old – looking for a mellow romantic getaway. According to the 2015 Airbnb Summer Travel Report, the average age of an Airbnb user is 35 years old and 54% of guests are women. So by incorporating She Sheds into bed and breakfasts or guesthouses, Airbnb will be playing right in the hands of their most popular clientele.
But despite the flexibility of this freeform space, She Sheds have gotten called out for their gender-exclusive market. While several magazines have praised them for being a socially acceptable "anti-man cave" other female writers have insisted that in an effort to become a sanctuary for women, She Sheds have encouraged one-dimensional female stereotypes.
For instance, Emma Lord argued in her She Shed article for Bustle.com that, "The gendered names here are admittedly lame and reflect arbitrary definitions of what "men" and "women" like, or the kinds of spaces a person would like to retreat to based on their prescribed gender."
A staff writer at LifeBuzz also poked fun at She Sheds, labeling them as, "… miniature, frilly living rooms, where ladies can do lady-things like sew and cook and try on wedding dresses and have babies – you know, the 'things women do.'"
These writers are implying that She Sheds serve roughly the same purpose as a hackneyed box of chocolates; hard capsules on the outside with a range of soft, creamy centers meant to help a woman calm down from her latest hysterics. But She Sheds can mean so much more to any owner or guest by appealing to their career or interests, not gender.
Some homeowners have constructed She Sheds devoted to work-intensive purposes, rather than relaxation, such as a home office or studio. This brings up the question of why build a She Shed outside when one can simply fashion a cozy office in the house? Because the brilliance of a She Shed is that it is a completely removed space from a person's home or place of business. Those who have tried it know that the simple act of walking into a separate room and being able to close the door on the outside world is what brings true peace of mind that transforms into good work. How about walking into a separate building altogether that is only a stone's throw away from your house? Imagine all that could get accomplished by a busy family man/woman who doubles as a 9-5 employee.
It's the flexibility of these freeform spaces as well as their distance from all the chaos of everyday life that attracts homemakers and is what will attract travelers looking for a change of scenery to get work done.
In an article published by Entrepreneur titled "8 Ways to Radically Increase your Productivity," changing your environment was the No.1 piece of advice; "Making slight changes in your working environment will make a huge difference in your willingness to work. When you shift things around it makes work feel new again which is great for re-igniting motivation."
Productivity isn't enough to make a person feel like they are putting out their best work though. No matter what profession you're is, there is one singular objective all businesses beat into their employees; come up with new ideas. Creativity is what gets the brain to not only hum but sing as it works.
Business consulting agency Blue Sky provided an in-depth analysis on "How Travel Can Boost Creativity and Productivity" which explained how a quality in the wiring of our brain called 'neuroplasticity' supports the title claim. In short, Blue Sky clarified that "This wiring is largely a result of your behavior and your environment—when you follow a consistent structure and routine that wiring remains consistent as well. When you change what you do, how you do it and where you do it that wiring changes and adapts to the new structures and routines."
In other words, spending time in a new environment stimulates creative thinking like nothing else even when you're not working. A She Shed is designed to be a place of comfort but also a blank white board where the user can develop their careers and hobbies with equal freedom. In this way, She Sheds can enhance increased perception for those who creativity comes to naturally and for those it doesn't.
This way of thinking also greatly benefits artists who, unlike businessmen, are scrutinized and reprimanded for relying on anything but original ideas.
Legendary dancer and choreographer Twyla Tharp touched upon this nerve in her nonfiction book The Creative Habit: Learn it and Use It for Life. In her chapter, "Scratching" (meaning that impulsive itch to produce something creative by scratching at little ideas) she reflected on never scratching the same place twice; "[Ulysses S.] Grant was always scouting new routes over new ground. That works for me too, with scratching. I improvise in new rooms, turn on different music, change my reading habits, all in an effort to fight off old habits and shake myself up. If you scratch the same way all the time, you'll end up in the same place with the same old ideas."
Usually, whenever an artist is stuck (to use Tharp's term) "scratching" at an idea that just isn't producing results, they camp out for an extended period of time in a modest dwelling like a beach house, rustic cabin or a friend's condo. Why not a She Shed?
Whether art is a guest's hobby, therapy or livelihood, a variety of artist or writer-friendly She Sheds could be developed on Airbnb to encourage artistic pursuits. There could be a pottery studio, a reading room, a dancer's studio or a simply a place to color in a coloring book with perfectly sharpened pencils at your fingertips. After all, the beauty of a She Shed is that it can be anything. It's a contained playground meant to serve whatever role the guest needs to feel accomplished.
A Small-town haven that promotes Rural Tourism and Community Development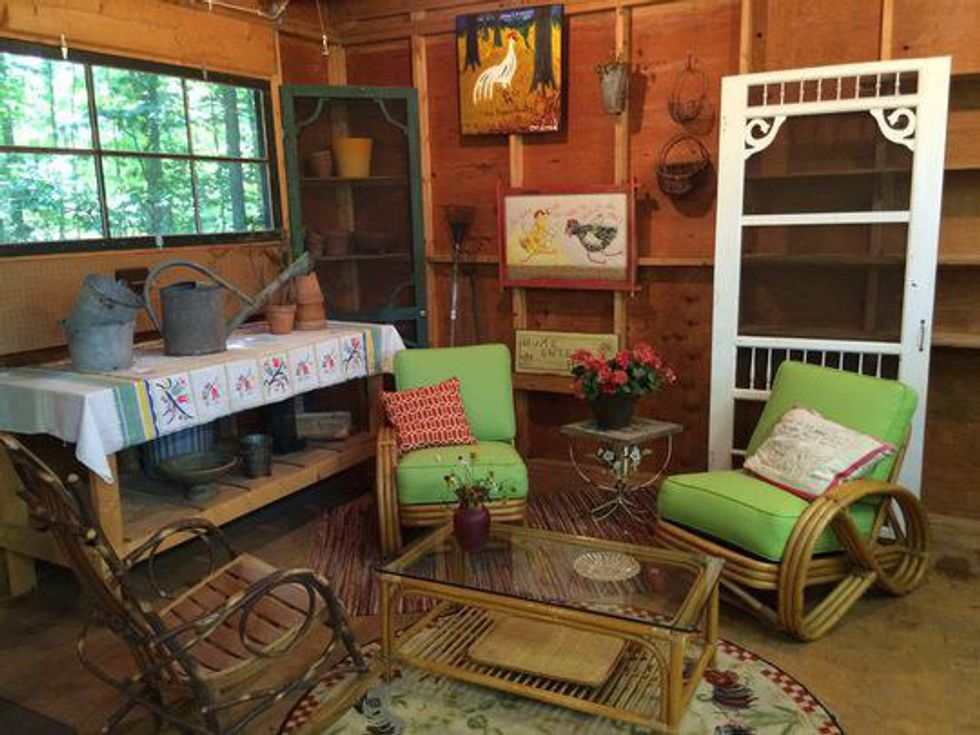 Image courtesy of Green Bay Press Gazette.
We've touched upon how if She Sheds were marketed in travel and tourism, they would be popular among vacationers, workers and artists regardless of their gender. But if you look at the bigger picture, She Sheds can also successfully impact the community it's a part of. After all, when observing how to market a new travel and vacation trend one must look at it from the locals' perspective too. What do they get out of it? The answer: rural tourism.
Rural tourism is a whole new territory that Airbnb has only skimmed the surface of. A 2016 study confirmed that the most popular Airbnb destinations in the United States are all major cities like Philadelphia, New York and San Francisco with Miami and San Diego topping the list. However, most Airbnb users choose to vacation through P2P lodging because they want to experience a new place not as a tourist but as a local which can be harder to do in a larger, impersonal city. It's also safe to say that a larger city might not be in need of the financial benefits and community development that comes with tourism as much as a rural area.
That's why you won't find a She Shed in The Big Apple or Hot 'Lanta. These modest cottages are pretty limited to small towns, beach neighborhoods, suburbs and country villages. By promoting them on Airbnb, She Sheds can bring culture, community development and cash to struggling bucolic areas.
In a beautifully rendered study by Airbnb, statistics that represented guests' and hosts' needs already capture the goals of rural tourism. For example, 79 percent of guests want to explore a specific neighborhood and 42 percent of spending occurs within the neighborhood the guest stayed. On the other hand, 81 percent of hosts share the home they live in with guests, 53 percent say that Airbnb helped them stay in their home and 48 percent of host income is used to pay for "regular household expenses like rent and groceries." The study even went so far as to mention that "The Airbnb community benefits local economies across the world by supporting residents and local businesses, and encouraging cultural exchange."
An article from tourism-review.com revealed that Europe is already ahead of the rural tourism game as illustrated in a fairly recent case study, "The statistics speak for themselves: rural tourism in Europe in 2014 provide[d] around 6 million bed spaces in 500,000 establishments, representing around 15% of the total accommodation capacity of Europe." Today, developments of rural tourism are still crucial in sustaining and revitalizing pastoral European parts.
To add to this success in Europe and bring about change in U.S. tourism, a variety of She Shed experiences could be tailored to specific rural communities to draw in Airbnb users who wish to explore small town life. Hosts could design their She Sheds to reflect the town's community and history which could encourage travelers to attend county festivals, buy locally-made products, visit historic sites, eat native food and, most of all, get to know the citizens. After all, if a traveler does not step outside of their rented living space, how will they experience a new way of life or thinking that could inspire their personal meditation, work or hobbies?
Another practical advantage of She Sheds is that they can accommodate elderly vacationers or travelers with physical disabilities with more ease than say, a yurt, gypsy caravan or treehouse. Because of this standard of comfort, these intimate lodges are more likely to cater to a relaxed public such as newly-weds, couples celebrating an anniversary or retired people as opposed to adrenaline junkies.
Overall, the incorporation of She Sheds into Airbnb could boost rural tourism in a way it never has before due to a network of travelers determined to experience and connect to the lifestyles of a tighter-knit community.
At first, a She Shed might seem like just a silly gardening trend for women with spruced up backyards. But with the continued growth of Airbnb and mounting demand for more inventive and intimate travel spaces, who knows where this "anti-man cave" will go.