I have loved Anthony Davis for a good amount of years now, and just to see him named as one of this season's MVP Finalists makes me happy beyond words.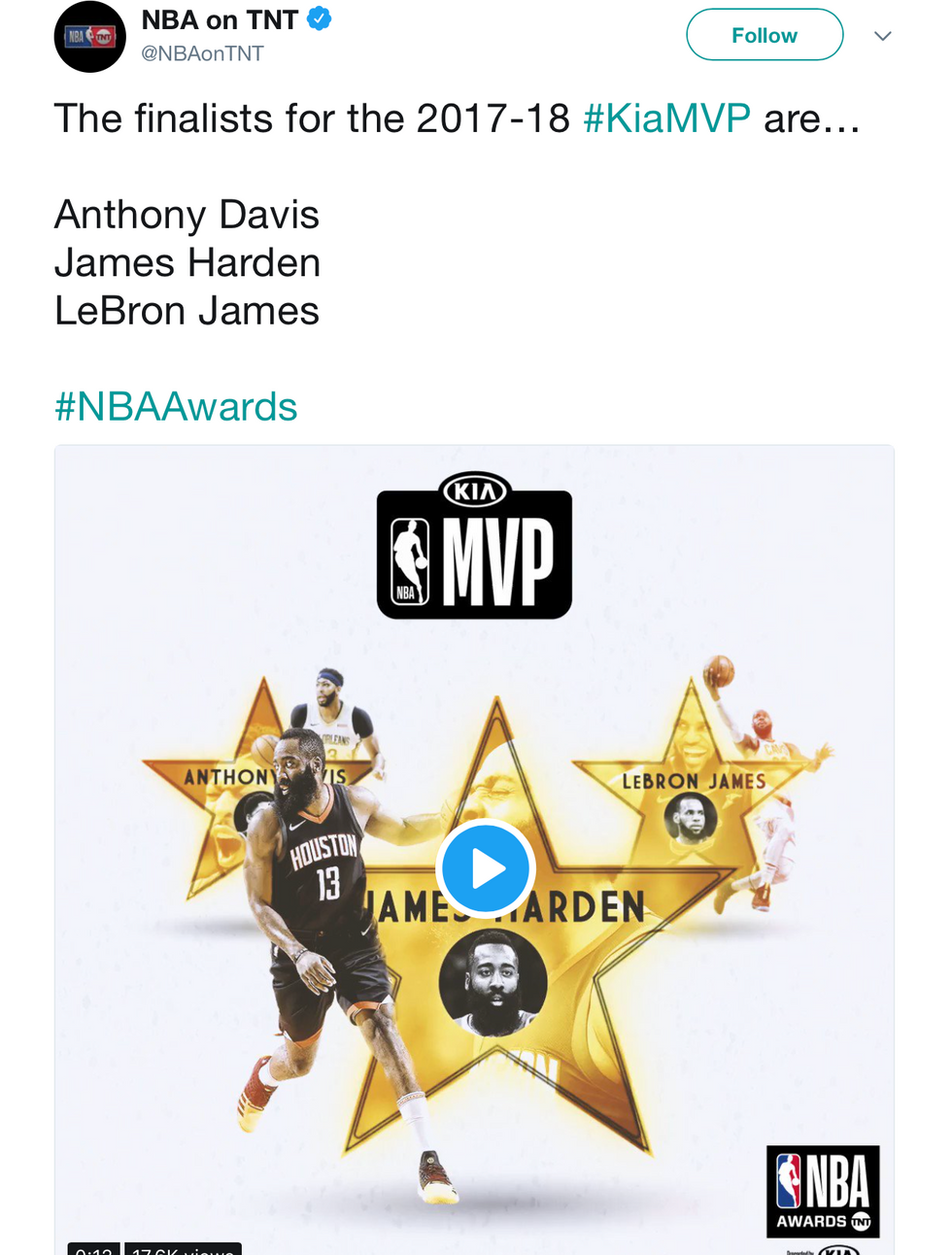 Let me just give you a run down of what The Brow has accomplished:
He is a five-time All-Star, three-time Block champion, two-time All-NBA and two-time All-Defensive team.
Moreover, he's been filling up his stat sheet since he's been in the league, and it's only getting better.
This season, AD is averaging 28.1 points, 11.1 rebounds and 2.3 assists.
Now, if numbers aren't doing anything for you, let's do a little more digging per Tim Keown of ESPN.com (http://www.espn.com/nba/story/_/id/23394498/new-or...):
And his talent is futuristic, transformational and maybe the most outlandishly resistant to normal human defensive efforts. The concept of positionless basketball was hatched with Davis -- 6-foot-10 with a downy shooting touch, a dexterous post game and a deft-enough handle -- as an unattainable prototype. His catch radius is loosely defined as the arena.

Davis can cover the length of the court in a handful of strides, and his transition from defense to offense, from operating under one basket to appearing under the other, can seem impossible. In the first quarter of Game 2, he blocked a Steph Curry floater at the hoop to start a fast break and materialized at the other end to follow up a teammate's missed layup.

There is no one outside of LeBron James whose presence permeates all 94 feet the way Davis' does. He's good enough that any loss in which he scores fewer than 40 points -- he's scored 21 and 25 in the first two games of the Western Conference semifinals -- seems like a failure of the imagination.

Even his teammate Solomon Hill takes notice of his talent (http://www.espn.com/nba/story/_/id/23394498/new-or...):
"He's not just a franchise player," Hill says. "He's a once-in-a-lifetime player. But the difference between him being a competitive top-three player in the league, and people putting his name routinely in the MVP conversation, is him going out and doing work right here. If we can go to the Finals, then next year people are taking him seriously."

Long story short, both LeBron James and James Harden are absolute beasts and the fact that AD is even in the same category as them shows how much recognition he's gotten (but he's still an underrated superstar if you catch my drift).