"What's the American look?" Carrie Underwood asks the viewers as she casually sits down in, what looks like a homemade studio, with the words "Carrie Underwood for Almay" in red white and blue. Then it cuts to a scene of a white woman in a natural setting to then a group of white women in an urban setting and then Carrie Underwood appears again. Following her is a shot of some of their products. After what continues to keep showing white women. Throughout the commercial Carrie Underwood repeatedly says "The American Look" and words and phrases such as natural, fresh, and beautiful as they show these women, in this white washed commercial. They use words such as simple and uncomplicated to describe not only the products but also the women. The use of these words becomes dangerous as they begin to tell viewers that women of color are complicated therefore they cannot supply makeup for them. Almay presents a racist image of "The American Look" by excluding references and people of color from the ad.
In Almay's commercial they use Carrie Underwood as the representation of this look: a white, blonde, pretty female. The country singer seemed to be America's sweetheart the second she stepped up for her audition on American Idol. Almay has chosen her as the ambassador for their company. By defining their products as what gives you the tools to this American look is also portraying that you have to look like these women to achieve it. Carrie Underwood is the first person you see when the ad starts, as well as the last. Carrie Underwood represents purity with her career and look. She is not a celebrity that is found in scandalous situations, therefore Almay loves her virginal and pure image; Underwood is untouched. Almay wants their consumers to appeal to and be this pure image. Before Carrie Underwood was their ambassador, actress Kate Hudson, a celebrity with similar features of Underwood's, represented the beauty brand. Along with Hudson's seemingly unscathed social reputation and image in Hollywood. Almay has an obvious liking to a certain type. And this type is white and innocent.
Almay's use of only white models is following suite of the use of Carrie Underwood for the celebrity face of the company. While Underwood's voice is telling the viewer's what the definition of the American Look is the commercial is only showing happy, smiling white women. Almay only shows these white women in simple, light colored, and plain clothing. Again this repeated idea of simple and uncomplicated pure women. These women are also shown together, aside from Underwood and the first blond model, the rest of the models are in groups. This idea of groups is a forced idea of white women coming together, to exclude anyone of darker skin from being their friend. This image can present issues for younger viewers. A young white girl will see this and think that her friends can only be white and that white women are friends with only other white women. While a young black girl will believe she can not befriend white girls because she does not fit in with them or look like them.
Underwood says natural, fresh, beautiful, and quality ingredients to describe the products and women. At those moments the camera focuses right on the faces and eyes of these women. These women are now representing everyday words, which everyone can feel or be. But these women are white and Almay is showcasing them as what these words truly represent. Telling the audience what defines this image. Simply American is now becoming simply unattainable to the population of people of color, in at least Almay's standards. For the whole duration of the word the camera is focused on their face, leaving this almost unnoticeable notion to what beautiful truly is. Almay is selling their product as white and advertising The American Look as white. The most disturbing phrase of them all is "quality ingredients". Three women, who seem to be displayed in the ad as mother, daughter and grandmother, are focused on when Underwood says these words. The words "quality ingredients" seem to really mean "quality genes". What makes up these women are elite and promising. Almay is telling the viewers that the American Look is quality, but only if you can begin to look like this. Placing these words with the image of these women gives the viewer the idea that these are the faces they want and need, to achieve this definition of these words. Not only will that young black girl find herself not fitting in with the white girls in her class but she will also start to believe that she cannot become these words. That she cannot be beautiful.
"natural"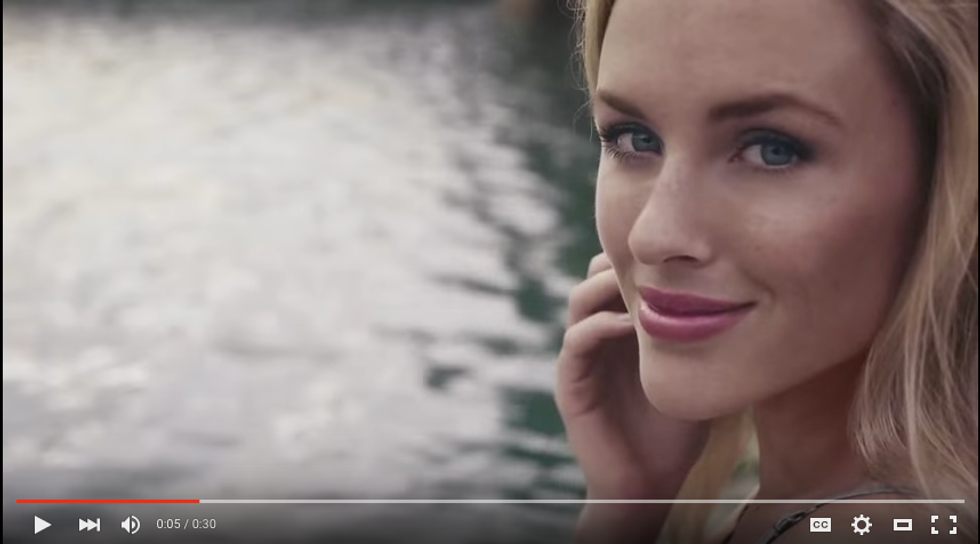 "beautiful"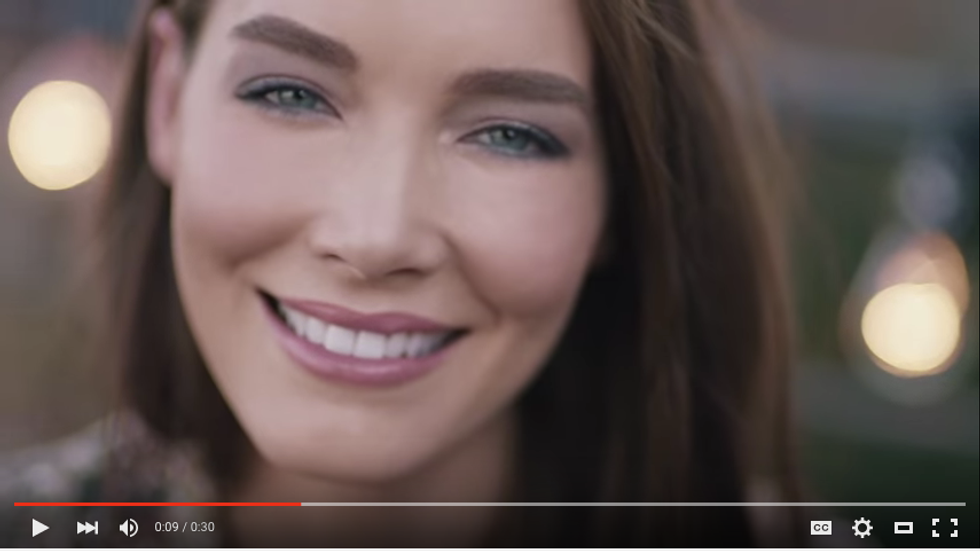 "quality ingredients"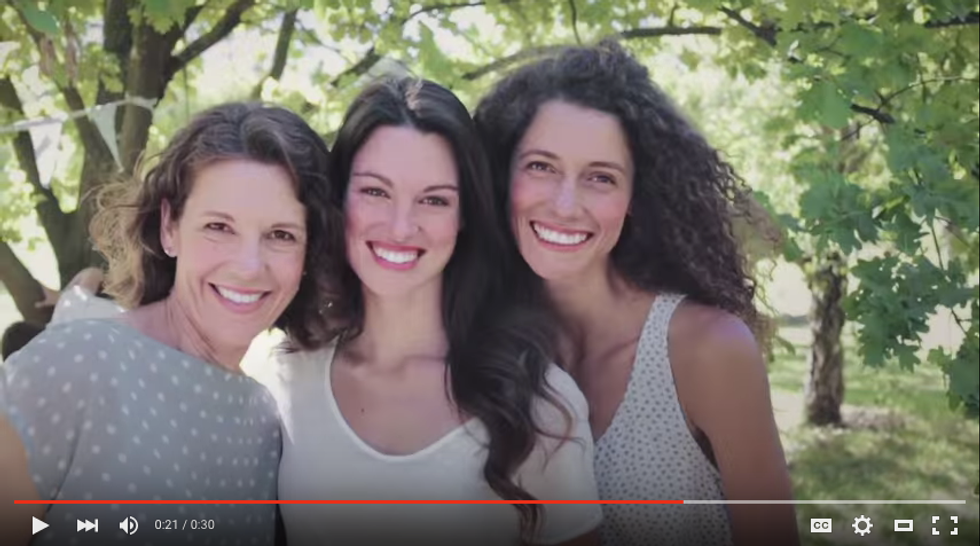 For years, Almay has been attacked and challenged by not having foundation colors that fit anyone beyond a subtle tan on a white woman. But within this ad, there is a shot of some of the products. One of which is the 'Smart Shade' skin tone matching makeup, as it claims. In the ad, the two shades placed with the other makeup don't look anything darker than beige.
"simple and uncomplicated products"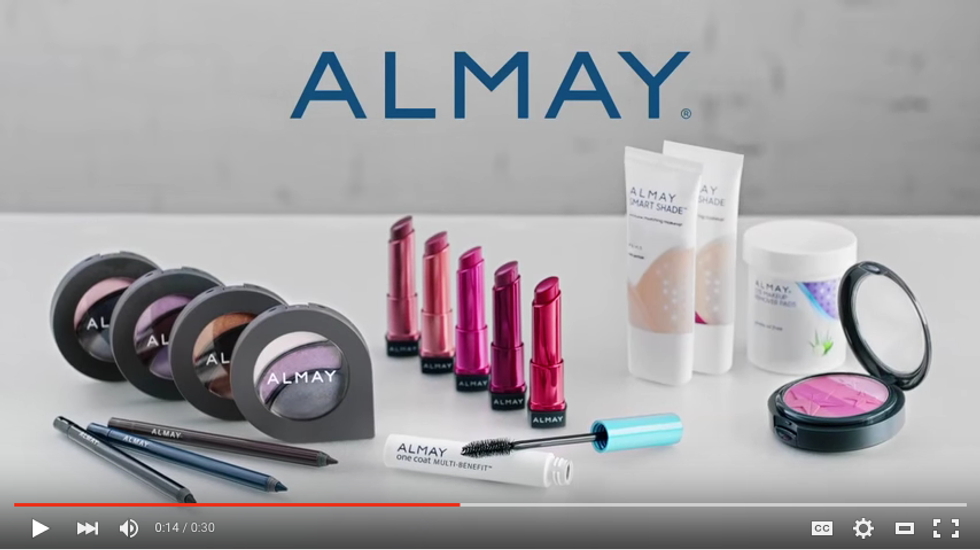 Almay is blatantly showing that they do not have dark shades to fit more women and therefore saying they do not make themselves fit for all women. Underwood says "simple and uncomplicated products" as a shot of the products is shown. On a product base and from a women's perspective, yes this makeup seems simple to put on, but uncomplicated? What about foundation makeup is complicated? Almay is simply saying that colors and shades for darker skin tones are complicated and not simple to make or handle. Almay believes that people who do not fit this look are complicated. Their hair and skin is different of Underwood's therefore its complicated and they will not deal with it. As stated before Underwood uses the words natural and fresh to describe beauty but these words are also linked to the setting of the commercial. The parallel of the language and setting presents the untouched image and the purity that Almay is trying to give to the viewers. But the viewers must be as untouched and pure as someone like Carrie Underwood. Almay has became very limited to the consumer, there is an exclusion notion as it continues to only produce and exemplify the look of the white woman. These omissions are quick and subtle within this short commercial, but become large scale when noticed. Their constant exclusion of the other half of the population in America only continues to give the audience the thought that white hold the power.
In a country built on immigration, Almay seems to be making makeup for the women that sailed on over here on the Mayflower. As if the majority of Americans you meet today are the same faces of these women. As if the women without Almay's idea of "quality ingredients" are just not American. Because Almay has stamped "complicated" onto women of color. This thirty-second video very easily has reinforced the power of white America by supplying us with what the ideal look is, which is the exclusion of all those of color.