When it comes to traveling, I have always been a sort of history buff, wanting to see historical sights and bask in uniqueness of memorials. When I went to Washington, D.C. in eighth grade, I was the kid that kept saying, "Guys, we are literally stepping on history right now! Our forefathers took these same footsteps!" When I came back to NYC for round two, I decided it was time to visit the 9/11 Memorial, especially because during my first visit, it was all under construction.
We had spent the earlier part of the day exploring the Statue of Liberty and Ellis Island. We came back to Manhattan for a bite to eat, then headed in the direction of the memorial. As we approached Ground Zero, I realized how hauntingly quiet it seemed. Maybe it was because the workday was nearly over or maybe it was because people actually fell nearly silent at such a sight.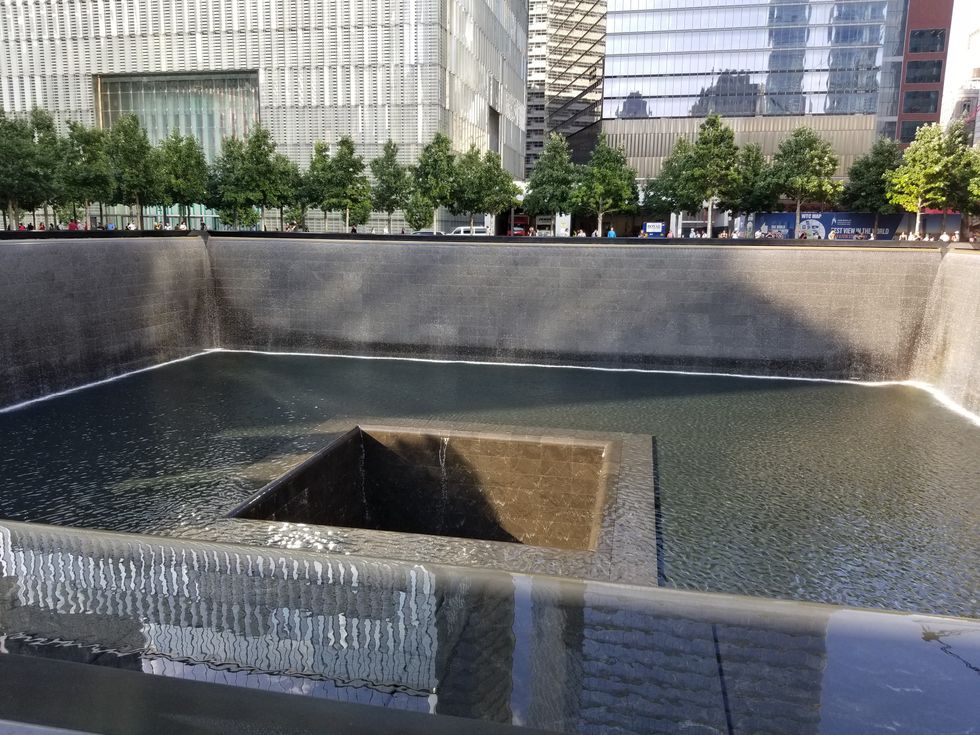 Shelby Gerweck
I didn't know what to expect of the memorial. I didn't know that there were not one, but two fountains that symbolized the locations of the north and south towers. The fountains were both roaring and trickling at the same time, and it made me wonder exactly what the explosions sounded like. Would they have been both deafeningly loud and silent?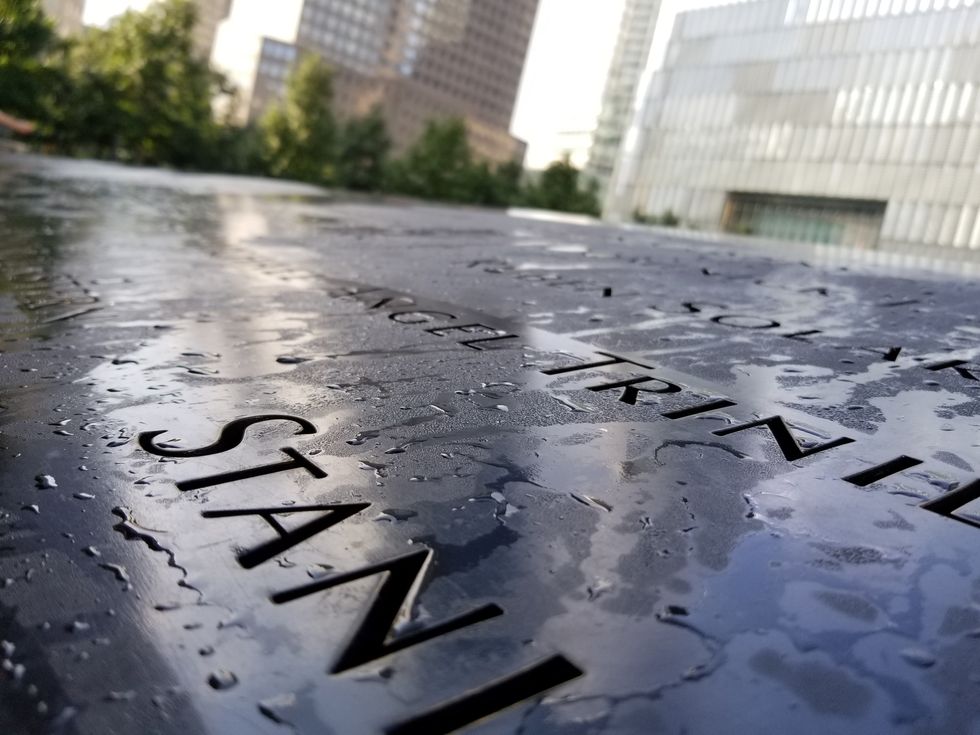 Shelby Gerweck
I ran my fingers along the names carved into the wall of the memorial. So many names, and at first glance, you can't believe there are that many, but walking around the grounds proves otherwise. There are signs that welcome visitors of the memorial to touch the names. As I read the names, I wonder about their families left behind. How many of them had been in the towers just on happenstance?
I saw white flowers placed on some of the names. At first, I wonder how many families visit the sight to remember their loved ones. Then, I notice a placard that reads that the memorial honors victims with the flowers on what would be their birthdays. I wonder what time of the year sees the most flowers on the memorial.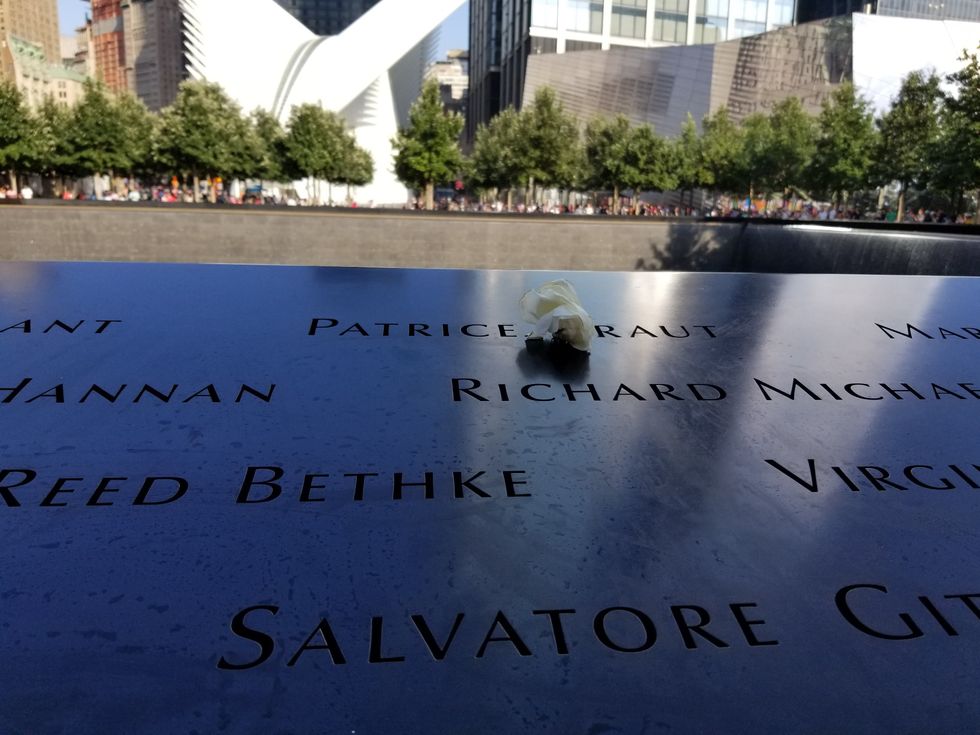 Shelby Gerweck
It was especially hard to just stand on the same grounds where people met their fate far before they should have. My empathy got the best of me, and I found myself fighting to keep the tears from spilling over. I wanted to cry for the families that were tragically affected by such a devastating loss. I wondered what the victims thought about when they realized that they wouldn't make it out alive.
Some people chose to stand in front of the memorial in smiling pictures. To me, it felt horribly wrong to be standing on the very ground where thousands of people died, smiling in a picture. People had their lives ripped from them, and today, seventeen years later, people would stand smiling in pictures that they would proudly display on their Facebook pages. Some people decided to play in the fountain waters with their fingers and splash water on the names of the victims. One guy even decided to rest his take-out bag on the memorial while he made a phone call.
How horribly disrespectful it was to see how no one respected the lives of all who were lost that day. Thousands of names, thousands of stories left unwritten. Very few mourning the loss of all of those individuals. The names of six individuals were displayed on the North Tower memorial along with the date of February 26, 1993 to honor those who lost their lives in that World Trade Center bombing.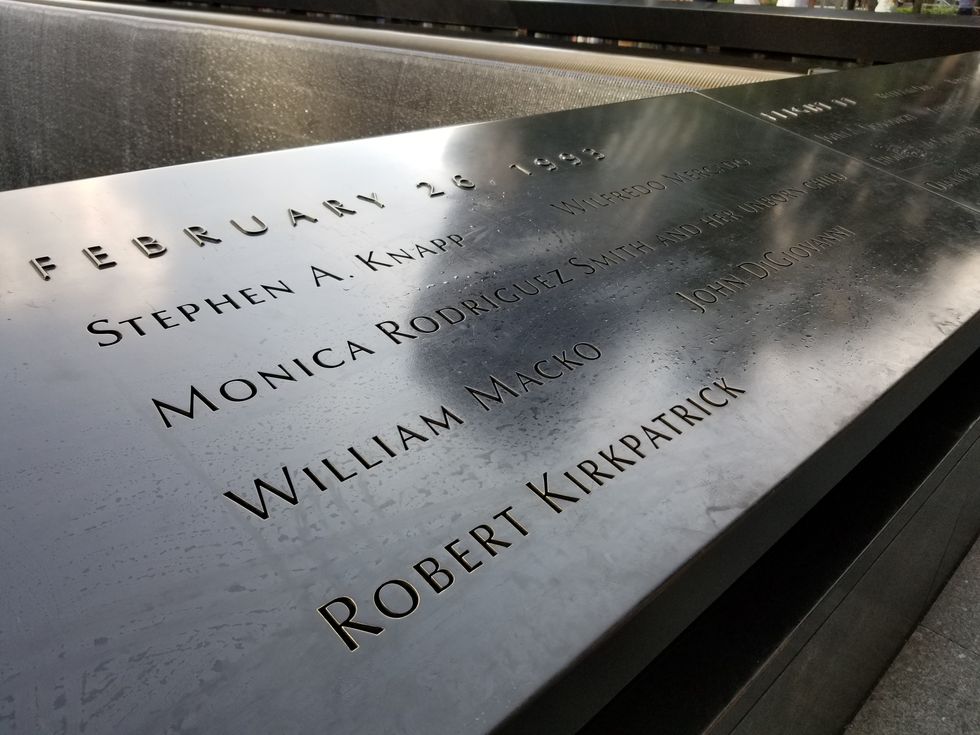 Shelby Gerweck
It is a memorial that will take your breath away when you realize your humanity, when you realize how time is so very numbered, when you realize that thousands went to work that day that never went home. Beautiful, industrial, haunting. The memorial does not stand on the site of the lives lost but is grounded where the souls came to rest.