Ah, the life of being tall. As a someone that's 6' 3", I'm not monstrously tall, but I'm definitely a bit above average. Some people laugh, while some people gawk and want to know what it's like. It's really not that bad! There are definitely a few nice things about being tall that I'm sure many of us towering individuals can relate to.
---
1. You get to help little old ladies at the grocery store reach things on the top shelf.
Seriously, this one is the best feelings ever! When someone can't reach and they ask you for help, you can easily help them by just using your good genes. Your help isn't a big hassle, and it's just another reminder why your height is advantageous.

2. Going to concerts is a much simpler experience.
When I went and saw a Led Zeppelin cover band last weekend (see my tag line below/my bio before any mention of Dad jokes; I'm already well aware), I was reminded again why being tall is great. There must've been 300 other people in the venue I was at, but tall people always have a perfect view of the entire performance. Height also comes in handy when you drunkenly lost your group of friends half a dozen times during the show and can easily look over everyone's heads to find them.

3. You automatically are assumed to be athletic.
Tall people are great at sports, right? You might be right. In my case, my lankiness kind of gets to me, but it's really not all that bad of a stereotype to have placed on you. The classic line is "Wow! You're tall! You must be good at basketball!" This always makes us feel a little better, even though most of us have no sense of balance and, as a result, have the basketball skills of a ninth grade junior-varsity bench warmer.
4. You don't need a step stool or a chair for everyday tasks.
When a light bulb needs changed or something has to be put away up on a shelf, there's no need to find something to stand on. This is made even better by the fact that us tall people are prone to falling over, and falling off of a stool hurts. Really bad.

5. You can climb steps three at a time.
Need I say more? Steps really are the bane of all of us lazy people's existence, and being able to get up the steps in seconds is pretty nice.

6. You are never late to anything you have to walk to.
Although us tall people might be tough to walk along with, our long strides help a lot when you're trying to get somewhere on time. A fast speed walk for us is a light sprint for a shorter person, so being able to cover ground without breaking a sweat is pretty sweet.

7. It's pretty tough to gain weight.
Although this isn't universally true, for most of us, our weight really doesn't show. It's nice to be able to eat like a machine and not have to worry about gaining a pound.

8. It's uncommon to have to look down to talk to someone.
Let's face it; having to look up to someone to speak is a little intimidating. In the psychological game of life, being able to look down in conversation with other people is sort of nice at times.

9. You (sometimes) get shotgun in the car by default.
Whenever you're getting into a car with more than just a driver and lose at calling shotgun, it's always a legitimate/kind of cheap option to pull the "I don't want to sit in the back and be uncomfortable," card. I'm definitely guilty of this, but honestly, I don't feel too bad about it.

10. You stick out in crowds.
Tall people are inherently the center of attention! Although this might not be the best thing when you're trying to duck away from an awkward encounter, it's pretty entertaining at times. It's a lot easier to people-watch in tight crowds too, which is always a plus.
With all of that being said, it's not a perfect world being tall. Yes, we sometimes bump our heads on lights, fans, and doorframes (thanks to that doorframe in my Freshman year dorm for giving me a black eye two years ago!). Yes, shopping for pants with a 38" inseam can be a struggle at times. Yes, our long wingspan means every dress shirt kind of looks baggy.
And...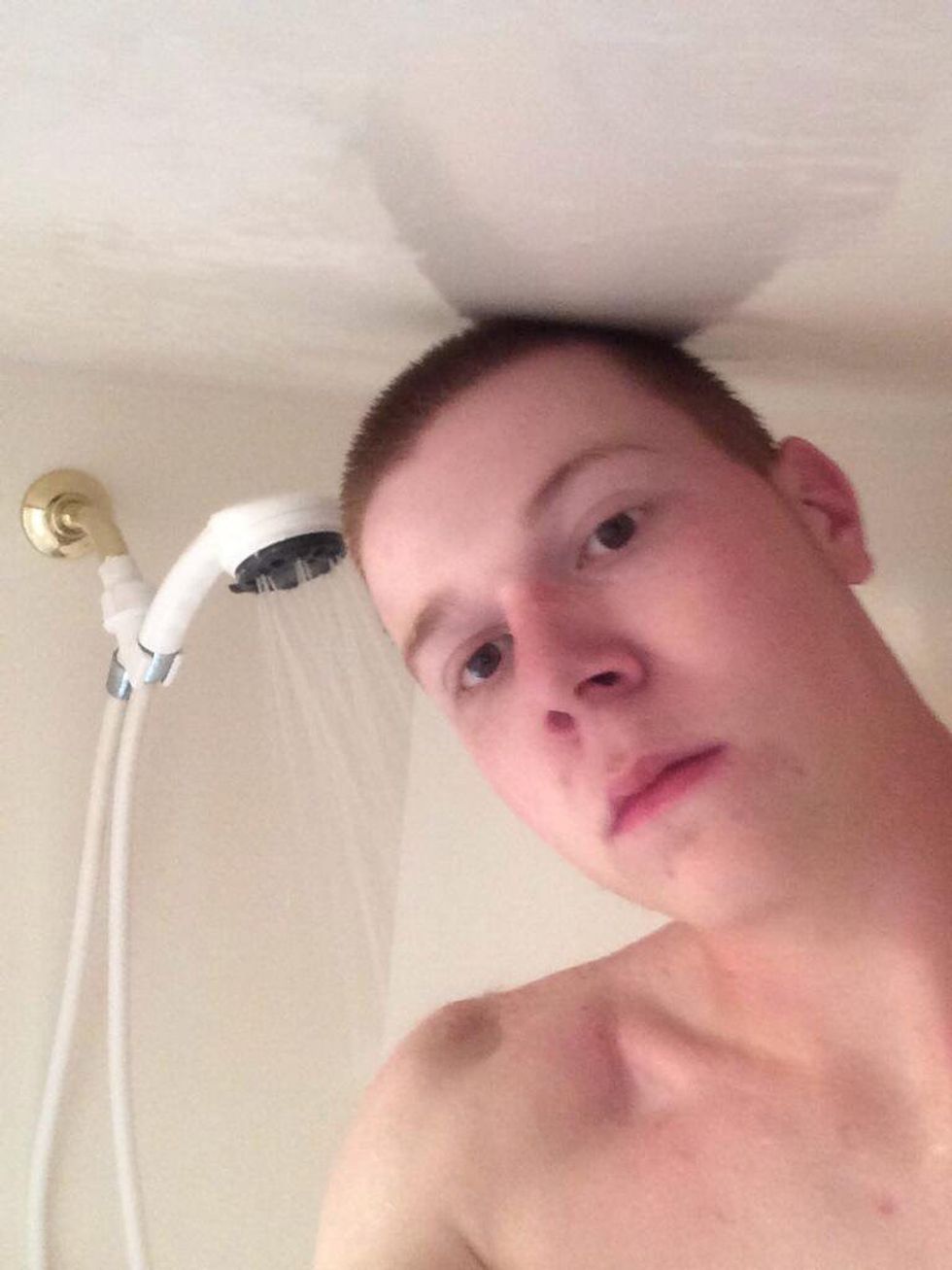 ... every once in awhile, your head doesn't fit in a cramped area (in this case, a shower; shout out to my 6' 8" little brother).
Yeah, it can be a pain sometimes. But I'm sure all of us with above-average height wouldn't ever want to be any other way.