Long-distance relationships (LDR) are not for the faint of heart, but if they are healthy, they can be oh-so-satisfying. As somebody who has been in a LDR for over two years now, I can attest to the fact that it has it has helped both my significant other and me become super strong individuals with an even stronger love connection. Unfortunately, during the holidays, LDRs may become a little harder because of the burning desire to be able to celebrate together. Not everybody has this opportunity. Luckily, there are plenty of things to do to help us feel close (at least in heart) to our honeys. Check out these adorable and slightly cheesy crafts that are perfect for long-distance relationships.
1. "Open when" letters
"Open when" letters are the perfect craft for LDRs. They may take a little more time to complete than other crafts, but that's just more time to think about how much you love your sweetheart! Write a series of letters for your love to open on certain occasions. For example, you may write a letter titled "Open when you miss me" or "Open when you need to know how awesome you are." These letters are a sweet and thoughtful way for your words to be with your honey when you can't physically be there. If you need ideas, here's a list of topics to write about.
2. Classic scrap book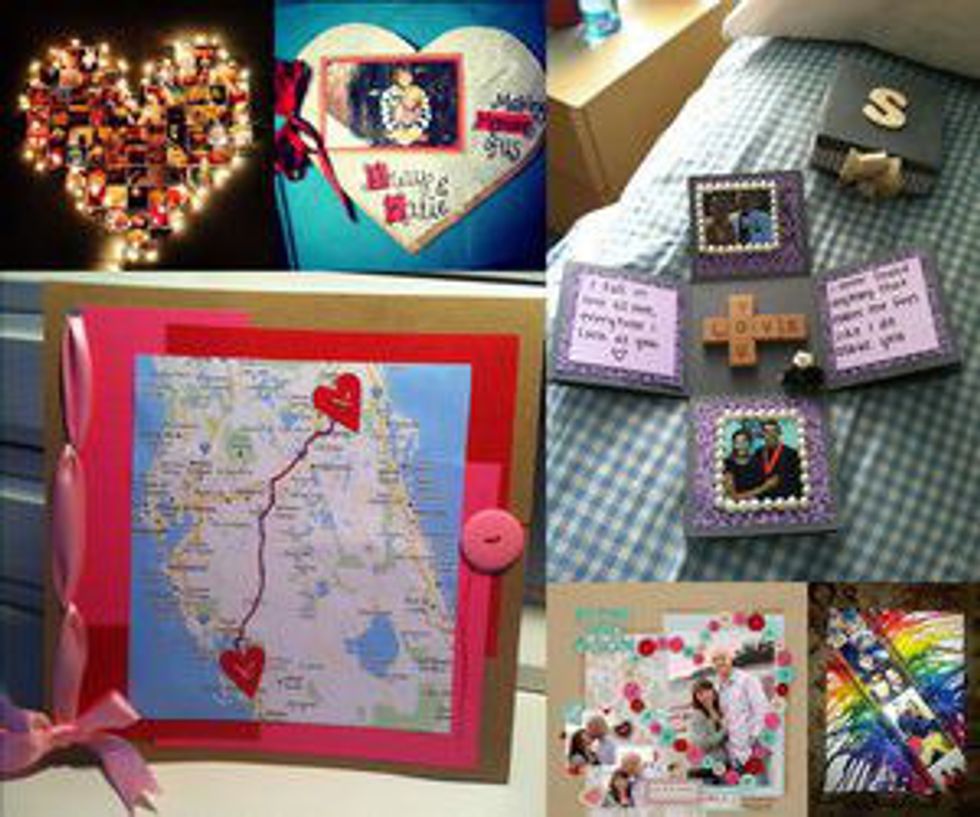 Not only are scrap books fun to make, but they will never go out of style (at least I don't think so). Gather up some pictures, quotes, and other memorabilia, and put it all together in book form to create a sweet gift for your sweetheart. If you've never scrapbooked before, here are some tips to get you started.
3. Tie blanket
Why would you ever buy anyone a blanket when they are so easy to make? Head to your local craft/fabric store (I love Jo-Ann), pick out some anti-pill fleece, and whip up a tie blanket in under an hour. Not only are these blankets sentimental and sweet--they are incredibly useful! Here's a video tutorial on how to make one.
4. Adorable LDR pillow cases
For all the nights of snuggling you have to miss, try your hand at embroidering a pair of pillow cases for you and your love. If you've never embroidered before, don't be alarmed. YouTube has so many great tutorials that make it really easy to learn. Stitch each pillow case with love, snuggle up, and take comfort in knowing your sweetheart is sleeping on his, too. Here's a good tutorial to get you started. (If embroidery is definitely not for you, a classic Sharpie marker works, too.)
5. A jar of kisses
This craft is second-best to real kisses. It's not elaborate, but it's cute, and it gives your sweetie the opportunity to eat chocolate. Get a jar, decorate said jar, and fill said jar with your honey's favorite variety of Hershey's Kisses. This craft can be easily paired with any of the other crafts to create a sweet and perfect pair of gifts.
6. Couple mugs
This one is perfect for those who drink coffee and tea. You can make just one for your love, or you can make two (so you can have one, too). Pick out a plain white mug (Walmart and Target usually have these), grab some Sharpies, and begin. Start by making your design on the mug. Once that's finished, bake it in the oven at 350 degrees for half an hour. This helps prevent the Sharpie from fading.
7. 365 Reasons Why I Love You
This one is super simple. Pick out some note cards or cut up some slips of paper, and on each one, write a reason why you love your honey. Once you have 365 made, place them into a container and send them to your sweetheart for a year's worth of love.
8. A hand-made scarf
This craft is perfect for those who live in places where it gets cold. Scarves can be easily knitted, crocheted, or woven, and there are fantastic YouTube tutorials to help beginners learn how to make them. Pick out some nice yarn (even Walmart has a great yarn aisle), find a YouTube tutorial--like this one--and stitch with love.
9. Soulmate shirts
Okay, so this one isn't really a craft (I guess it could be if you ironed on the lettering yourself), but they are way too cute to not be included. One shirt says "soul," and the other says "mate." They come in a variety of shirt styles, fonts, and designs, and they can be found and purchased from a variety of online retailers. However, if you're still feeling crafty, they could easily be made, too. Here's a little bit on how to iron lettering onto a shirt.