Roller hockey -- yes it's hockey just on wheels. There are many skeptics of the sport, people who say "there's no checking" or "It's not real hockey." Well, I have news for you skeptics, you're wrong. I have played the sport since I was 12 years old and over the years I have gained so many memories, friends and skills. No, it is not played on ice and it doesn't cost $1000 a season. There are many reasons I chose to play the sport and I would love to persuade athletes to play this great sport.
[rebelmouse-proxy-image https://media.rbl.ms/image?u=%2Ffiles%2F2016%2F07%2F22%2F636047985499460218-1556139801_21528_901484459948184_8421160288299048331_n.jpg%3Foh%3D820bb276b0deeefc1e3bf164dccee64b%26oe%3D58280522&ho=https%3A%2F%2Faz616578.vo.msecnd.net&s=611&h=8d1b5cdc5074cdc3ff7df08c9075eb6816d9b4dc7010e45b8314d4da2212ad6e&size=980x&c=383802562 crop_info="%7B%22image%22%3A%20%22https%3A//media.rbl.ms/image%3Fu%3D%252Ffiles%252F2016%252F07%252F22%252F636047985499460218-1556139801_21528_901484459948184_8421160288299048331_n.jpg%253Foh%253D820bb276b0deeefc1e3bf164dccee64b%2526oe%253D58280522%26ho%3Dhttps%253A%252F%252Faz616578.vo.msecnd.net%26s%3D611%26h%3D8d1b5cdc5074cdc3ff7df08c9075eb6816d9b4dc7010e45b8314d4da2212ad6e%26size%3D980x%26c%3D383802562%22%7D" expand=1 original_size="1x1"]
1.The Cost
To play roller hockey, it doesn't cost too much. The sport is cheaper than ice hockey and is a good way to save money. Roller hockey is mostly a summer sport so most ice hockey players play during the off season. The sport is much cheaper mostly because there is no ice that has to be kept up. Roller hockey is played on a sport court, therefore there is no need for a Zamboni. Equipment can be another story as it is usually just as expensive as ice hockey. All of the equipment is the same as ice besides the skates and shoulder pads. The biggest company that produces roller hockey skates is Mission and they can range anywhere from $150-$600. Other companies include CCM, Bauer, Verbero and Reebok. Basically any ice hockey company can be associated with roller as well.
[rebelmouse-proxy-image https://media.rbl.ms/image?u=%2Ffiles%2F2016%2F07%2F22%2F636048014865559040525934988_13729049_10154247443060856_9105865237946098831_n.jpg%3Foh%3D6778eb40c5e837f652524910206a2cca%26oe%3D58226A88&ho=https%3A%2F%2Faz616578.vo.msecnd.net&s=597&h=b357f31e7225c69bef0f98e2735ab442d503597e79bf01c4e9f3915eb3c15275&size=980x&c=3618509776 crop_info="%7B%22image%22%3A%20%22https%3A//media.rbl.ms/image%3Fu%3D%252Ffiles%252F2016%252F07%252F22%252F636048014865559040525934988_13729049_10154247443060856_9105865237946098831_n.jpg%253Foh%253D6778eb40c5e837f652524910206a2cca%2526oe%253D58226A88%26ho%3Dhttps%253A%252F%252Faz616578.vo.msecnd.net%26s%3D597%26h%3Db357f31e7225c69bef0f98e2735ab442d503597e79bf01c4e9f3915eb3c15275%26size%3D980x%26c%3D3618509776%22%7D" expand=1 original_size="1x1"]
2. Endless Amounts of Talent
There are so many National Hockey League players that have laced up, rolled out and touched the sport court. Some players include Bobby Ryan of the Anaheim Ducks, Joel Ward of the San Jose Sharks, Pat Maroon of the Edmonton Oilers, Tom McCollum of the Detroit Red Wings, Henrik Lundqvist of the New York Rangers, Paul Stastny of the St.Louis Blues and many more. There are also many D1 NCAA ice hockey players that have touched the sport court. Two players that are changing the game of roller hockey are Tyler Spezia and Brandon Hawkins of Bowling Green.
Now to the players who have helped evolve roller hockey over the years, some of the players who have stayed dedicated to the sport for many years. Travis Noe is considered to be the best roller hockey player in the world as he has helped Team USA reach great heights and has also led his tournament teams, the Alkali RPD and the Pama Cyclones, to several championships. Some other players include Matt White, PJ Dimartino, Junior Cadiz, Shane Fox, goaltender Micheal Maczynski and countless others. These players have all played at the highest levels of roller hockey and have proceeded to make a name for themselves on and off the court.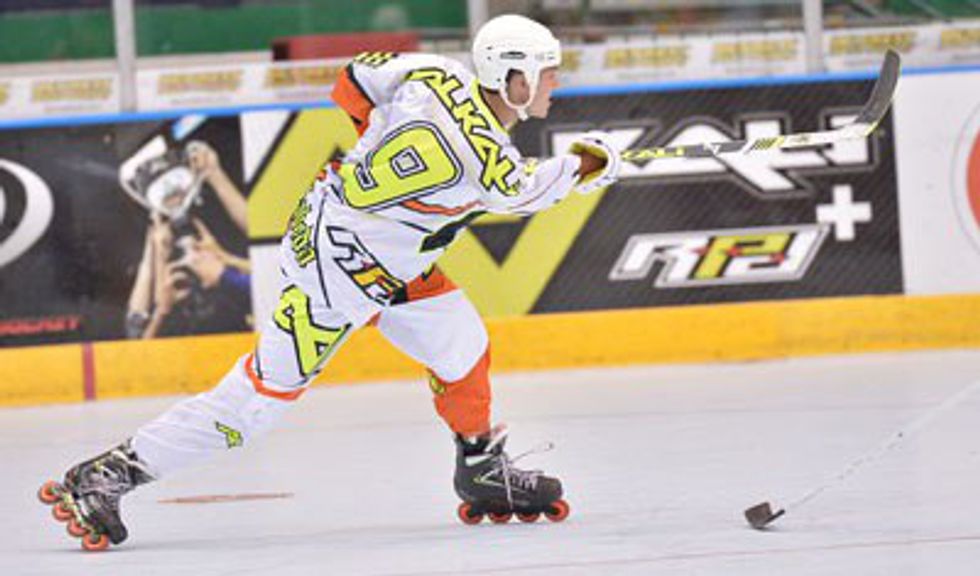 3. So Many Different Leagues and Tournaments
Whether you're an intermediate to beginner player or a more advanced pro player, you can bet there is a league for you. Pro leagues/tournaments are usually there for the players who have excelled in the sport over the years and are looking for top of the line competition, usually resulting in a cash prize. The leagues include the NRHL or the National Roller Hockey League. This league was started in Michigan and just had their inaugural season. The NRHL posses many great pro level and former NHL players.
Another league is MLRH or Major League Roller Hockey that is played both in the US and in Europe. Onto some of the pro tournaments, the biggest name in roller hockey is NARCH or the North American Roller Hockey Championships. These tournaments possess the biggest names in the sport and actually also appeal to younger players as well. State Wars is another big name in the game. There is a tournament called the Pama Pro Invitational where only the biggest and best players and teams get invited to play for a cash prize of $20,000. There is also collegiate roller hockey that has spread all over the US and is now on almost every college campus. Some schools that participate in the NCRHA (National Collegiate Roller Hockey Association) include Boston, Neumann, Michigan State, Arizona State, and UNLV.
Now if you combine all of these leagues and tournaments, you get the IIHF Inline Hockey Championships. This can be considered the highest level in roller hockey, as teams such as Team USA, Germany, France, Australia, Canada and other teams from all over the world come out to play for gold. I know that is a lot to digest, but there are also smaller name house leagues that are meant for beginner to advanced level players. The leagues I grew up playing in have given me so many great friends, memories and skills. Western New York Roller Hockey, run by roller hockey's own and an amazing person and friend to me and my family, Eric Haak. The Buffalo Warriors are also another great league that I have had and still have the pleasure to play in. The people are what makes these leagues prosper. I would just like to thank the great people that have touched my life throughout the years you all know who you are. I cannot recommend playing in a house league enough because the people you meet will become inseparable.
So much of the backlash on roller hockey is just pure ignorance. Most people who say roller hockey isn't real hockey have never played the sport. Yes, ice hockey is as physical as it gets but roller hockey has its moments. There is usually no checking unless in a higher level tournament like TORHS or league like MLRH. There typically isn't fighting either but in certain tournaments and in Major League Roller Hockey there is full contact fighting. Some people say fighting just ruins the game of roller hockey because the game is almost all finesse. Whereas ice hockey is almost all physical play and some finesse. There is less risk for an injury in roller hockey compared to ice hockey, where you have to worry about getting your head taken off if its down. There will always be physical play because it doesn't matter what sport it is -- tempers will flare.
Another common misconception of roller hockey is that it ruins your ice hockey skills. What happens is actually the exact opposite roller hockey will make you a better ice hockey player. Pat Maroon of the Edmonton Oilers is a huge ambassador for the sport and has played roller hockey at the highest level. Pat has repeatedly said that roller has helped his hands tremendously. So before you diss the sport, play it and give it some time before forming an opinion.
[rebelmouse-proxy-image https://media.rbl.ms/image?u=%2Ffiles%2F2016%2F07%2F22%2F6360479973740756241929527517_11705283_10153407296295900_6934664605419396115_n.jpg%3Foh%3D83cfaf31ae1988616d837f98aa1100e1%26oe%3D583374B9&ho=https%3A%2F%2Faz616578.vo.msecnd.net&s=102&h=4234bfff09e3d31c97f7a3f2a5d2d180a87d669931337a462a0c0c06f1ef6343&size=980x&c=3139026344 crop_info="%7B%22image%22%3A%20%22https%3A//media.rbl.ms/image%3Fu%3D%252Ffiles%252F2016%252F07%252F22%252F6360479973740756241929527517_11705283_10153407296295900_6934664605419396115_n.jpg%253Foh%253D83cfaf31ae1988616d837f98aa1100e1%2526oe%253D583374B9%26ho%3Dhttps%253A%252F%252Faz616578.vo.msecnd.net%26s%3D102%26h%3D4234bfff09e3d31c97f7a3f2a5d2d180a87d669931337a462a0c0c06f1ef6343%26size%3D980x%26c%3D3139026344%22%7D" expand=1 original_size="1x1"]
5. Be Apart Of The Comeback
Believe it or not, roller hockey once aired on ESPN back in the 1990s when roller hockey was new and in. All of this publicity for the sport sparked a pro league, the RHI, or Roller Hockey International. The league was started in 1992 and ultimately went under in 2001. The league had great success and had teams all over the United States and Canada, including the Buffalo Stampede, Anaheim Bullfrogs, St.Louis Vipers, Pittsburgh Phantoms and 27 other teams. Ever since the league went under there hasn't been much in the way of a pro roller hockey league. There have been many attempts such as Major League Roller Hockey and the National Roller Hockey League. There just simply isn't enough interest in this day and age. You can be apart of the comeback because roller hockey is on it's way back, and in some places such as California, the sport is bigger than it has ever been. We need to be proactive, it's time for publicity. This is one sport that should be in the Olympics and should have more fans then it has. So whether you're a house player or pro player, you can make a difference, so let's get rolling.