If you're anything like me, you're big into gift-giving. But, if you're really like me, you're probably also hella broke. And, if you're REALLY, REALLY like me, you probably spent so much time panicking on what to get your Valentine that you completely left it to the last minute, and now it's one day and twenty minutes before February 14th, and you're here, reading this article, instead of getting the damn gift.
Don't fret! I've got you covered, boo. I am the queen of thoughtful-yet-manageable gifts, and I am here to bestow unto you 5 gifts sure to make your Valentine, your wallet, and your anxious little heart smile. (Keep in mind, these also make awesome Galentine's Day Gifts!)
1. Life is Like a Box of Cho---booze. It's a box of booze.

Honestly, this one kind of speaks for itself. Let's cut to the chase: if you're a broke college student, and your Valentine is a broke college student (and you and your Valentine are BOTH 21 - I see you, freshman. I see you.), there's nothing better than this. You can usually get miniature bottles of your bae's favorite liquor for $1 or so each. If you're extra nice and actually leave them with some chocolate, you don't have to worry about filling it with 10 bottles (unless you want to!). I did this for my boyfriend and spent $10 on it, including the heart box of Reese's and 5 miniature bottles. Just make sure the box is at least 1 and 1/8th of an inch deep! You don't want the lid falling off. I got this idea from Andrea's Choice on YouTube - check out the full video for even more V-day hacks!
2. Ten Things I Love About You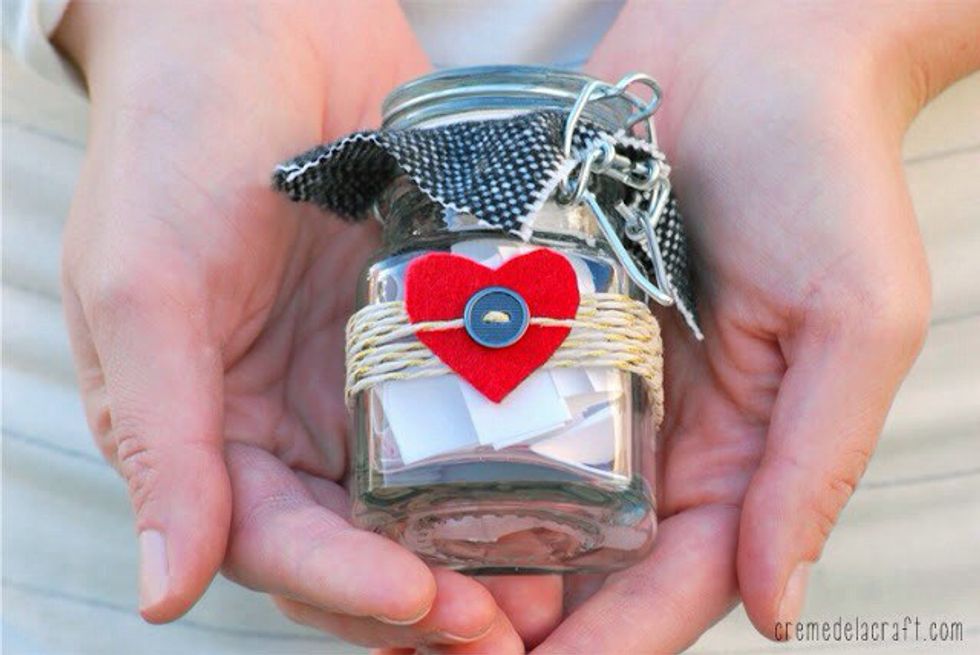 Maybe you're super ooey-gooey, or maybe you find it difficult to tell your favorite person all of the things that make them your favorite on a regular basis. This gift is pretty much free, minus whatever it costs for a sheet of paper, a pen, and maybe a container and decorations. Writing things down on little pieces of paper and sticking them in a cute little jar is not only thoughtful, but they'll be able to hear all these wonderful thoughts you have about them when you're not there, and you don't even have to deal with the embarrassment of being mushy and corny in their presence! It's a win-win, really.
3. The Ultimate "IOU"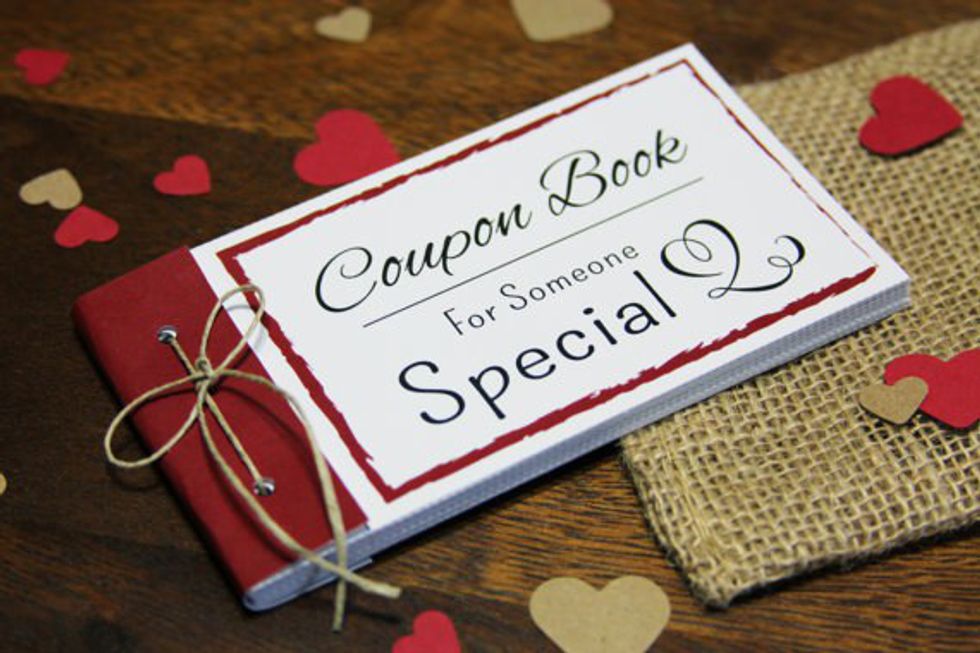 Another nearly-free (but full of love and elbow-grease!), a coupon book doesn't just have to be ~naughty~ or for your significant other. If your mom's your Valentine, make coupons for making her dinner or paying for her mani-pedi! If it's your best friend, promise to pay for their snacks the next time you see a movie, or plan a beach day. It's really just about the thought that's put into spending time with that person - it can extend Valentine's Day into a month!
4. Lumberjack Love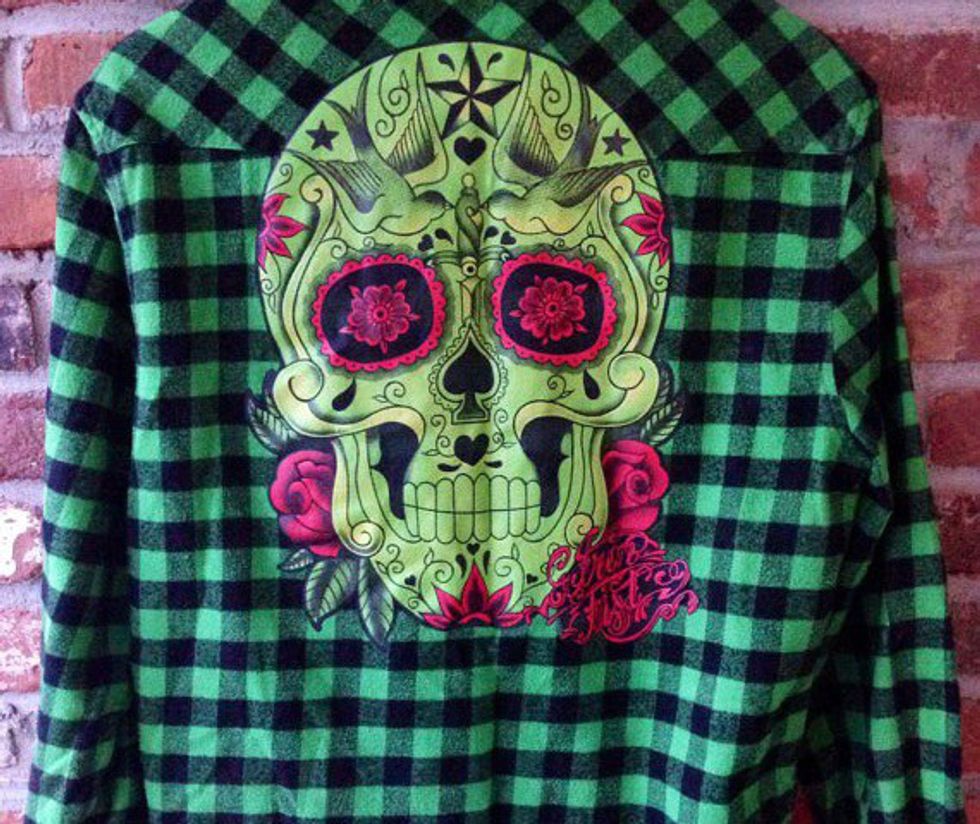 The great thing about flannels, is that anyone can wear them. They're androgynous, cozy, and you can get them from virtually any thrift store for $5. All you need then is some iron-on transfer sheets, and an ink-jet printer! Seemingly easy, though I wasted a lot of time and transfer sheets trying to remember which side was up and which words needed to be flipped and just UGH. Read the instructions, I implore you. Then, just cut out the design, slap that sucker on your flannel, iron it to seal, and you just created a bangin' customized flannel with your Valentine's favorite band logo/comic book character/whatever on it!
5. Go Back to Kindergarten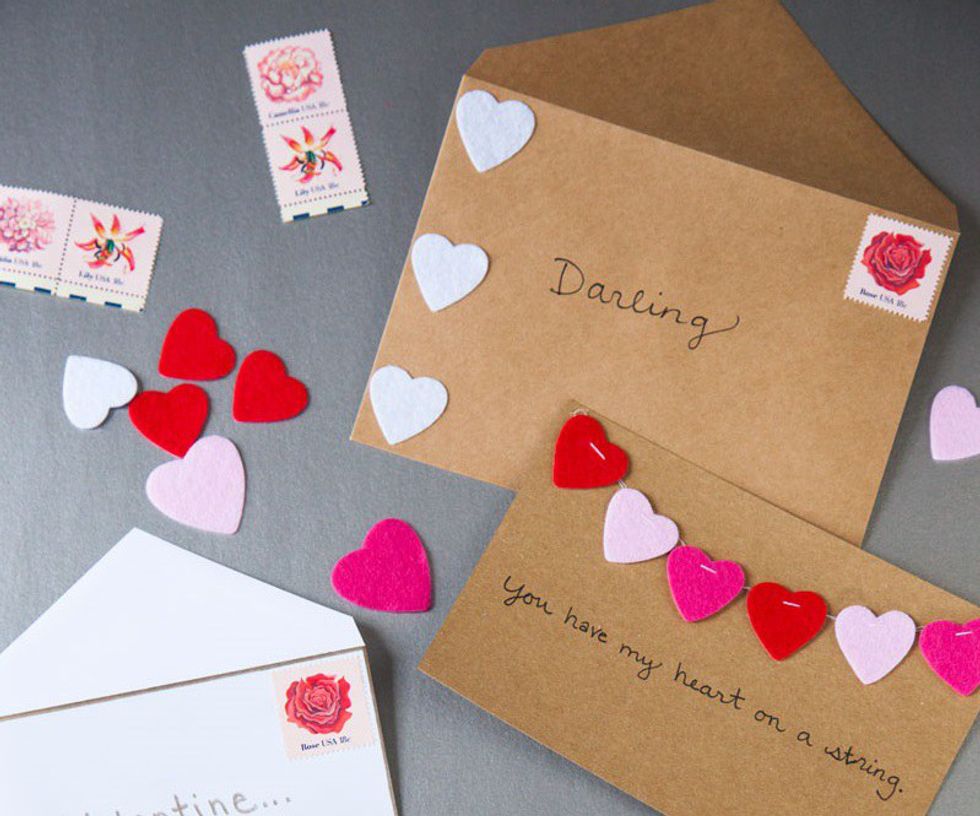 Sometimes, you can only express yourself through words. Whether it's sarcastic quips or gushy love letters, I don't know a single person who doesn't like being told that they're loved. And I've never heard anyone complain about the effort that goes into a hand-made card. Channel your inner elementary school student and make your Valentine a card! When all else fails, this is always an option. Get creative, attach a piece of their favorite candy or draw a silly little doodle inside. I guarantee it'll make them smile.
Best of luck, and happy Hallmark Day!