October is in our midst and spooky season has finally arrived. When I think of October so many Halloween traditions come mind: scary movies, decked out lawns, outlandish costumes, and of course jack-o-lanterns. But one October staple that stands out in particular is... candy corn.
You may or may not be a fan, but there's no doubt you'll find a glass bowl full of them at every Halloween party you go to. But I find this traditional presentation of candy corn to be out-dated and boring.
That being said, I found five simple recipes that turn candy corn into next level treats guaranteed to please even the most haunted of ghouls:
Candy Corn Bark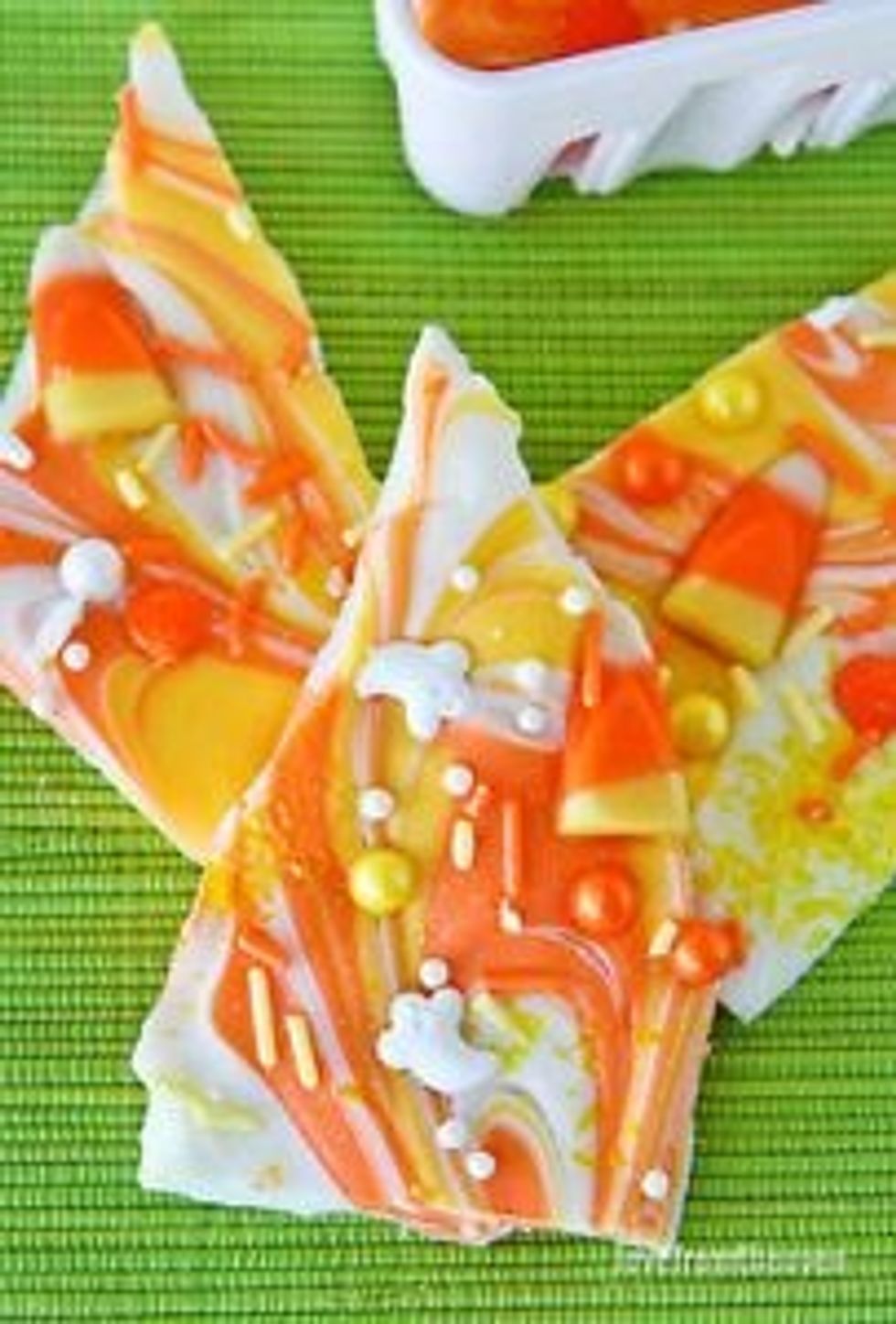 Uh... Yum!https://unsplash.com/photos/jmYgDD2t6dY
Ingredients:
- Candy Corn
- White Chocolate Melts
- Orange and Yellow Food Dye
- Sprinkles (Optional)
First things first, melt your white chocolate. Separate your melted white chocolate into three bowls (dye one batch orange, the other yellow, and leave one white), then mix them together on a cookie pan. Add the candy corn and sprinkles onto your white chocolate, then freeze for an hour.
Once your bark comes out of the freezer, feel free to break and plate!
Candy Corn and White Chocolate Soft Bake Cookies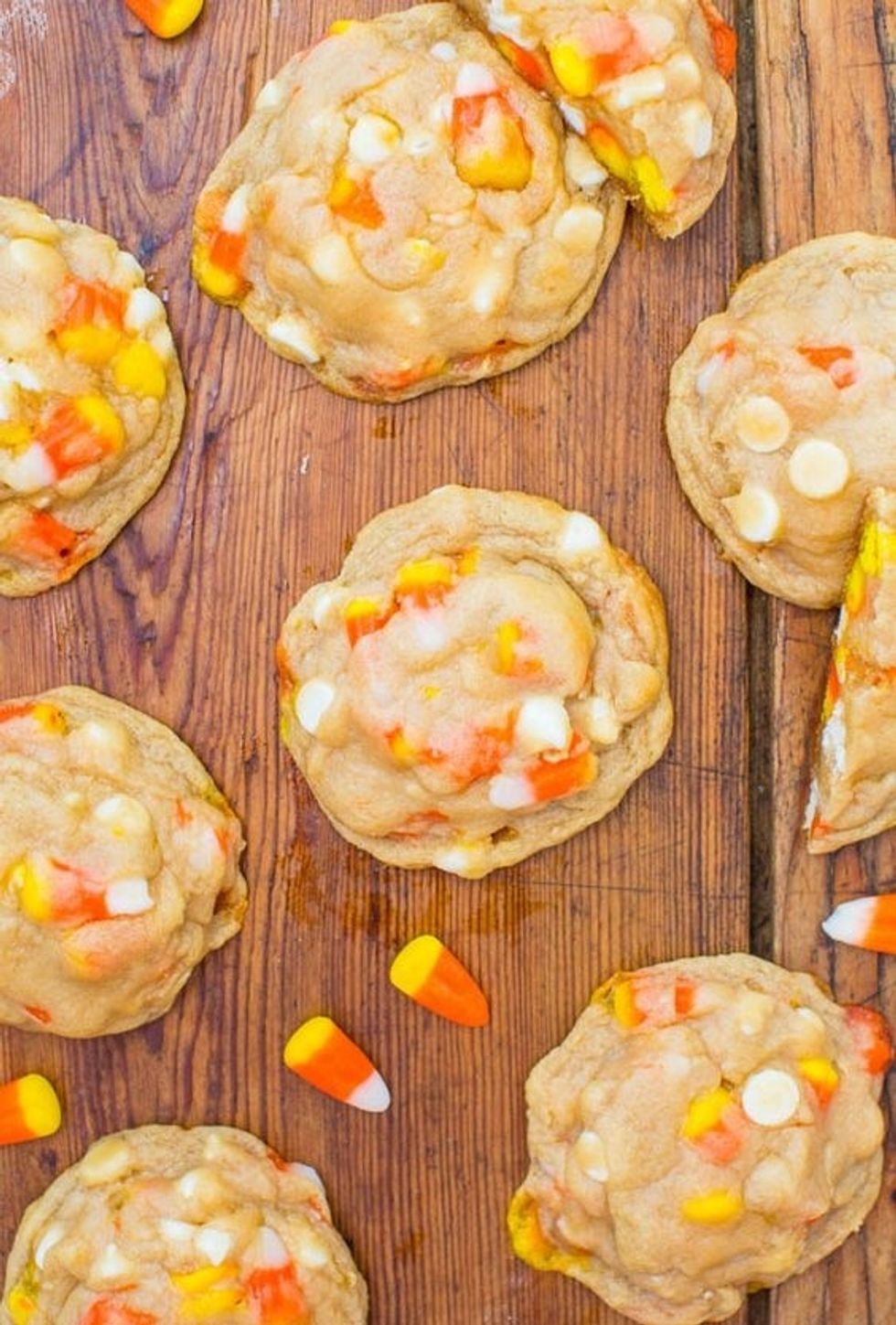 Ohhh Yeahh!https://www.pinterest.com/pin/366269382193043453/
I'm going to tell you the simplest, hassle-free way to make these bad-boys.
Ingredients:
- Candy Corn
- White Chocolate Chips
- Store Bought Sugar Cookie, Cookie Dough.
All you have to do is combine these three ingredients and pop them in the oven.
Once the cookies have set, they will literally melt in your mouth!
Candy Corn Caramel Apples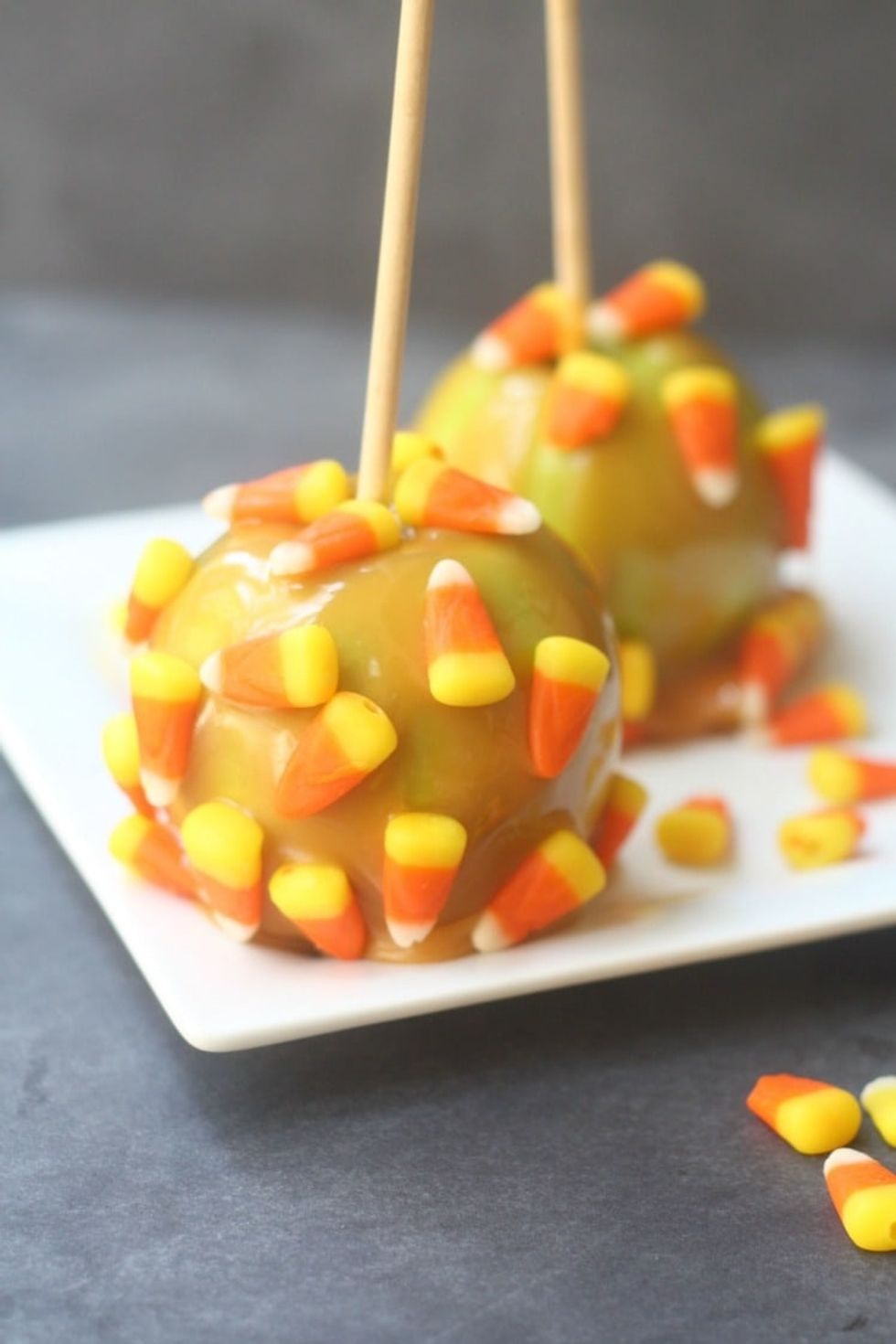 A genius idea!https://theclassychapter.com/candy-corn-caramel-ap...
Turn this classic treat into a proper Halloween dessert by incorporating some candy corn.
Ingredients:
- Candy Corn
- A Dozen Green Apples (you will also need 12 pegs)
- Caramel Melts
Once you've staked all of your apples, melt the caramel for dipping. Make sure you evenly coat each apple with enough caramel so that the candy corn pieces stick. Let the caramel harden, and-voilà-you've just transformed this party favorite into a candy corn lover's dream!
Candy Corn Rice Krispies Treats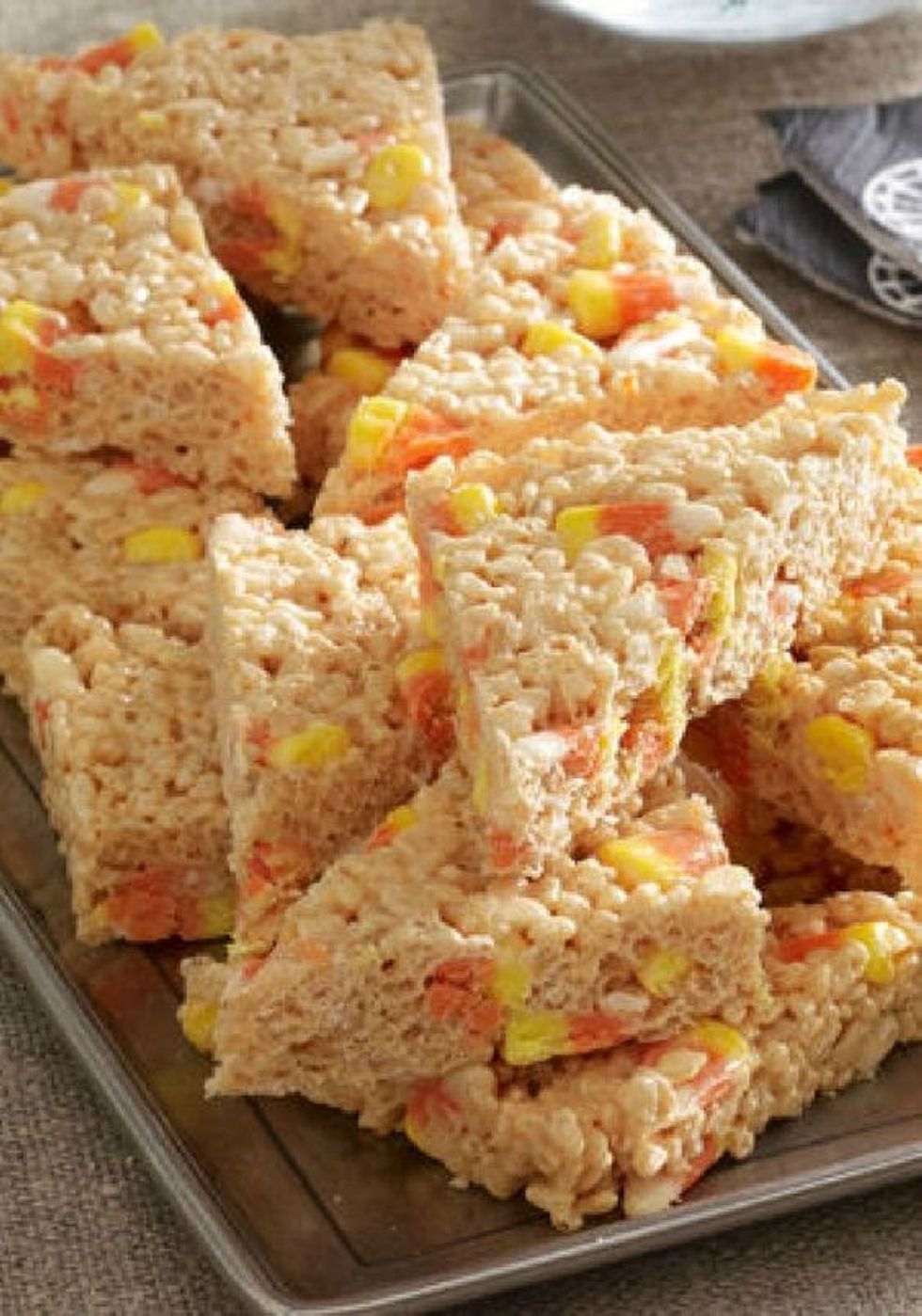 Is your mouth watering yet?https://www.pinterest.com/pin/366269382193043444/
This is another sweet and easy treat anyone can make this Halloween season.
Ingredients:
- Candy Corn
- Rice Krispies Cereal
- Marshmallows
- Butter
The marshmallows and butter should be melted and mixed together in a microwave safe bowl until they are completely blended. Then mix in the candy corn and Rice Krispies cereal. Once you've combined all of the ingredients together, spread it all out onto a cookie sheet. Let your batch cool completely before slicing the mixture into even bars.
Candy Corn Popcorn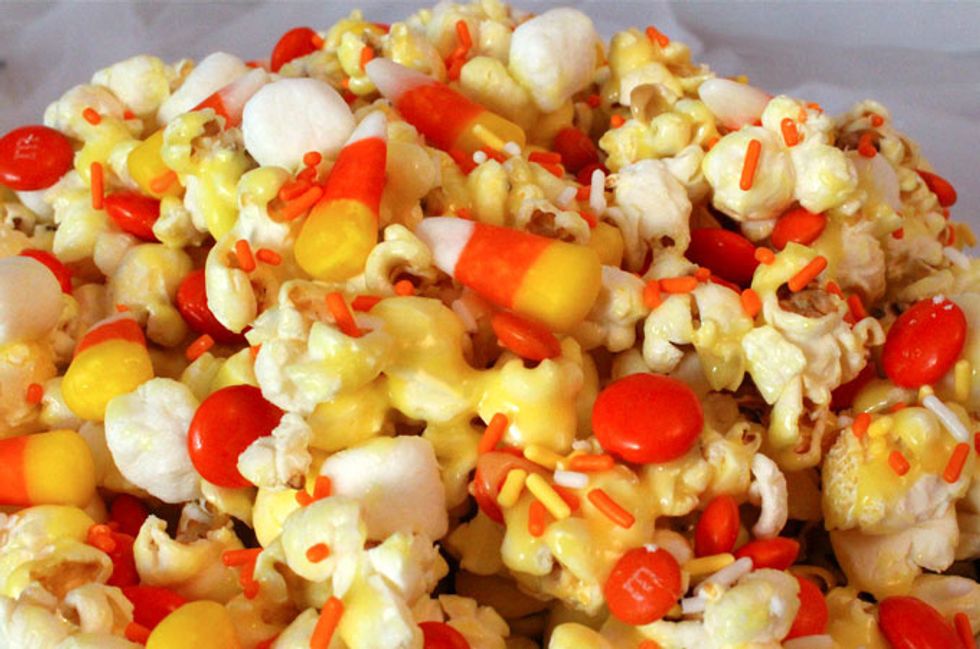 Sugar overload!https://www.twosisterscrafting.com/halloween-candy...
Candy corn popcorn probably seems like the easiest Halloween treat to craft, but it still requires some work.
Ingredients:
- Candy Corn
- Marshmallows
- Yellow Food Dye
- Orange and Yellow M&M's
- Sprinkles (Optional)
The first thing you have to do is melt your marshmallows. Once you've done so, add in some yellow food dye. Mix in the popcorn, candy corn, M&M's and sprinkles until they are all dispersed evenly throughout the marshmallow fluff. When the mixture has cooled, you can finally enjoy this delicious treat!
I hope these recipes will inspire you to get sticky in the kitchen this October!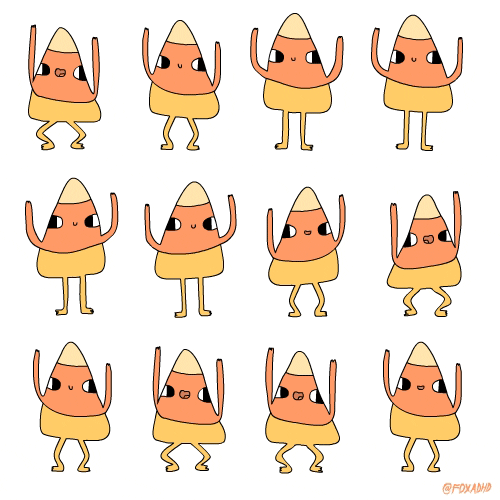 media0.giphy.com