The best month of all is finally here. For me, October is just a month-long countdown to Halloween, aka, the best holiday of all. Besides taping fake spiderwebs up all over my house and carving pumpkins, my favorite thing to do in October is to watch horror (or Halloween) movies. Yeah, I watch them all year anyway, but curling up to watch a scary movie in the dark at Halloween time is just perfect. Here's my list of 31 spooky movies to watch during the 31 days of October in anticipation of Halloween, and no, these are not just a list of my top 31 horror movies.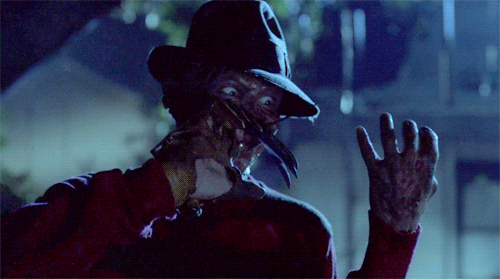 1. "The Addams Family" (1991)
2. "The Blair Witch Project" (1999)
3. "Carrie" (1976)
4. "Casper" (1995)
5. "Child's Play" (1988)
6. "Children of the Corn" (1984)
7. "The Craft" (1996)
"Light as a feather, stiff as a board."
8. "Creepshow" (1982)
9. "Donnie Darko" (2001)
One of my favorite movies, hands down. It's more weird and sad than creepy, but Jake Gyllenhaal wears a skeleton suit so it counts.
10. "The Evil Dead" (1981)
11. "The Exorcist" (1973)
12. "Friday the 13th" (1980)
13. "Halloween" (1978)
14. "Halloweentown" (1998)
Boy, what I would give to ride in that skeleton's taxi! I've loved "Halloweentown" and its sequels since I was little and looked forward to watching them on Disney Channel every October.
15. "Hocus Pocus" (1993)
16. "House of 1000 Corpses" (2003)
17. "The House of the Devil" (2009)
18. "Jeepers Creepers" (2001)
This scene has haunted me since I was 4 years old.
19. "Night of the Living Dead" (1968)
20. "A Nightmare on Elm Street" (1984)
21. "The Omen" (1976)
22. "Paranormal Activity" (2007)
23. "Pet Sematary" (1989)
24. "Poltergeist" (1982)
25. "Psycho" (1960)
26. "The Rocky Horror Picture Show" (1975)
27. "Scream" (1996)
"What's your favorite scary movie?"
28. "The Shining" (1980)
29. "The Silence of the Lambs" (1991)
30. "The Texas Chainsaw Massacre" (1974)
This is the epitome of horror. From opening credits to the final scene, it feels like you're watching something you're not supposed to be.
31. "Zodiac" (2007)
---
These 31 movies are some of my absolute favorites. I hope you have a chance to revisit some of these films or watch them for the first time this Halloween season.