Those who know me well know that peace and friendship between India and Pakistan is a goal I have been passionate about for many years. I truly believe that the time has come for the youth to take a stand and put an end to the senseless enmity between our two nations, especially if we want to have a chance at ensuring a brighter future for the coming generations.
I have compiled a series of images to help promote this message, which I hope will help encourage this mentality within the common citizens of our nations, and help heal our wounds. Most of these images contain poetry and quotes from films, but a few of them also have quotes written by myself from various articles.
My goal is to make a difference, for the sake of both of my countries.
*Side note: I did not create the images themselves, but I have used these images and added text to them (not an easy task!). Below each image, I have included the original text, along with English translations for the texts that are in Urdu/Hindi. I have done these translations myself, so any mistakes are own. I tried my very best to translate these accurately, but some Hindi/Urdu words don't have an exact English translation, so please let me know if any of the translations are still unclear.

Original Text:
"Yeh nafrat buri hai,
na paalo isse.
Dilon mein khalish hai,
nikaalo isse.
Na tera, na mera,
na iss ka na uss ka.
Yeh sab ka watan hai,
bacha lo isse."
Translation:
"This hatred is wrong;
do not foster it.
There is pain in our hearts;
discard it.
The area is not yours or mine,
nor theirs or ours.
This land belongs to all of us;
protect it."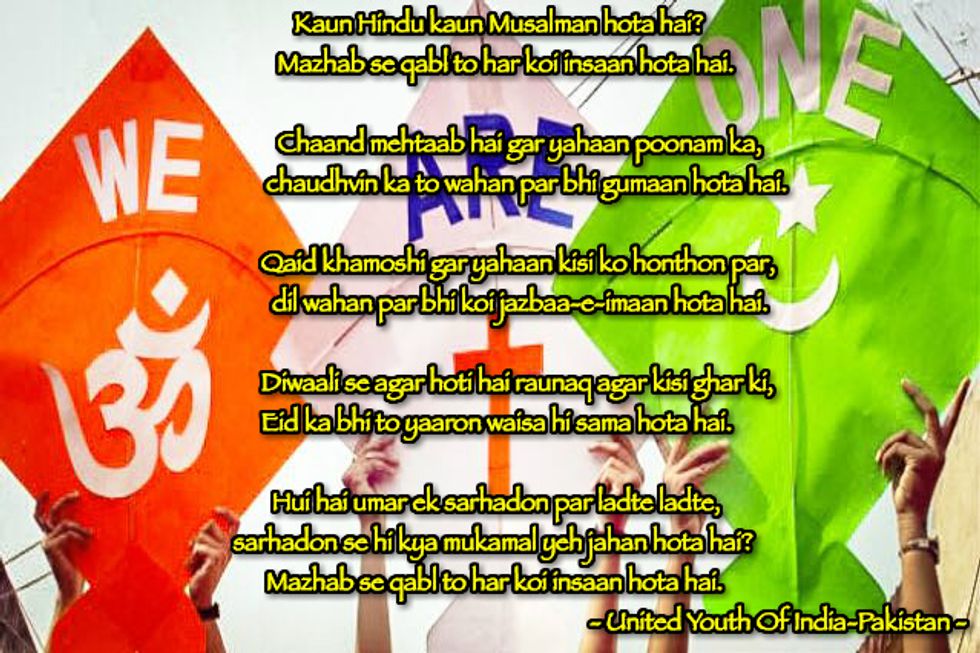 Original Text:
"Kaun Hindu kaun Musalaman hota hai?
Mazhab se qabl toh har koi insaan hota hai.
Chaand ka mehtaab hai gar yahaan poonam ka,
chaudhvin ka toh wahaan par bhi gumaan hota hai.
Qaid khamoshi gar yahaan kisi ko honton par,
dil wahaan par bhi koi jazbaa-e-imaan hota hai.
Diwali se agar hoti hai raunaq agar kisi ghar ki,
Eid ka bhi toh yaaron waisa hi sama hota hai.
Hui hai umar ek sarhadon par ladte ladte,
sarhadon se hi kya mukamal yeh jahan hota hai?
Mazhab se qabl toh har koi insaan hota hai."
Translation:
"Who is a Hindu and who is a Muslim?
Before being a religious devotee, everyone is human.
If there is brilliant moonlight from the full moon,
there is also a full moon on the other side.
If there are fun and festivities during Diwali,
then during Eid there is also the same joy.
It has been an era of war at our borders,
how can a world be complete with borders?
Before being a religious devotee, everyone is human."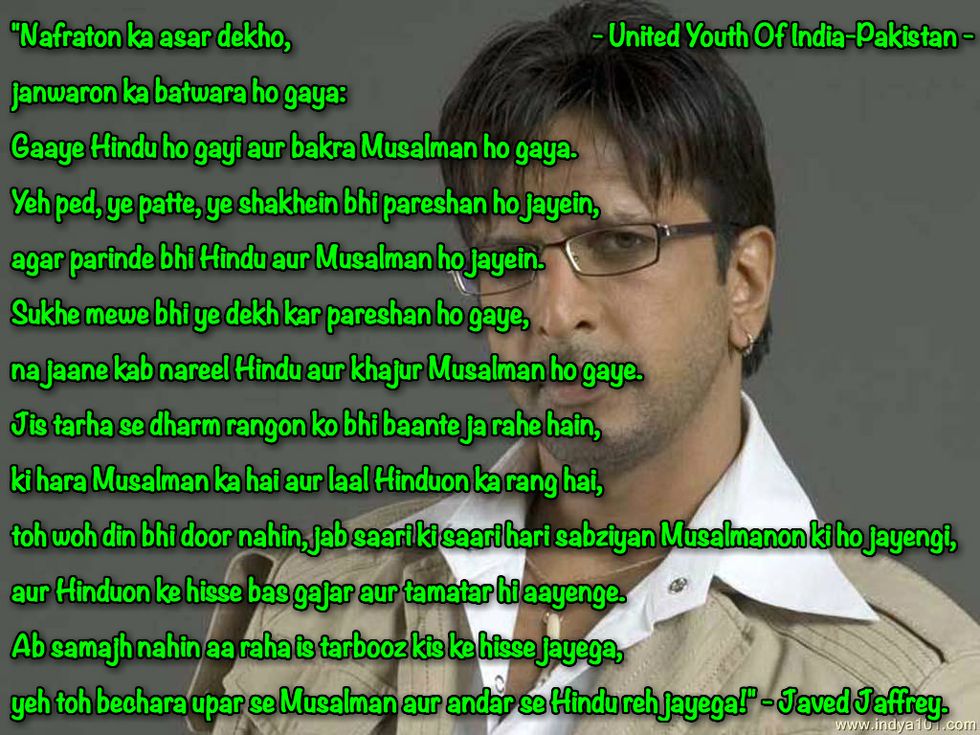 Original Text:
"Nafraton ka asar dekho,
janwaron ka batwara ho gaya:
Gaaye Hindu ho gayi, aur bakra Musalman ho gaya.
Yeh pedh, yeh patte, yeh shaakhein bhi pareshan ho jayein,
agar parinde bhi Hindu aur Musalman ho jayein.
Sukhe mewe bhi yeh dekh kar pareshan go gaye,
na jaane kab nareel Hindu aur khajur Musalman ho gaye?
Jis tarha dharm rangon mein ko bhi baante jaa rahe hain,
ki hara Musalman ka hai aur laal Hinduon ka rang hai,
toh woh din bhi door nahin, jab saari ki saari sabziyan Musalmanon ki ho jayegi,
aur Hinduon ke hisse bas gajar aur tamatar hi aayenge.
Ab samajh nahin aaraha iss tarbooz kis ke hisse jayega,
yeh toh bechara upar se Musalman aur andar se Hindu reh jayega!"
Translation:
"The cow has become Hindu and the goat has become Muslim.
Our trees, our leaves, our branches will also feel confused
if our birds also become Hindu and Muslim.
The dry fruits also became confused,
who knew when coconuts became Hindu and dates became Muslim?
The way religion is being divided by colors,
green for Muslims and red for Hindus,
the day will soon come that all vegetables will become Muslim,
and all this Hindus will have are carrots and tomatoes!
It is hard to determine to whom the watermelon will go,
the poor thing will remain Muslim on the outside and Hindu on the inside!"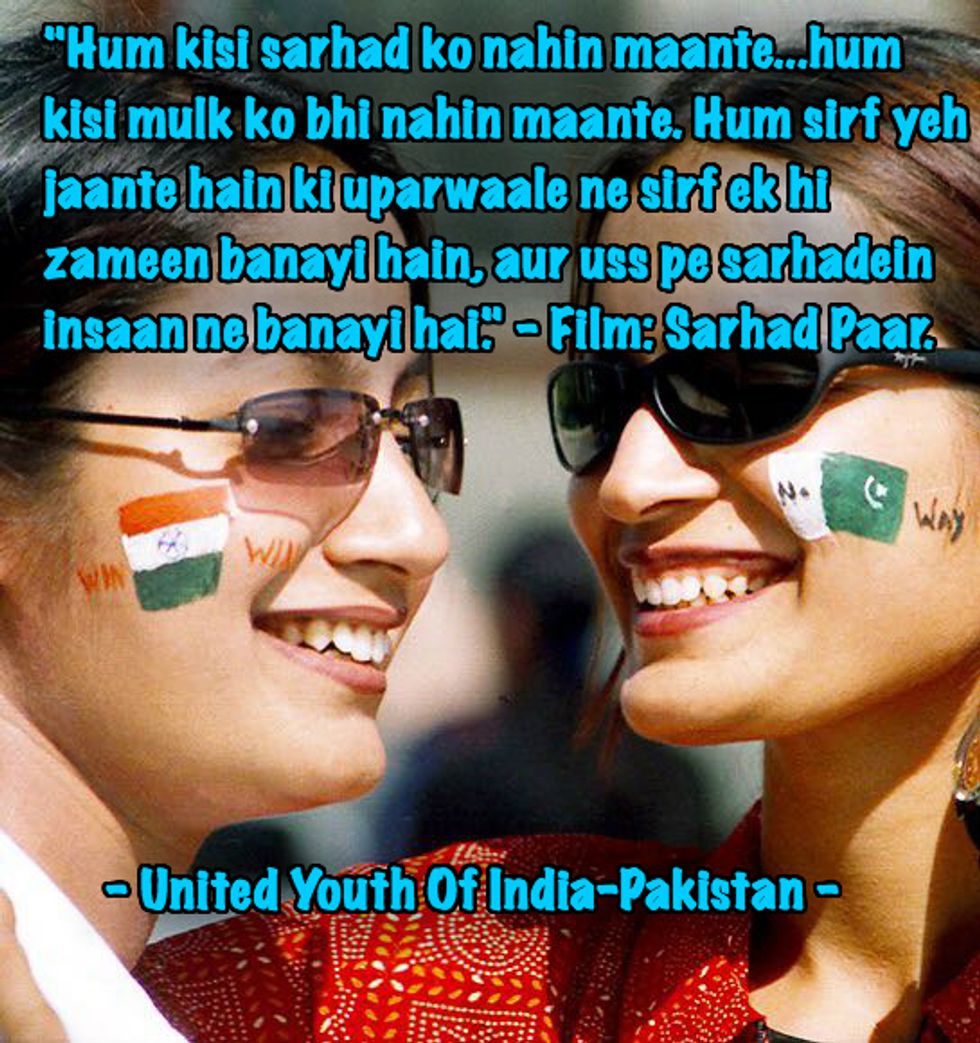 Original Text:
"Hum kisi sarhad ko nahin maante...hum kisi mulk ko bhi nahin maante. Hum sirf yeh jaante hain ke uparwale ne sirf ek hi zameen banayi hain, aur uss pe sarhadein insaan ne banayi hai."
Translation:
"I do not adhere to borders...I also do not adhere to any nation. All I know is that God made just one land, and the borders on it were put up by humans."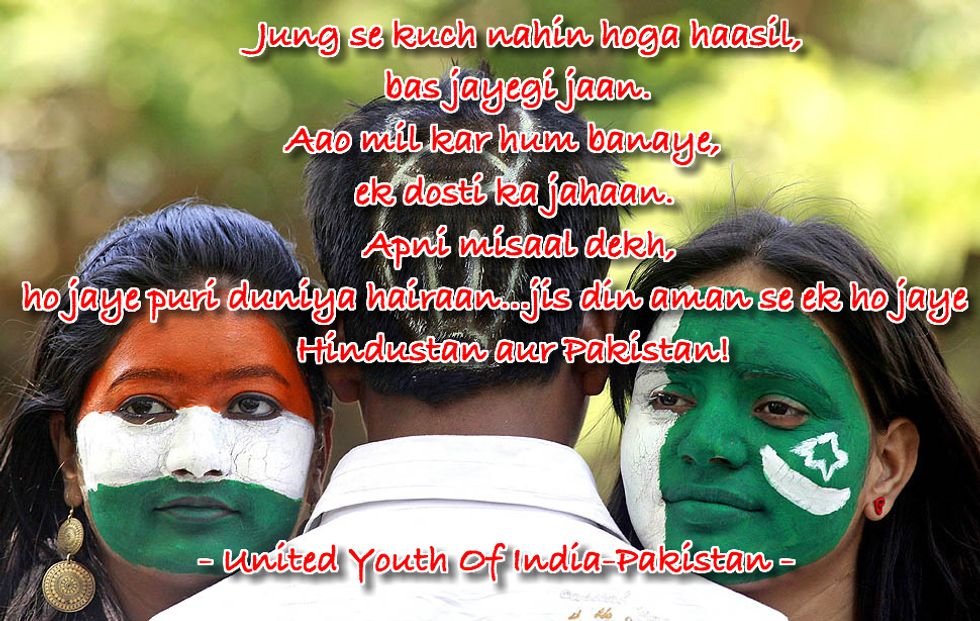 Original Text:
"Jung se kuch nahin hoga haasil,
bas jayegi jaan.
Aao mil kar hum banaye,
ek dosti ka jahaan.
Apni misaal dekh,
ho jaye puri duniya hairaan...jis din aman se ek ho jaye
Hindustan aur Pakistan!"
Translation:
"Nothing will be gained from war,
only lives will be lost.
Come, let us together forge
a world of friendship.
Look at our example,
the whole world will be in awe...the day that peace unites
India and Pakistan!"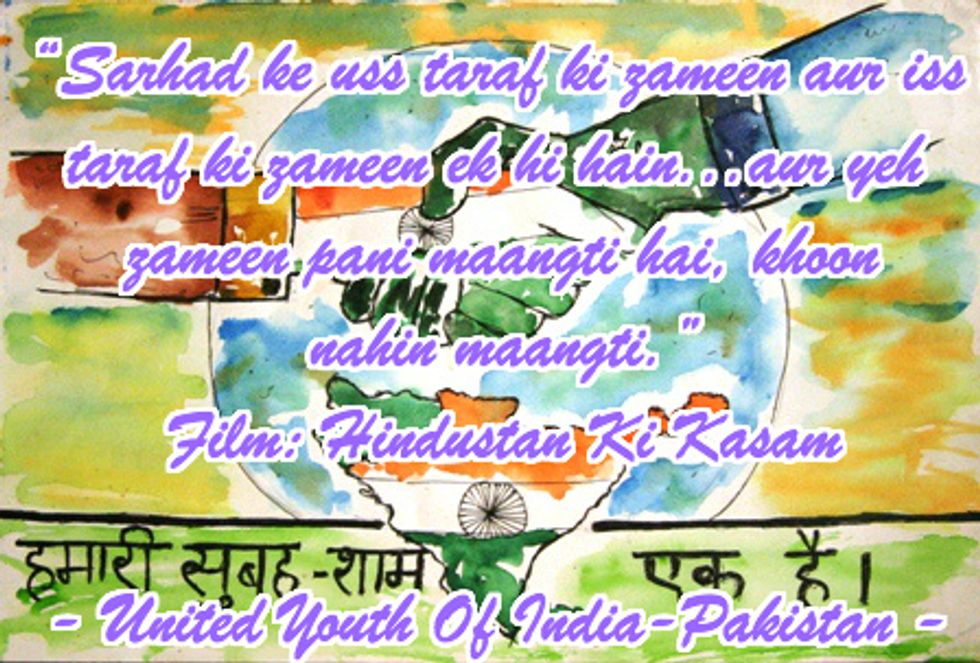 Original Text:
"Sarhad ke uss taraf ki zameen aur iss taraf ki zameen ek hi hain...aur yeh zameen paani maangti hai, khoon nahin maangti."
Translation:
"The land on that side of the border and this side of the border are one...and this land thirsts for water, not blood."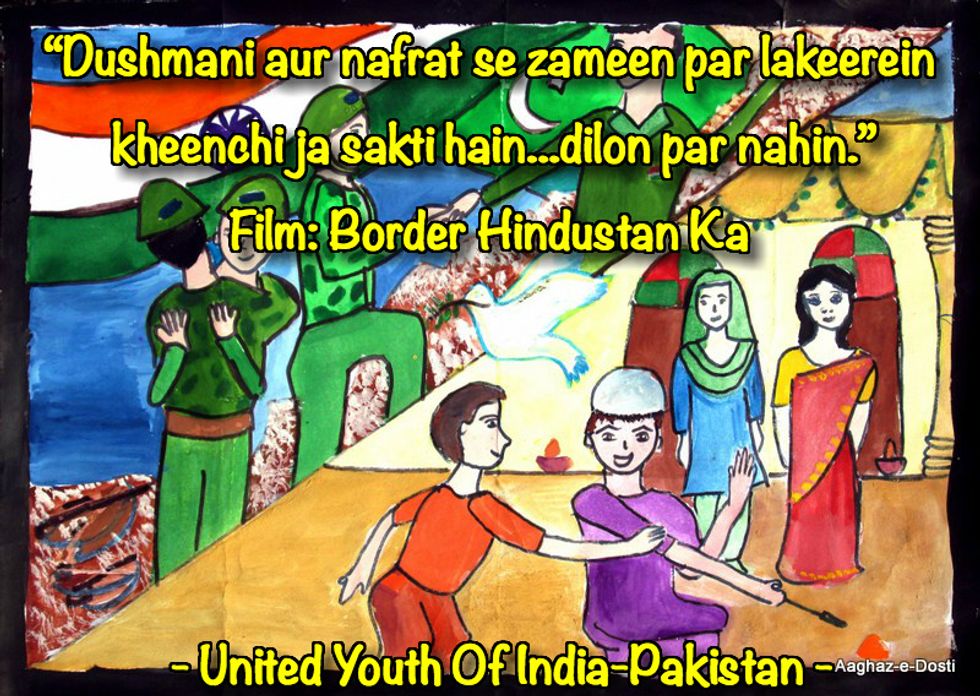 Original Text:
"Dushmani aur nafrat se zameen par lakeerein kheenchi jaa sakti hain...dilon par nahin."
Transition:
"Enmity and hatred create lines (borders) on the earth...not in the heart."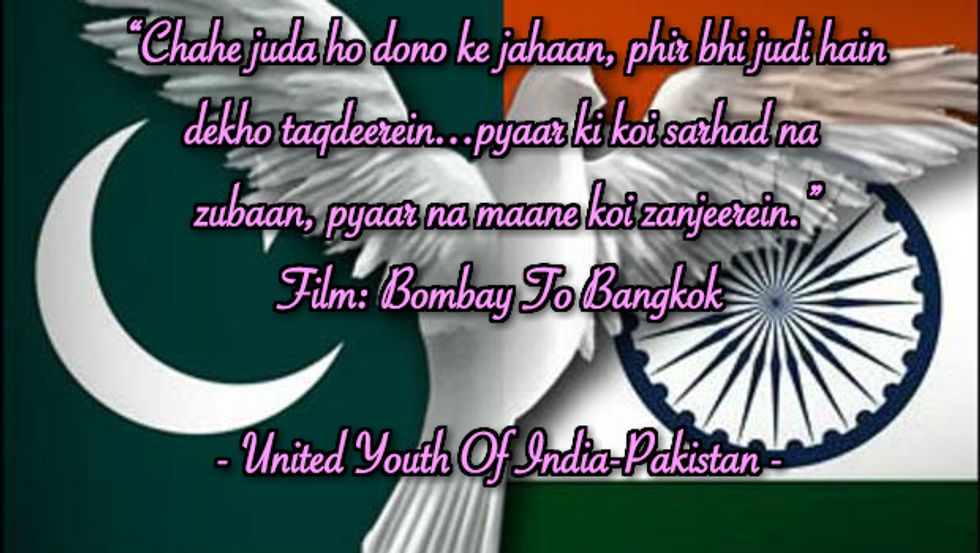 Original Text:
"Chahe juda ho dono ka jahaan, phir bhi judi hain do taqdeerein...pyaar ki koi sarhad na zubaan, pyaar na maanein koi zanjeerein."
Translation:
"Even if the two worlds are separated, the two destinies are bound....love knows no border nor language, love knows no shackles."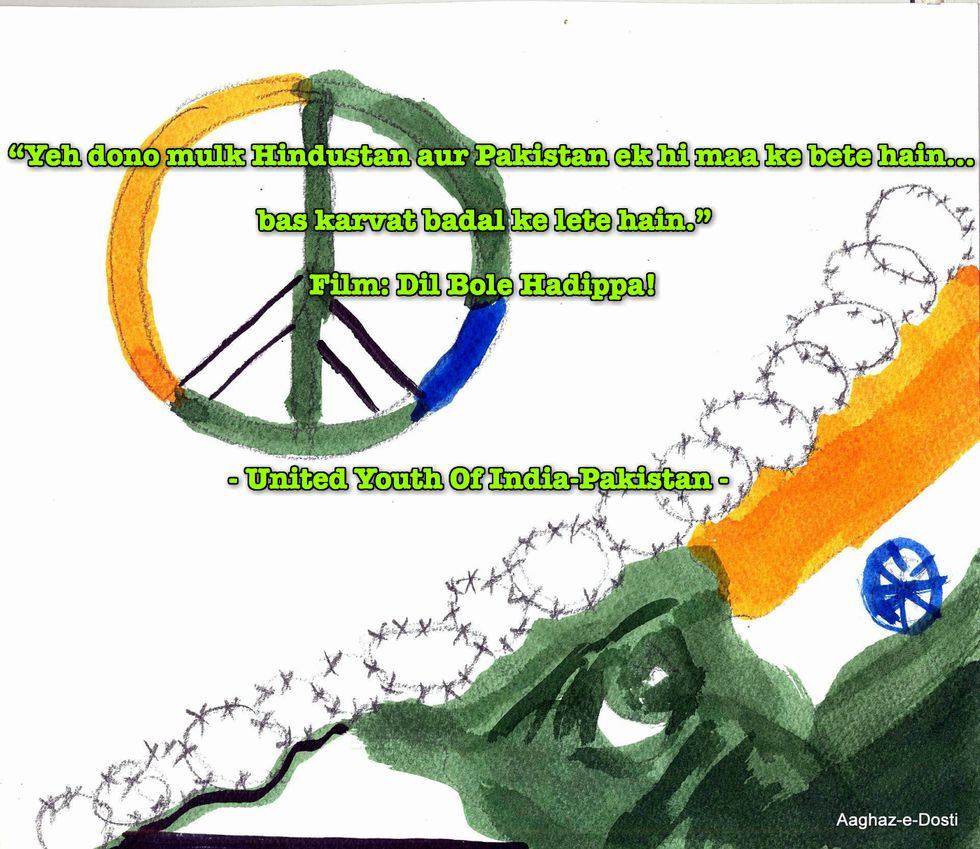 Original Text:
"Yeh dono mulk Hindustan aur Pakistan ek hi maa ke bete hain...bas karvat badal ke lete hain."
Translation:
"These two nations, India and Pakistan, are sons of the same mother….they are just laying facing opposite sides."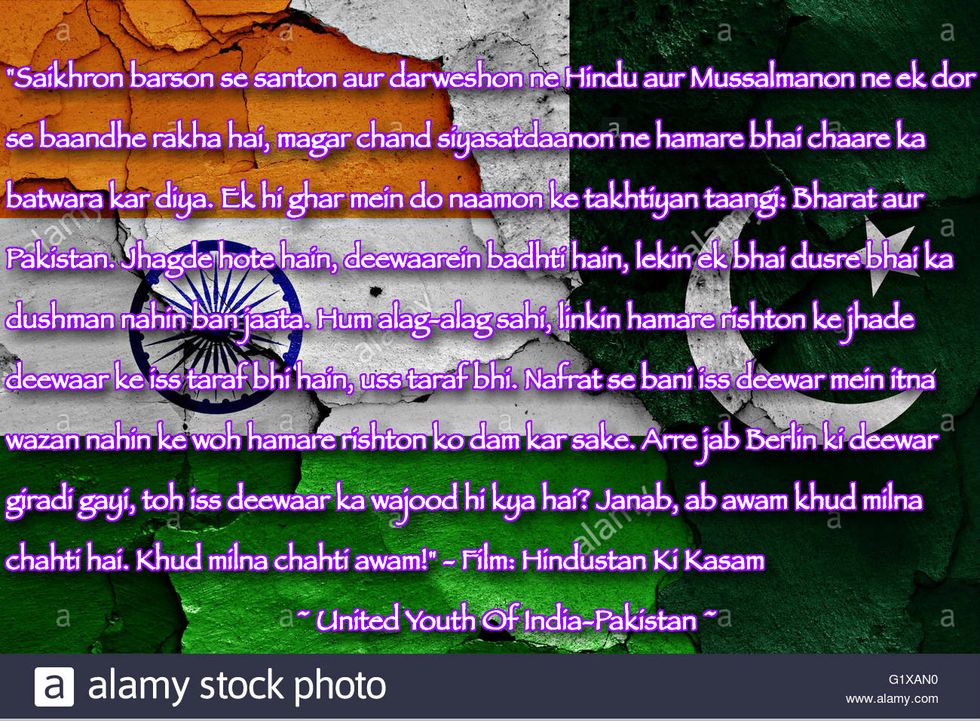 Original Text:
"Saikhron barson se santon aur darweshon ne Hindu aur Mussalmanon ne ek dor se baandhe rakha hai, magar chand siyasatdaanon ne hamare bhai chaare ka batwara kar diya. Ek hi ghar mein do naamon ke takhtiyan taangi: Bharat aur Pakistan. Jhagde hote hain, deewaarein badhti hain, lekin ek bhai dusre bhai ka dushman nahin ban jaata. Hum alag alag sahi, linkin hamare rishton ke chadhe deewaar ke iss taraf bhi hain, uss taraf bhi. Nafrat se bani iss deewar mein itna wazan nahin ke woh hamare rishton ko dam kar sake. Arre jab Berlin ki deewar giradi gayi, toh iss deewaar ka wajood hi kya hai? Janab, ab awam khud milna chahti hai. Khud milna chahti awam!"
Translation:
"For centuries, saints and scholars have bonded the Hindus and Muslims together. But these leaders divided our brotherhood. In the same house, they have hung two different things. One is India, the other is Pakistan. We do fight. The walls are created there. But a brother doesn't become the enemy of another brother. We are all different, but the roots of our relationship are on this side of the wall, and on that side as well. There is not even enough weight in this wall of hatred to break our relations. When the Berlin wall was able to come down, the what meaning does this wall have? Sir, now the citizens themselves want to meet. The citizens themselves want to meet!"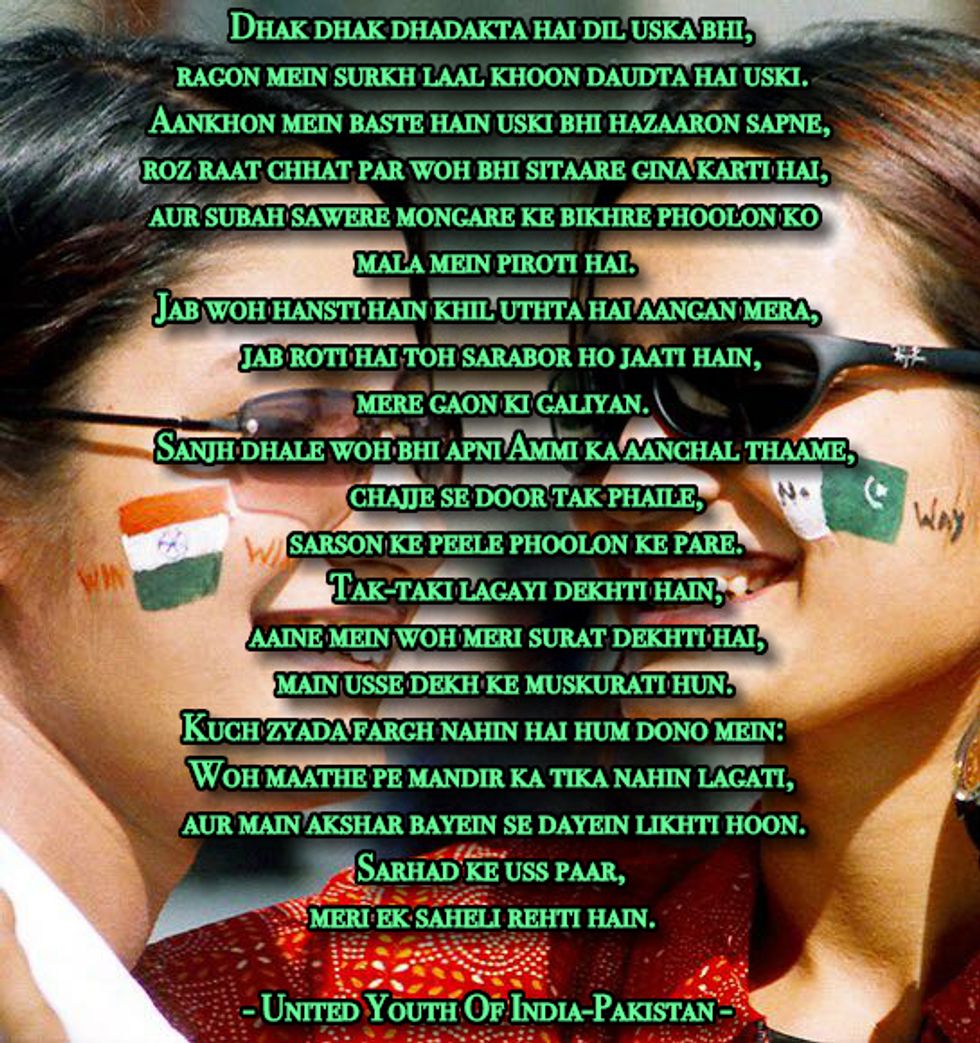 Original Text:
"Dhak dhak dhadakta hai dil uska bhi,
ragon mein surkh laal khoon daudta hai uski.
Aankhon mein baste hain uski bhi hazaaron sapne,
roz raat chhat par woh bhi sitaare gina karti hai,
aur subah sawere mongare ke bikhre phoolon ko
mala mein piroti hai.
Jab woh hansti hain khil uthta hai aangan mera,
jab roti hai toh sarabor ho jaati hain,
mere gaon ki galiyan.
Sanjh dhale woh bhi apni Ammi ka aanchal thaame,
chajje se door tak phaile,
sarson ke peele phoolon ke pare.
Tak-taki lagayi dekhti hain,
aaine mein woh meri surat dekhti hai,
main usse dekh muskarati hun.
Kuch zyada farg nahin hai hum dono mein:
Woh maathe pe mandir ka tika nahin lagati,
aur main akshar bayein se dayein likhti hoon.
Sarhad ke uss paar,
meri ek saheli rehti hain."
Translation:
"Her heart also beats in the same rhythm,
the same red blood runs through her veins.
In her eyes also lie a thousand dreams,
every night on the roof she too counts the stars,
and early in the morning she takes the petals of fallen jasmine flowers,
and puts them on a string.
When she laughs, the flowers in my courtyard bloom,
when she cries the streets of my village become flooded.
In the evening she also clutches her mother's sari,
and from her balcony she can see beyond the yellow mustard fields.
She stares deeply,
in the mirror she looks at my face,
and I smile at her.
There is little difference between us,
only that she does not put a tika on her forehead,
and I write from left to right.
On the other side of the border
lives a friend.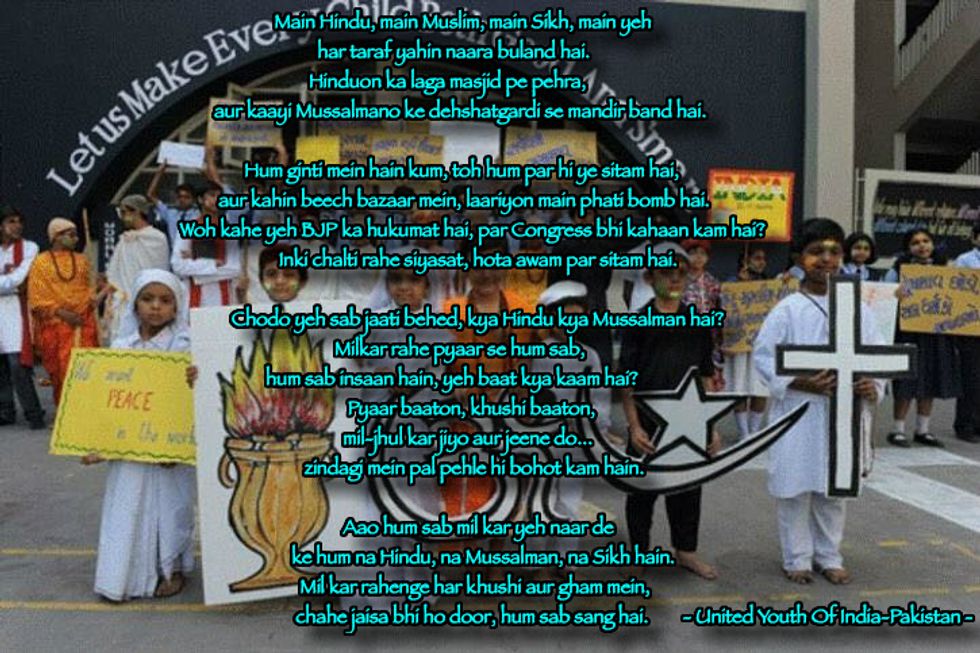 Original Text:
"Main Hindu, main Muslim, main Sikh, main yeh
har taraf yahin naara buland hai.
Hinduon ka laga masjid pe pehra,
aur kaayi Mussalmano ke dehshatgardi se mandir band hai.
Hum ginti mein hain kum, toh hum par hi ye sitam hai,
aur kahin beech bazaar mein, laariyon main phati bomb hai.
Woh kahe yeh BJP ka hukumat hai, par Congress bhi kahaan kam hai?
Inki chalti rahe siyasat, hota awam par sitam hai.
Chodo yeh sab jaati behed, kya Hindu kya Mussalman hai?
Milkar rahe pyaar se hum sab,
hum sab insaan hain, yeh baat kya kaam hai?
Pyaar baaton, khushi baaton,
mil-jhul kar jiyo aur jeene do...
zindagi mein pal pehle hi bohot kam hain.
Aao hum sab mil kar yeh naar de
ke hum na Hindu, na Mussalman, na Sikh hain.
Mil kar rahenge har khushi aur gham mein,
chahe jaisa bhi ho door, hum sab sang hai."
Translation:
"I am Hindu, I am Muslim, I am Sikh,
everywhere I go, this is the announcement I hear.
Hindus are keeping watch on the masjid,
and thanks to the terrorism by a few Muslims, the mandir is also closed.
We are fewer in numbers, so we must suffer this punishment,
and somewhere in the middle of the bazaar a bomb explodes on a bus.
They say that this is the law of the BJP, but how much better is Congress?
Their politics will continue, only the common citizens suffer.
Forget all of this caste and creed, who is Hindu, who is Muslim?
We should all live together in harmony,
Is it not enough that we are all human?
Spread love and happiness,
live together happily, live and let live,
as it is, life is short.
Let us all come together and announce,
that we are neither Hindu, nor Muslim, nor Sikh.
We will live together through every happiness and sorrow,
however far we may seem, we are always together."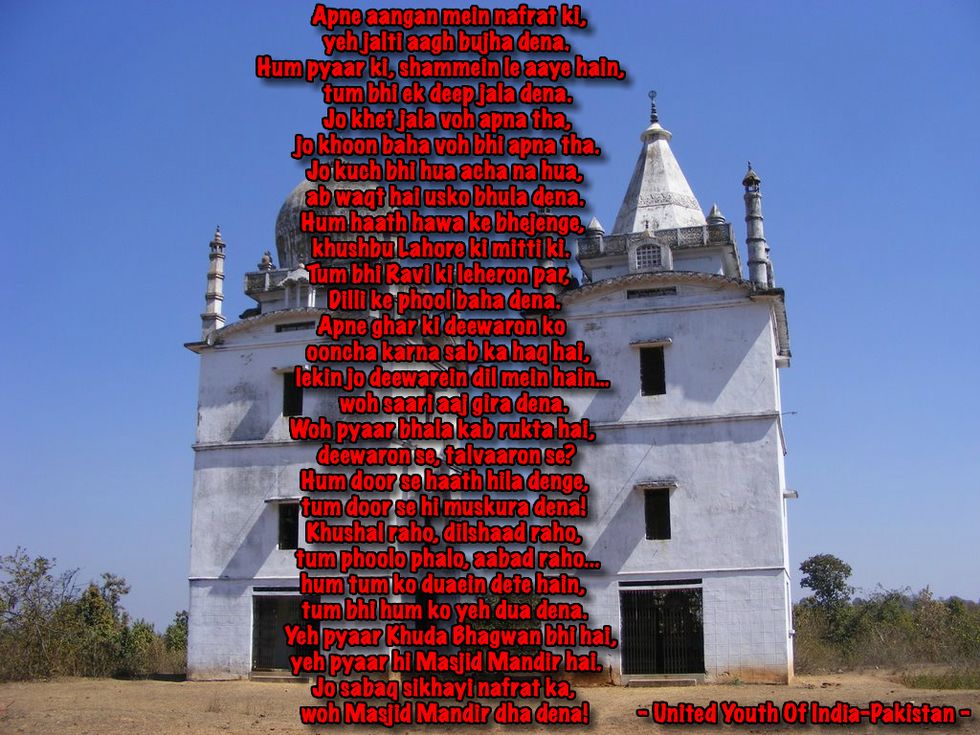 Original Text:
"Apne aangan mein nafrat ki,
yeh jalti aagh bujha dena.
Hum pyaar ki, shammein le aaye hain,
tum bhi ek deep jala dena.
Jo khet jala voh apna tha,
jo khoon baha voh bhi apna tha.
Jo kuch bhi hua acha na hua,
ab waqt hai usko bhula dena.
Hum haath hawa ke bhejenge,
khushbu Lahore ki mitti ki.
Tum bhi ravi ki leheron par,
Dilli ke phool baha dena.
Apne ghar ki deewaron ko
ooncha karna sab ka haq hai,
lekin jo deewarein dil mein hain…
woh saari aaj gira dena.
Woh pyaar bhala kab rukta hai,
deewaron se, talvaaron se?
Hum door se haath hila denge,
tum door se hi muskura dena!
Khushal raho, dilshaad raho,
tum phoolo phalo, aabad raho...
hum tum ko duaein dete hain,
tum bhi hum ko yeh dua dena.
Yeh pyaar Khuda Bhagwan bhi hai,
yeh pyaar hi Masjid Mandir hai.
Jo sabaq sikhayi nafrat ka,
woh Masjid Mandir dha dena!"
Translation:
"Put out the burning fire of hatred
which burns in your home.
We have brought candles of love,
you also must light a lamp.
The fields that burned were ours,
the blood that was shed was ours,
now the time has come for us to forget this.
We will send through the winds,
the fragrance of the soil of Lahore.
You also spread the flowers of Delhi,
through the waves of sunlight.
Everyone has the right,
to raise the walls of their homes,
but the walls that are in our hearts…
break them all today.
What love can be stopped
from walls and swords?
We will wave from afar,
you also smile from afar!
Be happy, be joyful,
grow flowers, spread love.
This love is Khuda (Allah) and Bhagwan (God),
this love is also a masjid and a mandir.
The lesson that has hatred has taught us,
will be wiped out by the charity of Masjids and Mandirs."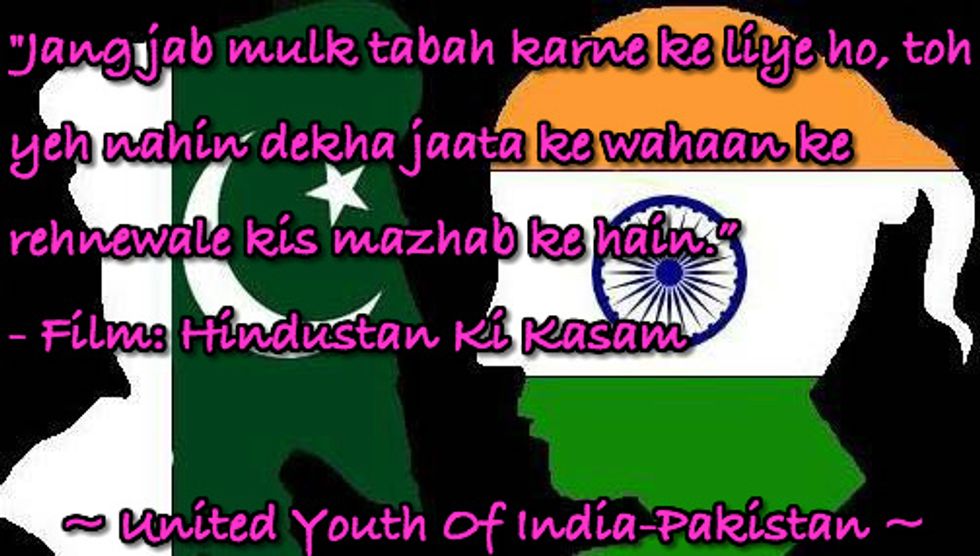 Original Text:
"Jang jab mulk tabah karne ke liye ho, toh yeh nahin dekha jaata ke wahaan ke rehnewale kis mazhab ke hain."
Translation:
"When war is intended to destroy a country, no one looks at the religion of the people who live there."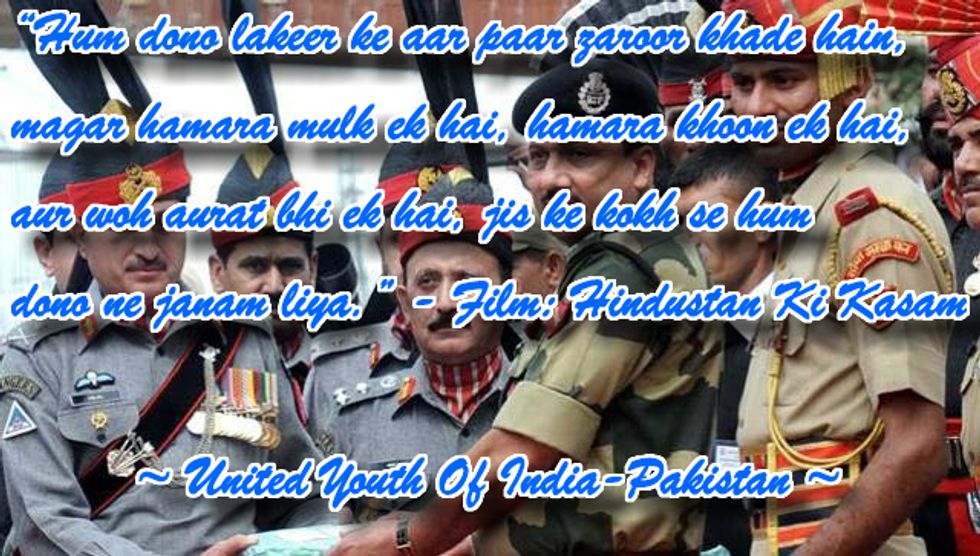 Original Text:
"Hum dono lakeer ke aar paar zaroor khade hain, magar hamara mulk ek hai, hamara khoon ek hai, aur woh aurat bhi ek hai, jis ke kokh se hum dono ne janam liya."
Translation:
"We are both standing on either side of the border, but our country is one, our blood is the same, and the womb of the woman who gave birth to us is also the same."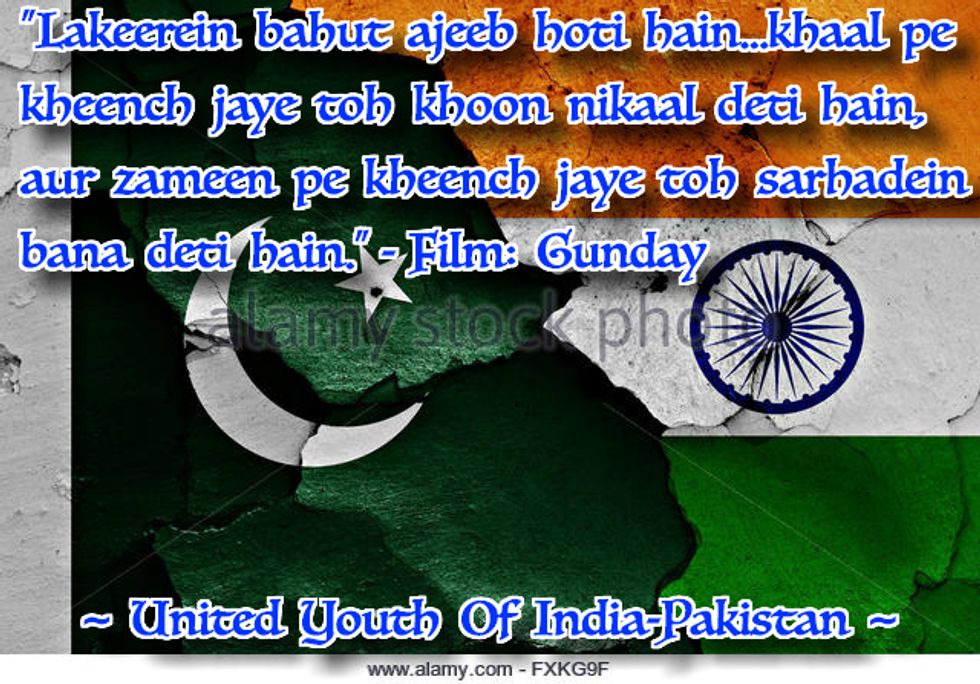 Original Text:
"Lakeerein bohot ajeeb hoti hain...khaal pe kheech jaye, toh khoon nikaal deti hain, aur zameen pe kheech jaye toh sarhadein bana deti hain."
Translation:
"Lines are very strange...when they are pulled across the skin they draw blood, and when they are pulled across the earth they create borders."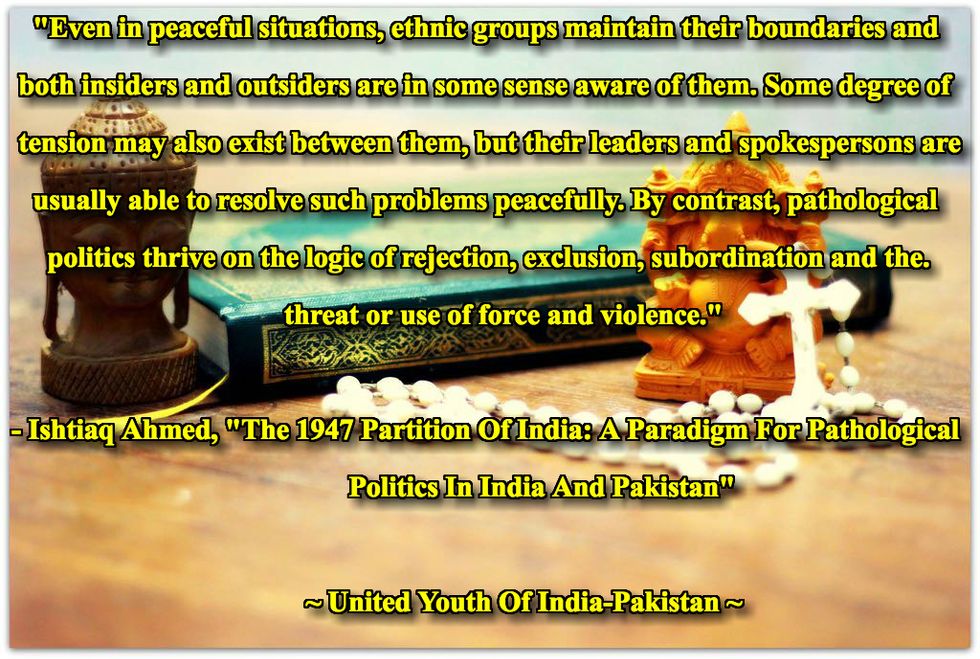 Original Text:
"Even in peaceful situations, ethnic groups maintain their boundaries and both insiders and outsiders are in some sense aware of them. Some degree of tension may also exist between them, but their leaders and spokespersons are usually able to resolve such problems peacefully. By contrast, pathological politics thrive on the logic of rejection, exclusion, subordination and the threat or use of force and violence. "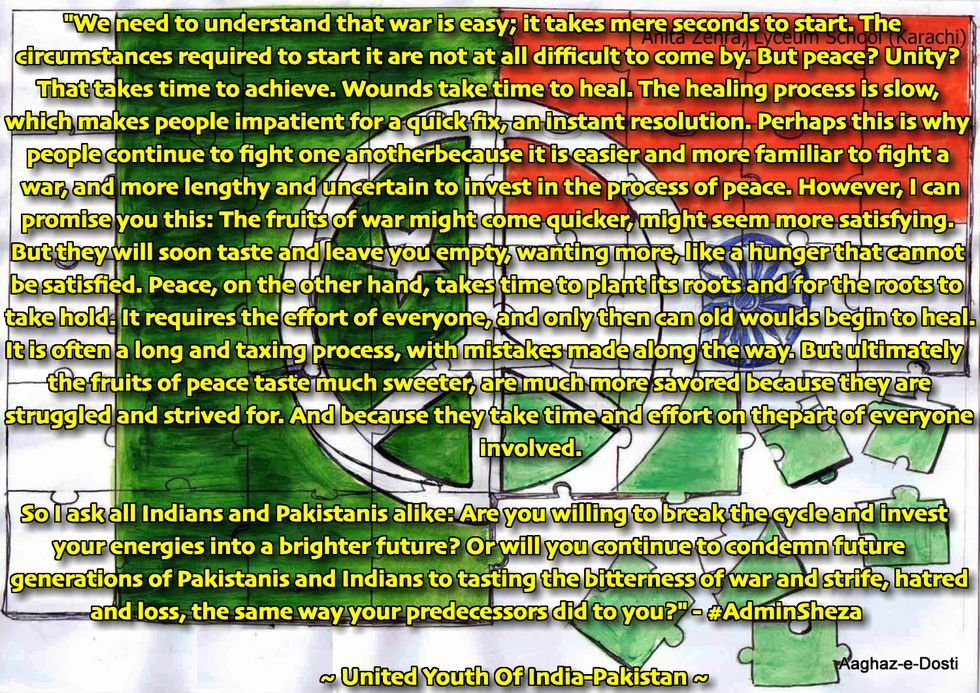 Original Text:
"We need to understand that war is easy; it takes mere seconds to start. The circumstances required to start it are not at all difficult to come by. But peace? Unity? That takes time to achieve. Wounds takes time to heal. The healing process is slow, which makes people impatient for a quick fix, an instant resolution. Perhaps this is why people continue to fight one another because it is easier and more familiar to fight a war, and more lengthy and uncertain to invest in the prospect of peace. However, I can promise you this: The fruits of war might come quicker, might seem more satisfying. But they will soon taste bitter and leave you empty, wanting more, like a hunger that cannot be satisfied. Peace, on the other hand, takes time to plant its roots and for the roots to take hold. It requires the effort of everyone, and only then can old wounds even begin to heal. It is often a long and taxing process, with mistakes made along the way. But ultimately the fruits of peace taste much sweeter, are much more savored because they are struggled and strived for. And because they take time and effort on the part of everyone involved.
So I ask all Indians and Pakistanis alike: Are you willing to break the cycle and invest your energies into a brighter future? Or will you continue to condemn future generations of Pakistanis and Indians to tasting the bitterness of war and strife, hatred and loss, the same way your predecessors did to you?"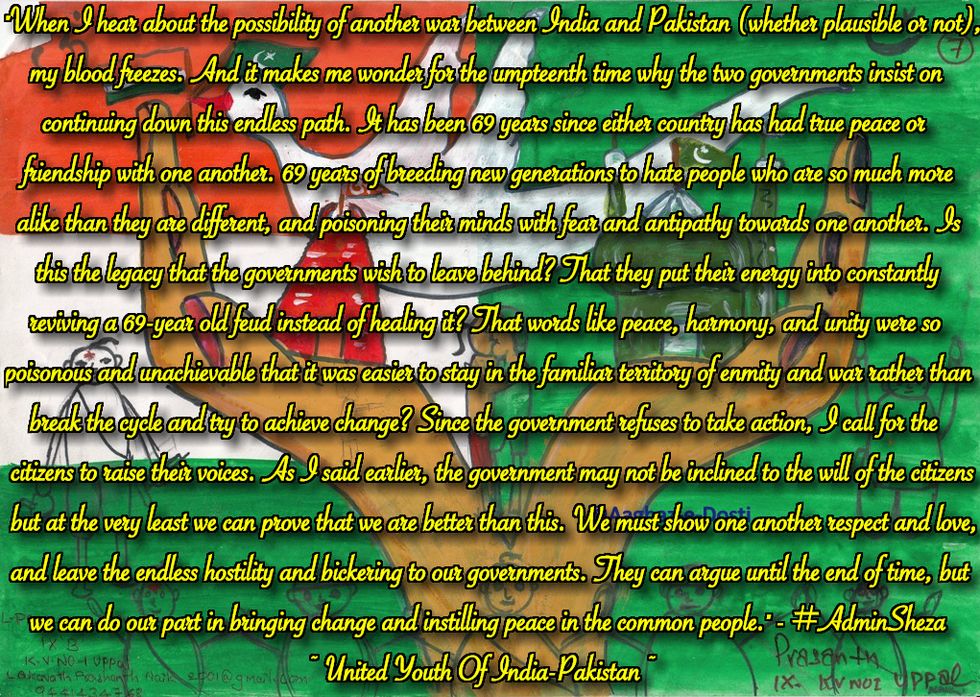 Original Text:
"When I hear about the possibility of another war between India and Pakistan (whether plausible or not), my blood freezes. And it makes me wonder for the umpteenth time why the two governments insist on continuing down this endless path. It has been 69 years since either country has had true peace or friendship with one another. 69 years of breeding new generations to hate people who are so much more alike than they are different, and poisoning their minds with fear and antipathy towards one another. Is this the legacy that the governments wish to leave behind? That they put their energy into constantly reviving a 69-year old feud instead of healing it? That words like peace, harmony, and unity were so poisonous and unachievable that it was easier to stay in the familiar territory of enmity and war rather than break the cycle and try to achieve change? Since the government refuses to take action, I call for the citizens to taise their voices. As I said earlier, the government may not be inclined to the will of the citizens but at the very least we can prove that we are better than this. We must show one another respect and love, and leave the endless hostility and bickering to our governments. They can argue until the end of time, but we can do our part in bringing change and instilling peace in the common people."
The past 69 years have been tumultuous and difficult, with mistakes committed by both sides, but we can do this if we work together. It is time we made our leaders proud.