Dominant the whole season and vastly underrated, the 1991 Washington Redskins squad was the best team to ever win the Super Bowl. We're talking about the most high-powered offense and a defense that called itself "capital punishment." This team posted all sorts of records, the most impressive one being that they shut out their first three opponents (Lions, Cardinals, Eagles) at home by scores of 45-0, 34-0, and 23-0. I doubt that will ever be broken. The '82, '83, and '87 Redskins teams come awful close as well. Here's why the '91 skins team that went 14-2 and won Super Bowl XXVI trump all other teams.
The Posse
Could you have asked for a more complimentary trio of wide receivers? Mark Rypien sure had himself a pro bowl year in 1991, throwing for 28 touchdowns and just 11 interceptions. The one thing he never missed on was the deep ball. It doesn't help that he had the best trio of receivers to throw to.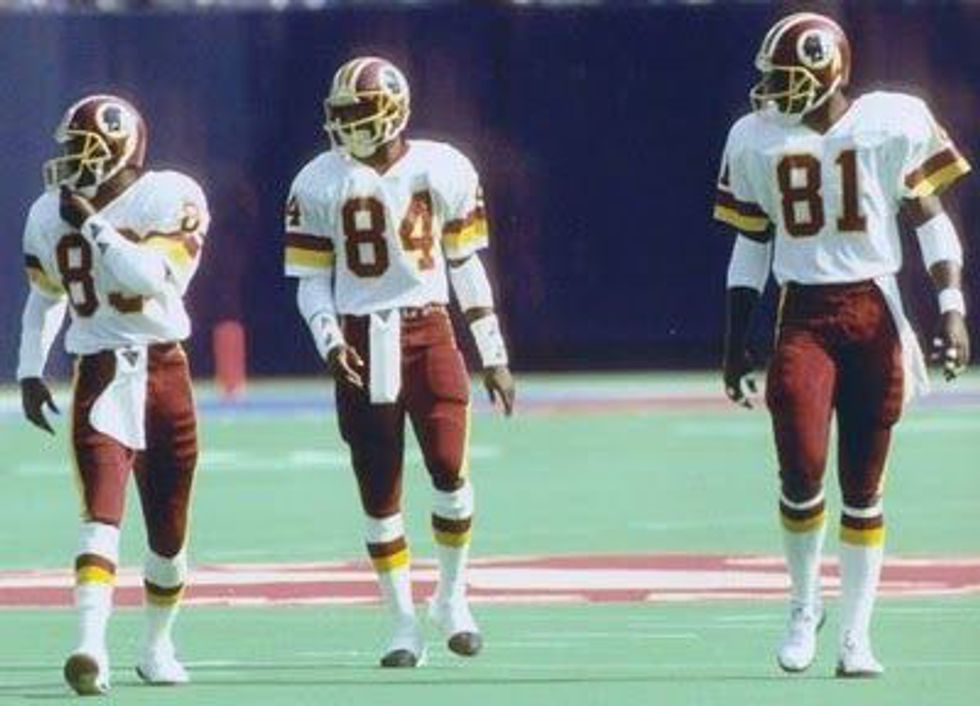 Art Monk (71 receptions, 1,049 yards, 8 touchdowns) would work the middle of the field, catching the tough 3rd down catch. He would run intermediate routes but everyone once in a while would beat defenses on a fly route. Not to mention, he arguably has the best hands of any receiver to ever play the game. Monk was finally inducted into the Pro Football Hall of Fame in 2008.
Gary Clark (70 receptions, 1,340 yards, 10 touchdowns) would burn you on a quick cut or go deep. He was tough and physical.
Ricky Sanders (45 receptions, 580 yards, 5 touchdowns) was closer to Clark than Monk but his most valuable asset was his speed. He blew by defenses and ran like the wind.
The Rushing Attack
Some teams have one feature back and others have a duo of backs who split time. The '91 Redskins utilized three very different running backs. It seemed as though a different back would shine every week. Earnest Byner (274 rushes, 1,048 yards, 3.8 average, 5 touchdowns) was the workhorse and got the primary load of the carries. He was your old-fashioned bruiser of a tailback, running downhill between the guards and tackles. Byner also provided Rypien with a reliable receiving outlet, logging 34 receptions for 308 yards.
Gerald Riggs was the quintessential back inside the red zone and near the goal line in his last year playing. He leads the team in rushing touchdowns (11) and still managed to rack in 248 rushing yards despite his role as a short-yardage runner.
Last but not least is the short speedy running back, Ricky Ervins, who proved his versatility as an effective third down screen-catching back, catching 16 passes for 181 yards and a score. Ricky's 680 rushing yards and 3 touchdowns as a rookie is one of the better seasons a rookie back has had in Washington. His 4.7 rushing average proved that he was a shifty runner with a nice change of pace from Byner and Riggs.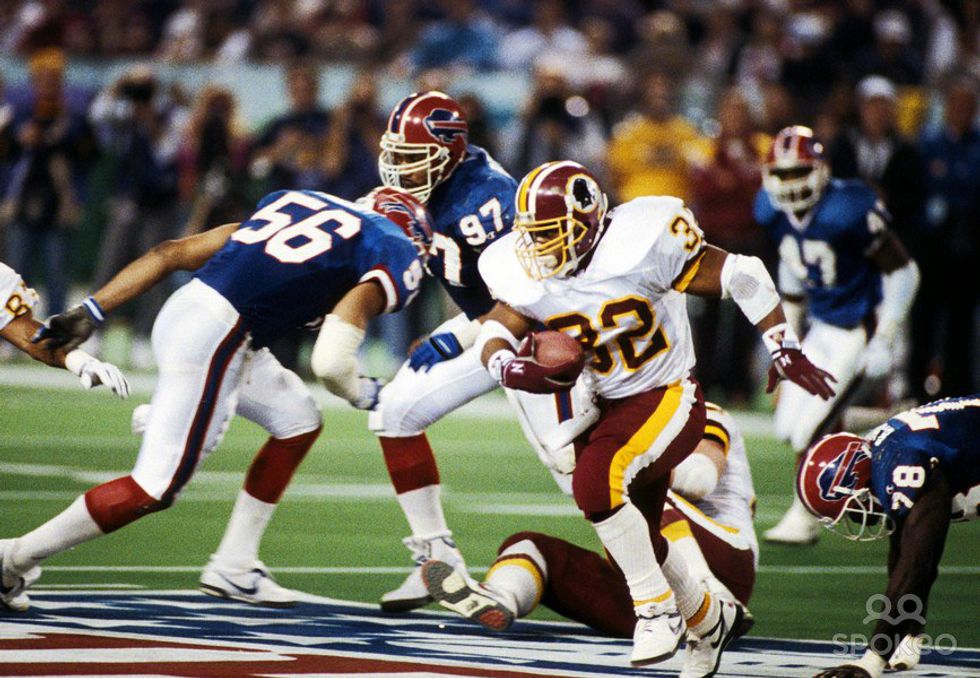 All three backs played vital roles in the Super Bowl - Byner's 10-yard touchdown catch, Riggs's two rushing touchdowns, and Ervin's game-high 72 rushing yards.
Throw in occasional secret weapon tight end Terry Orr (10 receptions, 201 yards, 4 touchdowns) and premier veteran blocking tight ends Don Warren (5 receptions, 51 yards) and Ron Middleton (3 receptions, 25 yards) and you've got an unstoppable array of offensive weapons.
The Hogs

The Hogs in 1991 consisted of all pro tackle Jim Lachey, Mark Schlereth, Jeff Bostic, Raleigh McKenzie, and Joe Jacoby. All made pro bowls as points in their careers. They paved the way for the running backs and made Mark Rypien go from looking like an average quarterback to Joe Montana.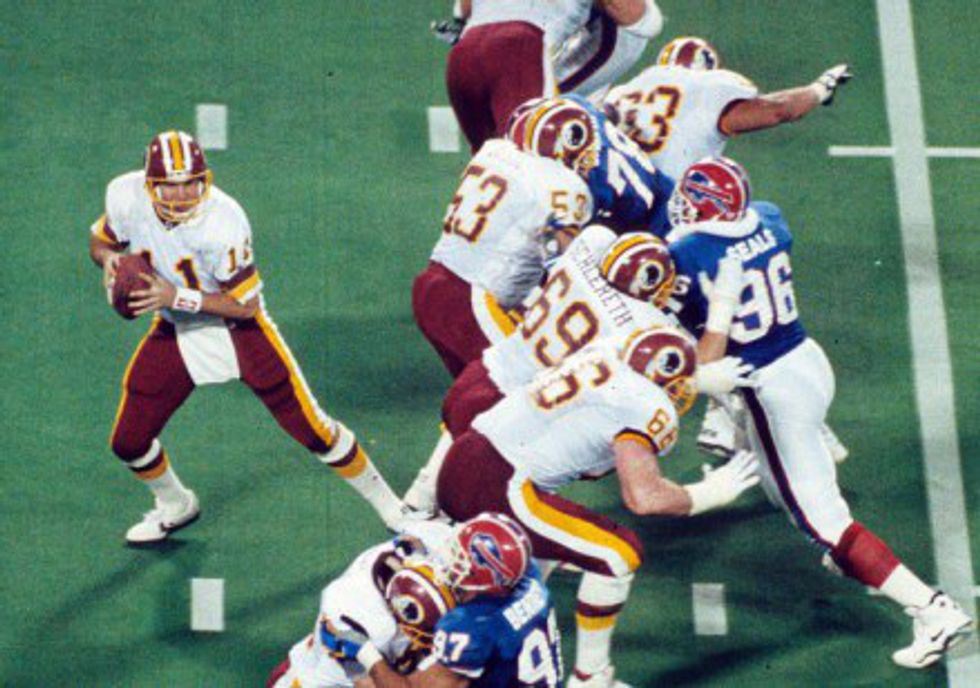 The Defense

The defense played lights out in 1991. They recorded 50 sacks and 27 interceptions. Everyone played a part in the defense's success because of such unimaginable depth. Pro Bowler Charles Mann leads the pass rush with a team-high 11.5 sacks. The rest of the defense line substituted players in and out to keep guys fresh. Fred Stokes (6.5 sacks, 2 fumble recoveries, 1 interception), Tim Johnson (3.5 sacks, 1 interception), Bobby Wilson (4.5 sacks, 1 interception), Jumpy Geathers (4.5 sacks), Markus Koch (1 sack, 2 fumble recoveries), Eric Williams (3 sacks), and Jason Buck (1.5 sacks) all got in on the action.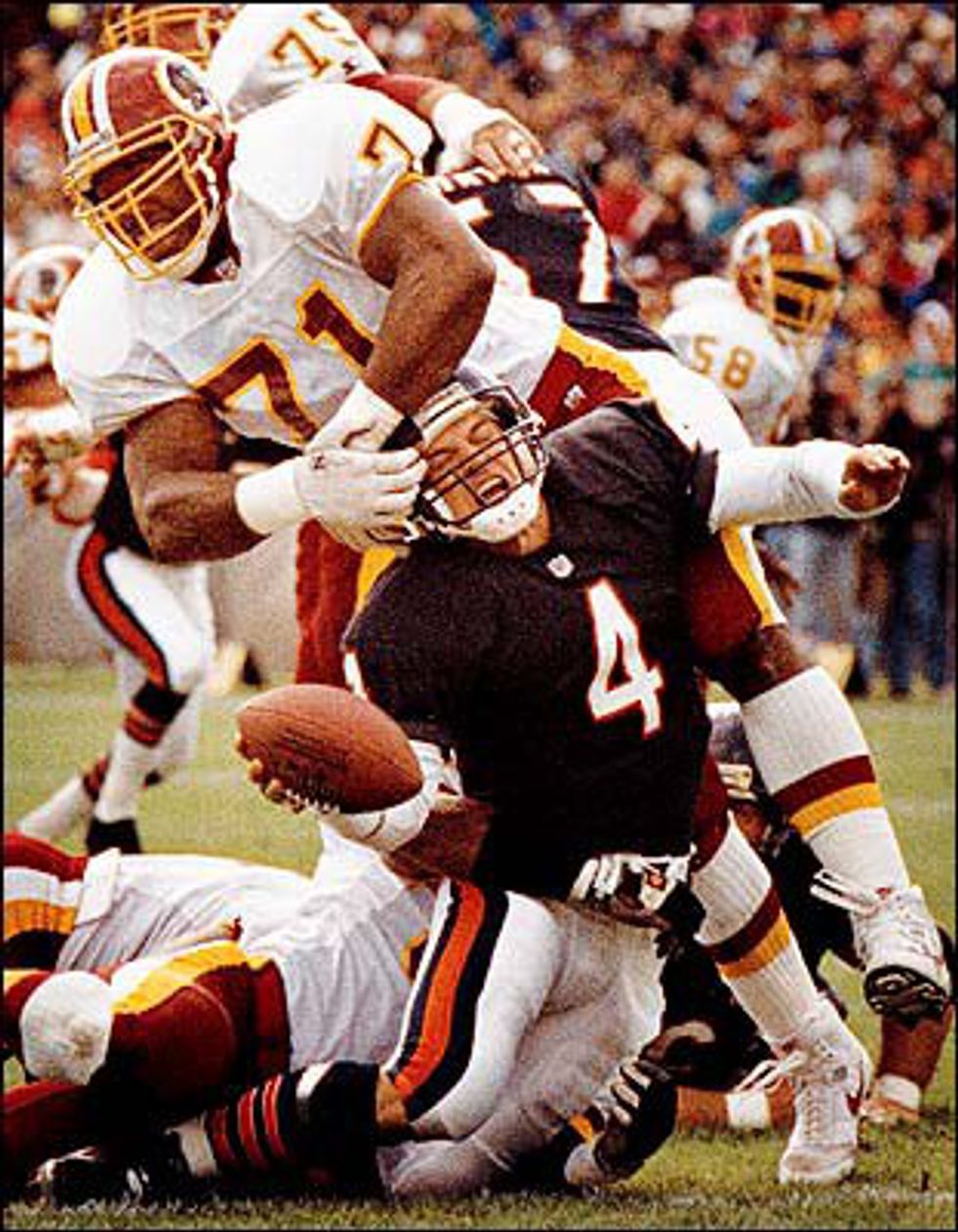 However, nowhere on defense was Washington more punishing than at linebacker. Arguably the toughest man on the defense that year was outside linebacker, Wilbur Marshall. Marshall was a nightmare for opposing offenses because he performed at such a high level for every task linebacker entails. He intercepted 5 passes for 75 yards and returned one for a touchdown. Add to that his 5.5 sacks and it was evident that Marshall was a powerful tackler and a fast linebacker in coverage. Veterans Monte Coleman (3.5 sacks, 1 interception, 1 fumble recovery) and Matt Millen split time with young stars Andre Collins (3 sacks, 2 interceptions - 33 yards, 1 touchdown), Kurt Gouveia (1 interception - 22 yards, 3 post season interceptions - 67 yards), and Raven Caldwell (1 fumble recovery).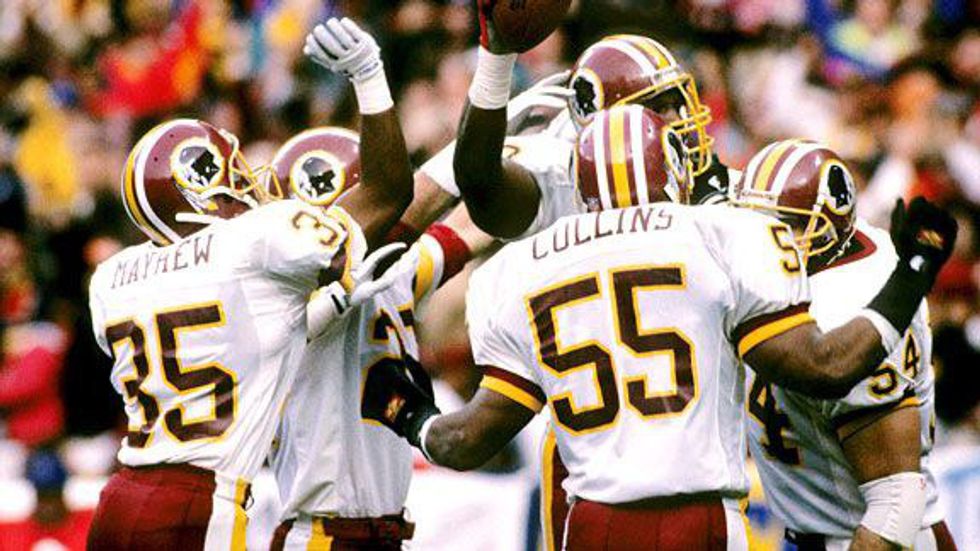 The secondary was phenomenal, too. The ageless wonder Darrel Green turned in one of his best seasons of his 20-year career, picking off 5 passes for 47 yards and logging two more in the postseason. Underrated counterpart Martin Mayhew (3 interceptions - 31 yards, 1 fumble recovery, 1 touchdown) and hard-hitting ball hawk Brad Edwards (4 interceptions - 52 yards, 2 interceptions in Super Bowl) also made plays left and right. Safety Danny Copeland also made some solid tackles and plays in coverage. Throw in nickel and dime packages with aggressive defensive back Alvoid Mays (1 interception, 1 fumble recovery) and backups A.J. Johnson (1 sack, 1 fumble recovery) and Sidney Johnson (2 interceptions -- 5 yards, 1 sack).