One of the largest themes in "The Office" is the relationship between Jim Halpert and Pam Beesly (aside from the fact that it's a show about an office, of course). Throughout the series, their relationship goes from non-existent, to super close friends, to husband and wife and finally, to parents. By the end of the series, the screenwriters have you convinced that Jim and Pam are the world's cutest couple (or at least I thought so) because of the many adorable "Jim and Pam moments" that happen along the way. Although there are a countless number of these moments throughout all nine seasons of "The Office," I believe that these are some of the best.
1. When Pam gets a little too *tipsy* and kisses Jim at the Dundies.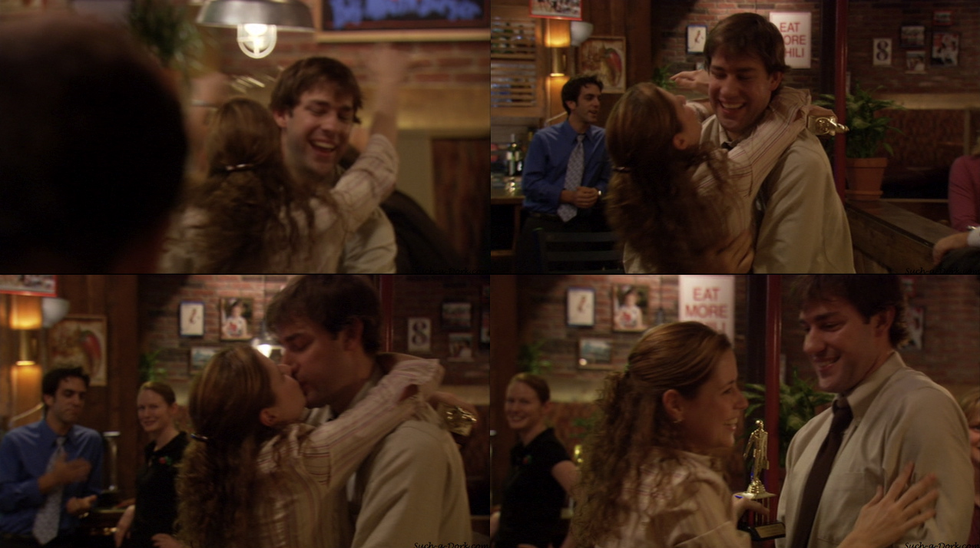 Where it all started *sighs*.
2. When Jim confesses his love for Pam (even though Roy was still in the picture).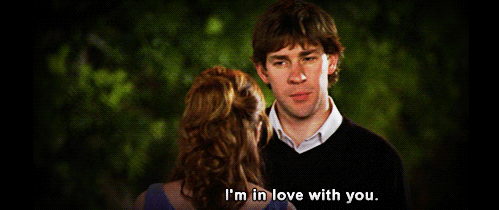 And as I'm watching, I'm practically yelling at the screen like, "Choose Jim! Roy sucks!" But, who wasn't, right?
3. When Pam receives the perfect Christmas gift in the form of a blue teapot.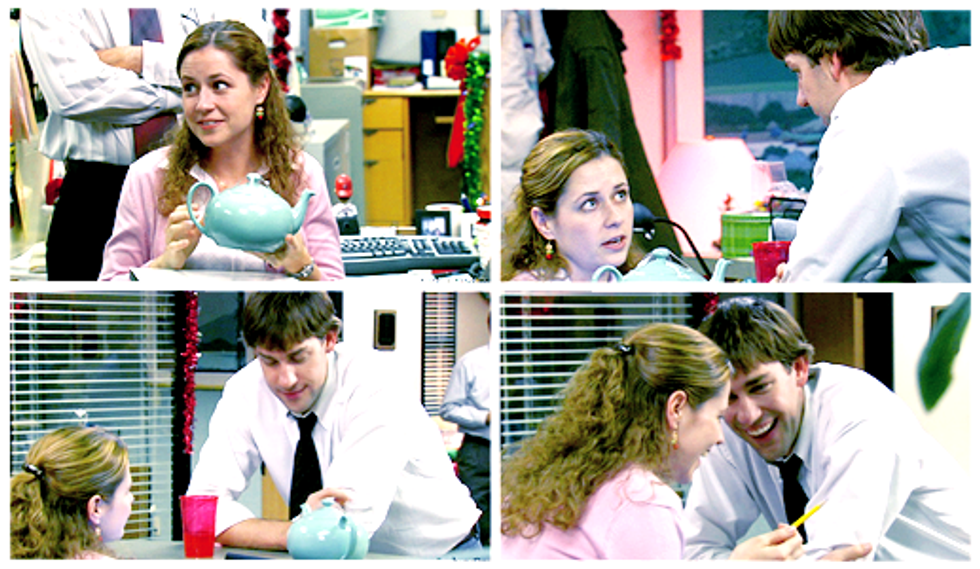 It even had Jim's old school photo in it. How cute.
4. Jim interrupting Pam's sound bite to ask her on their first official date.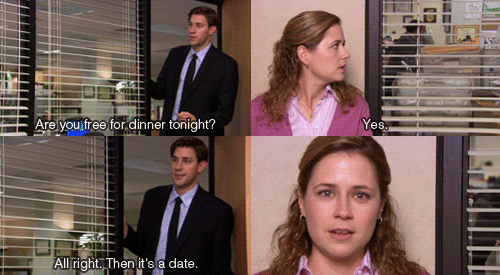 I literally screamed "Yes!" after this happened. The audience's dreams were coming true!
5. When Pam walks across hot coals to tell Jim how she really feels.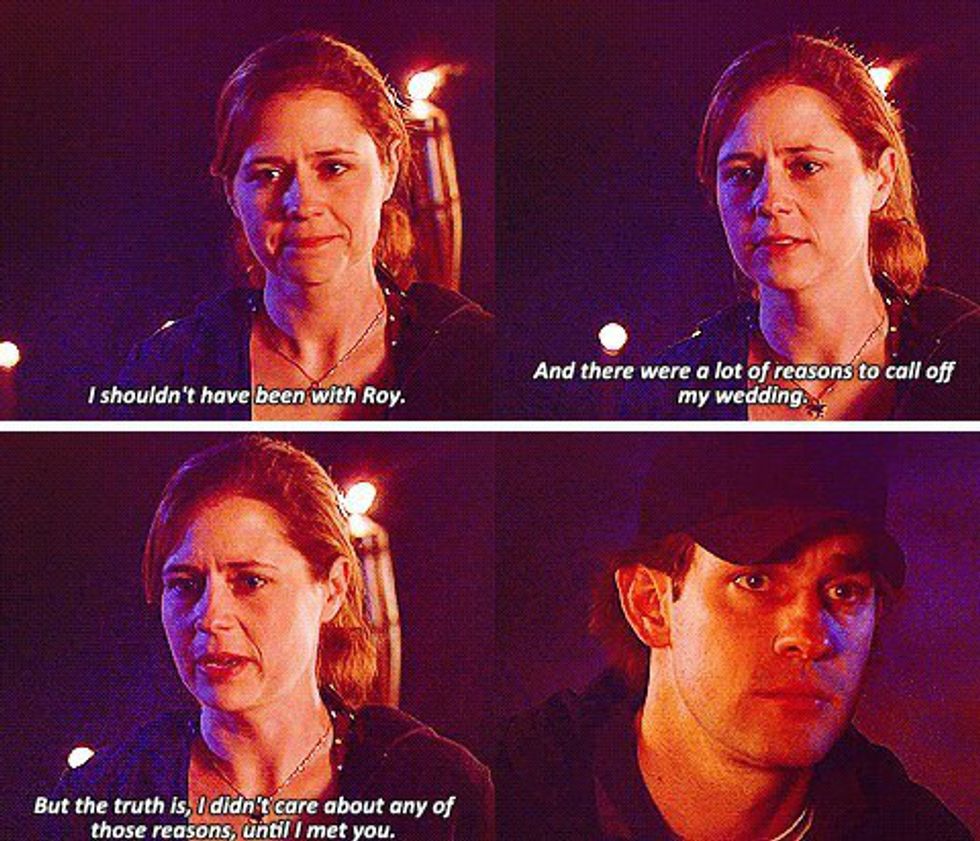 Only true love will heal burned feet.
6. Jim and Pam using Bluetooth to talk 24/7 while she's in New York.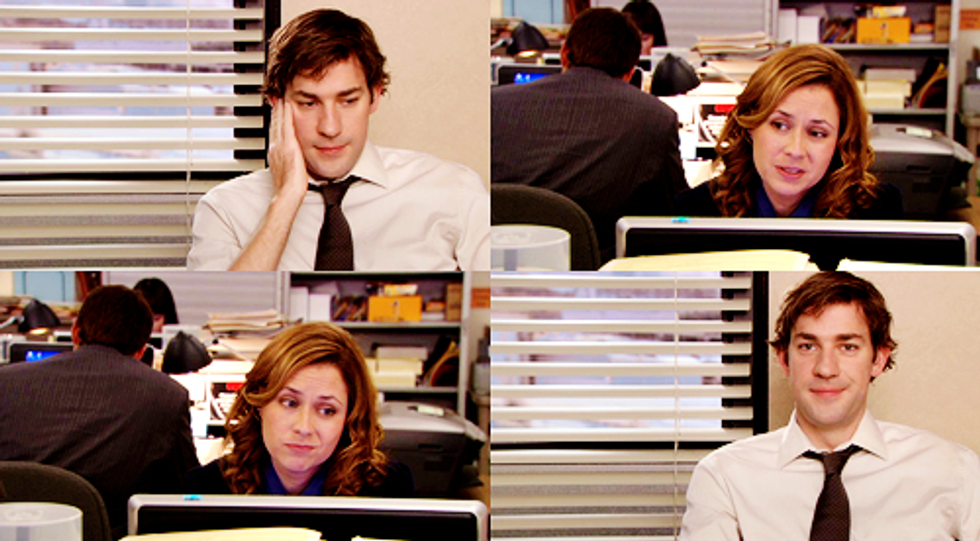 The cutest (and most confusing for others) way to stay connected from a distance.
7. When Jim proposed.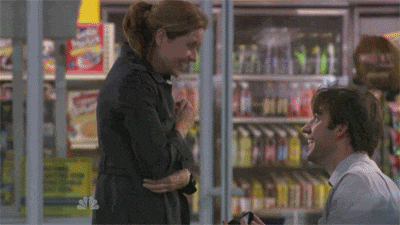 We all knew it was coming, but it couldn't have happened in a more perfect way. Even if they were at a gas station.
8. When Jim's parents' house becomes Jim and Pam's house.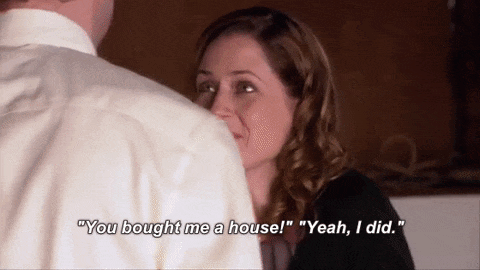 Our hearts sank thinking that Pam would hate it, but because it's Jim and Pam, she loved it anyway.
9. Pam's reaction to Jim telling Pam's dad how he feels about her.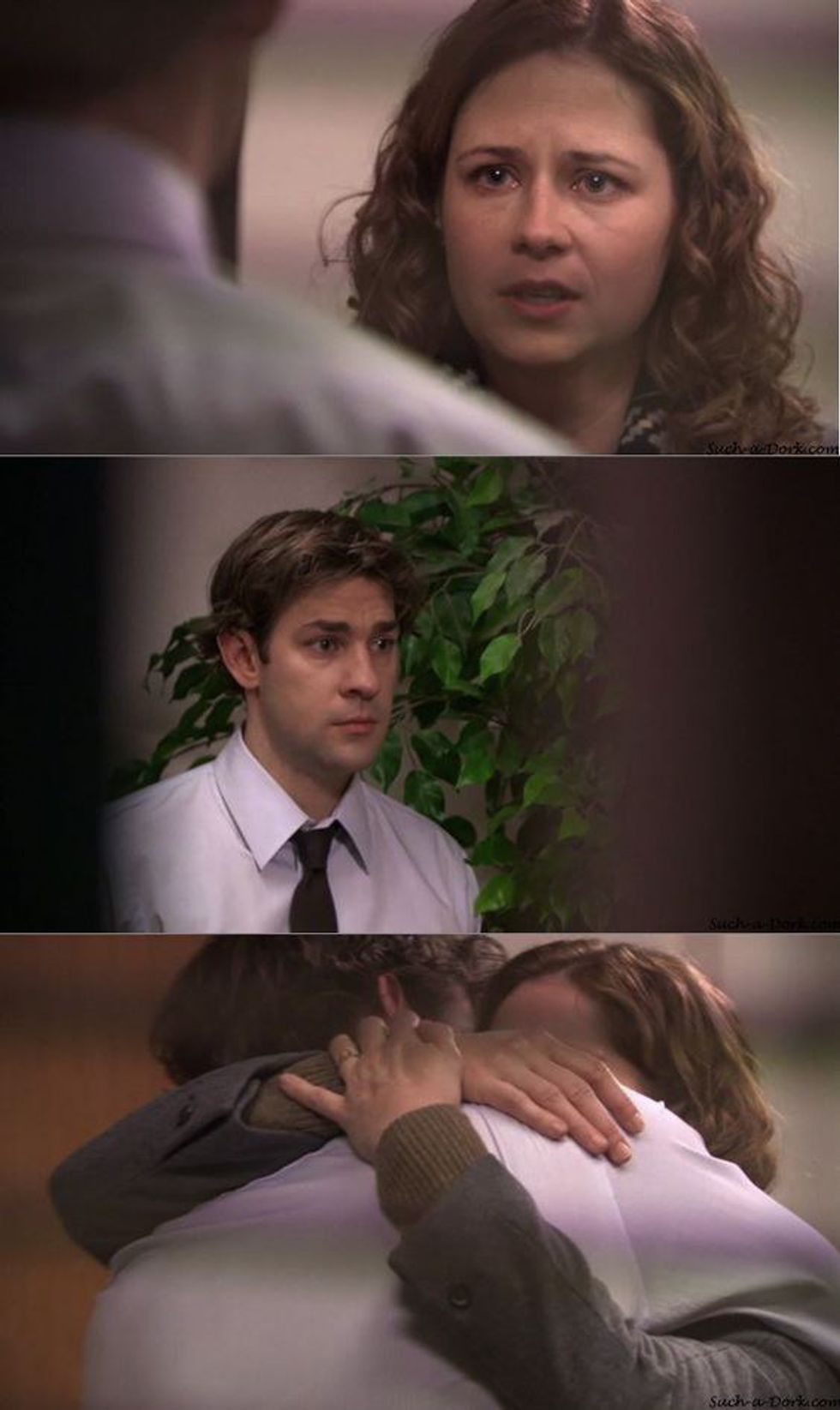 One of the many moments when I thought my heart might explode from Jim and Pam love.
10. When Jim finds out that he and Pam are having a baby.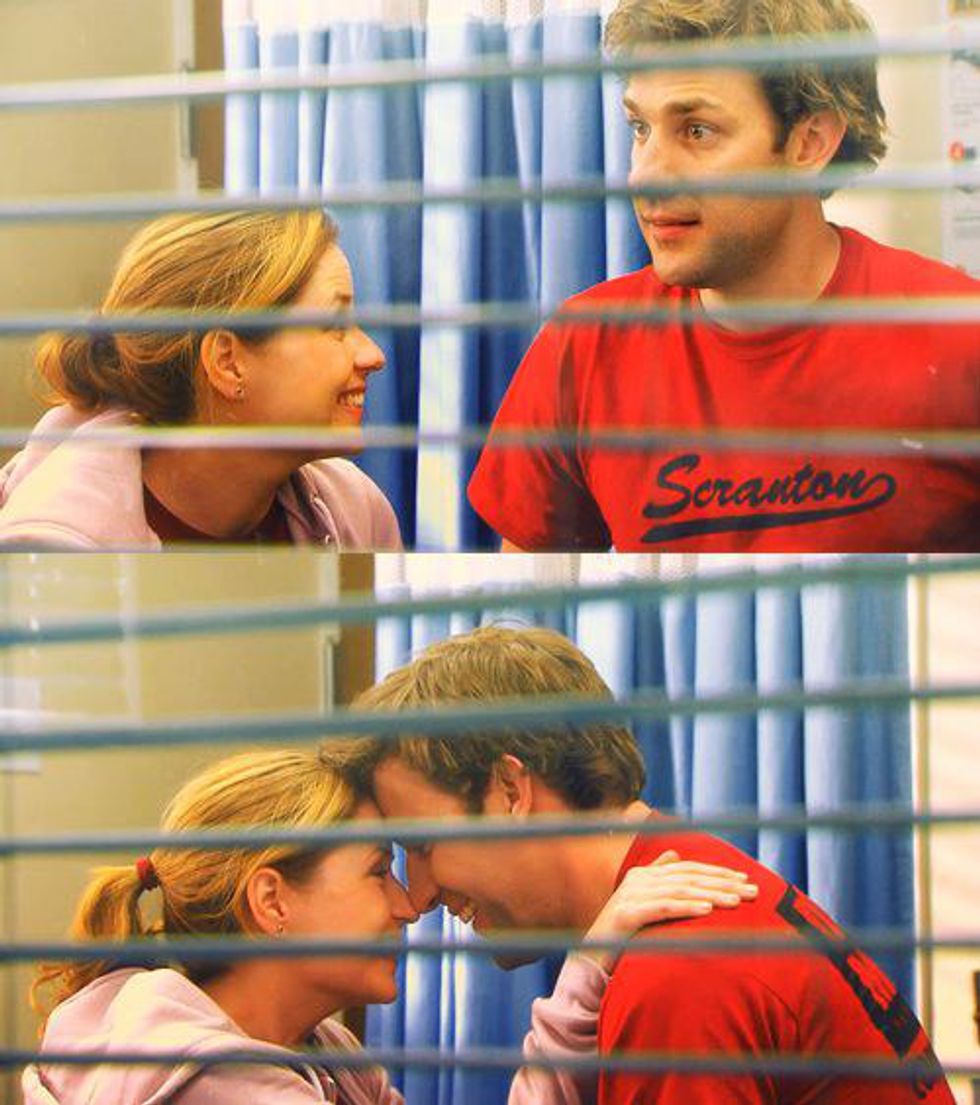 I hope that someday my husband reacts this way to our future child.
11. Jim's list of his favorite people.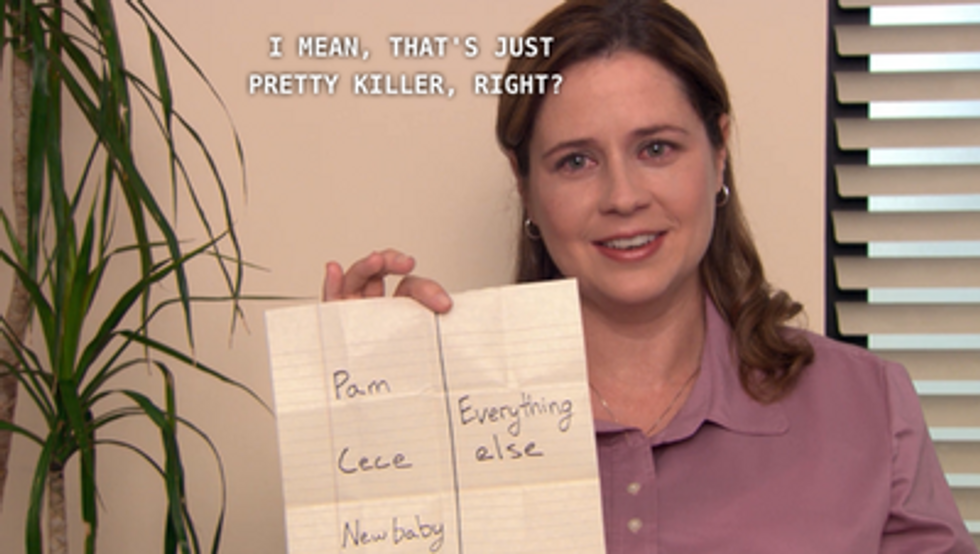 She should frame that.
12. When Jim and Pam get drunk at their Valentine's Day lunch.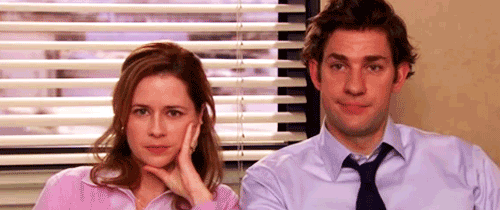 Seeing them trying to hide it from their coworkers was even funnier.
13. When Jim gives in and dresses up like Popeye for Pam.
Could he be more perfect?
14. When Jim hijacks his workday to get Pam some pie.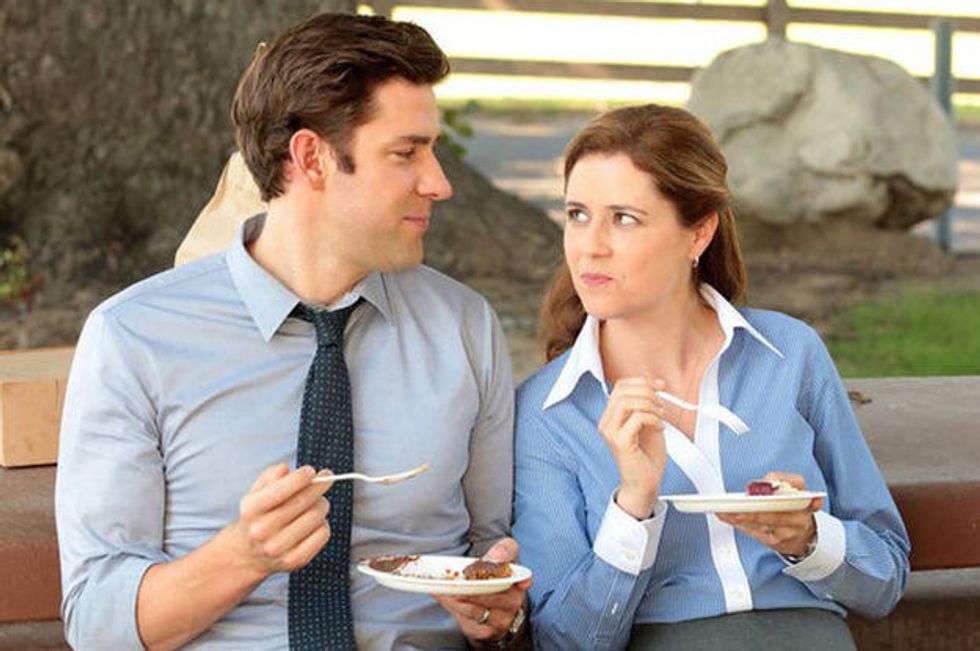 One of the things I love most about Jim is that he would do whatever it takes to make Pam happy, and this moment proved that again.
15. Their first, real wedding.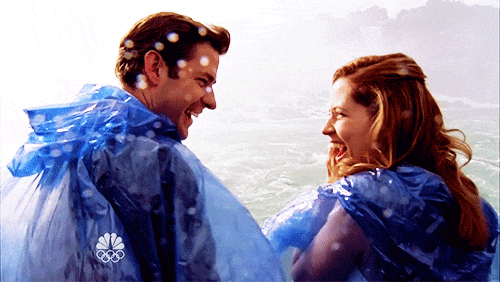 Even though this wasn't one of the final moments in the series, I had to save my personal favorite for last. Jim and Pam's relationship was definitely my favorite aspect of the series, and I think that their wedding was their greatest moment. I can't lie and say that this didn't make me cry (I sobbed a little) because their love is just so honest, fun and simple. They love everything about each other and they make the audience feel the same. I knew their wedding episode was going to be my favorite before I even watched it, and their pre-wedding destroyed my already high expectations.
I think we all dream to have a love like Jim and Pam's someday.