In honor of the most romantic day of the year, here are fourteen of the most romantic movie musicals. WARNING: There are spoilers ahead.
1. An American in Paris (1951)
The Love Story: American WWII veteran Jerry Mulligan (Gene Kelly) falls in love with the Parisian girl, Lise Bouvier (Leslie Caron) until he finds out she is already in a relationship with his friend.
Standout Song: "'S Wonderful." Softly sung by Jerry and Hank, this is two men in love, and they just can't believe the woman loves them back.
Happy ending?: Yes. Lise and Jerry end up together.
2. Singin' in the Rain (1952)
The Love Story: Set during the transition from silent films to talkies, Don Lockwood (Gene Kelly) and Kathy Seldon (Debbie Reynolds) fall in love in Hollywood.
Standout Song: "Singing' in the Rain." Probably one of the most famous scenes in movie history, Don delightfully dances through the rain with his umbrella, hopelessly in love.
Happy ending?: Yes. Don and Kathy end up together and get to star in a movie together.
3. Carousel (1956)
The Love Story: Carousel barker Billy Bigelow (Gordon MacRae) meets Julie Jordan (Shirley Jones) and their marriage is anything but easy. While Billy struggles with his faults in the afterlife, Julie never forgets their love.
Standout Song: "If I Loved You." Perhaps the best musical love song of all time, this nearly ten minute song sees Julie and Billy speaking in hypotheticals, both too scared to admit their love.
Happy ending?: Not really. Billy admits his love and get to go to heaven, but he's still dead and everything is still sad.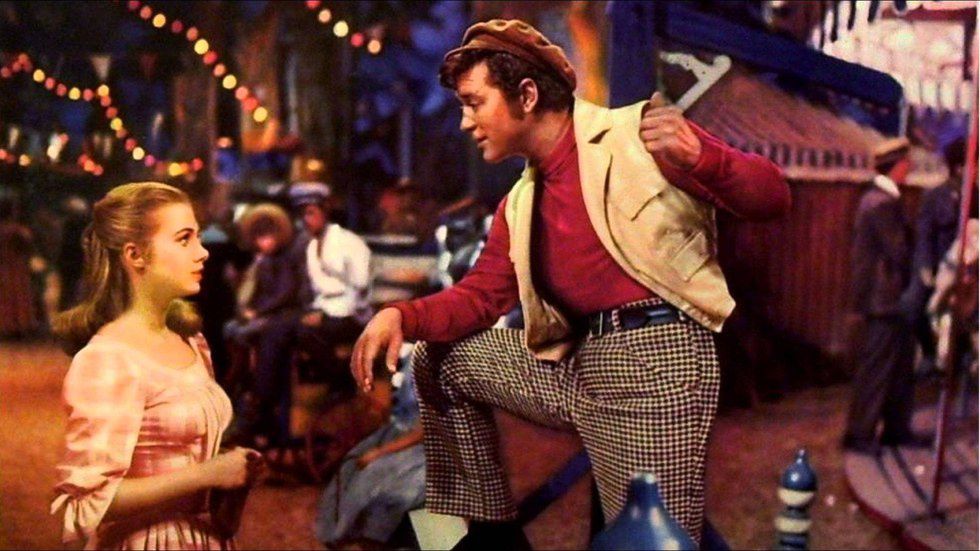 4. The King and I (1956)
The Love Story: English teacher Anna (Deborah Kerr) comes to Siam to tutor the children of the King (Yul Brynner), and despite their differences in culture, they find love.
Standout Song: "Shall We Dance." In the most iconic scene of the movie, Anna and the King dance, showing some of the first signs of love.
Happy ending?: Ah, no. The King dies, but he does make things better with his family before passing on.
5. South Pacific (1958)
The Love Story: American Ensign Nellie Forbush (Mitzi Gaynor) has to get over her deep feelings of discrimination to be with Emile de Becque (Rossano Brazzi), a man with two Polynesian children from a previous relationship.
Standout Song: "Some Enchanted Evening." Emile explains his deep feelings to Nellie with the stunning backdrop of the Pacific ocean.
Happy ending?: Yes. Emile returns from a dangerous mission and Nellie is able to get over her racism and love his children.
6. West Side Story (1961)
The Love Story: Based on Romeo and Juliet, Puerto Rican Maria (Natalie Wood) falls for American Tony (Richard Beymer), despite their places in two rival New York City gangs.
Standout Song: "Tonight." The most iconic song, which takes place on the fire escapes, in reference to the balcony scene, this song sees Maria and Tony reveling in newfound love.
Happy ending?: No. This is Romeo and Juliet. There are no happy endings.
7. My Fair Lady (1964)
The Love Story: Professor Henry Higgans (Rex Harrison) takes in Eliza Doolittle (Audrey Hepburn), a poor flower shopgirl, and begins teaching her proper English in this musical take on Pygmalion.
Standout Song: "Wouldn't It Be Loverly?" Before meeting Higgans, Eliza just wants comfort and security and this adorably cockney accented song.
Happy ending?: Kinda. Eliza returns, but it is uncertain whether she and Higgins get together.
8. Grease (1978)
The Love Story: After meeting over summer, seniors Sandy (Olivia Newton-John) and Danny (John Travolta) try to find a way to be together despite their different places in school cliques.
Standout Song: "You're the One That I Want." In the climax of the film, Sandy shows up with a makeover proving to Danny she'll do anything to be with him.
Happy ending?: Yes. Sandy and Danny fly off into the sunset. Literally.
9. Moulin Rouge! (2001)
The Love Story: Writer Christian (Ewan McGregor) falls in love with courtesan Satine (Nicole Kidman), who has been promised to a Duke who will make her famous. But nothing can keep them apart.
Standout Song: "Come What May." The only original song in the film, Christian and Satine need only sing it to know that they love each other, despite the Duke trying to pull them apart.
Happy ending?: No. You're told within the first few minutes that Satine dies, but nothing will prepare you for the moment. Have tissues ready.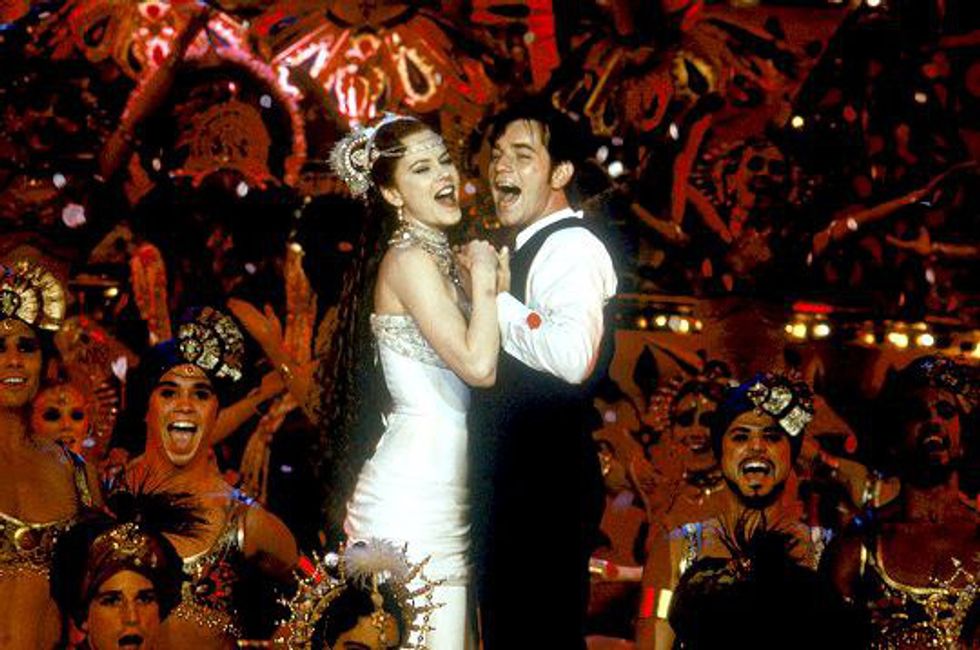 10. Once (2007)
The Love Story: Guy (Glen Hansard) and Girl (Marketa Irglova) meet in Dublin, where they make beautiful music.
Standout Song: "Falling Slowly." Winner of the Best Original Song Oscar, this is a simple, sweet, and low-key song about the first time you fall for someone.
Happy ending?: No. She goes back to her husband.
11. Begin Again (2007)
The Love Story: Gretta James (Keira Knightley), a songwriter, teams up with Dan Mulligan (Mark Ruffalo) to produce a record, different than the pop-y songs made by her ex-boyfriend and new hit, Dave Kohl (Adam Levine.)
Standout Song: "Lost Stars." Whether the Keira Knightly version or Adam Levine's more synthesized hit, both have the same great lyrics.
Happy ending?: Yes. Gretta sells the album and Dan reunites with his wife. If you were rooting for Dave, he's still successful as a musician.
12. The Last Five Years (2015)
The Love Story: Cathy (Anna Kendrick) is an aspiring actress and Jamie (Jeremy Jordan) is a novelist. The story of their five years relationship with told from alternating point of views, Cathy starting at the end and Jamie at the beginning.
Standout Song: "Goodby Until Tomorrow/ I Could Never Rescue You." The last song of the movie, Cathy's complete happiness after their first date is juxtaposed with Jamie's sadness at the end of the marriage.
Happy ending?: No. They end up divorced and you end up crying. A lot.
13. Sing Street (2016)
The Love Story: High school student Conor (Ferdia Walsh-Peelo), or "Cosmo," starts a band to win the love of cool girl Raphina (Lucy Boynton) in 1980s Ireland.
Standout Song: "Drive It Like You Stole It." This is the big dance number in the gym, where Cosmo fantasizes about a perfect family, a perfect love, and a perfect life. But none of it is real.
Happy ending?: Yes. Cosmo and Raphina take off for London to chase their dreams.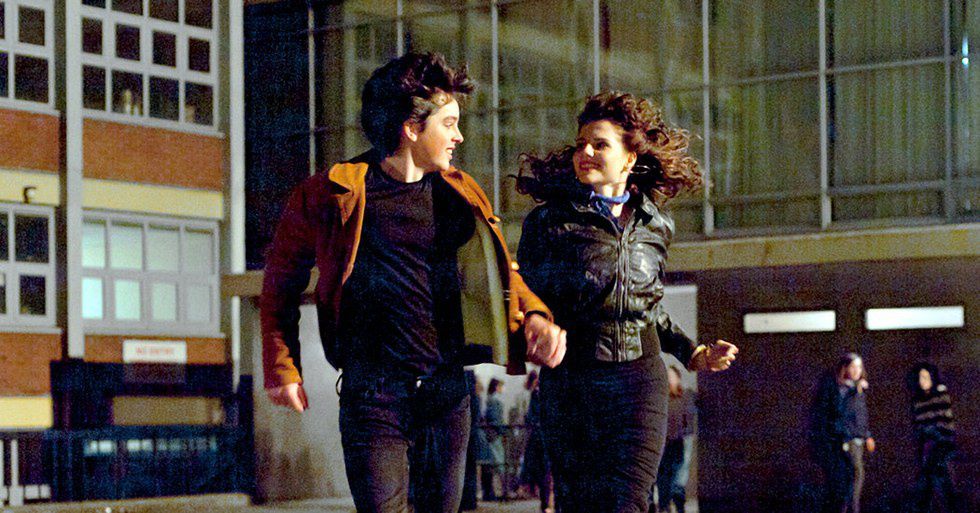 14. La La Land (2016)
The Love Story: Set in the City of Angels, An aspiring actress, Mia (Emma Stone), falls for a jazz pianist, Sebastian (Ryan Gosling), as they struggle to find their dreams.
Standout Song: "Audition (Fools Who Dream)." The best song in the film, "City of Stars" might be the hit, but the audition song is the real heart and soul of Mia's journey.
Happy ending?: Not really. In a flash-forward, Mia is happily married to another man, Sebastian finally opens his jazz bar, and they give each other one last look before moving on with their lives.