If you are the worst of the worst at picking out gifts for friends and family then this is the article for you. Here is a list of 13 gifts that your friend or loved one will probably hate but hey, they are probably better than any of your ideas. Enjoy!
1. Puzzle Alarm Clock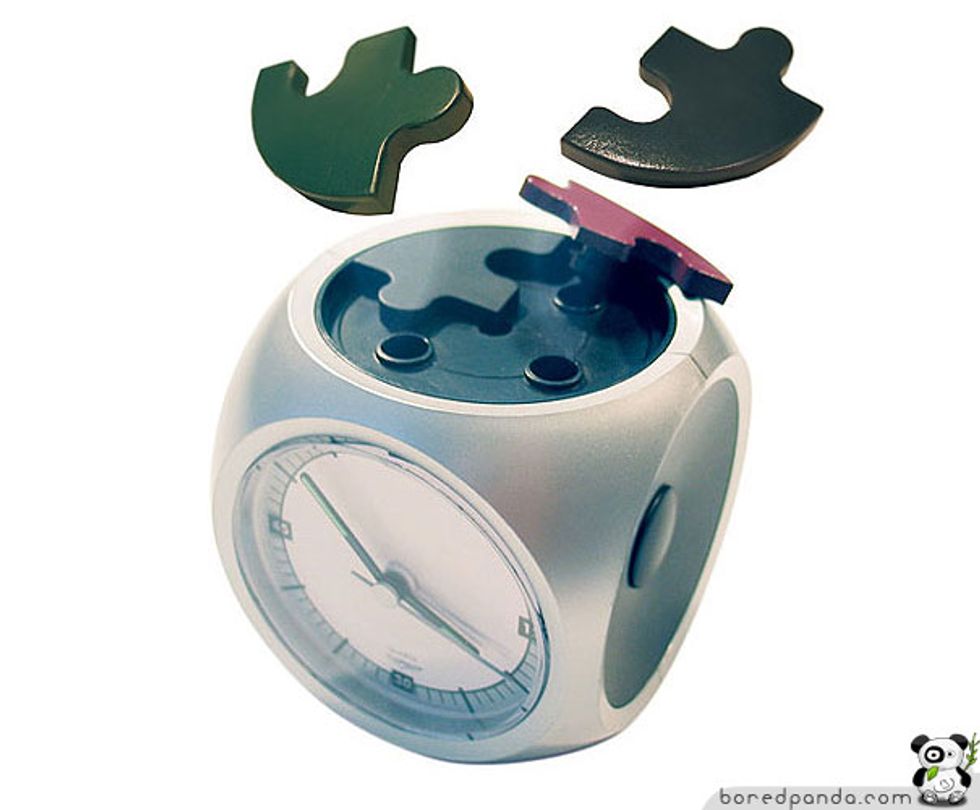 Do you have a friend or roommate who never wakes up to their alarm and hates puzzles? Well, then I have the gift for them! This great product will definitely wake a heavy sleeper and might even give them a small heart attack.
After they recover from that heart attach they get to find the puzzle pieces that probably flew to the opposite end of the room and then they get to put the puzzle together to make that horribly aubserd noise finally stop. After that alarming wake up call, see what I did there, they should be wide awake and ready to start their day. And if they are able to go back to sleep after that cayotic morning then take them to a doctor because that is not normal.

2. Santa Hat Flask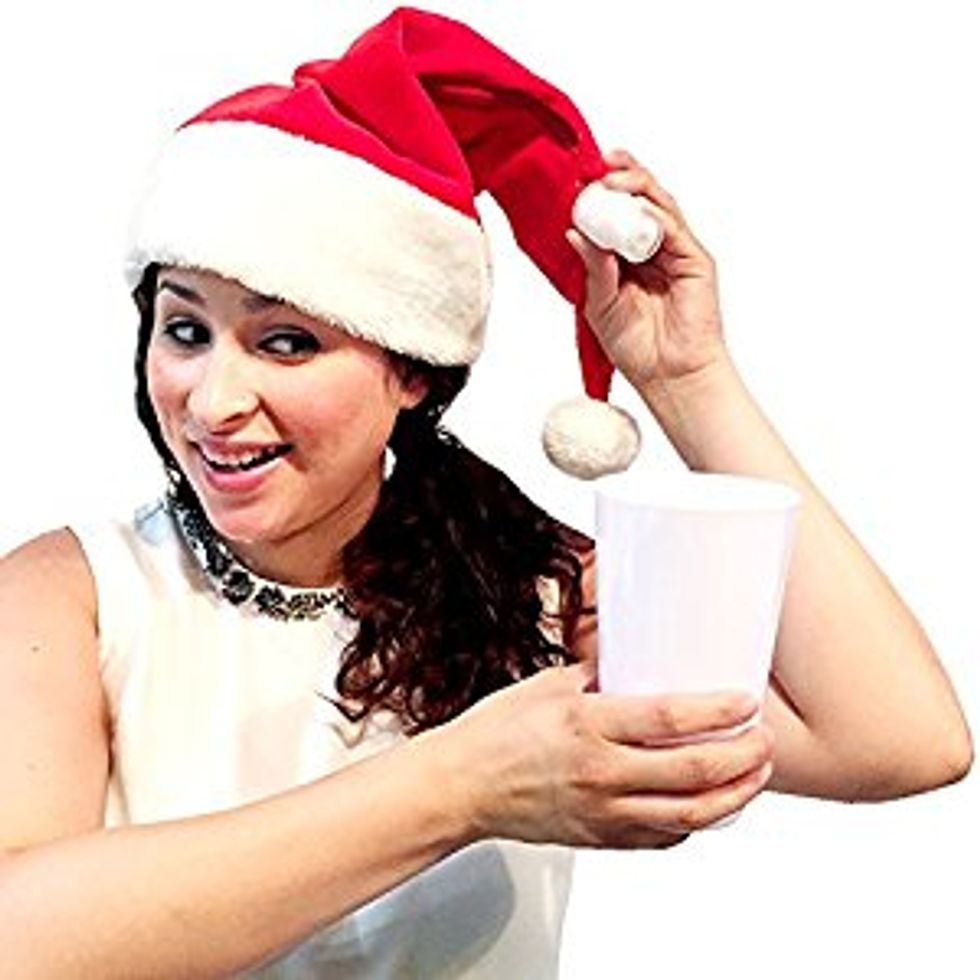 This great gift is definitely for your secret alcoholic friend. Your secret will always be safe with you but with this alcohol dispensing Santa hat no one else will know how much your friend is drinking but you!
3. Electronic Yodeling Pickle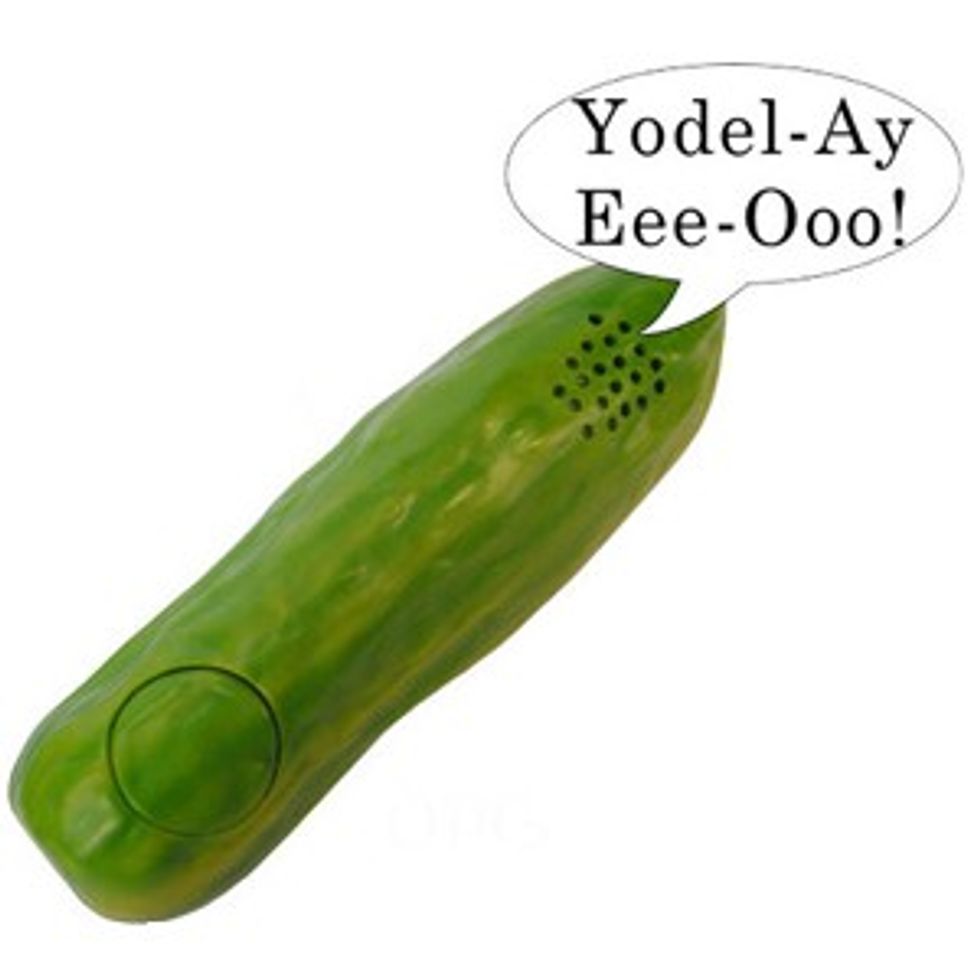 Do you have a friend who just loves pickles? Do they eat pickles? Smell pickles? Workshop pickles? Good! Because this gift is for them! But this is no ordinary pickle, oh no no, this pickle yodels! Yes you read that right, we have here a yodeling pickle. This gift is great for a casual laugh with friends or in private, no judgment. This is definitely a one of a kind gift that your friend will never forget.
4. The Bacon Wallet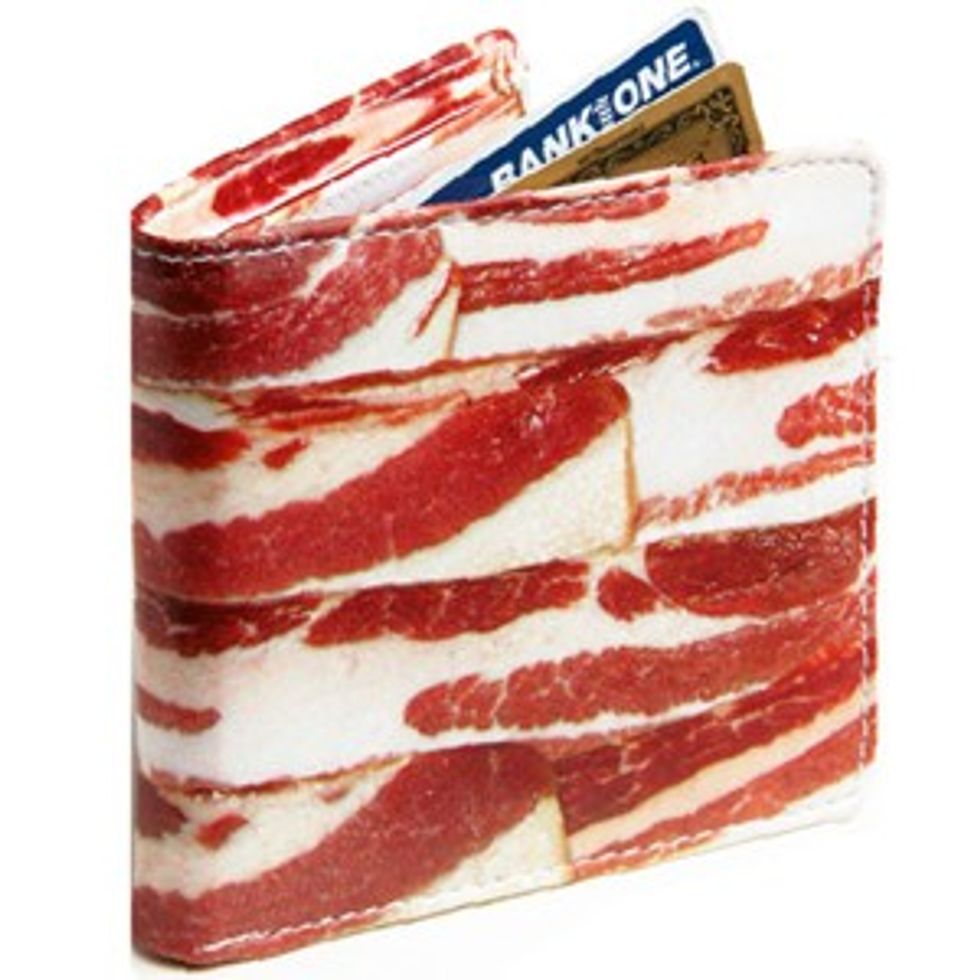 Does your friend really need a new wallet? Do they love bacon? Then I present to you the BACON WALLET! This wonderful gift brings together two things your friend loves, bacon and and place to hold their money. You will not regret giving this gift, every time your friend pulls their wallet out everyone around loves to stare and complement your friends unique wallet. People love it.

5. OH GIZMO Product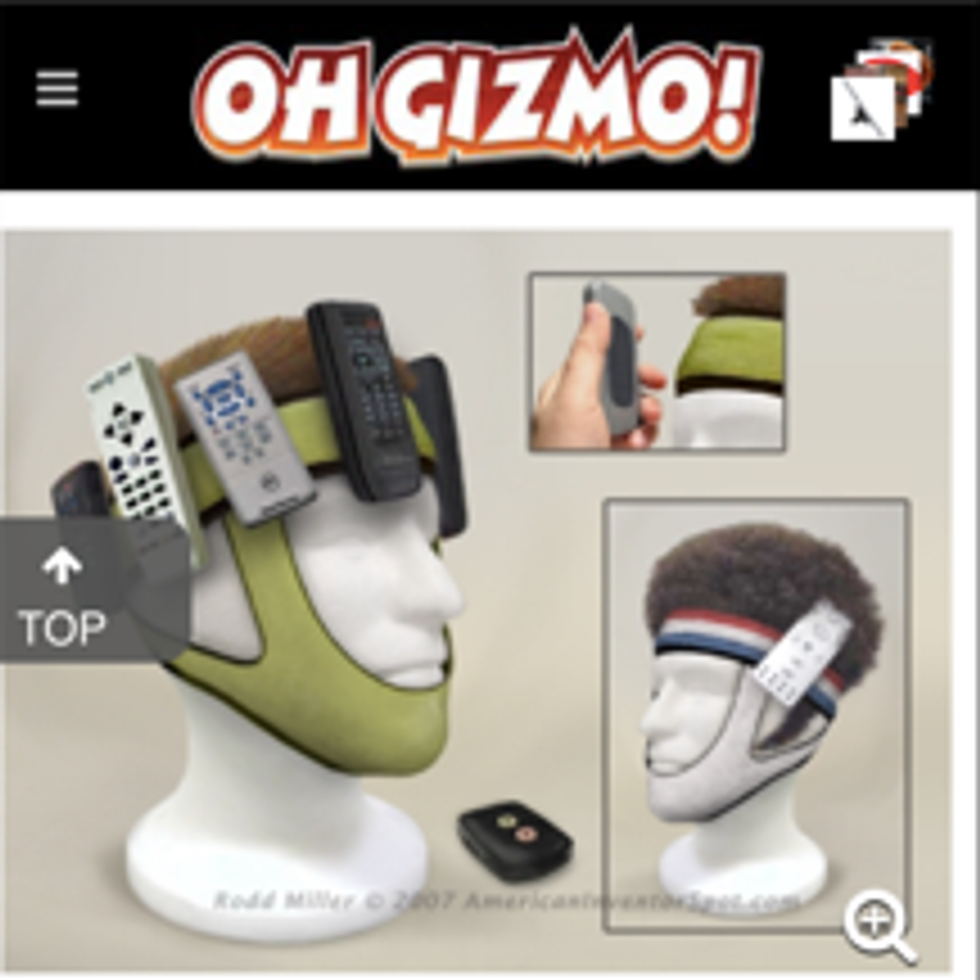 This product is so unique that it is not even in stores yet! People are going crazy over this new, innovative, smart gadget. This piece is perfect for that person in your life who is always loosing the remote. Now they will have no excuse for a lost remote because it should be attached to their head. This product might look extreme but it is very comfortable and realistic. So be a pal and give your friend the opportunity to never loose the remote again, and you give them this gift and they still loose the remote then take them to get their head checked cause that's just pathetic.
6. Sudoku Toilet Paper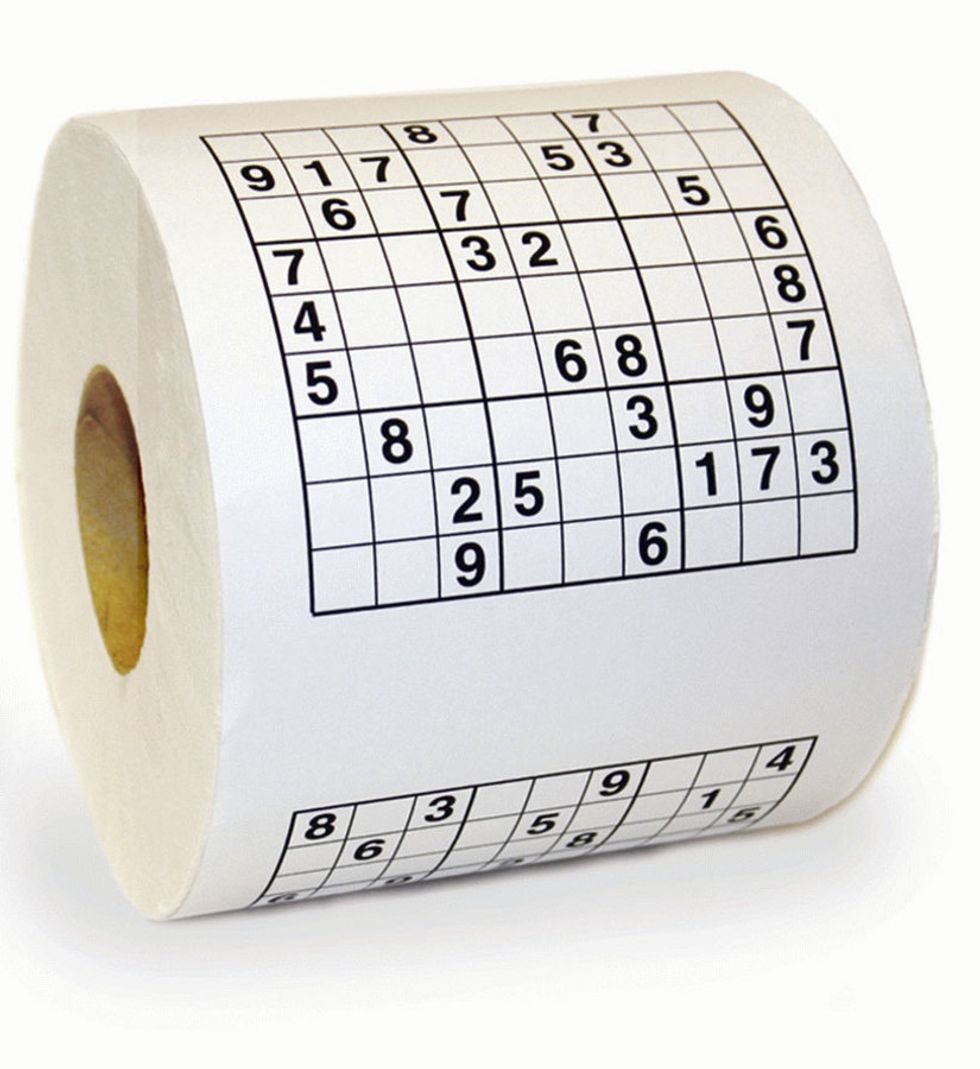 We all have that one friend who just takes entirely too long in the bathroom so give them a gift that will give them the opportunity to use that personal time more wisely. That's right we have here sudoku toilet paper! Now instead of aimlessly scrolling through Facebook your friend can engage in exercising their brain. Trust me your friend will that you for showing them that you can learn anywhere! Even on the lou! Oh! Don't for get to leave them a pencil too or else this gift would just be stupid.
7. Belt Beer Holder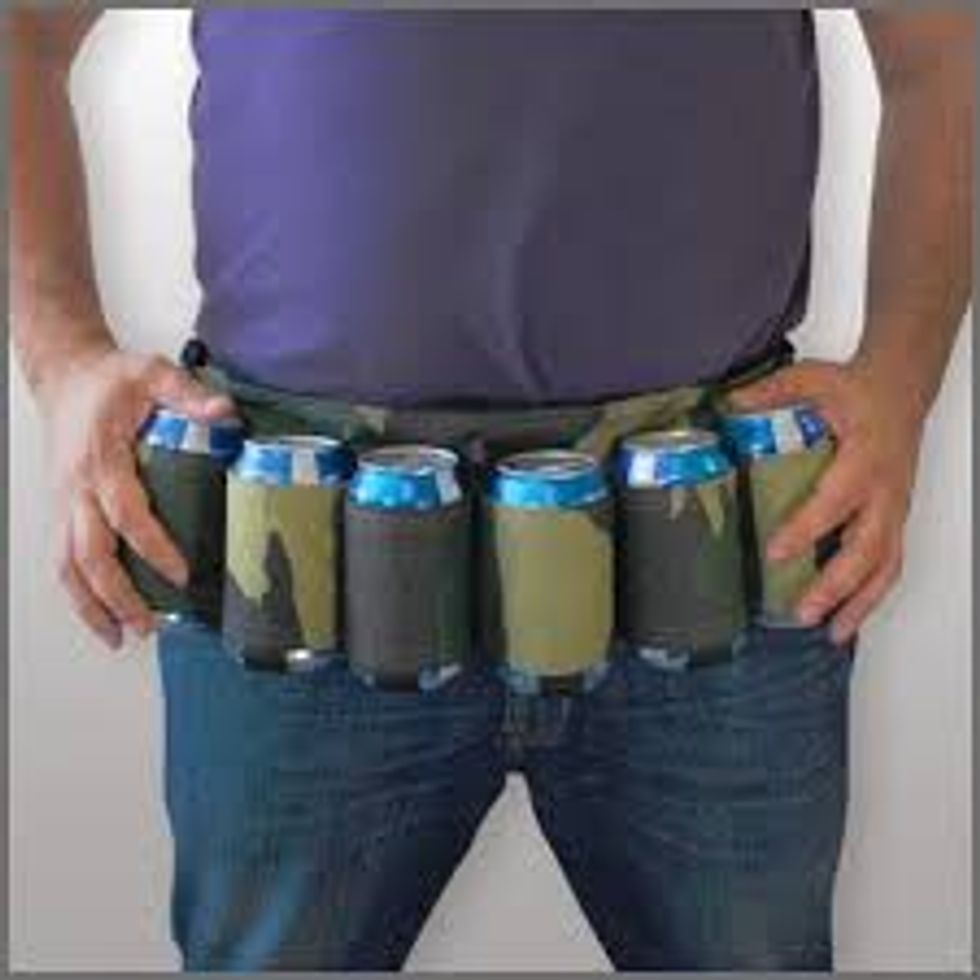 Here is a great gift for that friend who is the life of the party! This product here has a modern design to fit any waist size and assists in accomplishing maximum drunkness. Now your friend can hold 6 beers at once and still be completely hands free. This way they can use their free hands to hold two more beers or get into a fist fight or dominate in corn hole while still having beer on hand!
8. Toilet Coffee Mug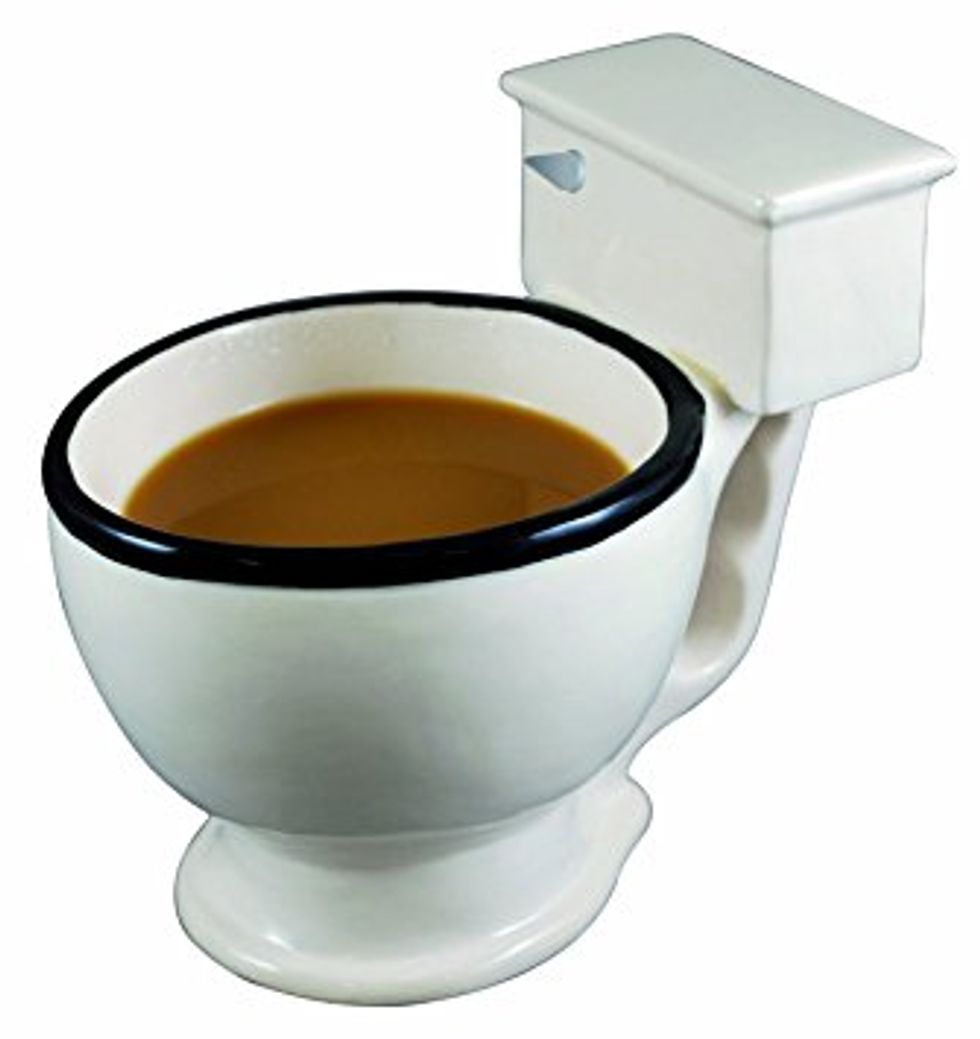 We all have that friend who drinks way too much coffee so might as well give them a fun mug to drink it out of. This way your friend will think of you every time they enjoy their daily cup or cups of coffee. And it you can't think of a friend who is that obsessed with coffee it's is because you are that friend. So treat your self to this well deserved gift.
9. WindShield Wiper Glasses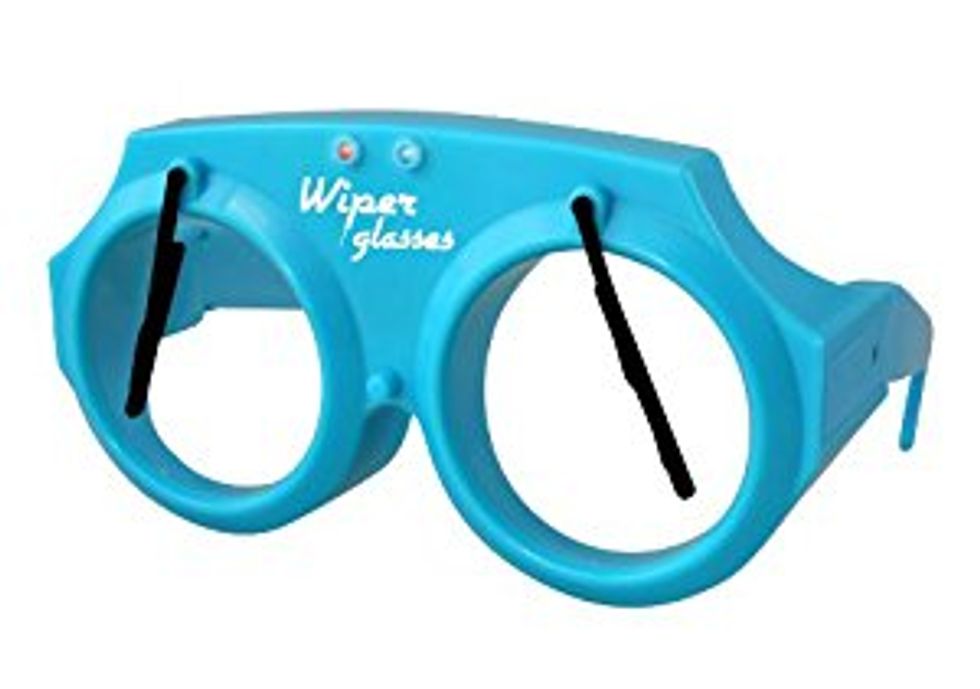 This lovely product is a great gift for any of your hippy, eco friendly friends who ride their bike everywhere they go. Since bikes don't have windshield wipers like cars sometimes it is hard for bikers to see where theya re going when it is raining. Now they could be a like a normal person and drive places but thats just not their style but thats ok becasue now they can bike safely in those bad weather conditions becasue they have windshield wipers for their eyes. They have WIPER GLASSES!! They might not appreciate this gift at first but the next time it rains and they have somewhere to be you will definitely see them rocking the WIPER GLASSES!
10. Extendable Fork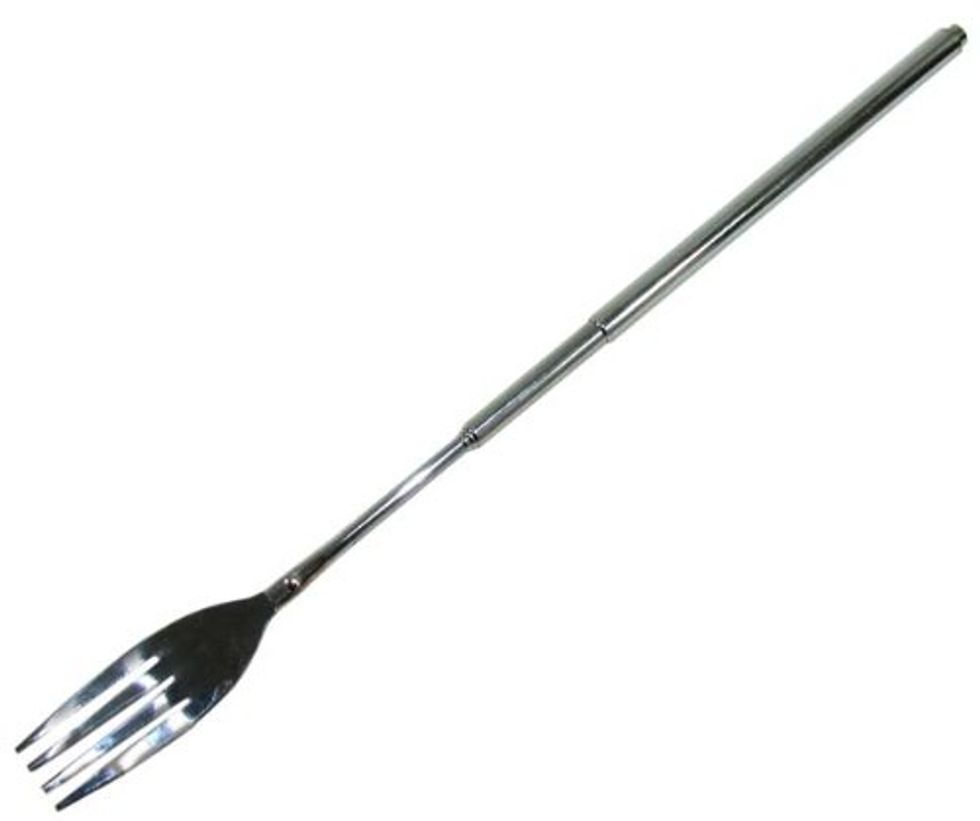 Here we have an extendable fork, a perfect gift for that one friend who is always trying to sneakily steel your food from your plate. I am not sure why it would be a good idea to buy them this becasue it will just make it easier for them to steel that frood from your plate.... BUT at least when they recieve this gift they will know you are on to their sneaky games. And if you buy one for yourself you and your friend can fence with them at evey meal, just to spice things up!
11. Customized T-Shirt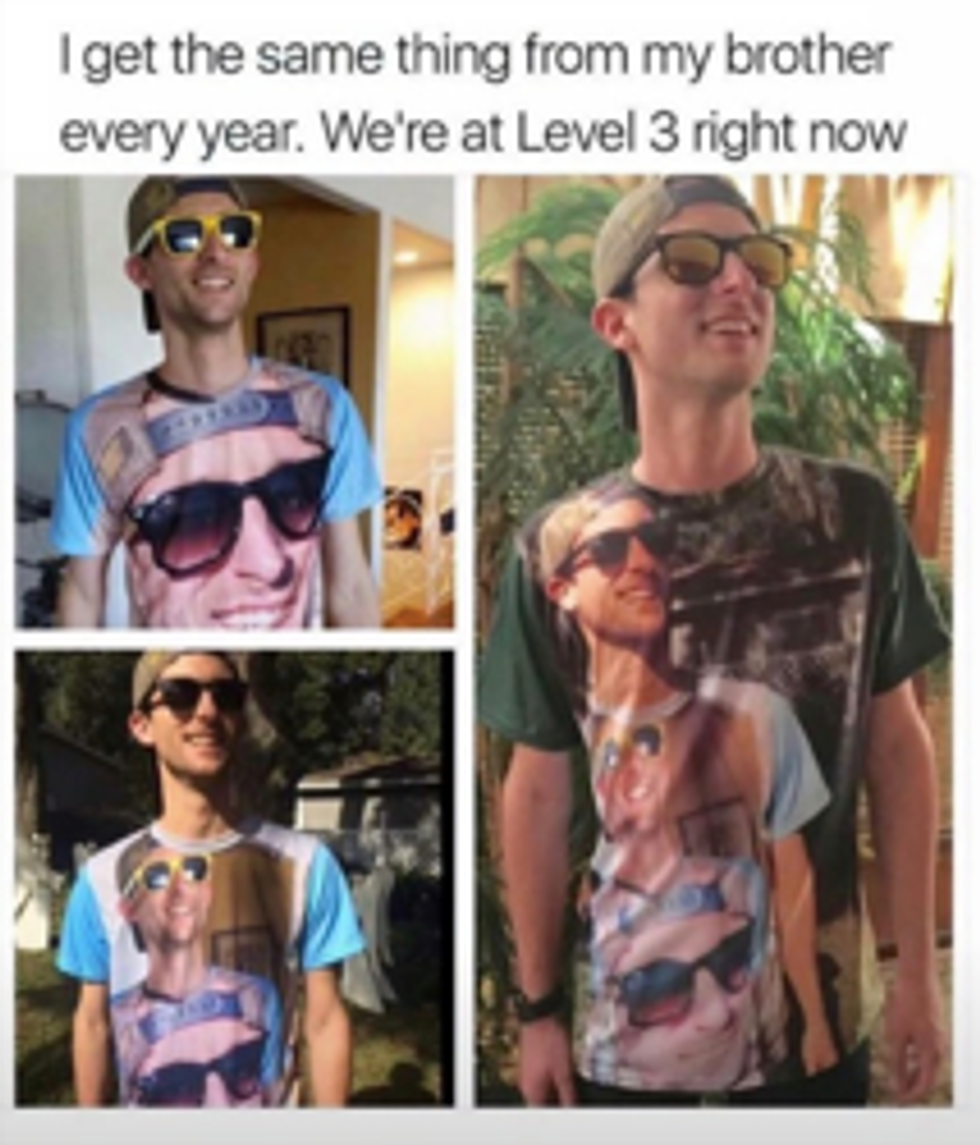 You can also go the more personalized route as shown above by getting that special friend of yours a super personalized t shirt. I mean who are we kidding anyone would love a t shirt with their face on it and then another t shirt with them wearing the t shirt with their face on it and so on and so fourth. And if you want to be super risky, put your face on the t shirt and give it to them, this way you can tell how much they really like you by their reaction and by how much they wear it out in public. This idea might ruin some friendships but hey its probably totally work it....
12. Lettuce Umbrella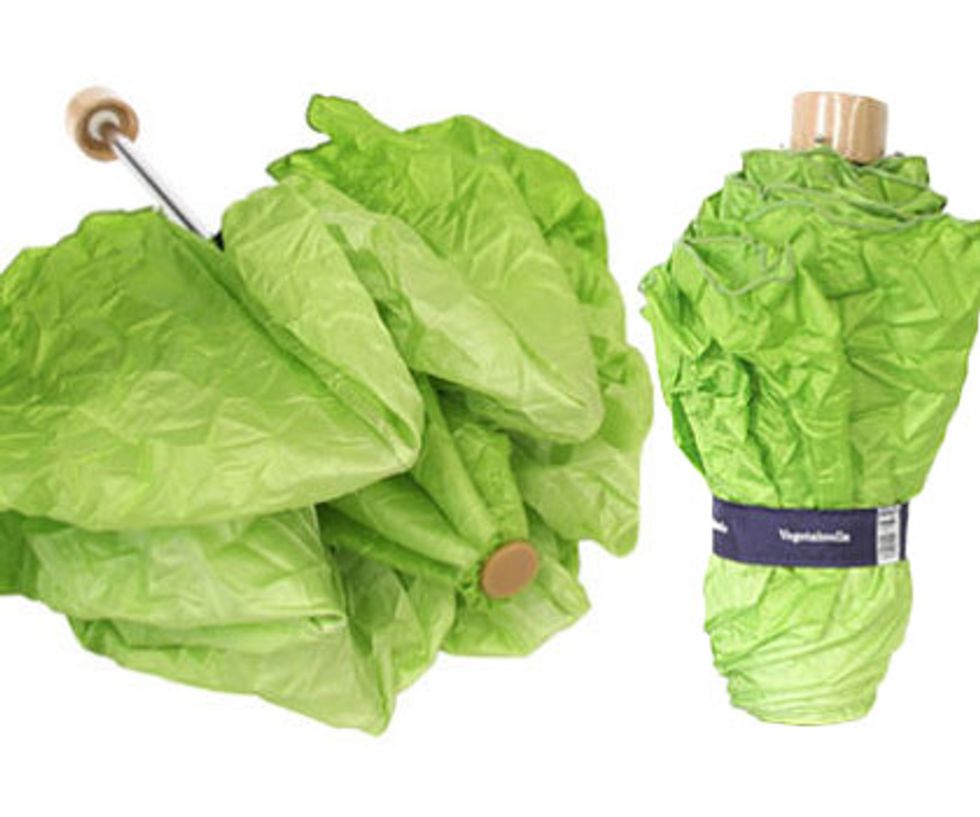 Do you ever just never really know what to get that one friend who loves lettuce and hate the rain, yeah me either until I found this amazing product. This great invention will keep your rain hating friend dry where every they go and also let everyone around them know how much they love lettuce. It is a win win situation. Great gift.
13. Personalized Beer Mug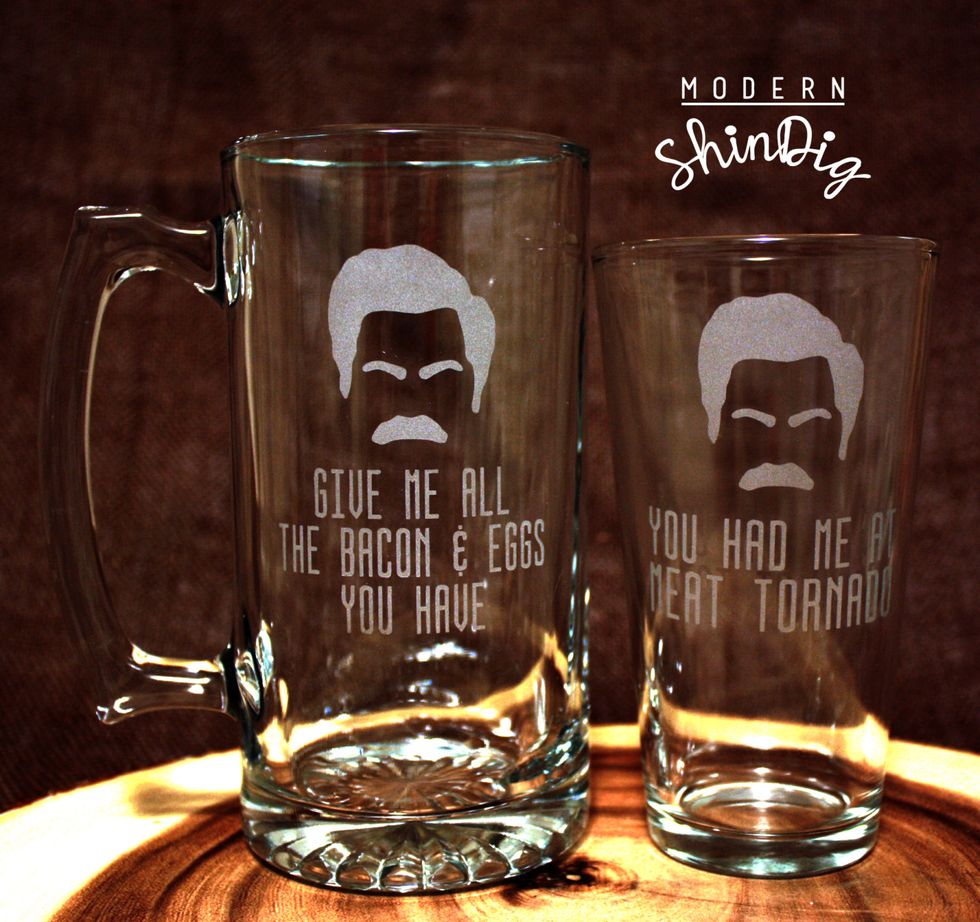 Here we have another more personalized gift idea for that friend who loves to drink beer, like a lot of beer. A BEER MUG! But not just any beer mug, oh no, but a beer mug that represents their drunk alter ego. Maybe that drunk alter ego is their favorite character from Parks and Rec like Ron Swanson, as shown above. What ever their drunk alter ego may be, bringing it to life in a beer mug is the perfect gift. Trust me, they will love it!
---
Well there is it! 13 great gifts that your family and friends will probably hate but hey you can get a good laugh watching their reaction when opening it! And thats like a gift for you!