Whether you've written your bucket list out or not, there are a few items on it that you can name off the top of your head. However, there are probably a lot of places that need to be on your bucket list that you're not even aware existed. Here are 12 of those places; time to get to planning!
1. Zhangye Danxia landform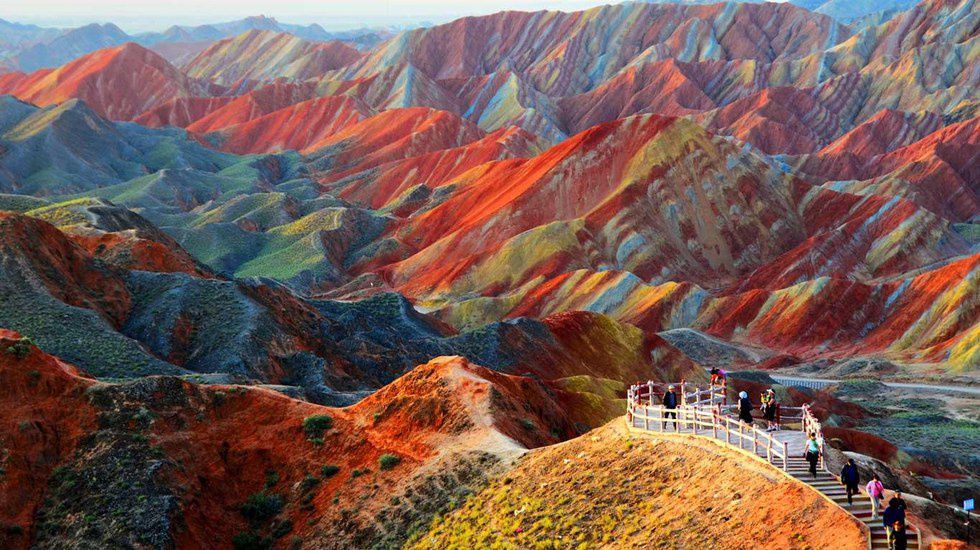 To see these mountains. The Rainbow Mountains in Gansu, China won't be found anywhere else. The colors come from a combination of erosion of red sandstone and extreme temperature changes. Just by the picture, it's pretty obvious this needs to be on your bucket list.
2. Exuma Cays, Bahamas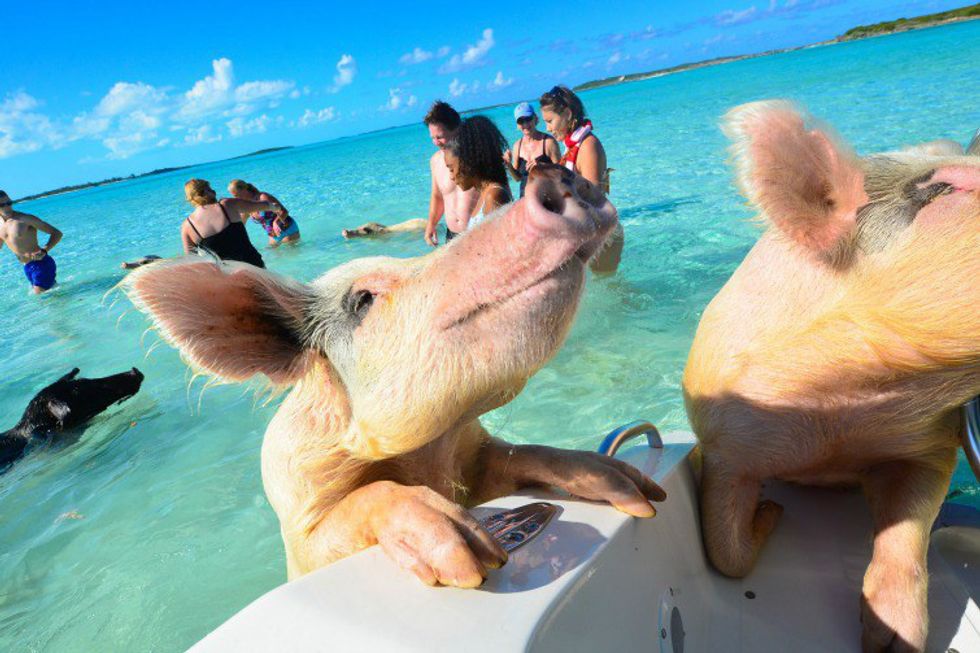 To swim with pigs. Yes, you really can swim with pigs! Not only does the island have incredible views and would be a tremendous beach vacation, but why not spend some time swimming in the crystal waters with some piggies? Exactly.
3. Banos, Ecuador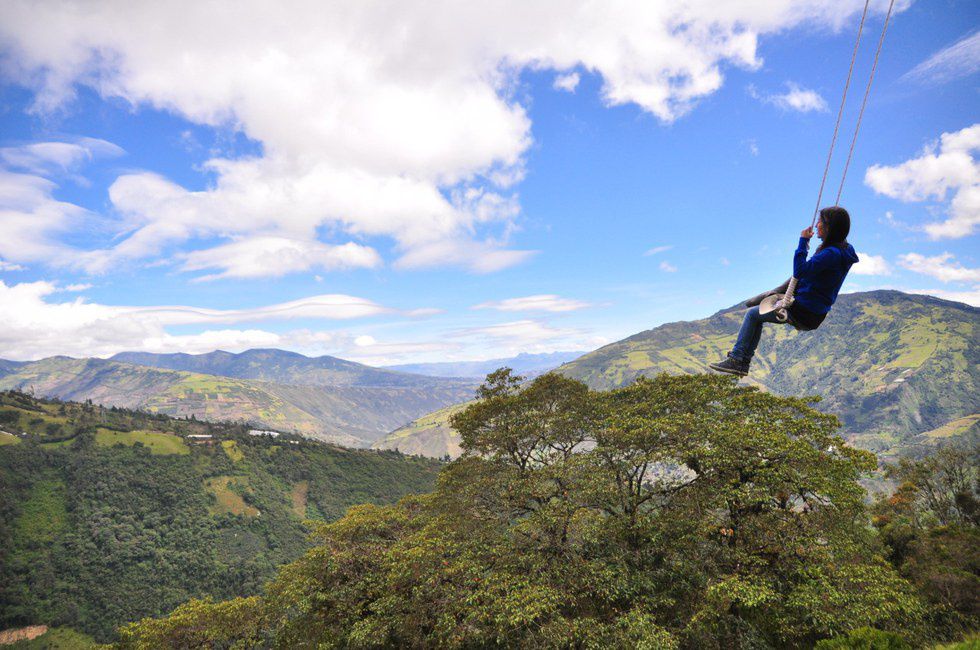 To swing on the end of the world. It's actually a part of a treehouse meant to measure seismic waves of an active volcano. However, the swing goes out over the cliffs over practically...nothing. No one's died on the swing yet, though.
4. Cerro Negro, León, Nicaragua

To sled down the side of a volcano. You get an orange jumpsuit to protect your body and sled down the volcano on a small wooden board. Seems simple enough, but if your hand hits the surface, say goodbye to your skin. Also, watch out for your wooden board; if it hits you anywhere, it probably won't feel so great. It's not for the weak, but how many people can say they sledded down the side of a volcano?
5. Klevan, Ukraine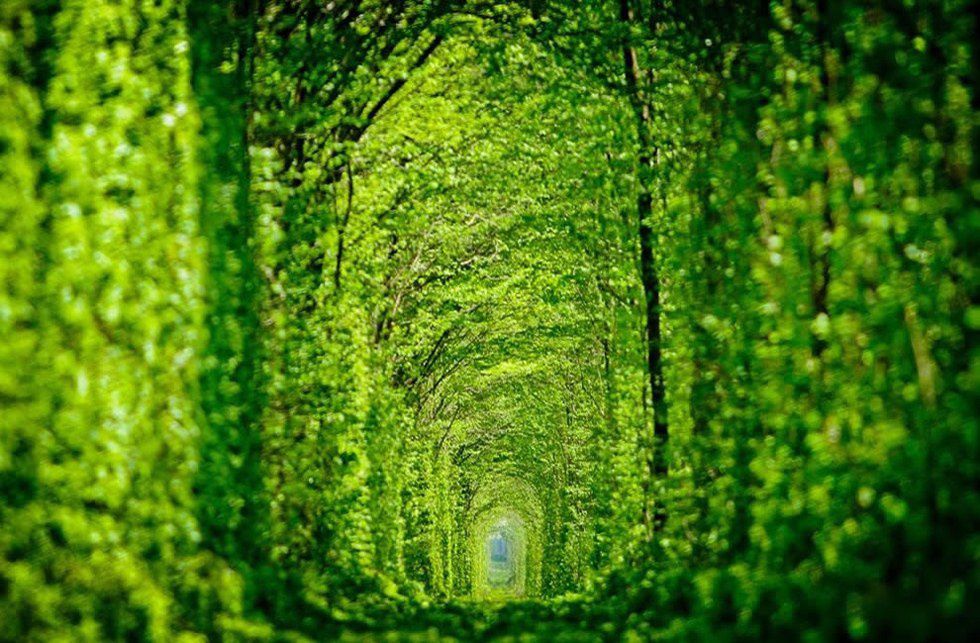 To see the tunnel of love. Unexpectedly, a train actually does run through the tunnel. However, there are probably not many places in the world as enchanting or dreamy as this tunnel completely surrounded by trees. If you visit, don't be surprised to see an engagement or wedding pictures. Makes sense, after all.
6. Flores Island, Indonesia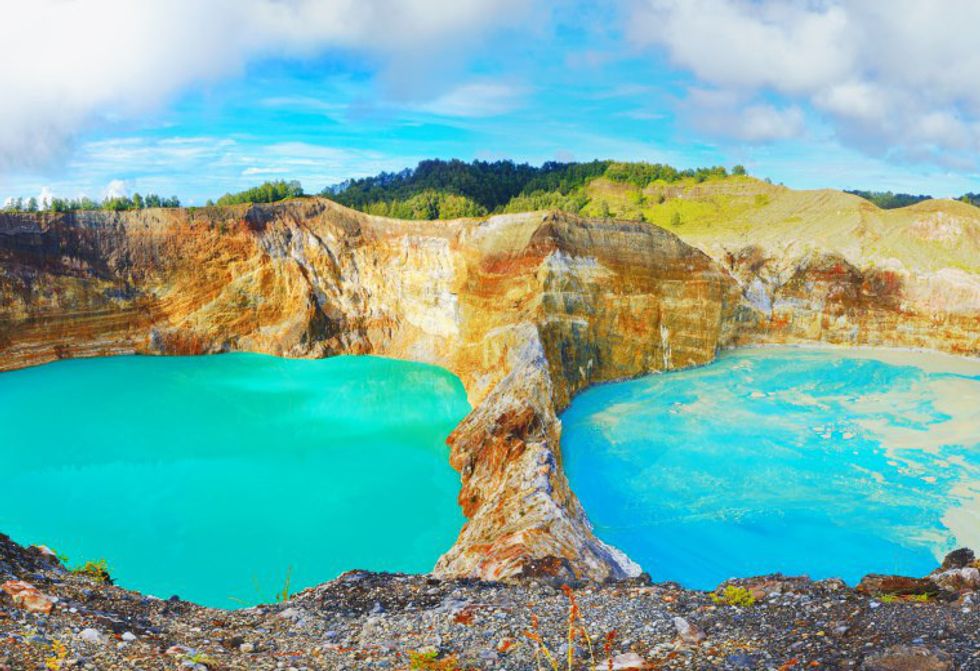 To see these multicolored lakes. Where else could you take a few steps and see a lake a completely different color than the one you were just looking at? The lakes change between green and blue and red and black, and no one's really sure why. Probably a sight you should check out for yourself, though.
7. Nepal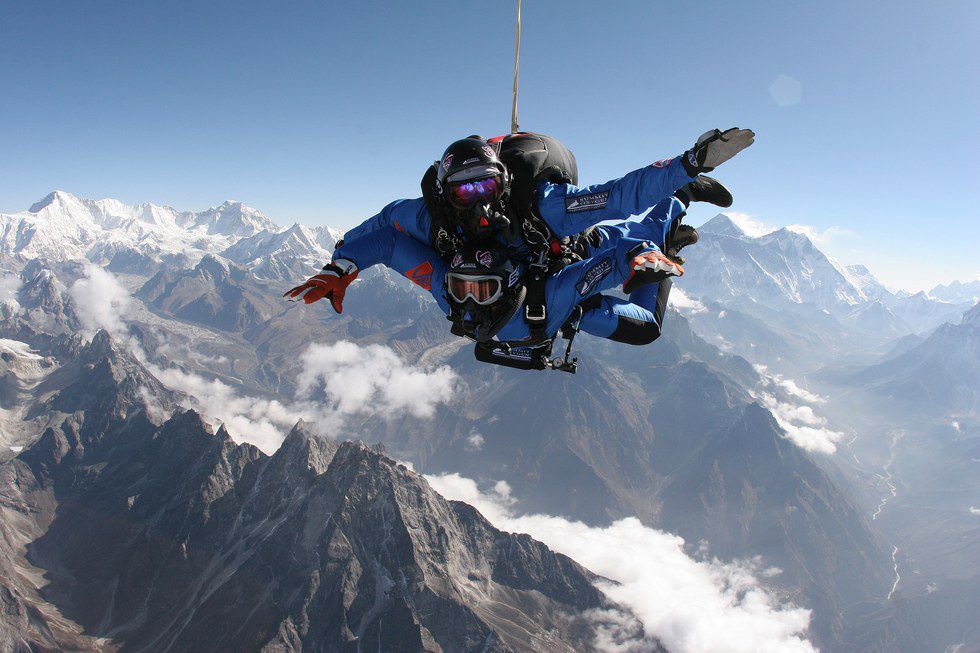 To skydive Mt. Everest. People can prepare to hike up this infamous mountain, but why not fly past it instead? Probably takes a whole lot less training and a lot less exertion. Besides, if skydiving is going to be on your bucket list, why not do it somewhere exhilarating?
8. Serengeti National park

To ride a hot air balloon. Why drive through a safari when you could float over the animals instead? You can even enjoy champagne while you watch hundreds of gazelles run underneath you. Not a bad gig, to be honest.
9. Dead Sea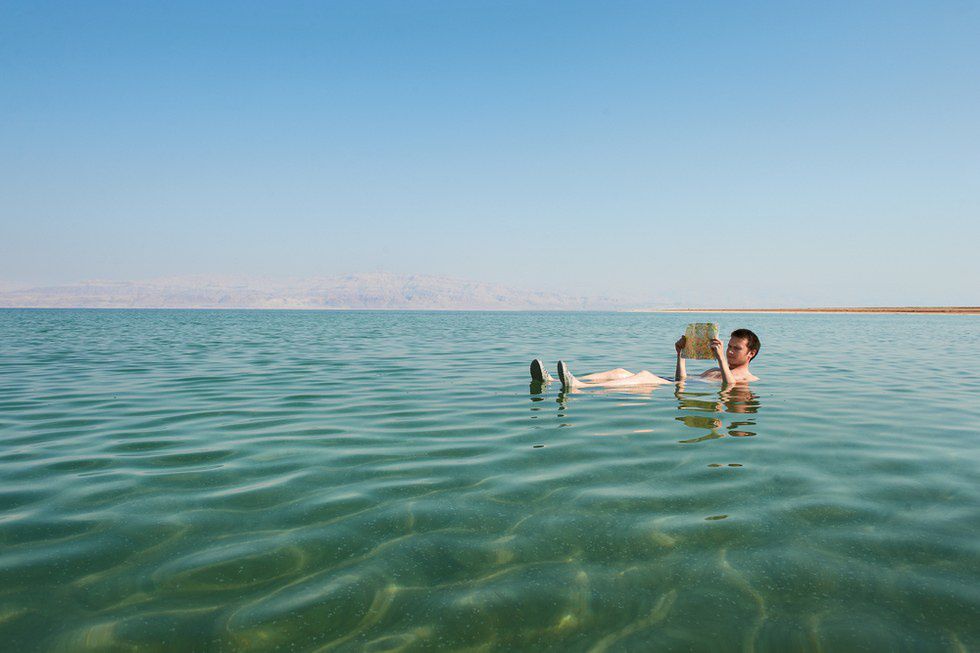 To float... without using a floating device. The Dead Sea is so salty that you can float in it without doing anything. I'm not sure it would feel great if it got in your eyes, and beach waves may not work as well in your hair if the water's this salty, but it would be an incredible experience to get to float in the water without having to try to.
10. Lake Taupo, New Zealand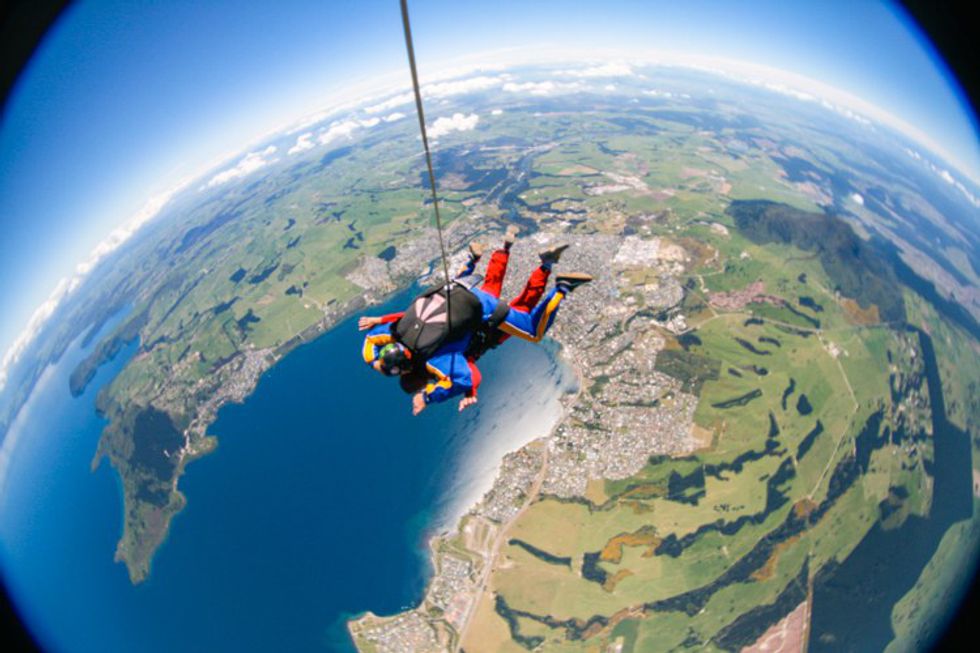 To skydive. Again, if you're going to skydive, you might as well do it somewhere exhilarating. And if you're going to skydive, why not do it twice?
11. Salar De Uyuni, Bolivia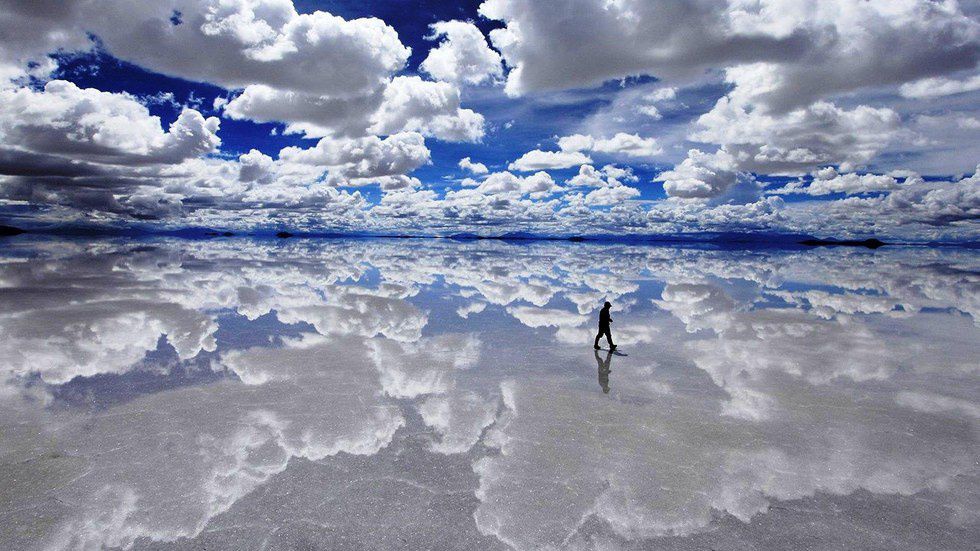 To dance on a salt flat that's basically a mirror. It'd scorch your feet if you danced on it during the day, but if you're lucky enough to have it rain while you're there, it'll be unlike anything you've ever seen before. You may not know which way is up or which way is down because of how perfectly reflective the salt flat is.
12. The Wave, Southern Utah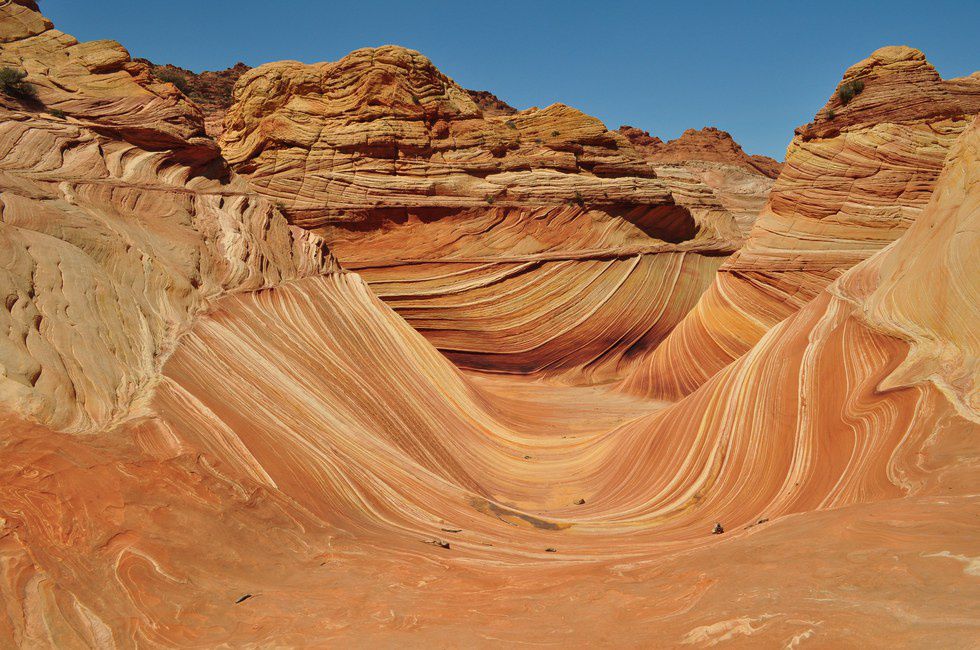 To see these waves. You have to be granted a pretty special permit to complete this one. The hike is pretty difficult, and you have to find your own route, so make sure you're prepared if you take this one on.
None of these would be easy, but what's the point of a bucket list if they're easy to complete? Time to add these on, and time to start planning.