If you love TV comedies, you have probably seen "Parks and Recreation" and are fully aware of the amazing, nerdy, beautiful and totally enviable relationship between two of the show's characters: Ben Wyatt and Leslie Knope. Here are 12 of their many couple moments, all of which will make you wish you had a relationship like theirs.
1. When Ben and Leslie share an awesome handshake, which involves pointing fake guns at one another and calling out "pshh pshh" and "bazooka"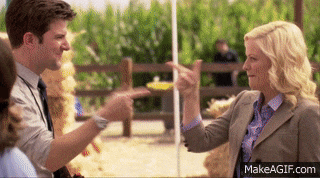 Ben got the company, Sweetums, to donate 15 more cotton candy machines for Pawnee's upcoming Harvest Festival despite warnings from the tribal leader of the Wamapoke Indians that a curse might fall upon the festival. (Season 3, Episode 7: "Harvest Festival")

2. When Ben describes what he loves about Pawnee to Leslie but is actually using the town as a metaphor for her

Chris sends Ben and Leslie (who Chris calls the "dynamic duo") to Indianapolis to pitch Pawnee as the next host city for the Indiana Little League baseball tournament. Later that night, while having dinner, Ben and Leslie discuss the case they made to the athletic commission board, including Ben's praises about Pawnee. (Season 3, Episode 14: "Road Trip")
3. When Ben gives Leslie an L-shaped éclair

When Leslie is told that she will announce her candidacy for office the upcoming Friday, she must break her romantic ties with Ben. Since relationships are not allowed in government, Leslie does not want any scandals to arise during her campaign. However, when she goes to tell Ben, he surprises her with the éclair and ends up not discussing their relationship. (Season 4, Episode 1: "I'm Leslie Knope")
4. When Ben and Leslie choose to ignore the rule about no relationships in city hall and be together.

Leslie decides to build the smallest park in history. When Ben says this is the final project he will work on with the Parks department, Leslie hatches a plan to drag the project out for as long as possible to keep him around. After Ben calls Leslie out on her "steamrolling" (her need to control everything and everyone), they have a mature conversation about it in the newly built park. (Season 4, Episode 8: "Smallest Park")
5. When Ben gives Leslie a repulsive pep talk to motivate her before a debate with Bobby Newport, another candidate running for office

(Season 4, Episode 20: "The Debate")
6. When Ben introduces Leslie to two senators, who are #4 and #26 on Leslie's "List of Amazing Women", knowing that Leslie would die to meet some of her political aspirations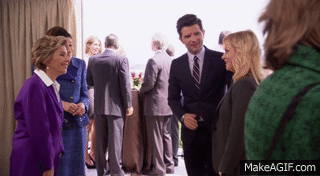 (Season 5, Episode 1: "Ms. Knope Goes to Washington")
7. When Ben makes a surprise return to Pawnee from D.C. to propose to Leslie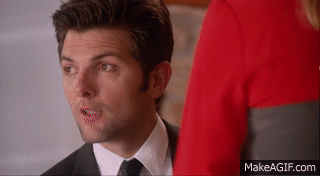 Right after Leslie puts in a deposit for her and Ben's new house, she receives a call from him saying that he might have to stay in D.C. longer than anticipated, putting a pause on their future together. Ben then realizes that he is "deeply, ridiculously in love" and that Leslie is his priority, so he comes back to Pawnee to propose to her. Once he gets down on one knee and Leslie notices what he is doing, she interrupts his proposal so that she can capture every aspect of this perfect moment. (Season 5, Episode 5: "Halloween Surprise")
8. When Ben and Leslie are so in love that they spontaneously decide to get married despite neither of their parents being present, having reserved a venue for a later date, and the fact that they already ordered 200 white-chocolate top hats

(Season 5, Episode 14: "Leslie and Ben")
9. When Ben and Leslie practice a synchronized dance in roller skates for Ben's '90s-themed birthday bash that Leslie is throwing him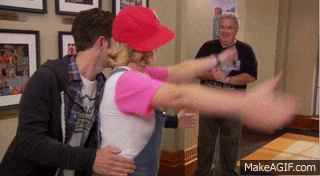 (Season 6, Episode 5: "Filibuster")
10. And later when Ben skips his own birthday party to support Leslie and her filibuster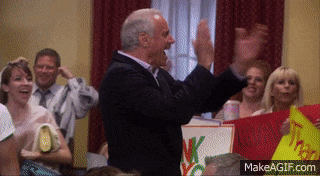 She is filibustering for Councilman Jamm's bill to be tabled until after the recall election. The bill would disenfranchise certain voters who are inclined to vote for Leslie in the upcoming election. (Season 6, Episode 5: "Filibuster")
11. When Ben surprises Leslie with a trip to Paris

(Season 6, Episode 9: "Second Chunce")
12. When Ben and Leslie give each other the perfect anniversary gifts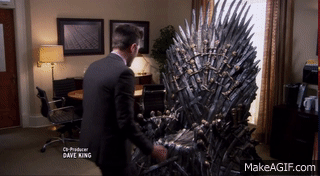 Even though they promised not to give each other presents, Ben knows Leslie will anyway, so he plans a number of surprises for her, including an "Enchanted"-themed carriage ride. However, each of his surprises catches Leslie at a bad time, so Jerry ends up accompanying Ben instead. Ben then creates a scrapbook of the day he had with Jerry to give to Leslie. Meanwhile, Leslie and her knack for gift-giving wow Ben with a chair from "Game of Thrones", the "Iron Throne". (Season 6, Episode 13: "Anniversaries")

Instead of "Trump 2016" or "Hillary 2016", I hope you root for "Knope-Wyatt 2016" in the upcoming presidential election. They have quite the experience working in government already, don't they?