These 12 foods must be on your food bucket list, but you will have to go to Disney to get them.
1. The Dole Whip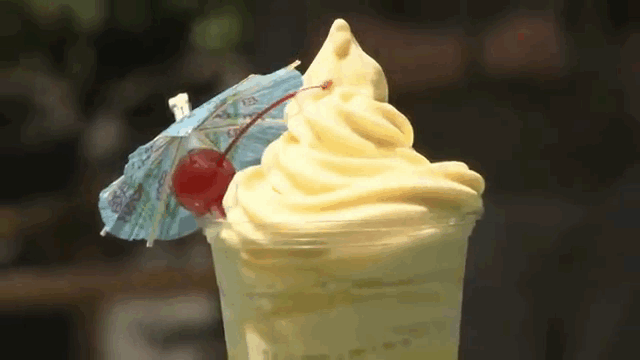 Found in multiple locations throughout Disney World, the dole whip is an essential snack that every veteran Disney-goer knows about. Especially good in those hot summer months, the dole whip is available on its own, in a float with pineapple juice, and now they incorporate rum if you ask for it. The tangy taste is to die for, and there isn't a place that sells this off Disney property, so this is a must.
2. The Ice Cream Sandwich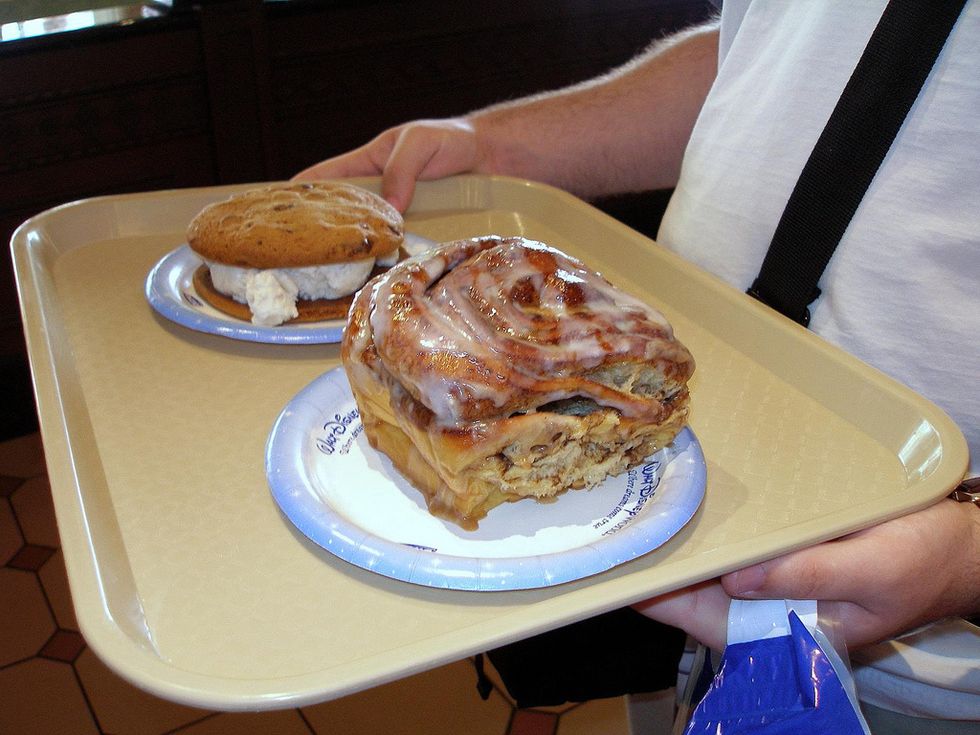 At the end of Main Street, there's a small ice cream parlor where you can get a HUGE ice cream sandwich. When I say huge it's not for emphasis due to my writing technique, I really mean it's just huge. I get the two homemade, freshly baked chocolate chip cookies with cookies and cream ice cream in between. Lots of people suggest getting the peanut butter sauce on the side, and while that sounds delectable, I'm too clumsy to do that to myself. That's a mess waiting to happen. However, if that's your cup of tea, definitely go for it.
3. The Beignets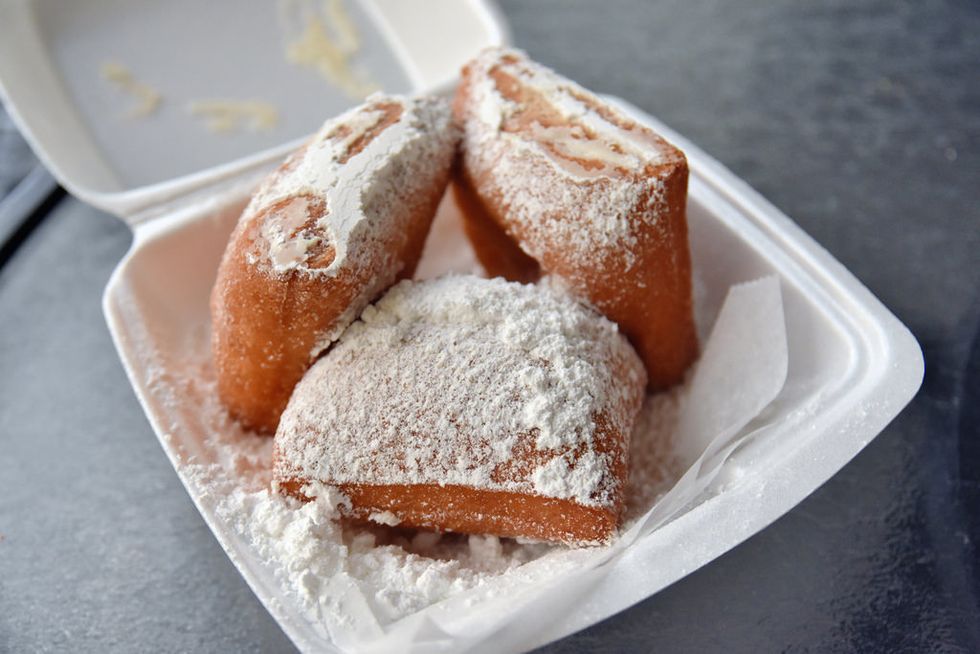 These I cannot vouch for, however, they're recommended by the majority of the Disney community of bloggers. They come in Mickey shape, which already makes it taste better. Found in multiple Disney locations, these have quickly become a staple in many Disney diets. Just a tip for 21+, you're able to inject booze into them now!
4. Classic Poutine
Coming from Refreshment Port in Epcot, you won't be disappointed with these amazing fries. Topped with gravy and cheese curds, they're the perfect snack for the middle of the day. Carbs and protein, definitely a healthy option, right? All jokes aside, this may be one of the best treats in Epcot, so don't leave without them.
5. Cinnamon Roll
THIS IS MY FAVORITE THING AT MAGIC KINGDOM. Seriously, every time I'm in the Magic Kingdom, this is my first stop. First of all, it's absolutely humongous. Also, I don't know if this has anything to do with my bias toward Beauty and the Beast, but the environment that Gaston's Tavern has completely emulates the tavern in the movie, which makes it feel so real! This sticky bun is able to be shared, but if you have a large appetite like me, you can finish it with no problem. Pro tip: Ask for extra frosting. CARB UP!
6. Cookies and Cream Funnel Cake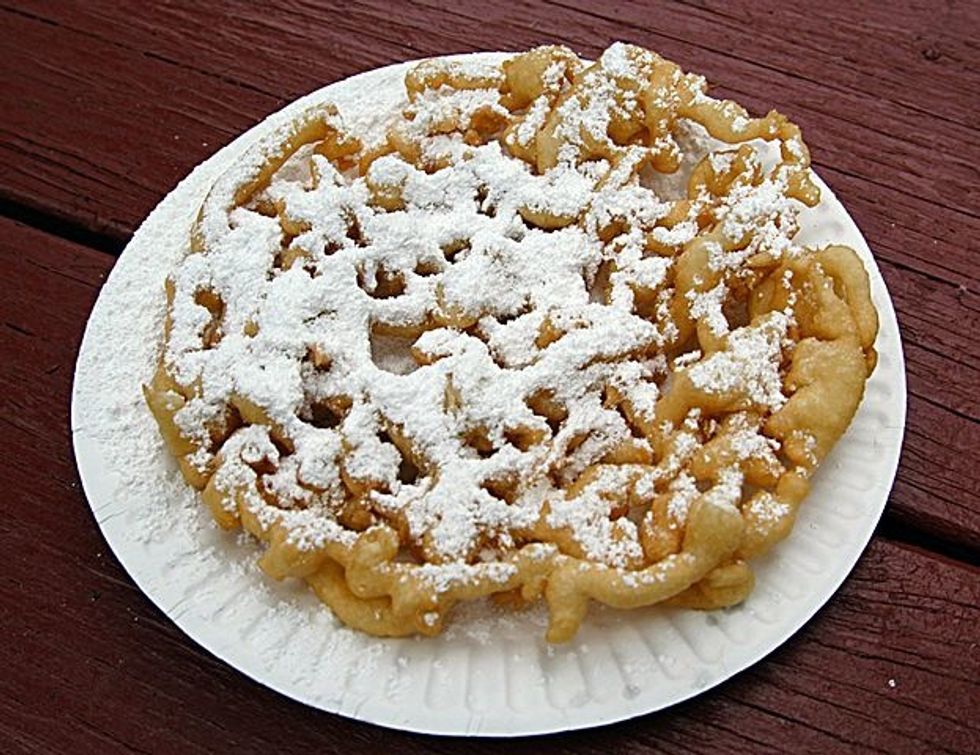 Placed conveniently at Oasis Canteen is the delicious Cookies and Cream Funnel Cake. If you're looking for the essential American treat, this is it. The mix between the warm funnel cake, crushed up oreos, and whipped cream makes for a perfect combination. This is the perfect sweet to end your night with, while watching fireworks.
7. The Gelato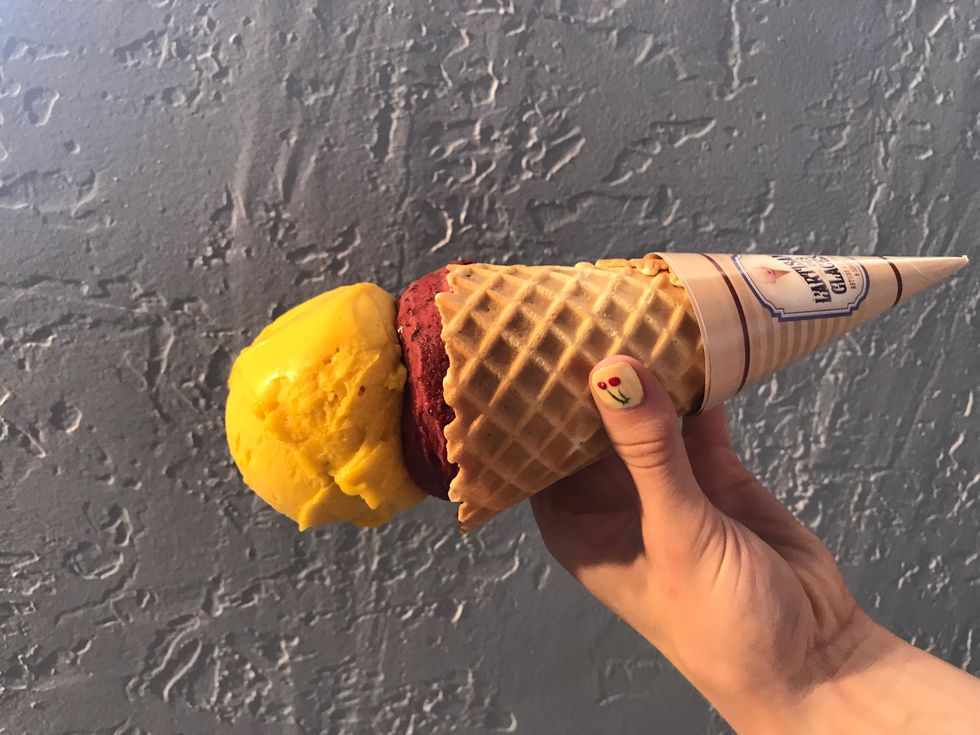 Desiree Loyola
There is some nostalgia associated with this item. Although it's unbelievable and the assortment of flavors have yet to disappoint me, I've gotten this treat ever since my 14th birthday in Disney World. I highly recommend pairing the Mango and Berry flavors, because it makes for a refreshing treat in the middle of a hot day. I do remember spilling this right before meeting my favorite princess, Snow White. Besides the mental breakdown I had, every experience I've had with Les Artisans has been to die for. Plus, Snow White made me feel better about the smeared gelato all over my skirt.
8. OMG. THE PIZZA.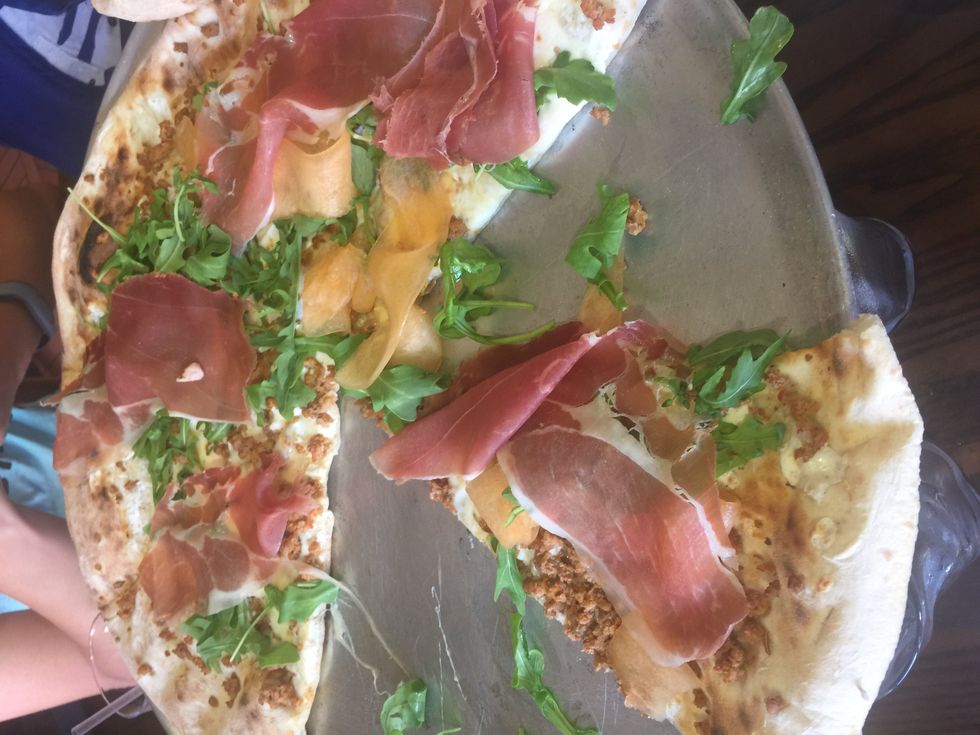 Desiree Loyola
I know, there's definitely an ongoing trend of carbs presented throughout this article. But, when I tell you this pizza is to die for, it's to die for. The cooks in Epcot Italy Pavillion come straight from Naples Italy, making the food authentic and as tasty as ever. Pictured here is the pie with prosciutto, melon, and arugula. What a heavenly combination.
9. Sweet and Spicy Chicken and Waffles
If you're looking for more of a snack/meal hybrid, chicken and waffles are the way to go. The distinction between the two flavors works perfectly together. The chicken itself is not too spicy, but it still adds a kick to the flavor it already embodies. This is definitely a must when visiting Magic Kingdom.
10. The Welsh Pub Burger
Located conveniently in Epcot, this fan favorite is the perfect burger for any meat lover. Paired with beer cheese, bacon, and beer battered leaks, this UNREAL burger takes the number one spot in my heart. The juicy flavor EXPLODES with each bite, and this will be (guaranteed) one of the best meals you eat in Disney World.
11. Ohana Bread Pudding
This sweet flavor is worth every penny you pay. It's an amazing choice for breakfast, because even with the sweetness, there's fruit incorporated, so that must mean it's okay. This video shows you everything you need to know about the Ohana Bread Pudding, which is one of my personal favorite dishes when visiting Walt Disney World.
12. Baked Mac and Cheese.... with PULLED PORK
My favorite unhealthy combination: Mac and cheese AND pulled pork. I have nothing else to say about this one, except: WOW.