If you're a skier then you know there are just some things in life that only skiers understand, and if you said them out loud, anyone who wasn't a skier would think you're completely nuts. Winter is our favorite season, ski sales are our favorite type of shopping, discounted lift tickets are better than Free Cone Day, and nothing makes you more excited than the first ski of the season.
1. Skiing is better than snowboarding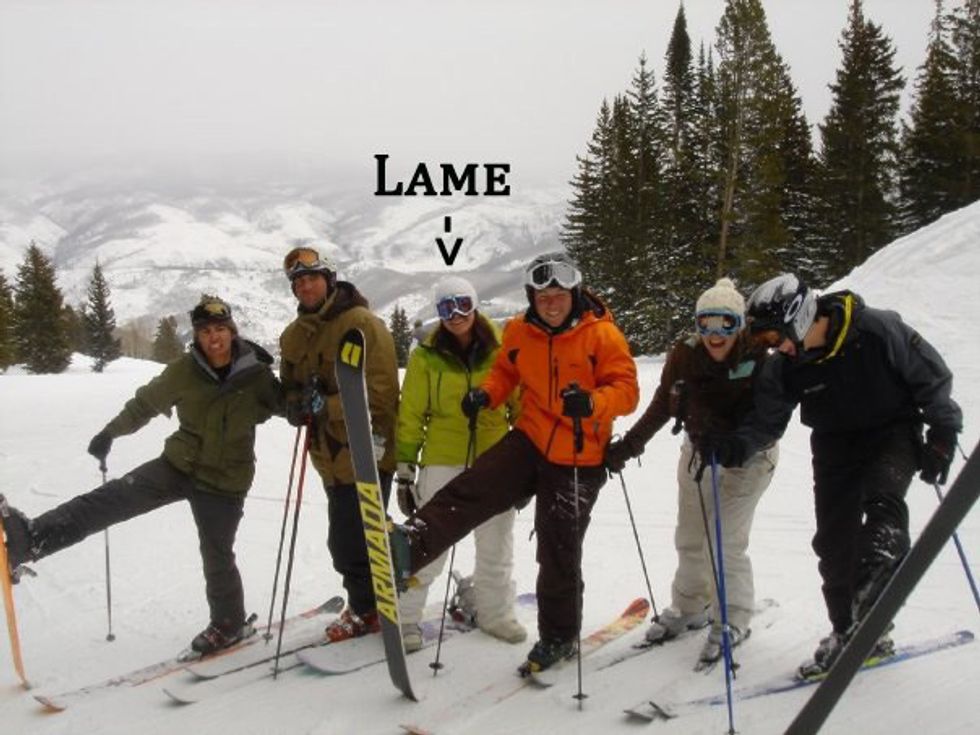 There's no arguing this with skiers. We know we participate in the superior sport and you can't try to tell us otherwise. If you're a snowboarder and all your friends ski, you've probably heard this many times and you'll always be reminded of it. We are better. End of story.
2. Spring skiing is the best skiing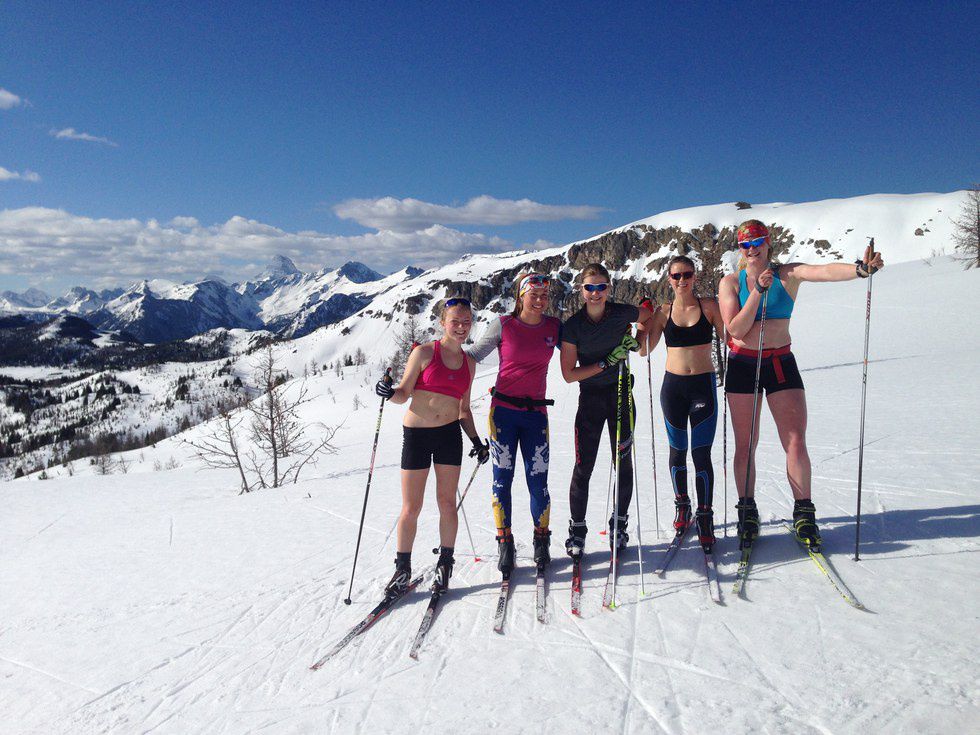 Skiing is a great way to get exercise along with having a great time, but sometimes the cold weather keeps you from hitting the slopes. Spring skiing makes it so much easier to go out and be able to ski all day long. There's nothing better than being able to wear a tee shirt, get a sunburn, and ski.
3. We always wish we were skiing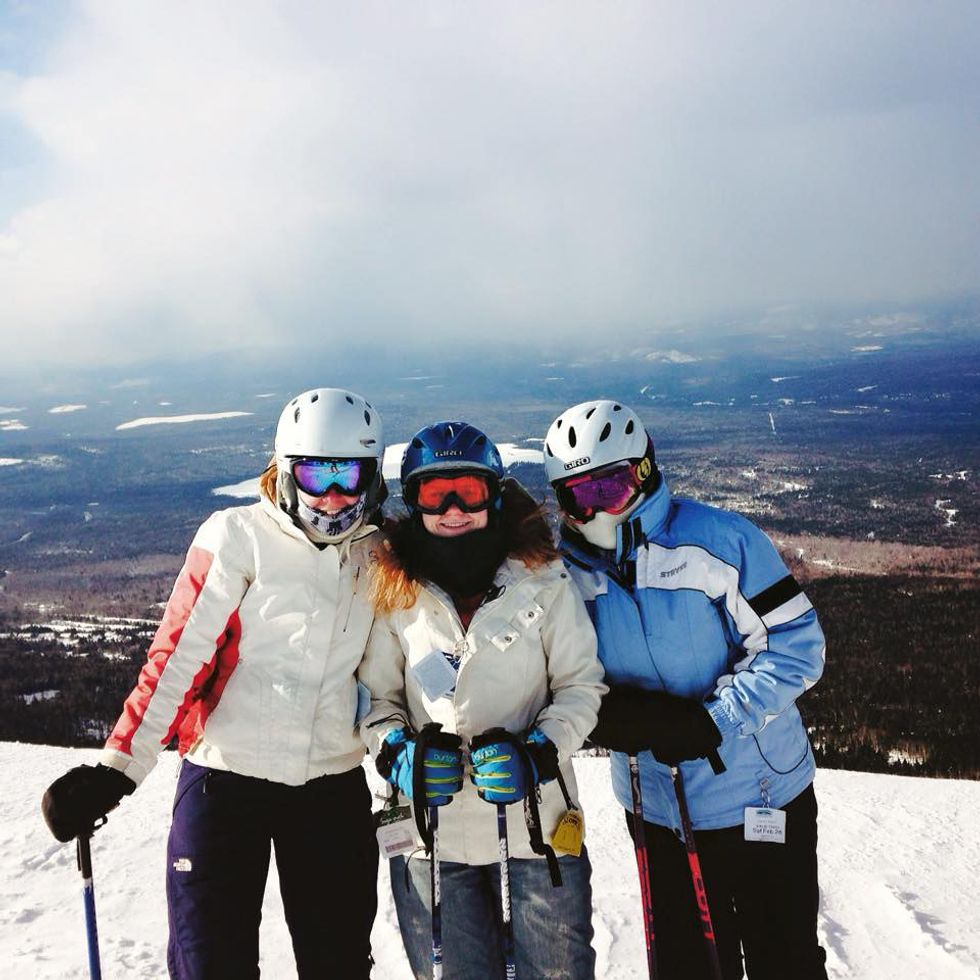 Skiers always wish they were skiing. Some days you wake up in the middle of the sweltering summer and wish you could drive to the mountain to ski all day long.There is never a moment that we wouldn't want to ski. Even in the icy, subzero winter, we're always ready to ski.
4. A ski shop is our paradise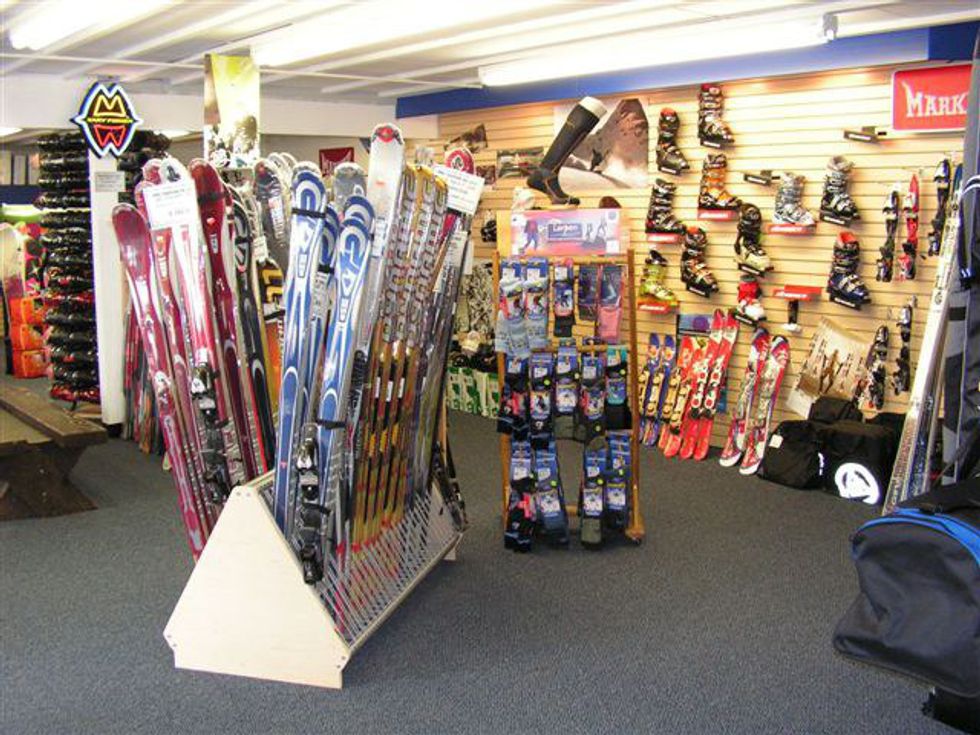 Ski shops are one of our favorite places to be at. It is a store completely dedicated to our favorite things. They have everything we could ever want, it's basically a visual Christmas list for us. Why would we ever shop anywhere else?
5. Fresh powder is a gift from God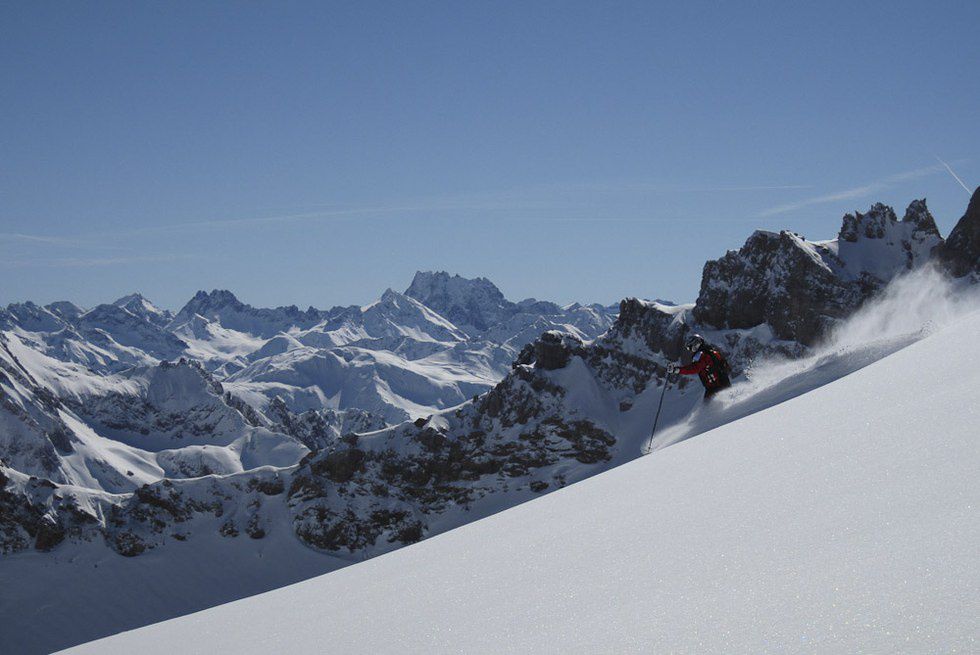 There's nothing better than starting your day off on fresh powder. You get to make the tracks for the day, and you have complete freedom to leave your mark on the trails. Feeling new powder until your skis is a great feeling, and it doesn't compare to much else.
6. A yard sale is not fun, and it hurts your ego

Yard sales are the worst. Everyone has experienced them, and it hurts physically and mentally. Your first yard sale is bound to happen. Hopefully you won't do it in front of people on a liftline, but if it happens oh well. Everyone's had them and you'll have more than one.
7. Walking up stairs in ski boots is one of life's biggest struggles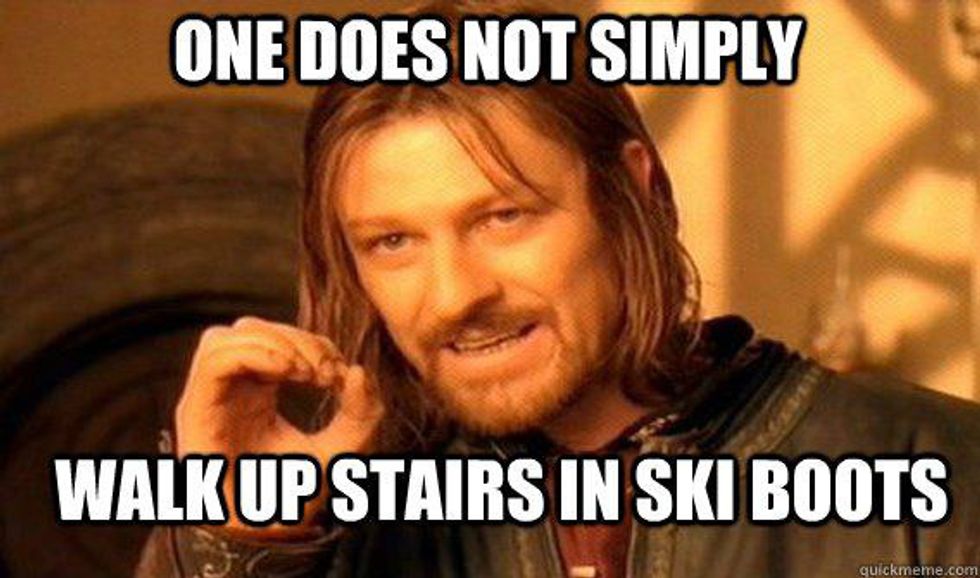 There's something about ski boots that are the worst. They're not comfortable, they're clunky and impossible to walk on stairs in. You slip, slide, and most likely fall. There's gotta be a better design that someone hasn't thought of yet, and it needs to come out soon. I can't count the amount of times that I've fallen in ski lodges or up stairs, everyone does it, but it's beyond annoying.
8. We don't dream of vacations on a beach, we dream of skiing the Swiss Alps

Beaches are great and warm, but we all want the ideal skiers dream: ski the Swiss Alps. It's a gorgeous destination with some of the greatest skiing in the world. What's better than having a beautiful view and some amazing skiing.
9. As soon as Spring skiing ends, we count down the days until we can ski again

The last ski of the season is always super depressing, and it's a sad part of every year. But as soon as we stop, the countdown starts. I mark the days that each resort opens for the winter, and we look forward to getting our edges sharpened and making our marks on the trails at the beginning of the next season.
10. Goggle lines are a very real thing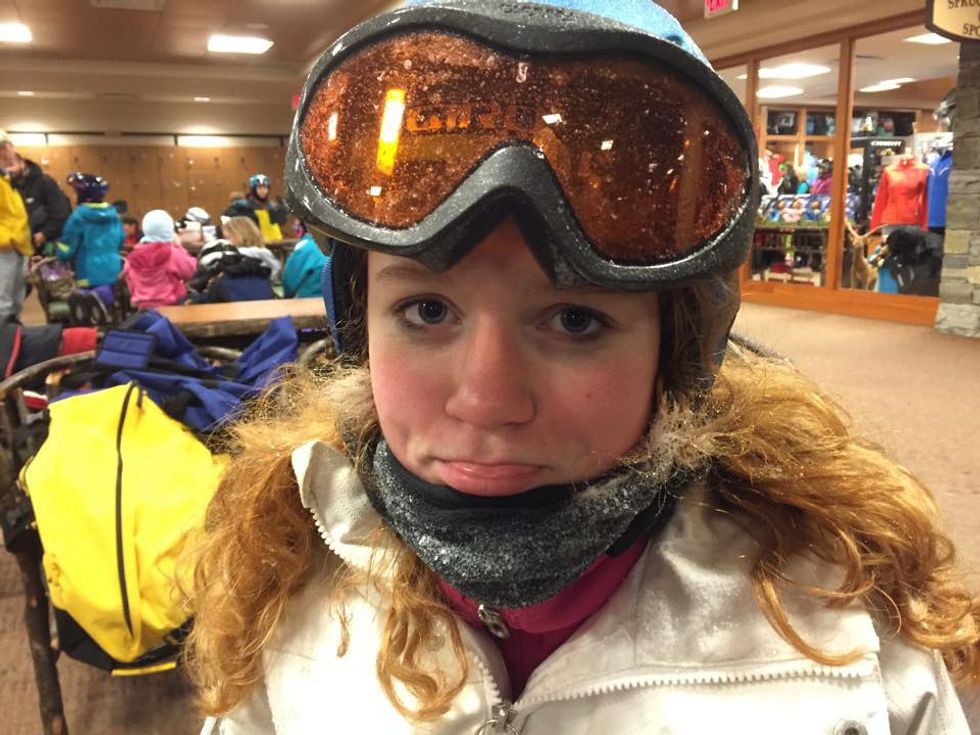 Whether it be wind or sun, goggle lines happen super frequently. Rosey red cheeks and pale skin are a sign of a great day on the mountain with sun and wind. People won't understand why your have racoon eyes, but you'll remeber how great your day was.
11. The first time you put ski boots on at the beginning of each season you feet genuinely hate you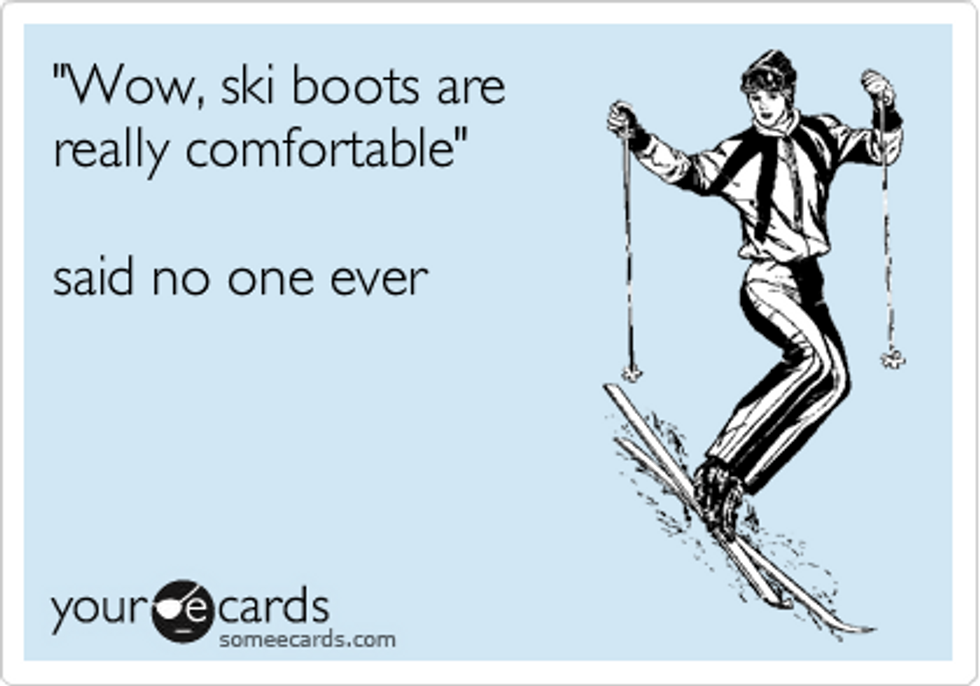 Ski boots are just so uncomfortable and I can't say it enough. They hurt your feet and they're so clunky. They hurt your feet so badly each year. The only thing we don't like about skiing is the boots. The boots are the worst. I can't repeat it enough. They are the worst. End of discussion.