Do you ever hear from or see girls posting on social media about swooning over tall guys, wishing they had a tall boyfriend, etc.? Chances are, you probably have. It's all over the place – but rightfully so. There are some serious advantages to dating someone much taller than you. In my case, much much taller. I'm 5'3, and my boyfriend is 6'11. Yes, almost 7 feet tall. Such a height difference as ours isn't always the case, but it doesn't come without its struggles too. To all my fellow girlfriend's out there dating a tall guy, here's a list you can relate to.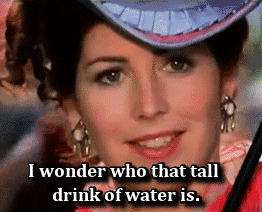 1. Selfies are not easy.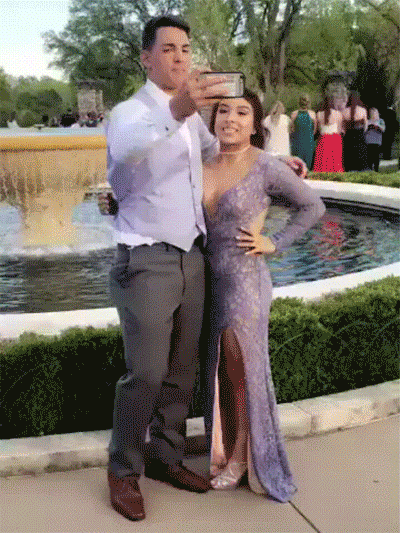 One thing I figured out early on is that when it comes to selfies, you have to get creative when there's a big height difference. I basically only come up to my boyfriend's stomach, so there's some serious maneuvering to do. Usually, he's the one that has to hold the phone because my arm just seriously is not long enough to fit both of us in the frame. The struggle is #real.

2. They will always use you as an armrest, even when they know it annoys you.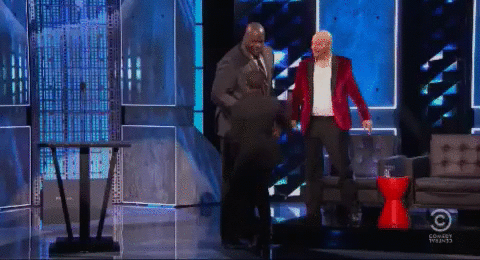 For some reason, it seems like they just love to see the annoyed look on our faces when they lean against you and use you as an armrest. As much as I may roll my eyes at it, I've come to just accept it and write it off as one more way I can contribute to the relationship; by literally being someone to lean on.

3. They give the best forehead kisses.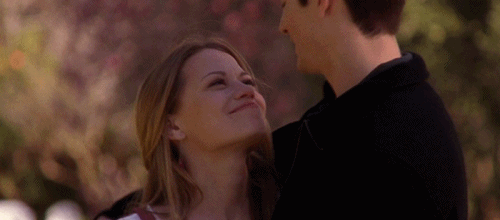 Forehead kisses are widely considered to be one of the sweetest tiny gestures a guy can do. Luckily, if you're dating a tall guy you won't have your shortage of them. Because the top of our head is easy access to them, you'll find them doing it all the time because it's the easiest (and quickest) way to reach us.

4. People will always comment on your height difference.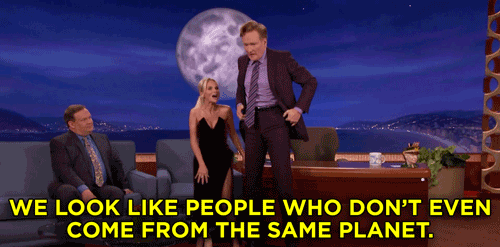 Get used to hearing short and tall jokes, getting nicknames, and being asked to stand directly next to each other so people can get another look at the height difference.

5. Everyone will always know when your boyfriend has been in your car.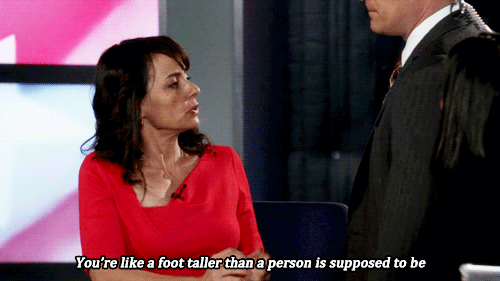 My friends and family always get a kick out of sitting down in the passenger seat or back seat of my car and knowing when my boyfriend has been in there. The seat is always all the way back, and usually leaning a good way back as well so that his head doesn't hit the roof.

6. He will always be asked how tall he is everywhere you go.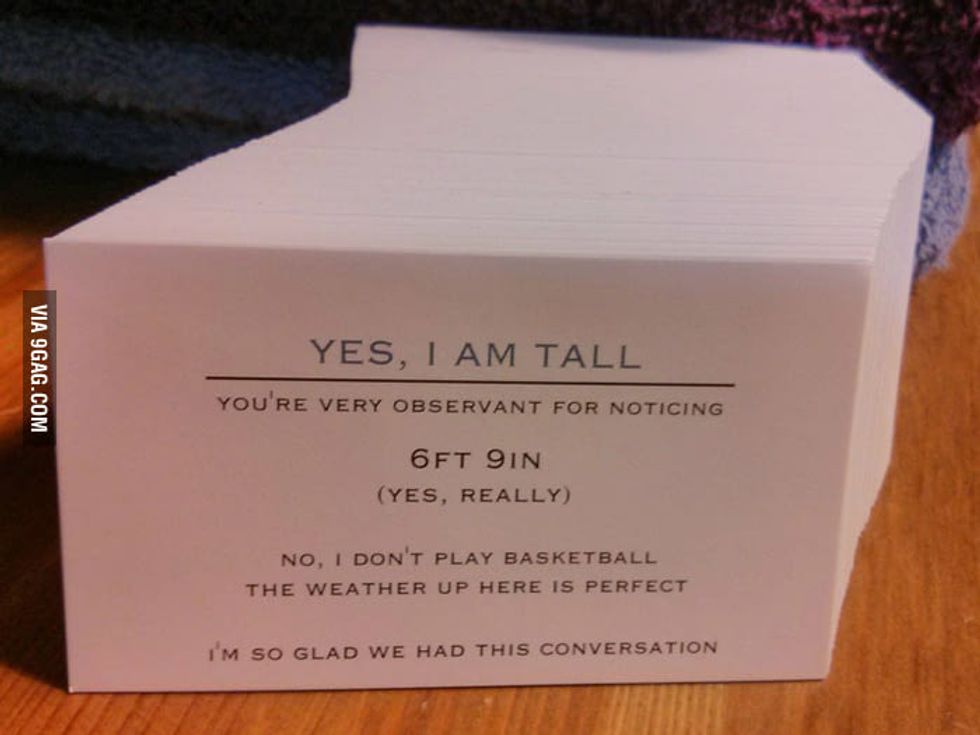 One of my favorite things to do when my boyfriend and I are out is to count how many times he gets asked how tall he is. When he's with someone significantly shorter like me, it makes it even more noticeable. Typically, after someone asks how tall he is, they ask if he plays basketball. He does, so it makes it even more stereotypical. I've considered making his business cards to start handing out.

7. You suddenly feel way more sympathetic to #TallPeopleProblems.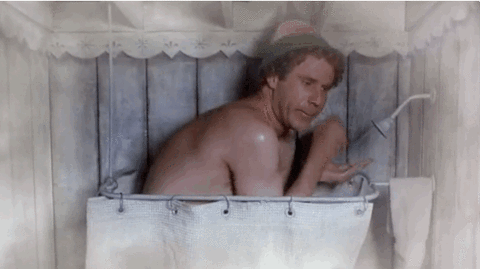 I've always related so strongly to all the #shortgirlproblems out there, but being around my boyfriend so much has made me realize that tall people have their own struggles, too. Besides constantly being asked how tall he is and if he plays basketball, there are a lot of things tall people are limited to. Sitting in tight spaces or riding in vehicles for extended amounts of time is not easy for them, and picking a table or booth at a restaurant is also tricky. A lot of movie theatre seats and sports arena seats are not comfortable for him, and even riding roller coasters can be a challenge because of the lack of leg room on some rides.

8. You always have someone to help you reach things.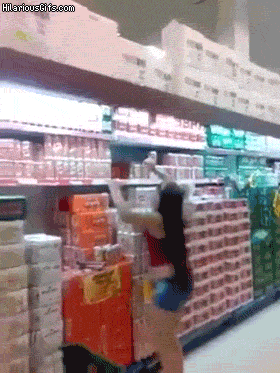 Short girls, rejoice – no more climbing counters or getting step ladders out to reach things! Although we all like to be independent women, I can't deny I love not having to go to extra lengths to reach things when my boyfriend is around. What would normally be a serious challenge for me is a cake walk for him – and he won't let you by without making a joke, either. Additionally, my boyfriend can see a whole other world that we short people aren't exposed to. It's like having your own private lookout that can spot things that are normally out of your eye level.

9. Helping him out with things takes creativity.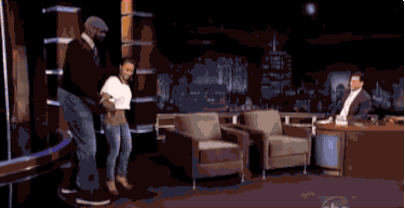 We often talk about how helpful tall guys can be to us short girls, but something many people don't realize is that when it comes time to help them with things, you may feel inadequate. Helping fix their hair, adjust their shirt collar or tie, or even smudging a piece of food or dirt off their face to help them out isn't as easy as just reaching over, especially when standing. We either have to make them sit or we have to find something to stand on – again, just another thing to crack jokes about! Even though sometimes it feels as though I'm constantly needing my boyfriend's help with things and I'm not able to return the favors, we always find a way to help each other out no matter the circumstances.

10. You always feel safe.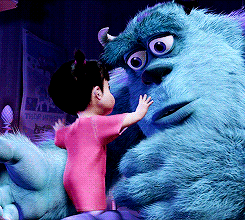 Dating a taller guy can make you feel like the safest person in the world sometimes. Growing up with my father being quite a bit taller than me, I believe it gave me an instinctual feeling of safeness when around someone tall. Being that my boyfriend happens to usually be the tallest person in the room, I take comfort in knowing that he could intimidate anyone wanting to start trouble. Not to mention, their hugs are always the best because they wrap you up and smother you like you used to get hugged when you were a child. To me there is no safer place in the world.

If you can relate to any of these 10 things, consider yourself lucky. As much as we may joke about the "struggles" or funny things we have to deal with, I wouldn't change our height difference for the world, and I certainly wouldn't change my boyfriend for the world, either.