Amy Schumer has been making headlines all year. With her own comedy skit show Inside Amy Schumer and her first movie, Trainwreck, premiering this past summer, she has been on a steady upwards slope to fame. But why is she so popular?
Amy has brought in a new fresh breath of air to the comedy scene. She's like the cool big sister or favorite cousin we all wish we had. While she can sometimes be vulgar and offensive, that's not all there is to Amy. Here are 10 reasons we've absolutely fallen for Amy Schumer:
1. She's not afraid to be herself.
One thing Amy promotes is the importance of being yourself. Even for a laugh, Amy isn't afraid to roll around on the floor, wear ridiculous outfits, or perform in silly skits. She knows that we all need to be comfortable in our own skin and through her television show and interviews, she promotes self-confidence and acceptance.
2. She tells like exactly like it is.

Society has a few problems, some more sensitive than others, but Amy isn't afraid to look them straight in the face and tell them to F-off. She's okay with putting mean and hateful people in their place, especially when they are being disrespectful.
3. She makes people laugh at awkward situations that happen to all of us.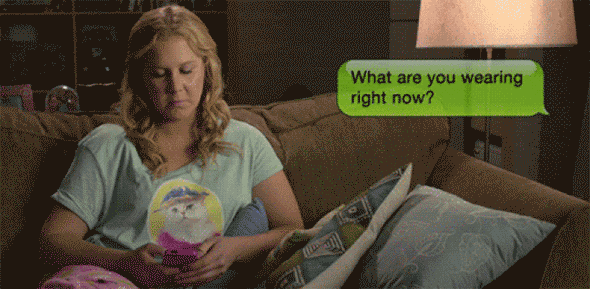 That awful text that you sent or the awkward stain on your pants? Oh yeah, you can believe that Amy has talked about it. She points out the funny and embarrassing situations that would normally turn us the shade of a tomato. There are too many times in our lives that we're going to be embarrassed or feel humiliated, and it's nice to see that sometimes we can laugh at ourselves.
4. She shows that we don't always have to be ladylike.
Are you so hungry that you just want to put your whole face into a bowl of pasta? Maybe just eat the cookie dough straight from the roll? Amy doesn't care. She's all about preaching and doing whatever or whomever makes you happy.
5. She knows that wine can help fix things.
Sometimes a nice glass of wine can help relax you after a long day, and if you want it, then go right ahead and have it. On occasion, we should give into our guilty pleasures, and Amy seems like a true advocate for that!
6. She shows that working out is not always our favorite thing to do.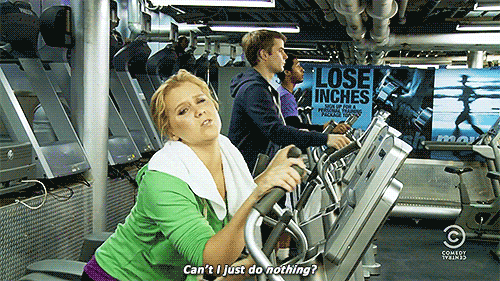 Working out is hard, but it's important to be healthy. Amy is a beautiful size 6 and isn't afraid to admit that to anyone! But spending 30 minutes on the elliptical for a few times a week? I'd rather not....
7. She expresses that we need to find beauty within ourselves.
As stated before, Amy is a beautiful size 6 and she absolutely rocks it. That woman is dripping in self confidence and it really is infectious. I mean, how else do you explain her comedic genius and being best friends with Jennifer Lawrence?
8. She's a proud feminist.
Amy Schumer definitely talks about important issues. She makes people laugh, but then she makes people think. Not only does Amy understand women, she also understands men. But when people hear the word "feminist" they automatically think something negative. However, being a feminist really means equality for all and Amy is definitely an advocate.
9. She isn't afraid to talk about sex and sexuality.
There is always at least one sexual skit or topic during Inside Amy Schumer or any of her standup shows. Amy is definitely not shy or too afraid to talk about it. She talks about the double standards, and how she is perceived as "slutty" because of her interest in sex. None of us should be ashamed of sex and it should be talked about more often!
10. She's not afraid of being single
While Amy does do some skits about being in a relationship, Amy is currently single and has been for a little while. Many of her skits also talk about the importance of being strong, independent and learning to live with yourself first.