My current boyfriend and I have been official for 4 months now and have been romantic interests for about 8 months. We are best friends and he always knows how to put a smile on my face.
I decided to interview him a little bit about our relationship and he also decided to interview me as well. Enjoy the serious, sarcastic and funny answers, here's how it went down:
Questions I asked him:
1. What was your first impression of me?
"You fell from heaven, like, I've never seen such beauty. My eyes were in shock, my jaw dropped, my eyes had a little sparkle. I thought, 'I'd really like to get to know this girl better. I'd like to take her on a date.'" He was being extra nice here... *eye roll*
2. What did you think of our first date?
"It was terrible. I wanted it to be good and wanted you to really like me and you know we went to go see fireworks and didn't get to see a single one and the whole show was over. I didn't think you wanted to talk to me after that." Our first date was on 4th of July and we planned to go see fireworks. Well, we got there a little too late and missed the show, oops. It was a good attempt though.
3. Did you tell your friends about me? Why?
"Of course. I wanted to show you off. I was like, 'hey, look who I'm talking to.' I was like, 'I think she's the one.' And I also told everyone that you wrestled because that's apparently how everyone knows who you are.'"

4. What's your favorite memory that we've experienced together?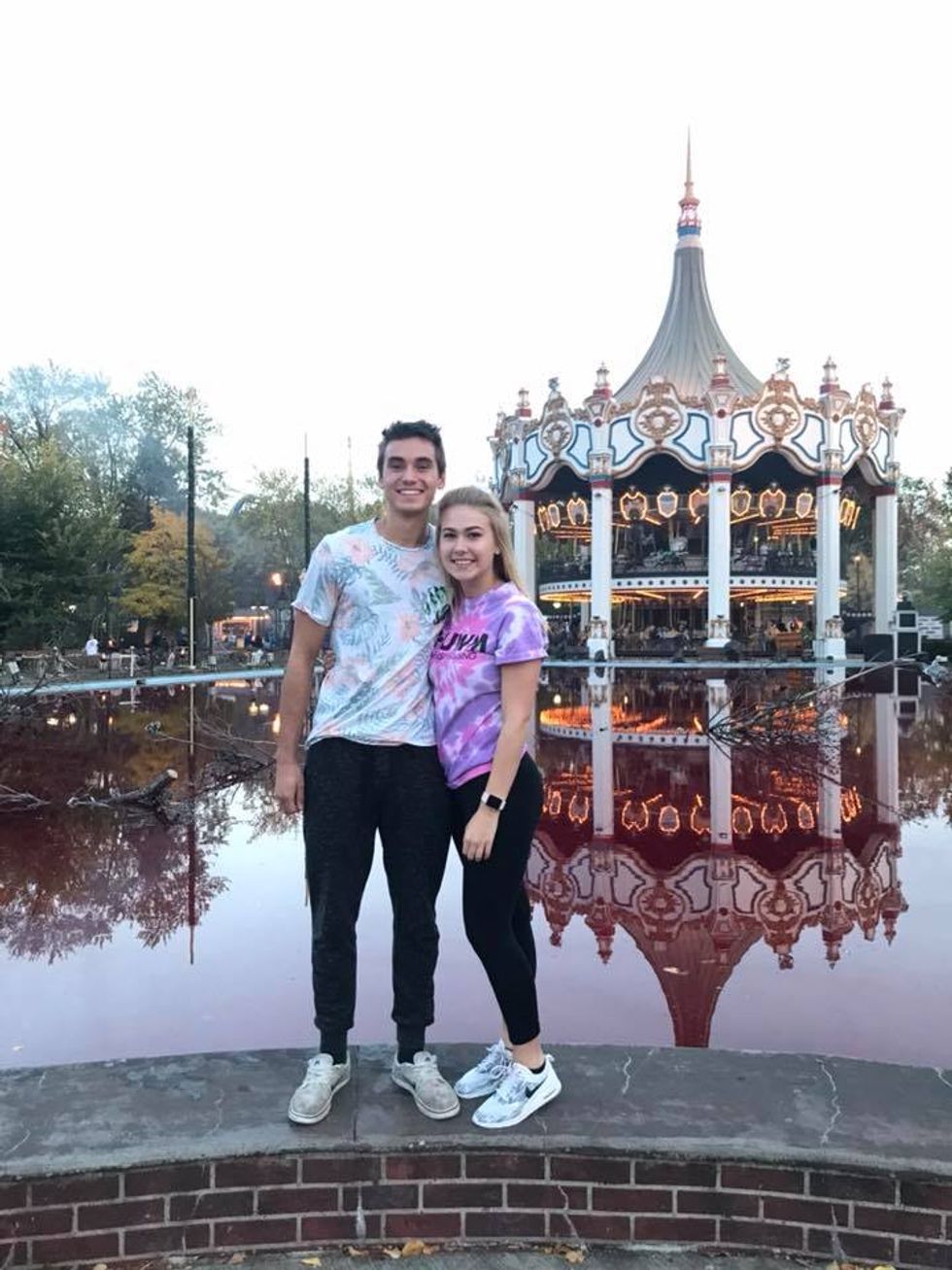 "Six Flags, I feel like that's when things really came together and we really started to connect. It was such a great night, lots of laughs and we had an amazing time and I knew you were the one." He took me to Fright Fest at Six Flags since I really wanted to go. It was so fun and actually pretty scary. We ended up getting stuck on a ride for 10 minutes and got some free flash passes! Score!
5. What's your favorite physical thing and personality trait about me?
"Your eyes, the way they sparkle and the way you look at me. And personality, you always know how to have a good time, we're always doing something exciting." My favorite physical thing about him is his eyes too, dark hair and light eyes are always a bonus in my book.
6. When did you realize you first liked me?
"I liked you from the start, but I was always planning on asking you to be my girlfriend when we went to Michigan for your step brother's wedding, when we went canoeing. But I didn't know how to." I had a gut feeling the whole time that he was going to ask me to be his girlfriend at my step brother's wedding, but that didn't happen.
7. Is there anything that you see or hear that immediately reminds you of me?
"The 1975 if I ever hear that, or LANY or whatever. Also wrestling. Sometimes when I look at peanuts, I go, 'Oh, Lexi is allergic to those...'" I totally understand the first part but the last, wow, so thoughtful...
8. If you could describe me in 3 words, what would they be?
"Thoughtful, trustworthy and gorgeous."
9. What don't you like about me?
"When you do quests on Assassin's Creed without me. Or the way you play MY video games." (I literally did ONE quest on his new game and got him three really cool items and he got mad at me for it because he wanted to do it... what a loser.)
10. What is your favorite thing that we do together?
"Either getting dinner and going to a movie or just like hanging out." I agree, just hanging out and doing nothing is one of my favorite things to do with him.
Questions he asked me:
1. What's your favorite thing to do with me?
"Go on dates, they're always a fun time and I enjoy every minute of them."
2. What did you think when you first saw me?
"I honestly thought you were one of the most attractive guys I have ever seen and you were so courteous and funny, it just made me want to get to know you better."
3. What do you think about me now after all this time?
"I think you are one of the most amazing people I have ever met, you always make me laugh and always make sure I have a smile on my face and I really like that about you. Every day just keeps getting better with you in it!"
4. What did you think of our first date?
"I thought it was great! I don't get why you thought I wouldn't have talked to you after it, it was kinda funny that we missed them. We had a really nice talk laying in the grass at the park which I thought was a good time."
5. Is there anything that you see or do that reminds you of me?
"Whenever I see your high school or someone says they're from the same city as you, I always go, 'Oh! Do you know Adam?' Also, Post Malone, Panda Express, Marcus movie theaters and of course pole vaulting."
6. What don't you like about me?
"How you never let me play your video games because you think I'm going to get you killed in them."
7. Favorite thing about me physically?
"Like I said above, your eyes!"
8. And personality wise?
"In all honesty, I think you have one of the best personalities I have ever encountered. I love it all, but I really like how funny and generous you are."
9. Why do you like me?
"Really... because you're cute, nice, funny, everything. You're so great overall."
10. Your favorite thing that we've done together?
"There's a lot, but I really enjoyed the time we went to my favorite restaurant and went ice skating after. And when we would go on all our little ice cream dates in the summer."
Even though we've been officially together for 4 months, it feels so much longer than that. He sure is one to keep after sitting here and answering and asking questions himself. Quick shout out to him for being a trooper and doing this interview with me! Hopefully he enjoyed it as much as I did!