I love dressing up and going out for Halloween but growing up, I lived in a rural area and my house never had any trick-or-treaters stop by. Nevertheless, my mom always bought a bag of candy just in case. And so started the tradition of watching all of our favorite Halloween television episodes and eating a bag of candy.
In case you aren't the social butterfly of the year, here's a list of 10 of the best Halloween television episodes from different series to watch while enjoying with your bag of candy.
1. The Suite Life of Zack and Cody "The Ghost in Suite 613" S1 Ep.19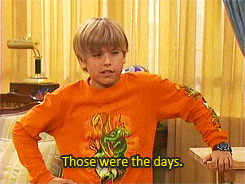 This episode is one of the most epic Halloween episodes ever. I don't care that I am now 22 years old and this show hasn't existed for the past eight years; this will always set the standard for classic Halloween fun.
2. That '70s Show "Halloween" S2 Ep.5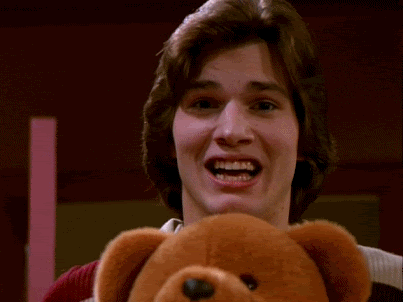 Not only is That '70s Show one of the funniest shows in general, but it also had a knack for satirically poking fun at mainstream media. This Halloween episode rips off the most famous scenes from big-name movies like Psycho using the crazy antics of the characters we love.
3. Glee "The Rocky Horror Glee Show" S2 Ep.5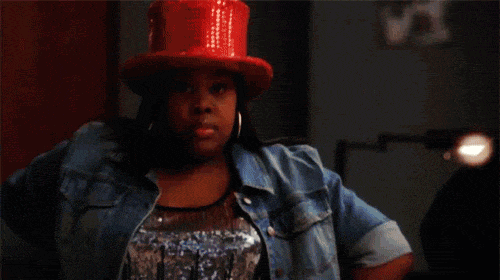 Glee isn't really a scary show, and the producers didn't necessarily try to make this a scary episode; instead, they show off one of pop culture's most famous and renowned musicals that makes Halloween fun and exciting. And Glee does it perfect contemporary justice.
4. American Horror Story "Halloween Part 1" S1 Ep.4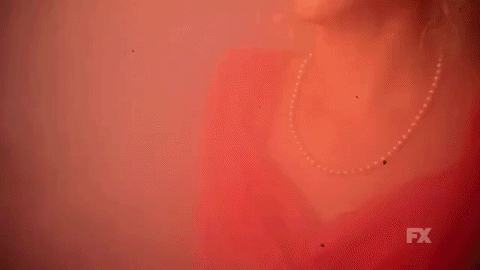 American Horror Story could really be considered an entire Halloween series. That said, this episode packs in the creepy, dead people at your door cliche for a chill that will run all the way down your spine.
5. Gossip Girl "How to Succeed in Bassness" S3 Ep.7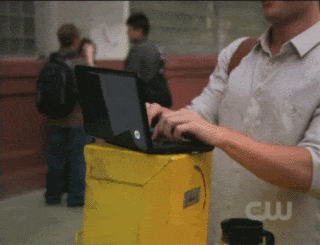 This episode will satisfy all of your costumey, mysterious desires while still giving you the scheming and deceit of upper east side teenagers. Backstabbing is rampant, although for this series' Halloween episode, thankfully, there isn't any real stabbing.
6. Pretty Little Liars "This is a Dark Ride" S3 Ep.13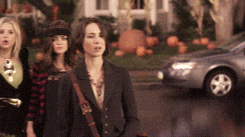 Pretty Little Liars also holds an air of Halloween and creep through the entire year, but this Halloween episode especially gives you goosebumps. From presumed dead characters and being trapped on a train to costumes galore and a special appearance by Adam Lambert in all his gothic glory, the only thing you should be scared of is missing out on this great episode!
7. King of Queens "Ticker Treat" S4 Ep.6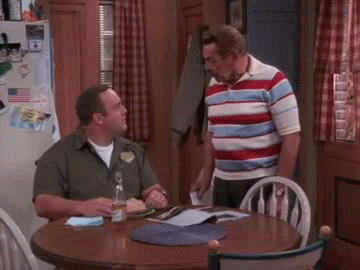 King of Queens puts Halloween back into the light-hearted and funny spirit with a hilarious battle for Halloween between Arthur and Doug that all begins with a pumpkin.


8. The Big Bang Theory "The Holographic Excitation" S6 Ep.5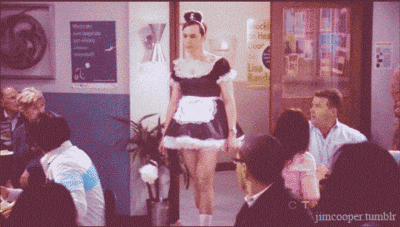 The Big Bang Theory is one of the most fun shows to watch that is still on the air, and while the characters dress up on many occasions throughout the series, the Halloween episodes turn it up a notch.
9. Brooklyn Nine-Nine "Halloween" S1 Ep.6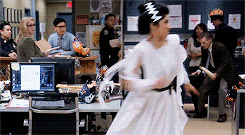 This was the first episode of Brooklyn Nine-Nine I actually enjoyed. There is something just wonderful about an entire precinct of officers competing to steal a medal in full costume while the one person that hates Halloween has to dress up for a case. The characters definitely make this episode enjoyable.
10. The Office "Halloween" S2 Ep.5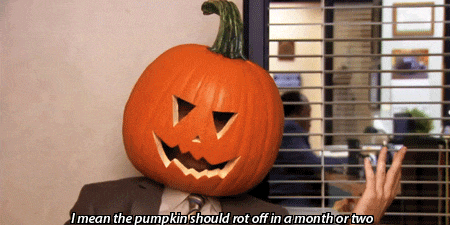 As you probably already know, The Office is one of the funniest television shows of all time, mostly because of how cringe-worthy Michael is and this Halloween themed episode is no exception.
So, grab some candy and the remote and sit back for hours of Halloween entertainment that doesn't require an itchy costume, sticky fake blood, gaudy make-up or wearing pants--and start a new tradition right in your own home!