Dear Incoming Freshmen,
Freshman year is exciting and scary all at once. One moment, you're in high school, dreaming about college life, then suddenly, you're packing the car and driving up to school to move in for your freshman year of college.
During the summer going into my freshman year, I was ecstatic! I counted down the days, made lists of what to bring, and continuously watched "Pitch Perfect" to imagine college life. But something "Pitch Perfect" didn't show was college life with an RA. Let me share how my friendship evolved between my RA and me throughout my freshman year.
I remember when I got the email from my RA: I was so excited. Not only did I want to eventually become an RA, but I wanted to know who I could look up to and rely on. Plus, I wanted to make friends with her--we were going to be in the same hallway anyway--and as it turned out, my room was on the other side of her wall, so it made sense to be my typical social butterfly self and become acquaintances with her.
During the rest of the summer, I would text her and ask random questions about dorm life and various ways I could get involved. On move-in day, my roommate and I went to go introduce ourselves. Boy, was I nervous! It was a very random, out-of-the-blue introduction just so she could put my name to a face. Throughout Welcome Week, we had gotten to know each other a little better; we became not quite friends, but better acquaintances.
One day during the first week of classes, we both had a rough day, so we decided to get some comfort food for dinner, then go watch "The Fault in our Stars" to make the day turn around. That night, we spent about two hours in the multi-purpose room talking and getting to know one another better. She invited me to church and gave me her very first bible. This was the birth of our friendship.
As the year progressed, our friendship grew and grew. We attended church every Sunday and some Wednesdays, had movie dates, and would go running together. We were so close that we developed inside jokes and had conversations that were solely goofy faces. She taught me several important things about faith and friendship, but one of the things I will never forget that I learned (the hard way, might I add) from her is that there is no possible way for me to run a full-length marathon in a day with zero training. She completed it amazingly, but after I said there were two of her, she made me go home. After that day, we became even closer than before, so close that I surprised her by adding a little POP in her day to show how much I care.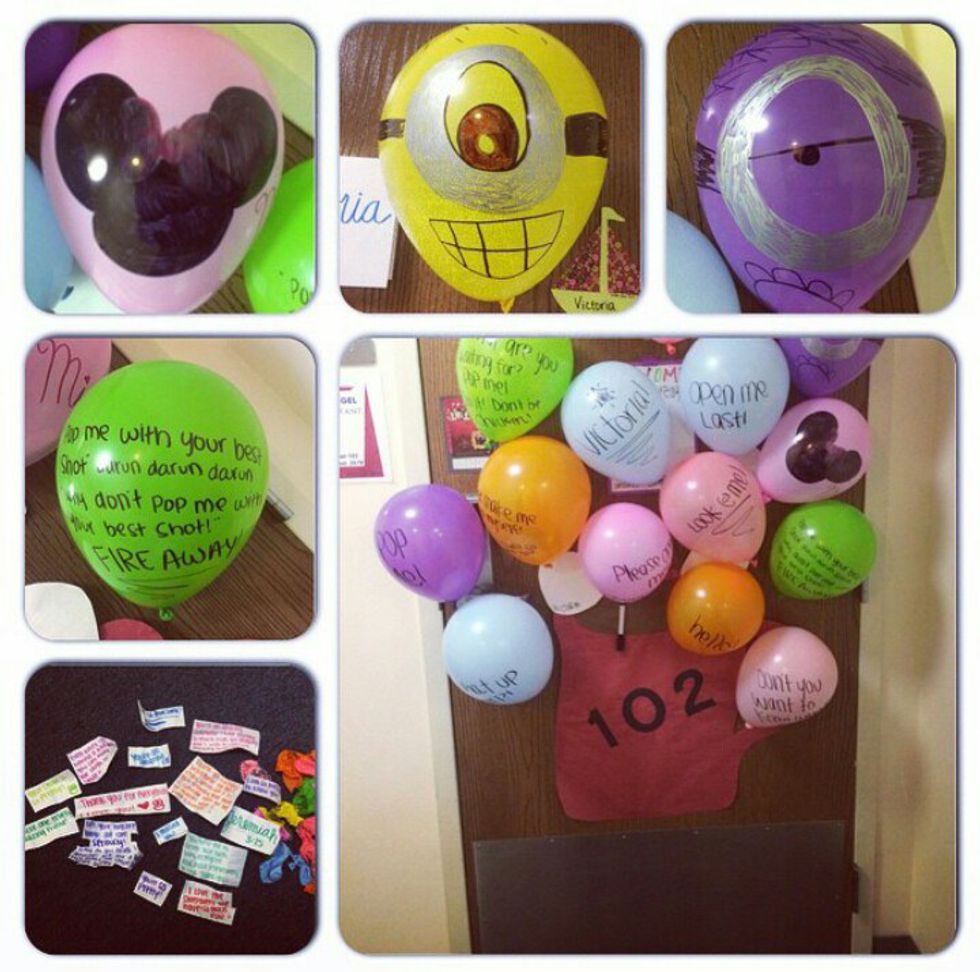 "So thankful for Syd. She surprised me with notes inside balloons last night! She tells me every day how thankful she is for me, how much I've influenced her. But girl, you've influenced me! I'm thankful for your life, your friendship, and your longing to know more about the Lord. Thank you for the surprise."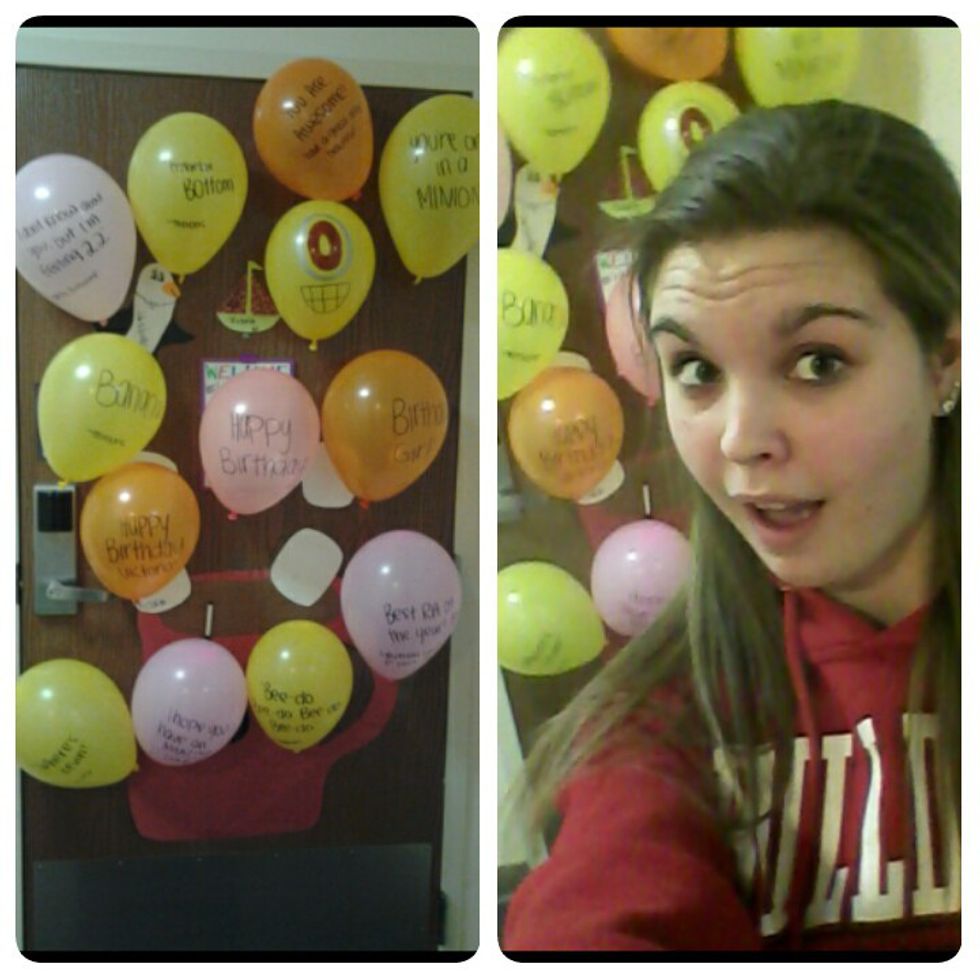 Within friendships there are ups and downs; it's inevitable. In our own way, we grew closer and stronger. After befriending my RA, I was inspired even more than before to apply to become one. She was always there for me on good days, bad days, or any other day. She would always lend a hand, give a shoulder to cry on, and offer advice, especially if I needed to hear it. Her role to me wasn't just as my RA, she's also one of my friends and my shepherd. She could tell when there was something wrong and would get me to talk; plus, I knew if I didn't say what was wrong, it wouldn't turn out too great. She had a way of making me feel better, simply by knowing she was there for me, and a hug after we talked made everything better.
As I was going through RA interviews, she would let me help decorate the hallway and make bulletin boards with her, and even help her set up programs. It was kind of like an internship for RAs, but it was just between us. I knew I wanted to be an RA, even after a prank she pulled on me before the confirmation email came out. (She let the prank continue throughout church AND dinner--props to her for keeping a straight face--but it was not funny at the time. Now I look back and laugh, slightly.) Before Spring Break, I received an email saying that I was going to be an RA for the next school year.
Sure, all of this happened during my freshman year, but she is still one of my closest friends. During the summer, we try to catch up as often as we can since we are in different cities for the time being. Even though she is not my RA anymore, she will always be my Mama Screaming Eagle and I will always be her Baby Screagle.
Freshmen, remember this piece of advice: never think that the sole purpose of your RA is to get you in trouble. There's paperwork that would have to be done and they really don't feel like doing it. They want to be there for you. Use them as a resource and get to know him or her, you never know what might happen. You might end up deciding on a Tuesday afternoon to try to run a full-length marathon the next Friday, or lay in bed and watch movies all day. You'll never know unless you make the effort.
Sincerely,
Former Baby Screagle, Future RA