Gavin,
Since I leave for college in a few days, I just want you to know how much of a privilege it's been to be your big sister for the past nine years. Not that it's stopping when I leave — I'll always be your sister — but our relationship will change. Nine days after I turned 9, (so I'm not always going to be double your age, I just liked the title!) your mom — aka my step-mom — gave birth to you.
I remember being restless in Mrs. O'Connor's third-grade class. We were doing a project on landforms using poster board and egg cartons. I called my dad that morning only to find out you were born at 1:41 in the morning and my dad would pick me up at school at noon and bring me to see you.
Since my dad and your mom both got divorced and remarried early on in my life, your older sisters Kayla, Hayleigh and I have always been close. With Kayla turning 21 this year, Hayleigh getting her license and me going off to college, I know you realize there's a big age range between us.
But, this big gap has allowed me to watch you grow. While I only saw you every other week when I went to my dad's house, each visit was special. You were always learning something new. We made crafts together and I cuddled you as we watched the Fresh Beat Band. From the minute I met you, you have been my best friend.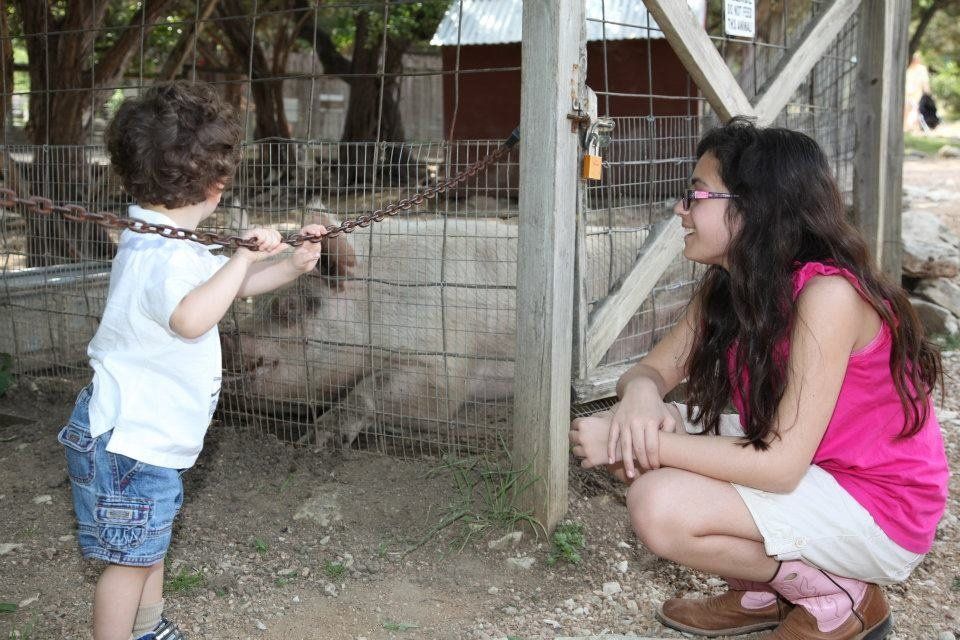 Gavin, always full of life and curiosity, and me, eager to teach him, at a farm in Texas in 2010.
As you got older, I realized you loved me too. When you were two and just learning to talk, Hayleigh and I took you sledding. When we returned, I asked Hayleigh if she wanted any hot cocoa. She did and I made it for her. When I set it down on the table, you declared that it was cocoa. We agreed. You repeatedly did this until you got frustrated and thrust a chubby finger at me, insisting that I was 'Cocoa'.
That was almost eight years ago. Now you are turning 10, and the name Cocoa is a special connection between us. I'm the only sister with a unique name. Maybe it really was just because Alexis was hard to say, but I embrace that quirk of our relationship nonetheless. I hope that even as I leave and get older, as you will too, I will always be Cocoa.
I just want you to know that I will miss you more than ever. I will miss our iMessage pool games and midday Facetimes and hearing your voice say Cocoa. I'll miss our matching socks and rounds of Yahtzee. You are more than just my brother, you are my companion, sort-of-son and supporter all in one.
Over the years, I've watched you become a person that I can have an intelligent conversation with. You have opinions and the capability to make memories you'll remember later in life and I enjoy hearing your thoughts about books, movies or television. Whenever someone mentions your name around me, I'm told my face lights up. Some of my best memories are with you, and your birth instantly changed my life for the better.
On our annual trip to Lavalette, Gavin and I played mini golf together in 2016.
I imagine it's how mothers feel on a smaller scale. I try every day to teach you right from wrong. When I remind you to do your reading and practice division, it's so you're successful in whatever you do. In some ways, I feel almost responsible for you. It's not that your mommy and daddy aren't capable, I just naturally fell into the role. I've never had a relationship like this with Hayleigh or Kayla, which is because we're so close in age. You are someone I both look after and admire and I want you to have the best life possible.
You are one of the most special people I know. Not many people can juggle, or teach themselves like you can. Not many people can hear a word once and use it correctly in context forever. Overall, thank you for showing me unconditional love is possible, and showing me I deserve love. The fact that you tell everyone you know I'm going to Marist because you're proud of me makes me smile every day, and I will continue to make you proud.
From birthday bonding to our inside jokes, I want you to remember that in our case, age doesn't matter. We may have a different relationship than other siblings, but it allows me to love you even more. You will do amazing in fourth grade and I can't wait to see you whenever I come home.
Love,
Cocoa