I'm writing this at 11:42 p.m. on December 31st, 2016.
Not shockingly at all, but New Year's blindsided me, as did Christmas (which I rushed to throw together once the semester ended), as did Thanksgiving (which was pitifully celebrated by three people around a slightly pink turkey at 8:00 in the evening whilst I alternated between editing papers & mashing potatoes).
I'm not upset about this though because I've never been one for New Year's, as it is primarily a drinking/staying up late holiday (neither of which I am fond of). However, after reading a few lengthy Facebook posts of friends and being sucked into participating in the Instagram #bestnine2016, I started--inevitably--reflecting on my year.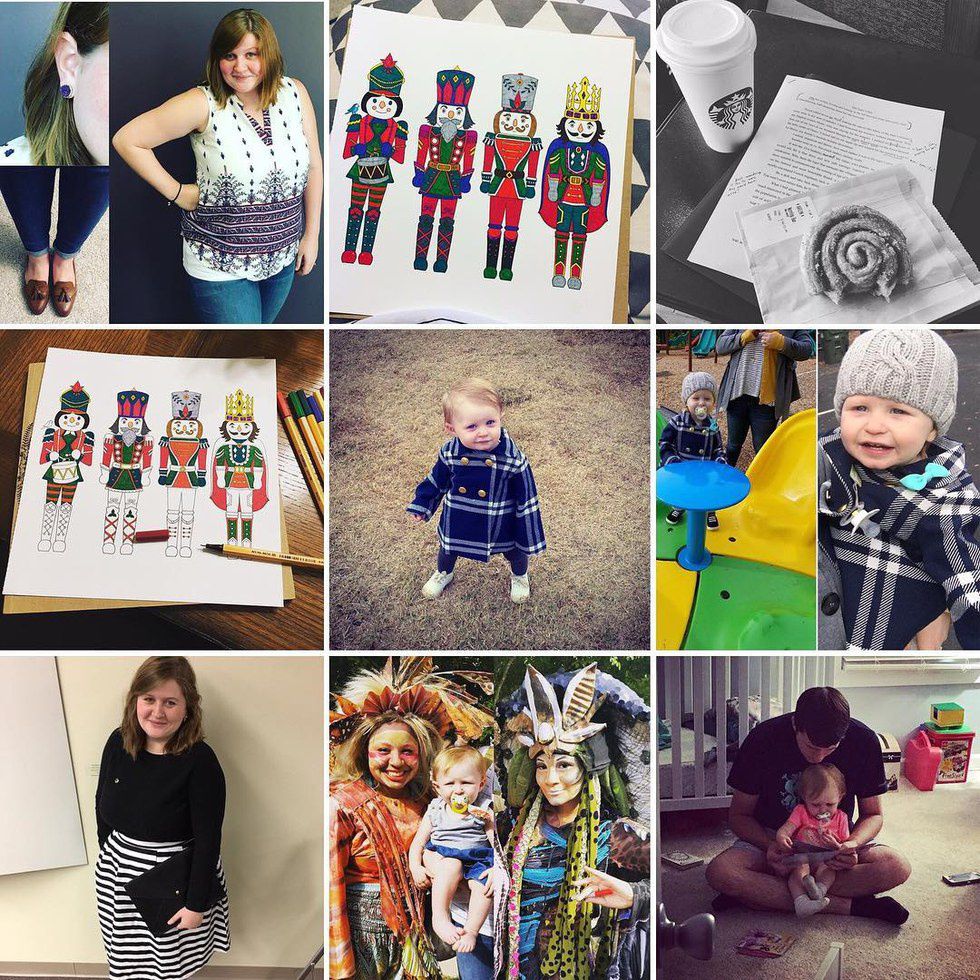 Follow me on Instagram!
The highlights of my year (chronologically) were:
+ Starting writing for Odyssey--Happy one year to me (though I took a brief sabbatical in the summer to prepare for my thesis).
+ My one year anniversary of marriage and our honeymoon do-over (read all about it here).
+ Turning 21--though again not a huge drinker.
+ My six year anniversary with my now husband.
+ Becoming president of Brenau's chapter of Sigma Tau Delta & simultaneously seeing two of my best friends graduate/abdicate.
+ Helping publish The Elixir's 2015-16 edition.
+ Completing spring semester and my first year as a college mom.
+ Moving into our renovated apartment situation (read all about it here).
+ Becoming The Elixir's new editor in chief & creating our new website.
+ While I was on a wordpress kick, I also started my own blog.
+ Welcoming my daughter's first cousin into the world--on my husband's birthday no less (which just happens to be the same day as Harry Potter's & J.K. Rowling's).
+ I celebrated my daughter turning one year old...excuse me while I go cry in a corner...(check out her super awesome pineapple/flamingo party here).
+ I started my own Happiness Project modeled after the book by Grethen Rubin, which is a monthly set of goals/resolutions designed to improve--you guessed it!--my happiness (read all about it here).
+ I started my senior year of college.
+ I committed to going to Cambridge University for a 4 week summer semester (read all about it here).
+ I founded an online support group for mothers/students at Brenau (click here to check it out).
+ My blog welcomed its first guest writer: Becca Jean the Hiccup Queen.
+ I found out that the roundtable proposal on digital writing for Brenau & UNG's chapter of Sigma Tau Delta had been accepted to present at the national convention this coming March.
+ I edited & published a Southern Literature magazine (alongside my colleagues) and it was inducted into the rare books room at Brenau as the inaugural issue of Dr. Dobkins' collection.
+ I completed my first creative thesis (special circumstances have dictated that I do two) and received an A with an honorary plus. Look for the short stories on my blog!
+ I bought my matron of honor dress for my best friend's wedding.
+ I WON a scholarship from Sigma Tau Delta for $1,000 towards my Cambridge trip (read my scholarship essay here).
Of course there were some low-points, like my creative nonfiction paper for the Sigma Tau Delta convention being rejected (which incidentally is about my honeymoon do-over), but overall it was a great year.
Things I'm hoping for the new year are to get through another semester with As & Bs, see my blog get some more traffic, raise enough funds to go to Cambridge, celebrate two more anniversaries and three more family birthdays, successfully participate on the roundtable, publish a new edition of The Elixir, find an internship for my last semester, GRADUATE with a B.A. in English, and figure out what the hell I'm going to do after that.