SoundCloud sensation and XXL's 2017 Freshman class rapper XXXTENTACION has tragically passed away on Monday, June 18th at age 20, after a fatal shooting in Pompano Beach, Florida.
Both his life and death has struck a huge controversy in the rap community. Individuals have questioned and will continue to question whether to stick by the rapper's decisions regarding violence and aggression toward his significant others and even, his own fan base. As any other human can be forgiven for their sins, actions and injustices, I call my audience to exonerate the rapper of any preceding hostility due to the reasoning below. Hear me out.
I firmly believe XXXTENTACION was a severely misunderstood person as the media portrayed him in a mainly negative light, vigorously focusing on his injurious actions as a result of his crippling mental disorders. A mental disorder is a thick fog and plague to your complete perspective on life. I want my readers to comprehend how hard it is to explain what is going on in your head when you don't even understand it yourself. We must support each other by helping overcome our demons together and consequently, break the stigma regarding mental health.
XXXTENTACION's music, lyrics, and overall persona has brought mental health awareness to the attention of the rap community along with other rappers such as Kid Cudi, Lil Peep, and Kanye West. The rapper has suffered from multiple mental disorders including severe depression, anxiety, self harm, and anger issues. In a culture where attitudes are notoriously bitter and carefree about life, XXXTENTACION's approach to his obscure appearance changes and passionate yet pain-induced lyrics showed his audience that he was battling his own issues within his own mindset. As a person with an anxiety disorder, his words gave me, and other fans, hope that it's okay to not be okay. We live in a society where showing emotions of sadness are considered a "weakness." XXXTENTACION revealed through his words that you don't need to hide your emotions, be proud of how you feel, and use that energy to put it in a positive outlet, which for him was his music. Songs such as HOPE, RIOT, I spoke to the devil in Miami he said everything would be fine, I don't wanna do this anymore, and Snow are all exemplifications of his idyllic touch of turning woe into wow and demons into optimism. I felt that X.
His last Snapchat two hours before his death expressed, "planning a charity event for this weekend Florida!" Unlike many other rappers, X hasn't gotten caught up in the glory of his fame. His humble and meek demeanor was demonstrated through his effort to give back to his hometown neighboring communities by donating $20,000 cash, clothes, PS4's, shoes, socks to foster care programs around South Florida. He has also donated money to domestic abuse programs, and dedicated his song HOPE to the victims of the Parkland shooting back in February to show his remorse and expression of anti-gun violence in America.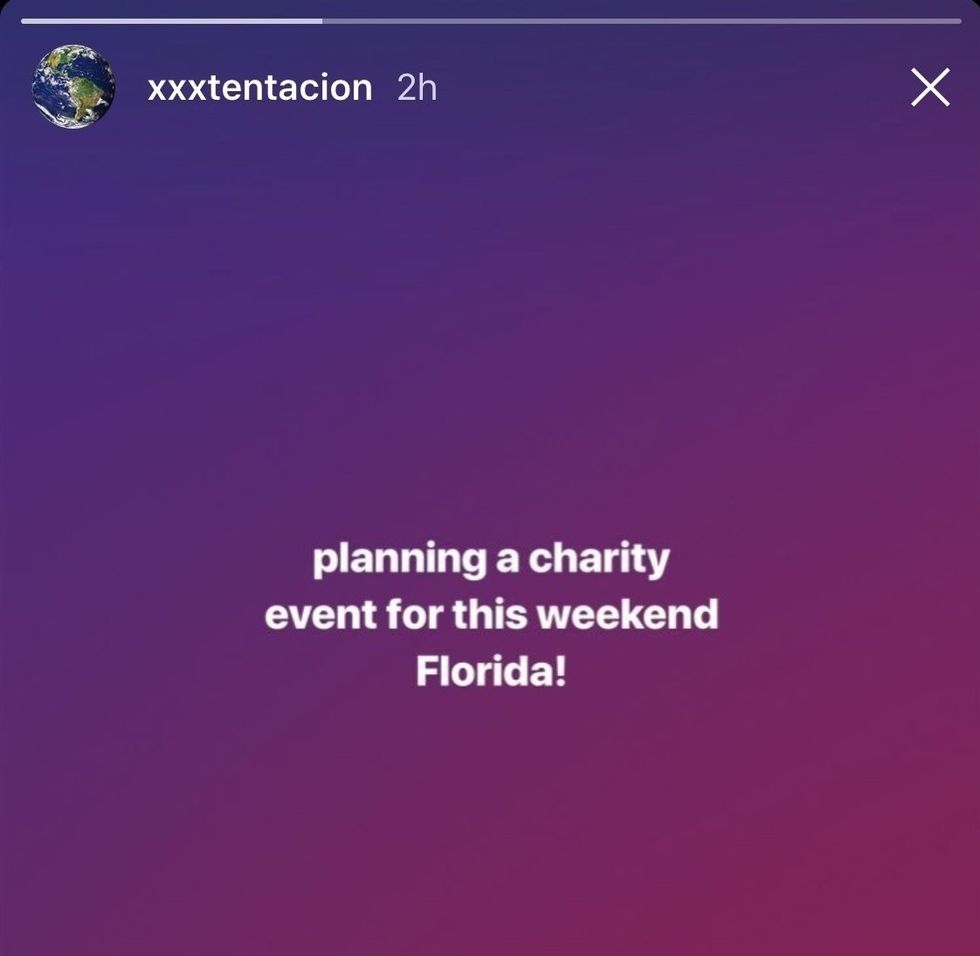 XXXTENTACION: Snapchat
Fan of him or not, we should never wish this tragedy upon anyone and try to understand the creator behind creativity. Period.
X, I wanted to see everything you could've created for the future.
Rest peacefully, to one of the most misconceived rappers in the game.
Related Articles Around the Web