As many of us know, Taylor Swift graced Austin, Texas Saturday night with her only performance of 2016. I came to my senses a couple of weeks ago, and realized there was no way I could miss the 2016 premiere of T-Swift, and me and 80,000 of my closest friends had a magical night.
Taylor opened her show, which happened to be on the 4-year anniversary of the release of her album Red, with New Romantics and then greeted the crowd. She told everyone she was a little sick, because "you play one show in a year and you get one cold the same week. That's how life works." But sickness clearly did not phase her. She broke out into 22, Blank Space, I Knew You Were Trouble, and Style, before she took a minute to grab her guitar and reflect on her journey the past 10 years. She described turning fifteen as year of her life when she learned the most, and by the time she played the first few chords on the guitar, I had already teared up.
My second favorite moment of the night was her mash up of We Are Never Getting Back Together and Bad Blood. I literally did not think either song could get any fiercer, but as she walked up and down the stage in her black sparkly romper, black boots, and black choker, I realized I was mistaken.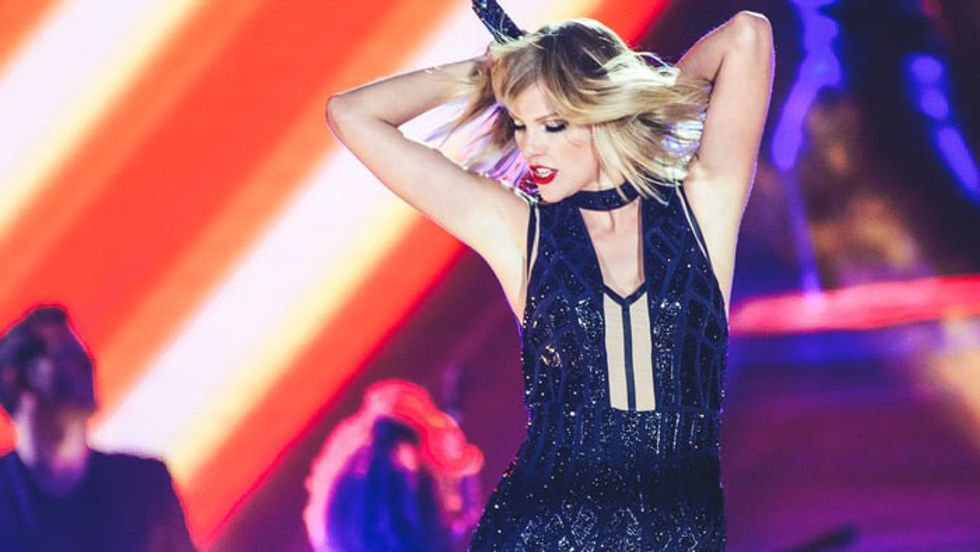 My absolute favorite moment of the entire evening came when Taylor sat down at her white bedazzled piano. She talked about how the best part of being a songwriter was writing a song and then performing it and hearing people sing it with you. She went on to say that she had never performed this song live before, but she had written it and wanted the crowd to sing it with her. In TSwift fashion, she smirked and broke into This is What You Came For. For those of you who might not be familiar with the drama behind this number, the song was made popular by Taylor's ex-boyfriend Calvin Harris. While they were together she said she had never collaborated with him, but a month after they broke up it came to light that Swift had, in fact, written this song under a pseudonym which sent Calvin Harris into a Twitter frenzy. This shade thrown by Taylor plus the adrenaline from the Bad Blood mash up was unlike anything I had felt before.
Taylor slowed down and winded the evening down with Sparks Fly, a mashup of Enchanted/Wildest Dreams, but sped it back up with Out of the Woods before finishing with Shake it Off, complete with a fireworks display.
I really felt like the crowd got to see a different side of Taylor at this concert. Since she was not touring a specific album, she was able to add some songs to her set list that she might not normally play. It was a very relaxed and simple set, without outfit changes or backup dancers. It was evident to anyone in the crowd that Taylor was just having a good time, playing some of her favorite songs and enjoyed getting back on the stage.