Just two short weeks ago, I wrote an article about how to find and rock the perfect lipstick. This week, I've decided to put my money where my mouth is...or more specifically, my lips. I have three jars full of lipstick in colors that range from "almost exactly the same color as my lips" to "like if TARDIS blue had slight violet undertones." So this week, I put a few of them to the test—focusing on shades I had never worn in public before because I was terrified of them. All I ask is that you don't let my barely average lipstick applying and picture taking skills color your impression of me.

Day 1 – "She Bad"

So you're probably looking at this one and thinking "She was afraid of that? I would have thought this was what she was referring to by 'almost exactly the same color as my lips.'" Well, in my defense, the color changed a bit as it dried. When it started out, it was pretty much the color of my skin, only with a gentle yellow tint. I've always been told that dark colors washed me out, but without anything else on my face, this color made me look positively ghostly. I took a little extra time that morning to contour the crease in my eyes and add a little bronzer. Luckily, this taught me early in the week that the lipstick look is about more than just the lips. If something about a lip color freaks you out, Google it. I just looked up "how to style a ______ lip," and the internet did the rest! Just about an hour after leaving the comfort of my room, this lip color had become a little more pink and a little less yellow, and I was left looking like I'd done nothing out of the ordinary that day.
By the way, three of the five shades (four if you count a lip liner) I wore this week are from Colourpop—a brand I highly recommend for lipstick lovers of all levels. Their colors are really well pigmented, they have tons of options, they're sold at an affordable price, and their mattes, as well as most of their other finishes, are surprisingly long-lasting! (I promise this is not a sponsored article.)
Get "She Bad" on the Colourpop website for $5.
Day 2 – "Bossy"

Something that has always terrified me is the bold red lip. It's a classic. If you wear lipstick and you've never tried red, what are you even doing? The reason I think it terrified me so much, though, is because 1) I wasn't being honest with myself, and 2) I didn't realize that "red" wasn't just "red." For years, I have thought of myself as an autumn, loving the idea of wearing rich, warm colors day in and day out. What I realized, though, is that I had convinced myself of a lie. I'm a winter, through and through. I have dark brown hair (though my ends are currently lighter), which is in high contrast with my pale, pale skin—think Boo Radley pale—and blue eyes. I'm made for jewel tones. So, while there is a perfect red lipstick for everyone, not all reds are created equal. I figured out that I needed a blue-red, and shortly after found "Bossy," but hadn't worn it yet. This week, I broke it out. I felt like Taylor Swift all day long, hence this particular style of picture.
This was also the first day that my hard work (all two days of it) was recognized. A supervisor noted that I was killin' the lipstick game (I'm paraphrasing a bit), and I suddenly felt like I could totally do this.
Get "Bossy" on the Colourpop website for $5.
Day 3 – "Trick," "Chopper," and "YDK"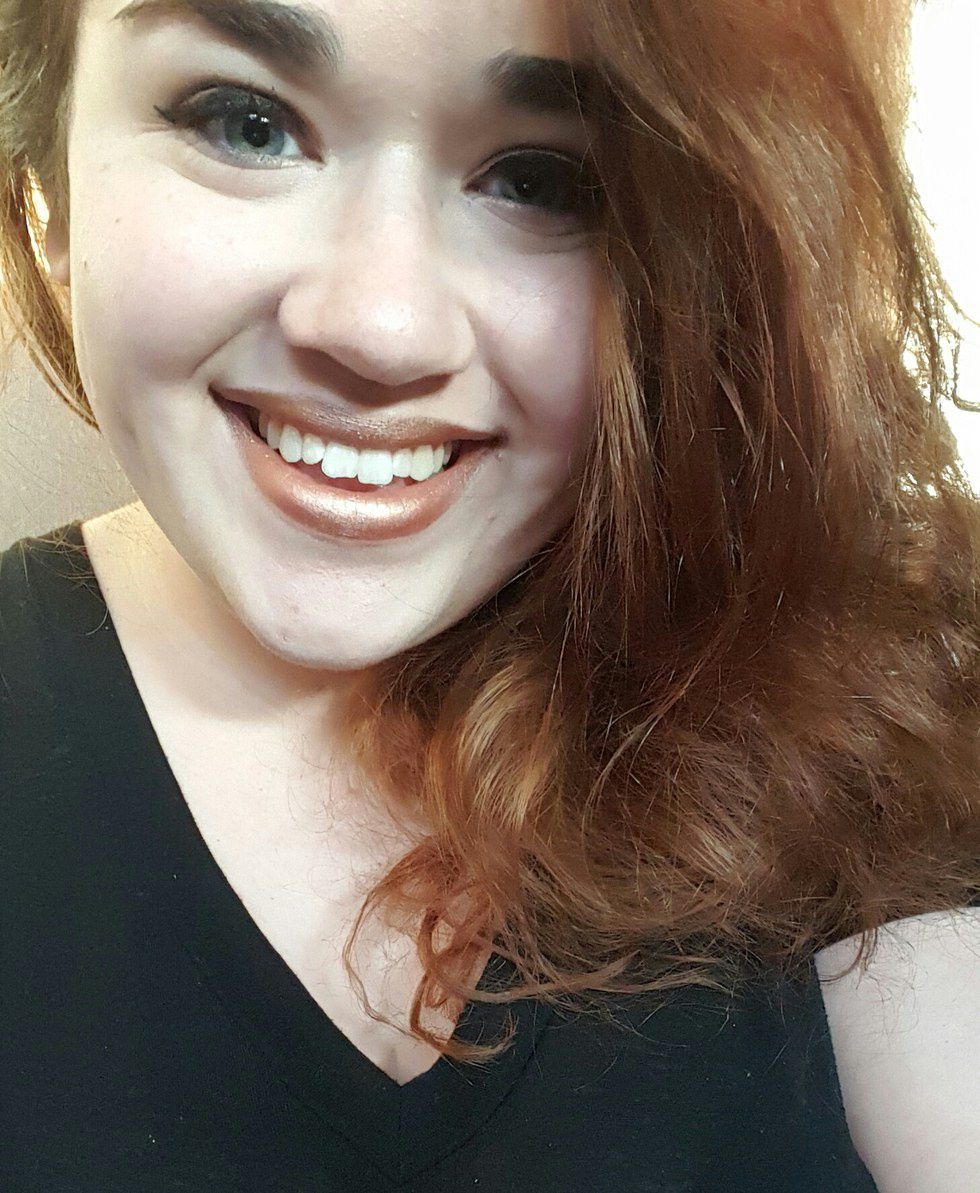 I was really torn on this day. Part of me wanted to do an ombre lip, and part of me wanted to something flashy and metallic. Clearly, I eventually settled on the metallic lip, which was weird, because I don't actually own a really bold metallic lipstick. So instead, I put on Urban Decay's "Trick," one of their Vice Lipstick shades, and layered some eyeshadow from UD's Naked2 palette over it in the shades "Chopper" and "YDK," the latter of which I mostly just used to line my lips, creating an ever so subtle ombre look, anyway. Truly, the best of both worlds.
Before leaving my room, I definitely had that thought I'd had every day of the week so far: "Should I just bail and wipe this one off?" I stuck with it, though, because that's how dedicated I am to Odyssey. And I ended up loving it. It actually wasn't that scary after a little while, and I'll almost certainly try it again. That said, I also might just wait a little while and then purchase a metallic lipstick. We'll see.
Get "Trick" for $17 at Ulta, Sephora, or on the Urban Decay Cosmetics website.
Get the Naked2 palette for $54 at Ulta, Sephora, or on the Urban Decay Cosmetics website.
Day 4 – "Climax"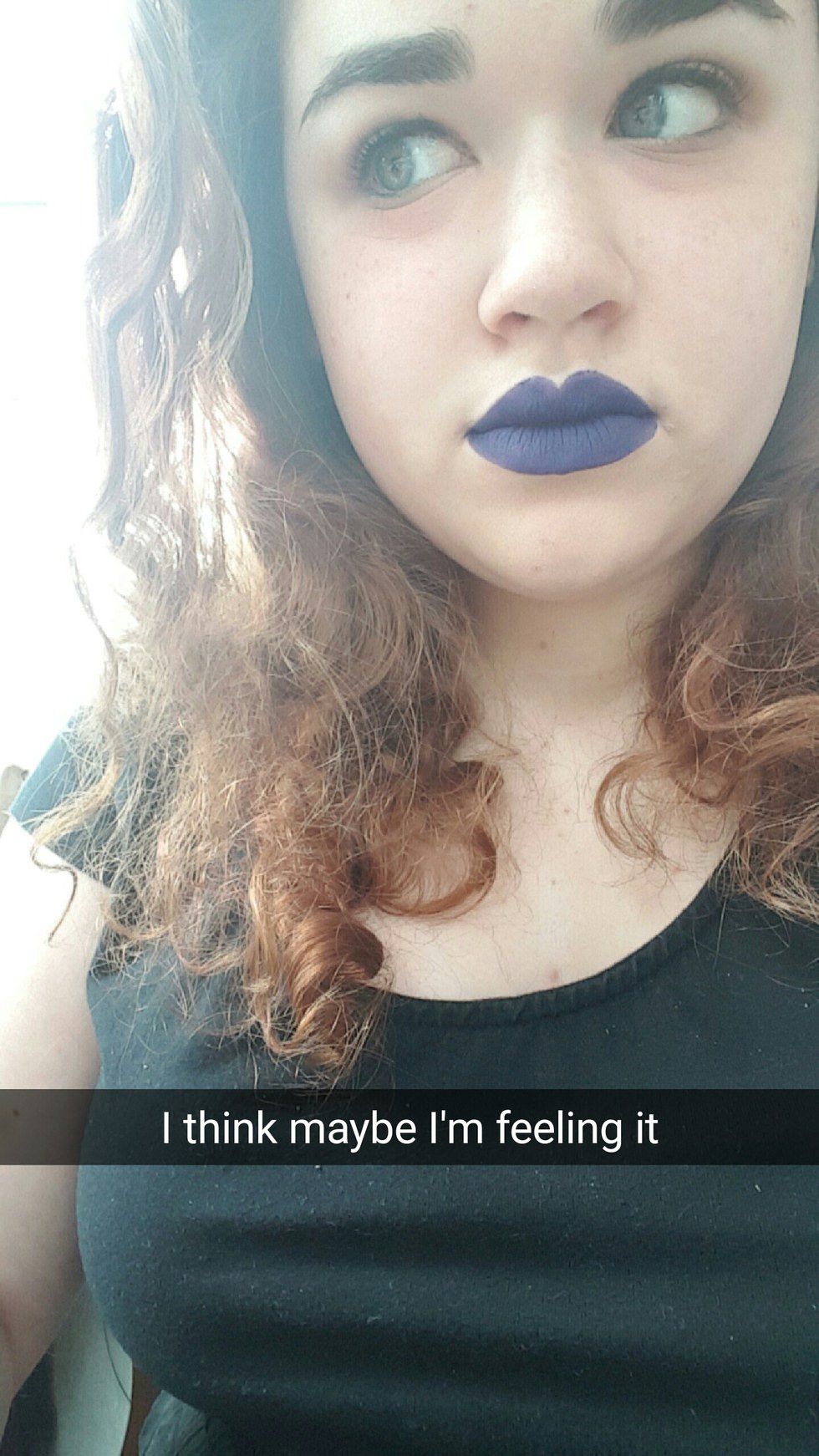 Considering how my week had been going, this lipstick was very appropriately named. There is no intended innuendo here. I just mean that, after wearing lipsticks that scared me all week, it is appropriate that the color I was probably most scared to wear is named "Climax." (It is important to note that at this point in writing my article, I went to Colourpop.com to see exactly how they described this shade and got sidetracked because they restocked and added colors in their metallic finish liquid lipsticks. I am now accepting donations.) A bold violet-blue color, "Climax" was exactly the kind of jewel tone ya girl loves, but also a darker hue that freaked her out because she felt like it would wash her out. Also on my list of worries was something I'd read in an article—that I should expect at least four crass Smurf jokes. Maybe it's just the people I associate with, but I actually didn't get a single Smurf joke all day. I did, however, spend the most time around strangers this day than any other day of the week, and it resulted in quite a few sideways looks. Ah, well, live and let live.
I also got the most comments on this particular look. Some left it at "bold," while others went on to actually compliment it. Listen, I didn't do this for the compliments, but I sure wasn't turning them away. Ultimately, I decided that I really loved this look. Later in the night, I went to see if I could purchase Kylie Jenner's "Skylie" or "Freedom" lip kits and found out that they were sold out (as they probably have been for weeks). My heart was sad, but my wallet rejoiced.
Get "Climax" on the Colourpop website for $5.
Day 5 – "Bull Chic," "Stone Fox," and "Funny Girl"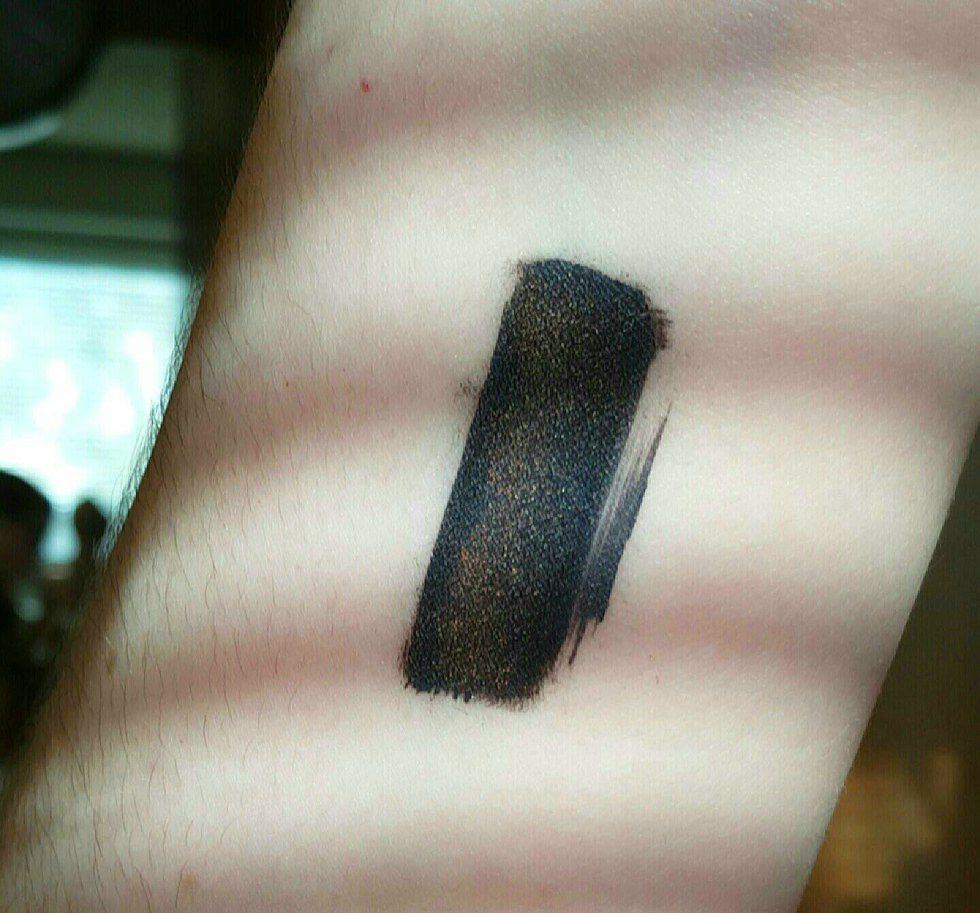 I had originally intended, for my last day, to get my hands on Kylie Jenner's "Kymajesty" or a very good dupe, but this proved to be difficult. Instead, I had to try and create a similar look all on my own. I started with a black lippie pencil from Colourpop called "Bull Chic," which I lined my lips with and then used to fill in my lips a little. I layered a Nyx Liquid Suede lipstick over that in the shade "Stone Fox," and then dusted my lips with a light gold eyeshadow called "Funny Girl" from Tarte's Tartelette 2 in Bloom palette. The end product didn't really fit the description of Kymajesty, which is apparently a blue-black with silvery glitter, but it looked like a shimmery black nonetheless, and served its purpose. The reason there is no picture of my face on this one is because I couldn't get a picture where you could really simultaneously tell that it was black with gold glitter while it was on my lips. I hope you'll forgive me.
I didn't get as many comments on this color, probably because it was just slightly less bold than the bold blue I'd been wearing the day before. That said, I did solicit a few from trusted friends (and tried to get my sister's opinion, but she never got back to me), and while the response wasn't overwhelming, it was all mostly positive. It was just before I sat down to write this article that I realized something important, though: As much as I felt the need to seek validation, even from just a few individuals, what I wanted was for people to confirm what I was already thinking—that I looked Fine with a capital "F" in a bold lip.
Get "Bull Chic" on the Colourpop website for $5.
Get "Stone Fox" at Ulta for $7.
Get the Tartelette 2 in Bloom palette at Ulta, Sephora, or on the Tarte Cosmetics website for $45.
---
So here's the moral of the story: I was right. (My mother is rolling her eyes reading this right now. Yeah, Mom, I was right about this. I love you.) Two weeks ago, when I said you should wear the colors that you think are pretty, I wasn't just saying that because I'm an advocate for self-love, although I definitely, definitely am. I was saying that because if you feel good about yourself, those happy thoughts are going to radiate right out of your beautiful face and make everyone around you fall in love. I'm not claiming that this is what happened to me, but so far, there's no evidence against my theory. When you truly believe that you look good, so does everyone else. I am now issuing a formal challenge to anyone who has always wanted to try a new fashion or style but was too afraid: just do it. If you hate it, you hate it, but if not, the only regret you'll have is not trying it sooner.