Urban Decay is famous for its NAKED palettes and this year they've come out with their best one yet! The new Ultraviolet NAKED palette will shock you. These colors are beautiful and everything we need right now. The twelve new shades create a cosmic vibe and are incredibly alluring.
This brand has always been cruelty-free from the beginning, which is exactly why I have no problem giving them a shoutout. Their NAKED eyeshadow palettes were all the hype during my undergrad years and they still are now. I can't even pick a favorite shade from all these beautiful colors, but maybe you can!
Urban Decay NAKED Ultraviolet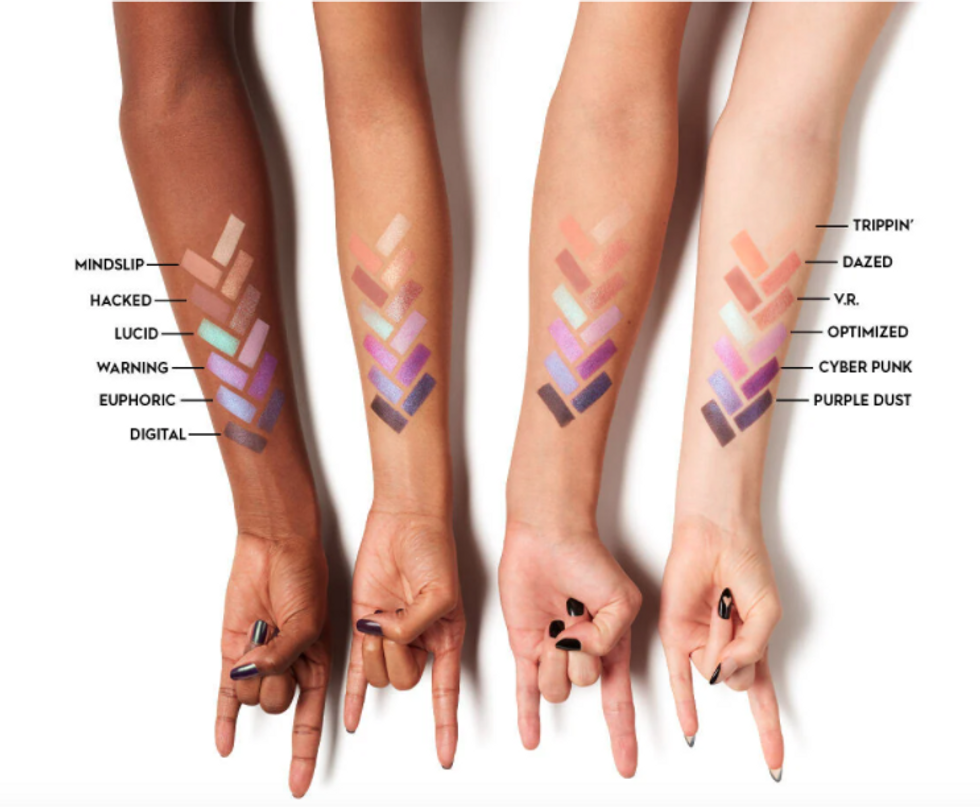 Loving these swatches of every color on every color!
Trippin'
This shade is a shimmery nude with a peach undertone and clearly Urban Decay wants us to start off trippin as we can apply it as our base.
Mind Slip
Next to Trippin' we have Mind Slip and it is a solid nude with a pinkish undertone. We are either going to be trippin with a shimmery base or we will have a mind slip with this solid nude. Either way, I'm all in.
Dazed
Try not to get so dazed, this color is like a sparkly version of Jupiter's eternal storm.
Hacked
This shade is a solid rose pink. I definitely feel hacked just looking at it.
V.R.
A shimmery deep red rose launching you into virtual reality is all we need right now.
Lucid
Such a translucent light blue or a reflective mint green. ~ Are we dreaming or awake?
Optimized
This beautiful shimmery lavender has me feeling complete!
Warning
I needed a warning before I saw this color! It's a bright sparkly fuchsia oh my god.
Cyber Punk
An electric shimmery purple giving off the ultimate cyber punk vibe.
Euphoric
This shade is an in-between from Cyber Punk and Optimized. It's a buoyant lilac for a loving goddess.
Purple Dust
Imagine a dark sparkly purple galaxy, but with extra stars. Put on some purple dust if you want to feel like you're on another planet.
Digital
Feeling digitized with this incredible shade of outer space. Getting lost in the digital.