As a comic book nerd, one of the things I enjoy is shopping for comic book merchandise and accessories. This past weekend, I found myself in the store looking for things for a last-minute event. It would have been nice if it weren't for this problem: there was nothing in the girl's section. If you're a female comic book fan (or have spoken to one), this is one problem you understand. One trip over to the boy's section and you'll find a plethora of superhero shirts, including ones for shows like "Rick and Morty", and cool graphic tees.
For years, the majority of superhero merchandise has been geared towards men. It has become the expectation of being a male interest, while leaving out a rapidly growing fanbase. In 2014, former Editor-in Chief at Marvel Comics, Alex Alonso stated "While we don't have any market research, the eyes don't lie…If you go to conventions and comic book stores, more and more female readers are emerging. They are starved for content and looking for content they can relate to."
If there is a growing fanbase, why is content and marketing not growing alongside it?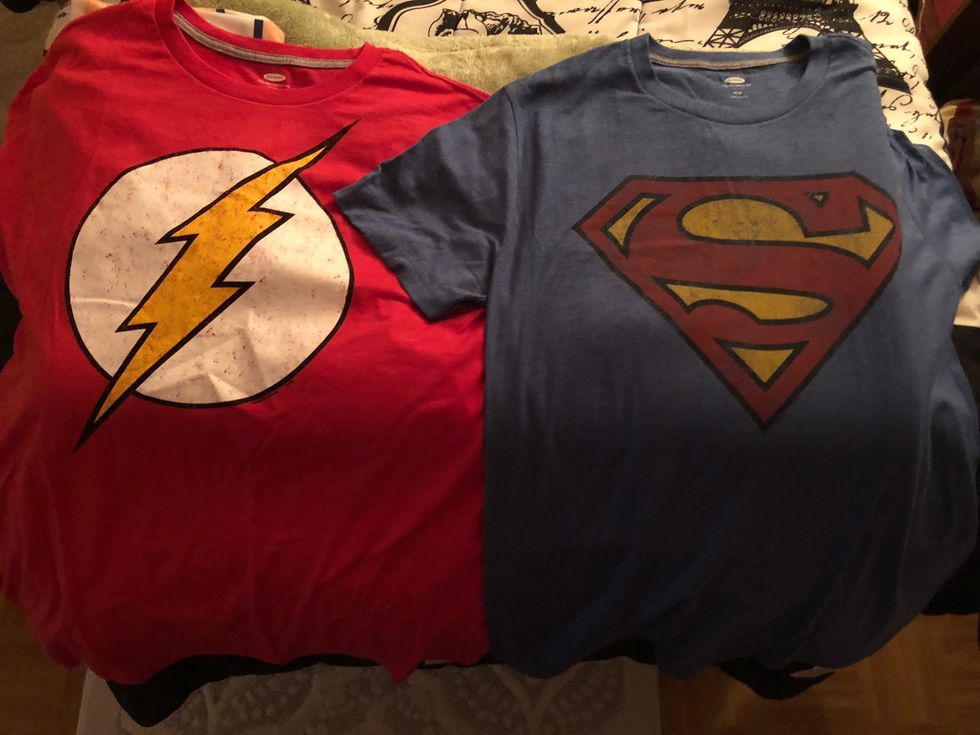 Two shirts from "in the men's section" collection Aisha Turnquist
The lack of female representation can largely be contributed to the industry itself. The majority of comic book writers, artists, and others who work toward creating the world of superheroes are males. The disparaging gap in male and female comic creators has lead to an even larger one with the number of females seen in comics and movies.

It was our voices that led to the creation and success of "Wonder Woman" (2017). It's record-breaking success has resulted in a sequel, "Wonder Woman 1984", expected to be released in 2019. The film also gave us the first female director of the DC Extended Universe with Patty Jenkins.
In her wake, DC has named two female directors of color for their upcoming films. "A Wrinkle in Time's" Ava DuVernay will become the first black woman to direct a DC Superhero movie with "New Gods". While Cathy Yan will direct the Harley Quinn film, thus becoming the first female Asian director in the DC Universe. The Marvel Cinematic Universe followed suit naming its first female director (Anna Boden) to helm the first film to star a female superhero in "Captain Marvel".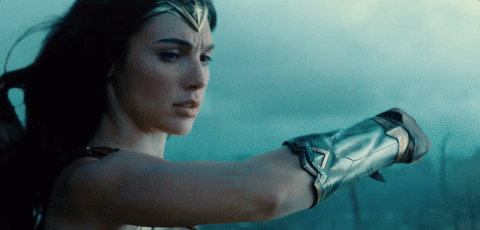 Wonder Woman (2018)Giphy
All the progress that is being made is something that's been a long time coming. It's unfair to demean the work that is currently being done, but that doesn't mean there isn't room for improvement. It's wonderful as women when we get to tell our own stories, but there should also be room for diversity. Female directors shouldn't just be isolated to directing films that feature female superheroes, but male ones as well.
During the release of Wonder Woman, I remember the amount of marketing that was directed towards woman. For the first time ever, it was easy to find superhero merchandise in the female section. Here's the thing: it shouldn't take a female-led superhero film for us to get this. We enjoy Spider-Man, Green Lantern, etc. as much as any man. We should be able to find merchandise as easily for those superheroes as we can for Black Widow or Wonder Woman. While we're on the equality track, let's not forget there are male fans who enjoy female superheroes (and not just for their clothing).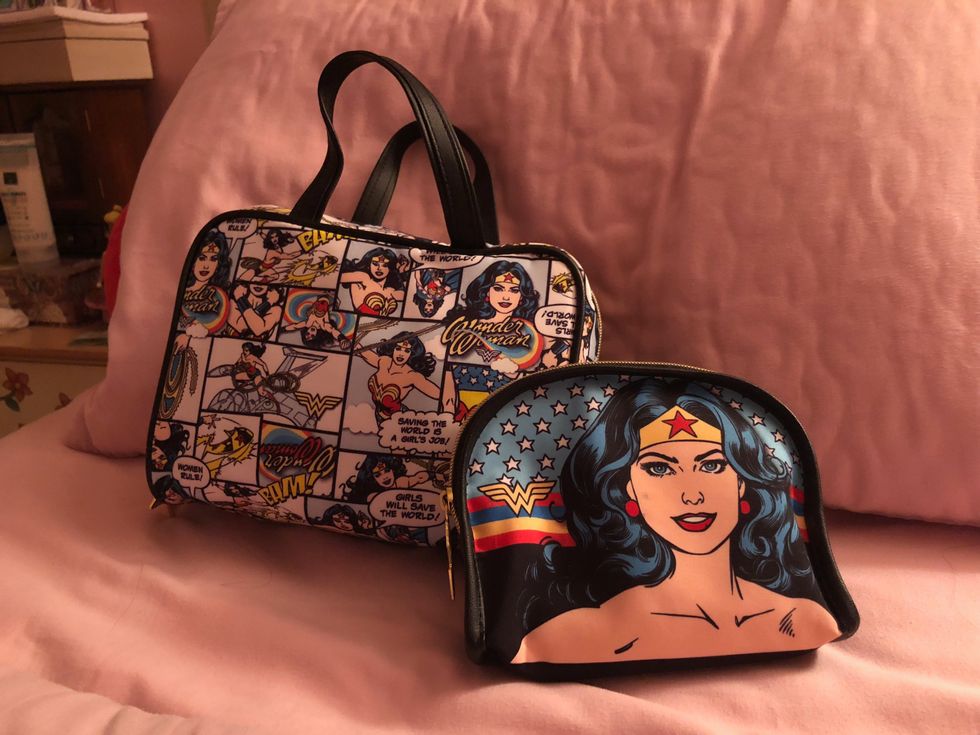 Some of my Wonder Woman merchandise during the movie promotional period Aisha Turnquist
In Marvel's "Black Panther," we were also given the chance to see examples of strong female representation. Shuri, who may be a princess, can defend herself on the battlefield, but also knows her away around the lab. Okoye and her fellow Dora Milaje proved they have equal (or maybe even greater) worth than any male on the battlefield. It is beautiful knowing that the warriors of a land who are selected to protect its people are women and not men.

The film took the chance to represent a group that is highly lacking in the comics which are black and other women of color. It's the reminder that as we strive towards feminism, we must also remember to include women of color, members of the LGBTQ+ community, and many more. The marketing for the film made it feel open to everyone of all genders. You could find merchandise in all sections of stores. It is this type of marketing for superhero films that I hope is considered more in the future.
Don't mess with Okoye Tumblr
Our continuous campaigning has also led to strong female characters not only being seen in films, but also on television. On CW's "The Flash", Iris West-Allen leads the Flash team all the while managing her own journalism career. The role portrayed by Candice Patton, is the first time the role has been played by an African-American actress. On DC's "Legends of Tomorrow", a trio (Sara Lance, Zari Tomaz, Amaya Jiwe) of three very strong women makes sure the timeline stays intact (even with a few mistakes).
The DCTV universe also features Felicity Smoak, a woman who very skilled at the keyboard and hacking; along with Caitlin Snow, a medical doctor. On shows like Marvel's "Agents of Shield", we get awesome action from characters like Daisy Johnson and Melinda May.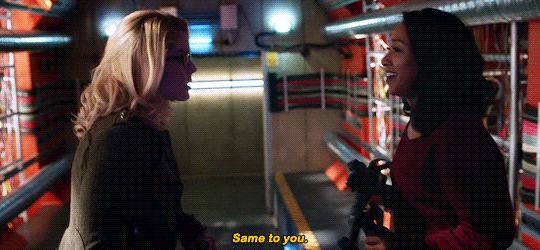 Iris West and Felicity Smoak during the 2017 DCTV Crossover Flash Blog Universe
Women consistently asking for representation has brought about more changes in comics and marketing. You can now find more shirts, jewelry, and other superhero items in the store on the women's side. Although, this sometimes comes with issues on its own. There are many of times when the t-shirt designs haven't been the best ideas. The shirts that read "I need a hero" should actually be shirts that say "I am a hero."
There was also a time when DC released a shirt that said, "Training To Be Batman's Wife." When alternatively, a shirt designed to feature Batgirl (say: "Training to Be Batgirl") would have been a better choice. The point being made here is that most women I know would prefer to be Batman, rather than his wife. By the way, I would choose to be Barry Allen's wife any day of the week, before I would marry Bruce Wayne (no, I don't want a shirt that says "Training to Be The Flash's Wife"). It would also be nice to take the time to refrain from all Superman shirts being full of glitter. I just need a plain Superman shirt, thanks.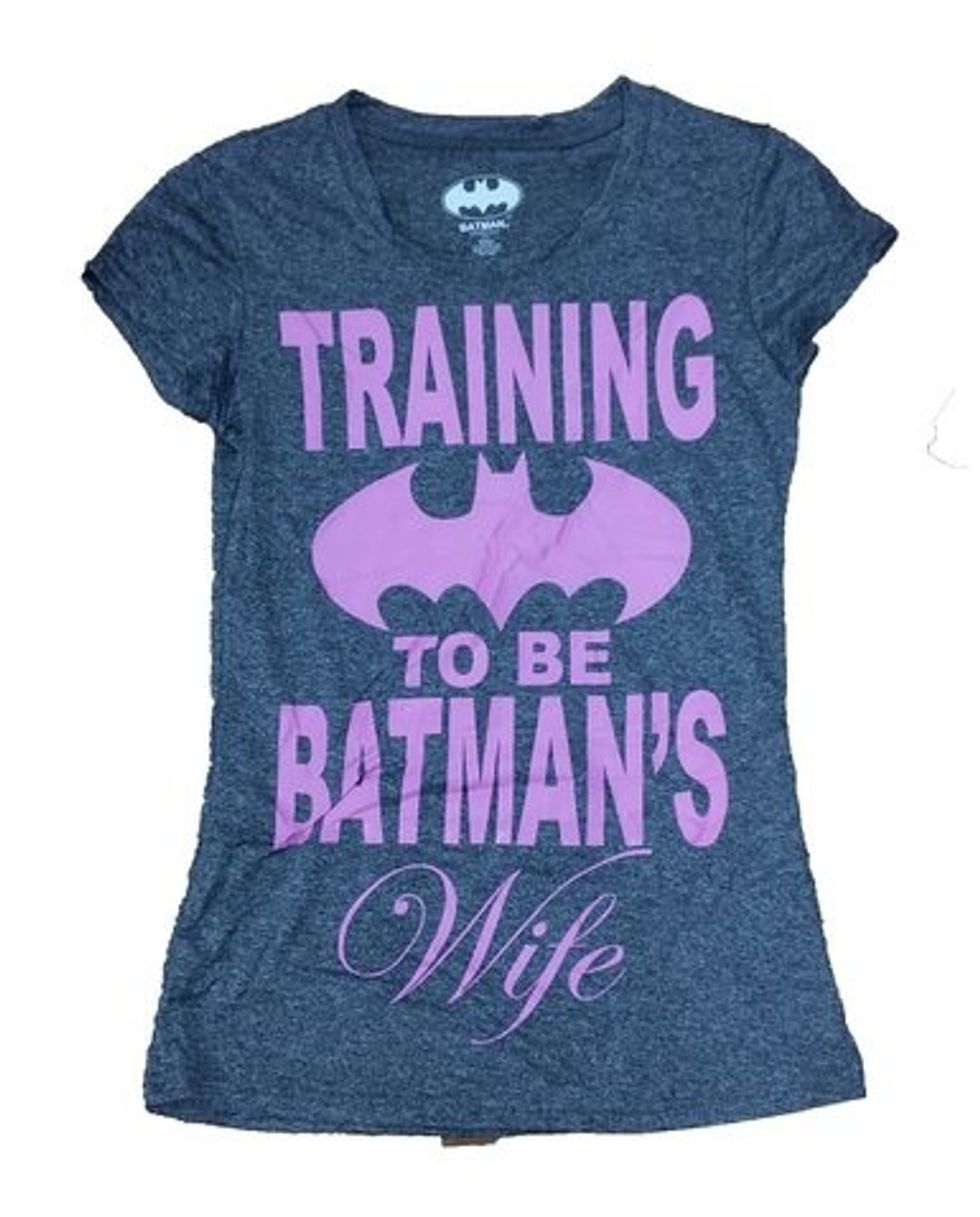 Training to Be Batman's Wife T-Shirt Walmart
Although, as time goes on we get the formation of things like DC's Super Hero Girls' Universe. The platform launched in 2015 is targeted toward young female comics fans aged 6-12. The line brought in a new era of girls to the comics as they got the chance to enjoy the stories of Wonder Woman, Supergirl, Batgirl, Harley Quinn and more.
There's something special as a young girl being able to see yourself represented on screen(or page). Even as an adult, it's a heart-warming feeling that manages to always inspire you. It's a reminder that the work we're doing is well worth it. The next generation will benefit from this and be able to create more than we currently have. It's also important not to forget that we're not doing it alone. We have each other and males that also support the idea of more representation of women in the comic book world.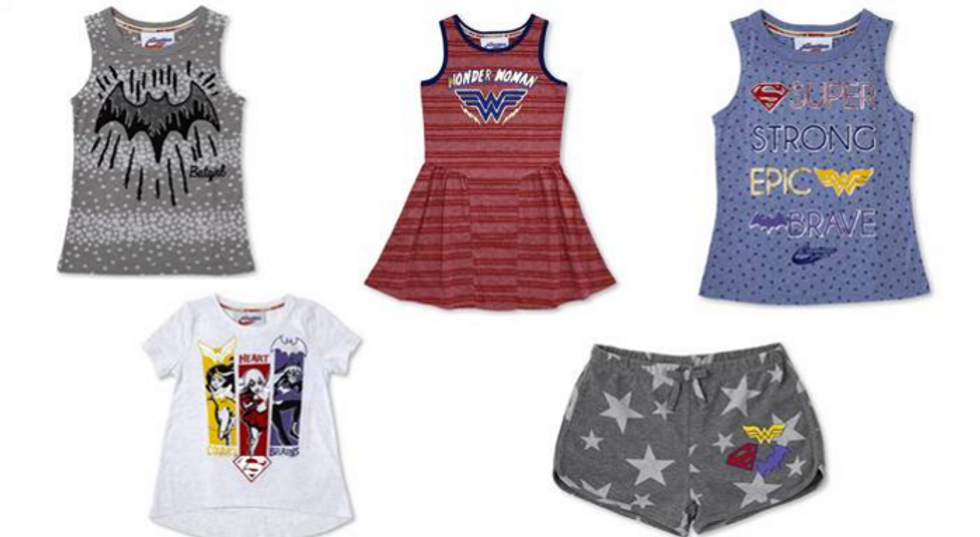 DC Young Girls Merchandise Target
It's the success of many of these female characters that puts an end to the excuse that females don't sell. It brings to the forefront a larger issue that is at hand. Women are not seen in this genre not because they don't sell, but rather due to a lack of interest. Most creators (which are male) have representations of themselves.

If the females are seen, they are often displayed as anti-heroes or drawn scantly-clad in the way of pleasing the heterosexual male consumer. It would be a fool that wouldn't want representation of themselves (that's what this whole thing is about), but you can't fail to forget about others. It's not to say they aren't male creators who care about female characters, but more work needs to be shown that there is a love for females in this genre.
There is a primary fear that if marketing changes, the traditional male fanbase will lose interest. Jeanine Schaefer, an editor of female X-men, has mentioned in the past that this is not the case and that people are just interested in stories. This is the reason it's not just enough to ask for representation, but to encourage and support women in the industry.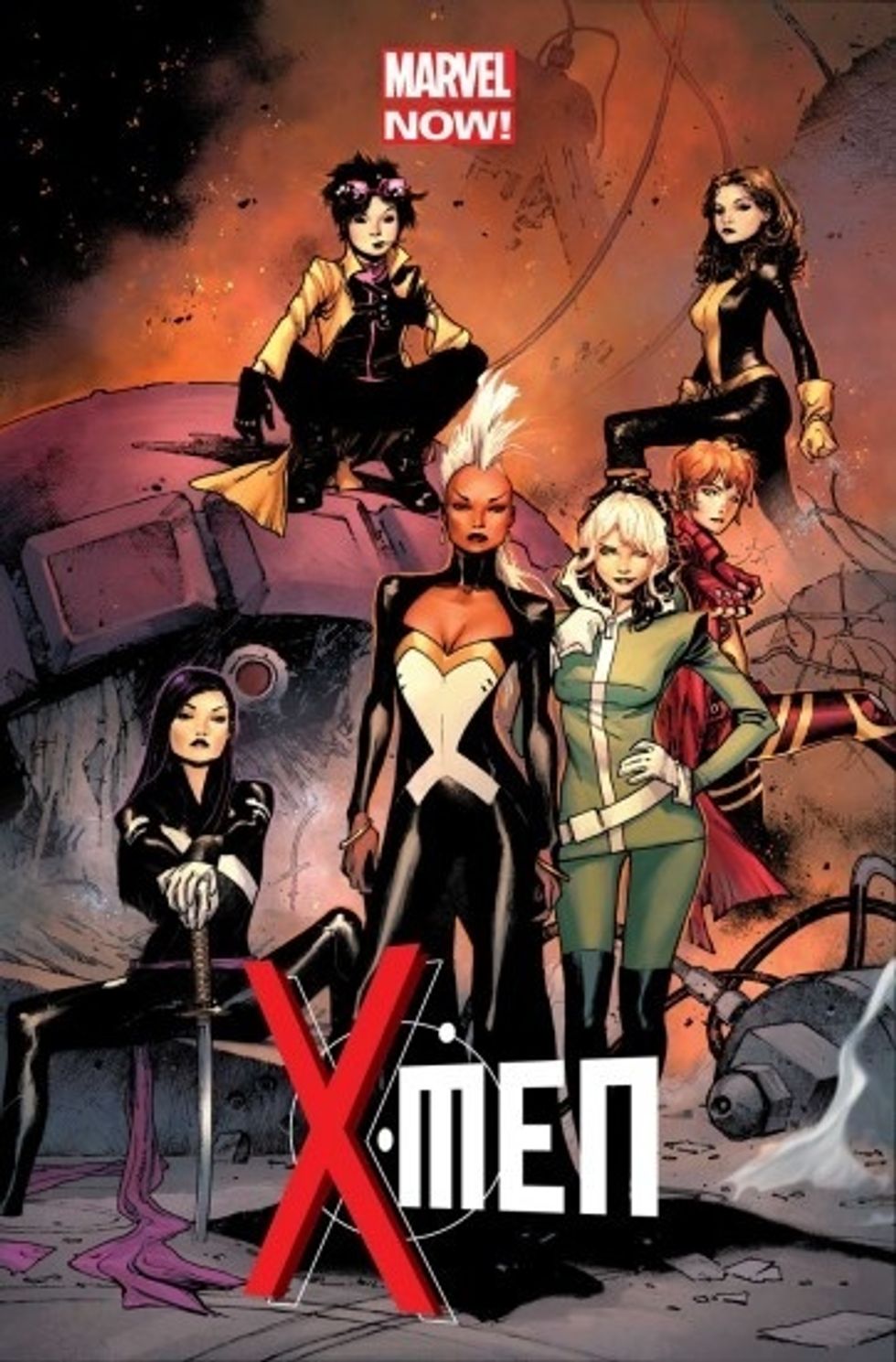 Comics Cover feat. female X-Men Marvel's X-Men
The more women (of all races and idenities) becomes apart of the comics industry, the more our stories are told and at better quality. We, as adult female fans, must continue to campaign for things we want to see. If you're a young woman who wants to pursue a career in the comics industry, we'll be right behind you. It's why it's also important to support the issues that feature female artists and characters.

This support is not only for those in the industry, but also extends to the community. If you can't find the right merchandise in store, find it online. Her Universe is the ultimate fangirl heaven. The shop created by Ashley Eckstein, prides itself on having "fashion for every fangirl". Each year at Comic-Con, the shop also hosts its own fashion show, The Her Universe Fashion Show. It allows the opportunity for geek couture to be showcased and celebrated.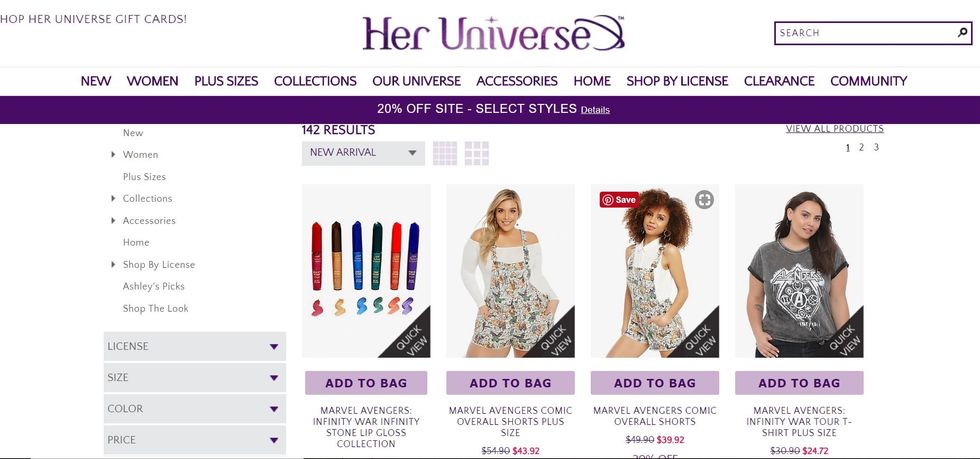 Her Universe Shop Collection Her Universe
It is these types of events that remind girls they are accepted in this community and should be proud of it. The idea behind Her Universe essentially followed the saying, "If you can't find it, make it yourself." If you have an idea, make it happen. Other sites that feature products from the community include RedBubble, Etsy, ThinkGeek etc. When you buy from these sites, it makes known there is a demand for these products, whether they are fan-made or official.

The community creators create the charge that female characters are popular. There are times where it may feel discouraging, but this is an ongoing battle. If we keep it up, we'll make it to the finish line. The women of the comic book world have come and we're not going anywhere, anytime soon.