No one can deny that the winter holidays are the most wonderful time of the year. Schools are closed, families come together, and if lucky enough, the skies flood the streets with white, powdery snow and fill the air with glistening snowflakes that fall one by one. However, as I sit here and dream about the beauty of a "White Christmas" in New York City, I am actually living the reality of bathing underneath the hot sun of West Palm Beach, Florida. For some, the hot weather is much better than the freezing cold of New York, but for me, I can't help but think of the beautiful winter I am missing out on as I tan under the sun. Don't get me wrong, I love the idea of tanning all day by the beach with a pina colada in hand and no worries on my mind; yet, there is something about winter in the Big Apple that makes the holidays so glamorous and magical. What people don't know is that the holidays are somewhat limited in the warm weather and therefore, it just shows that nothing beats the holiday cheer in New York. With so many opportunities to partake in the holiday celebrations, it may be easy to be overwhelmed, but have no fear because here are my top 10 "must-do" activities that will really get you in the holiday spirit!
10. Get tickets to the New York Botanical Gardens Holiday Train Show.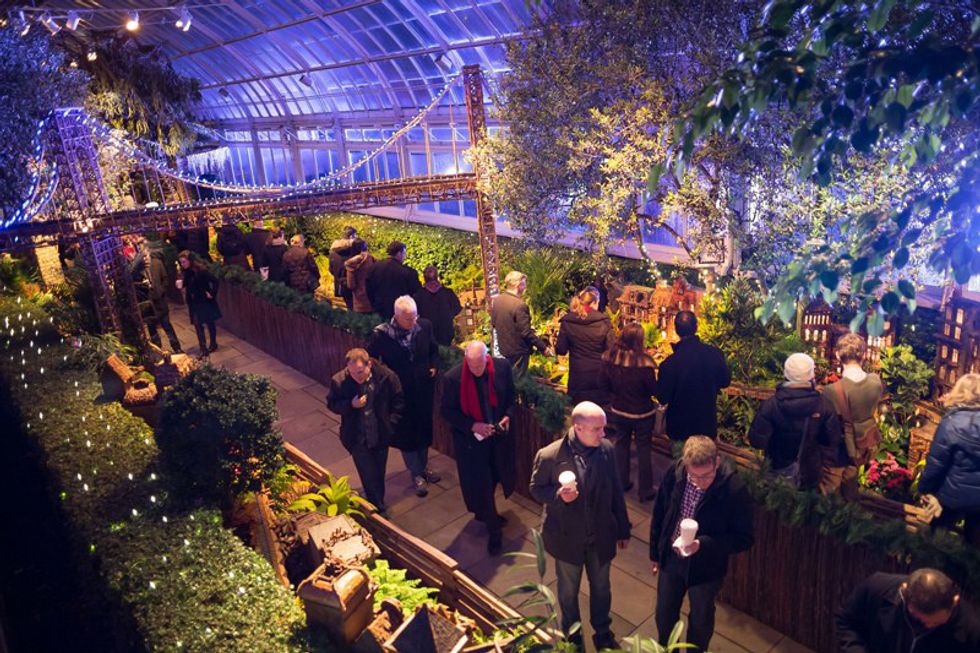 This show is amazing! All the decor is structured to resemble the most beautiful landscapes of New York City under its bright lights including, Rockefeller Center and the Statue of Liberty. Even better, each landmark is built with plants, bark, and other natural materials that will make your jaw drop! If you are going with family, this is definitely a sight to see with the kiddies as their little eyes will be mesmerized by the glamour of all the dazzling holiday decorations. However, if you are thinking about that special someone all Christmas long, grab some tickets for the evening hours where you can grab a drink (or two!) because this is the perfect romantic date for a couple!
9. Grab some hot chocolate at The City Bakery.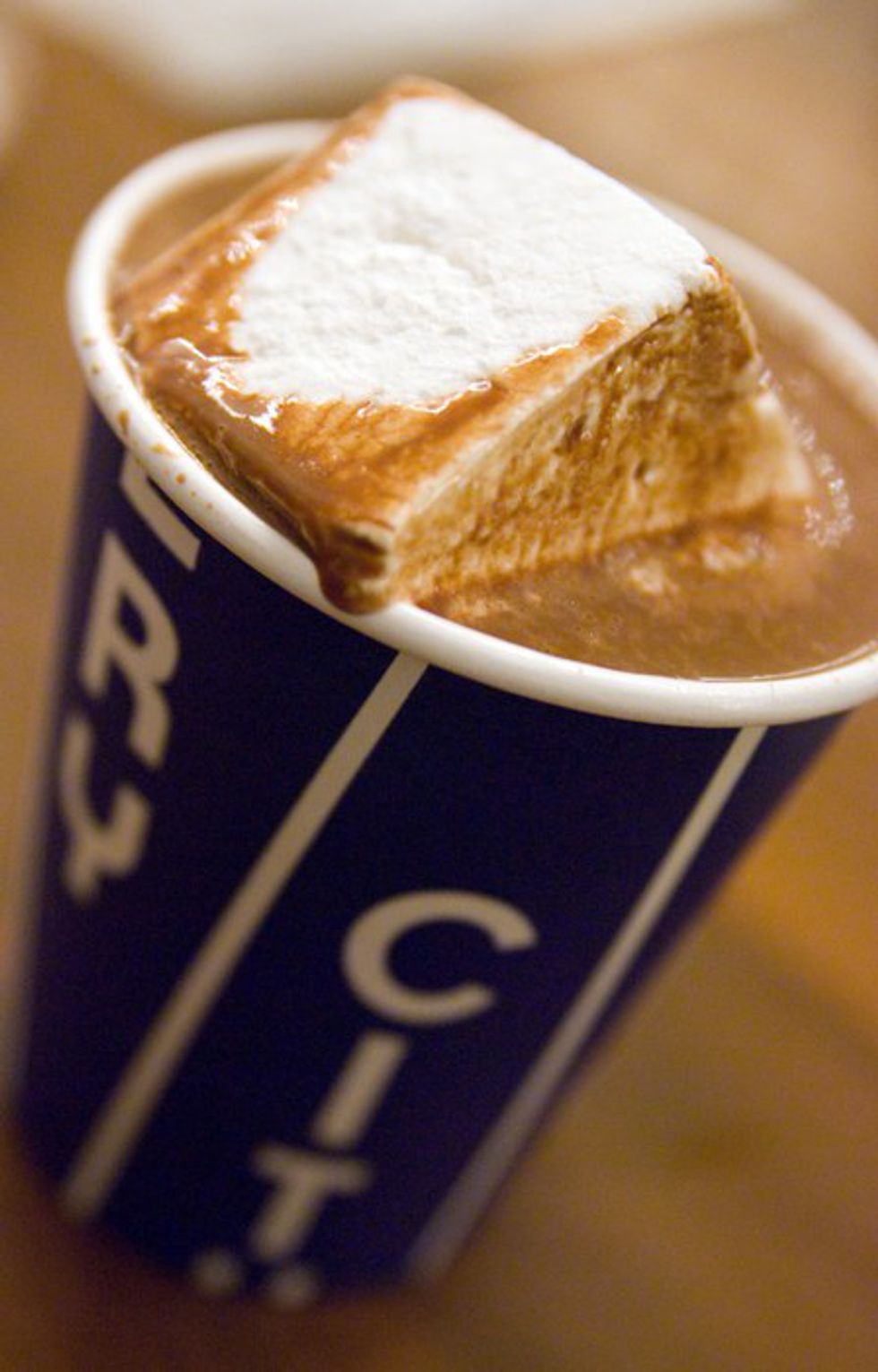 Nothing says the holidays like a steaming, yet sweet and delicious cup of hot chocolate from The City Bakery. Trust me, the winter cold can be unbearable in Manhattan, so try not to miss out on a cup of this deliciousness that is so good, it even warms your soul and makes you feel all cozy and fuzzy inside. However, if you're hungry for more, the menu has a selection of desserts that will make your mouth water just by the thought of it. Or choose a different path and hit up the salad and juice bar! Whichever you choose, expect that your taste buds will not be let down! The City Bakery will definitely satisfy your cravings for the taste of holiday goodies and just like they say, each bite is a spectacular taste of New York!
8. View Macy's decorative windows in Herald Square.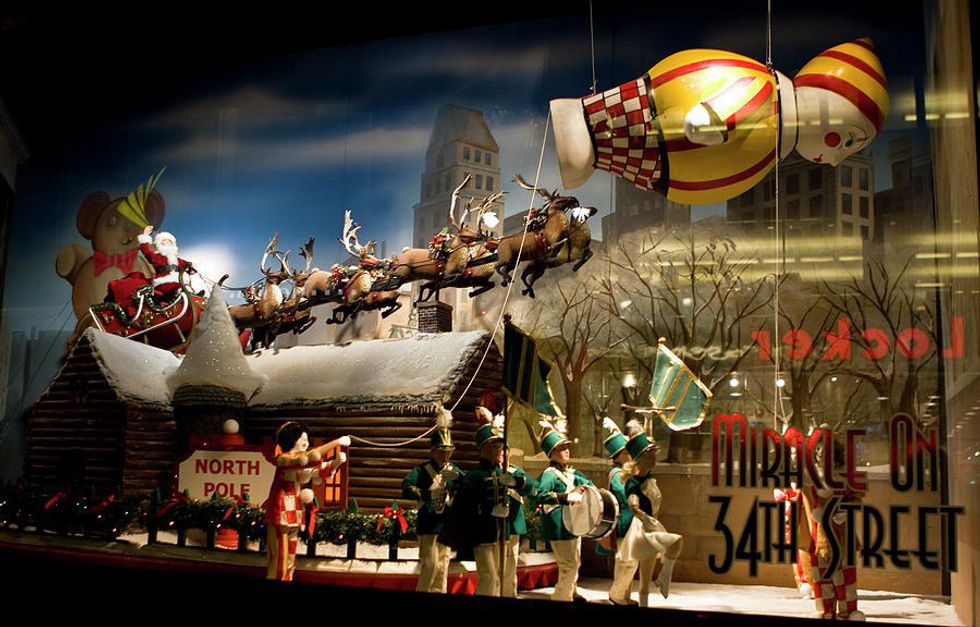 Macy's department store always knows how to celebrate the holiday season. From the Macy's Thanksgiving Day Parade to their Holiday Window Decorations, Macy's brings families together to celebrate in the joy and happiness. Once you have a glance at these merry windows, they will have you wanting to go back every year! They also change every year, so the excitement never stops! Once you're done staring at these beautiful windows, head into the actual stores and finish off some well-deserved Christmas shopping. Warning: it will be crazy crowded and chaotic, but hey, that is what New York is all about!
7. Enjoy the window displays along 5th Ave.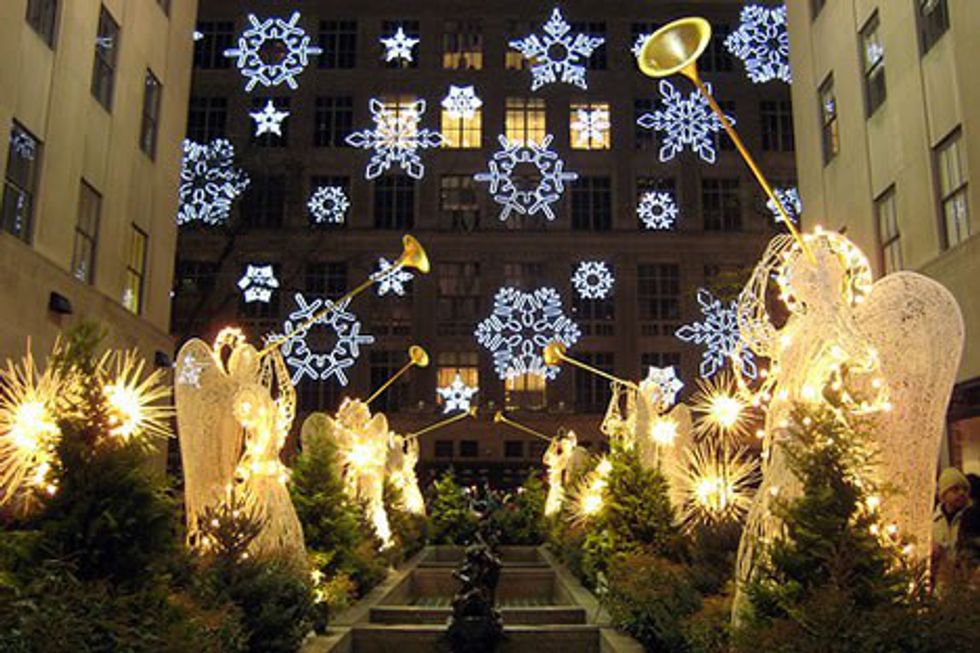 What can I say except for, Happy Holidays and a Happy New Year from the winter wonderland of 5th Ave! If you are a fanatic for the window displays, take a trip down 5th Ave and prepare to be mesmerized by blocks and blocks of holiday decorations strung along store windows, especially in front of Saks Fifth Avenue. From glamorous angels to glitzy snowflakes, these windows are the epitome of the Christmas season. Every Christmas when I was younger, my mother would take my brother and I to Manhattan to meet my father where he worked so we could visit 5th ave and look at the windows. They were always my favorite holiday tradition with my family and will forever hold a special place in the heart of my childhood memories.

6. Check out the Courtyard of the Palace Hotel.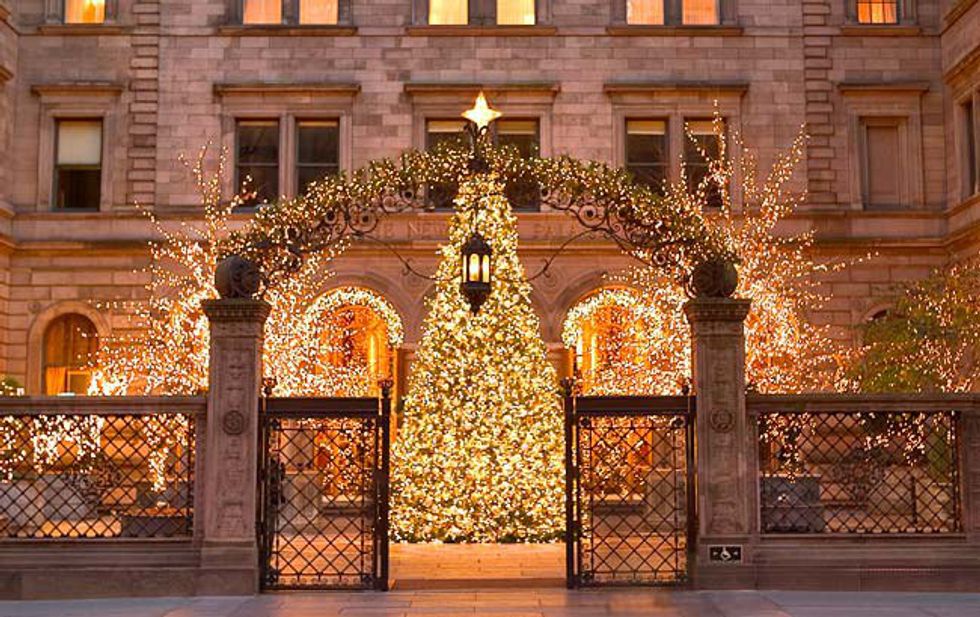 You would be amazed at how many NYC hotels dress up to PERFECTION for the holiday season. Although I would not recommend staying at a hotel (unless you have dedicated your entire savings account to this night, NYC is expensive!), I would most definitely take the time to see the Palace Hotel in all its glory. The Palace Hotel has its very own stunning Christmas tree right in the center of its courtyard. It is honestly breathtaking and will make the winter night even more special!
5. Splurge at Chelsea Market.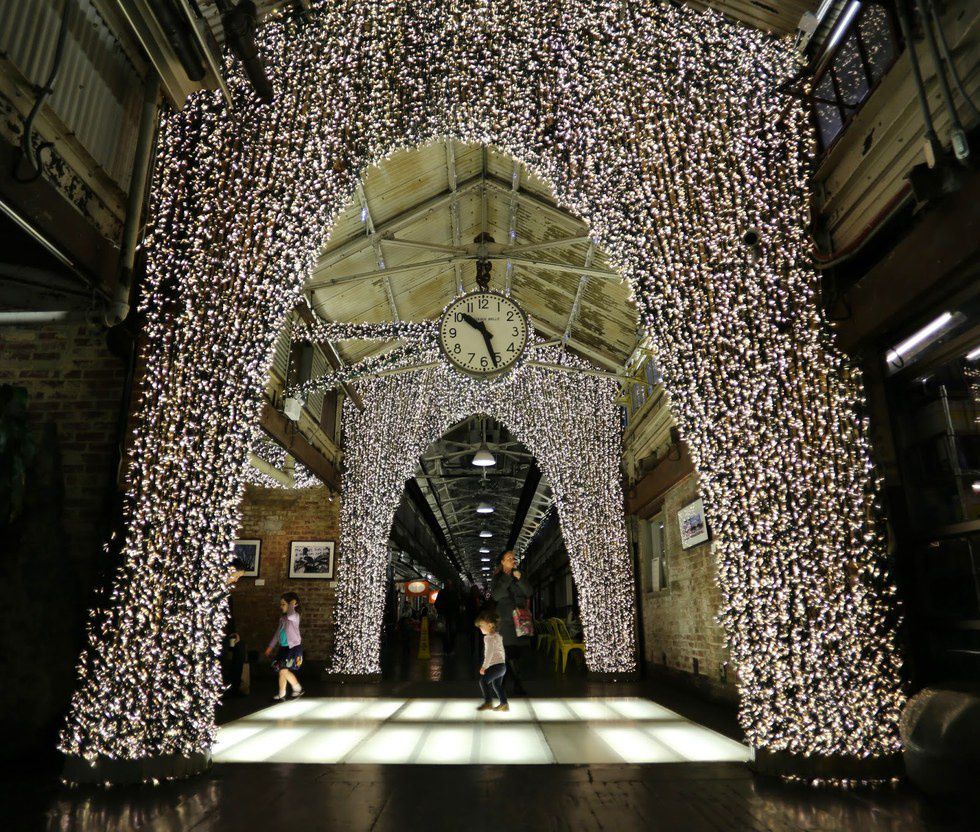 Holiday shopping never ends, especially when you are in the midst of all the holiday cheer in Manhattan. Chelsea Market is one of the best holiday markets to splurge all your money at. From vintage goods to homemade gifts, this market has everything you are looking for more! The gifts are unique, one-of-a-kind and sure to make anyone happy! And don't forget to grab a bite to eat with a variety of snacks and desserts as you shop!
4. See the NYC Ballet Performance: The Nutcracker.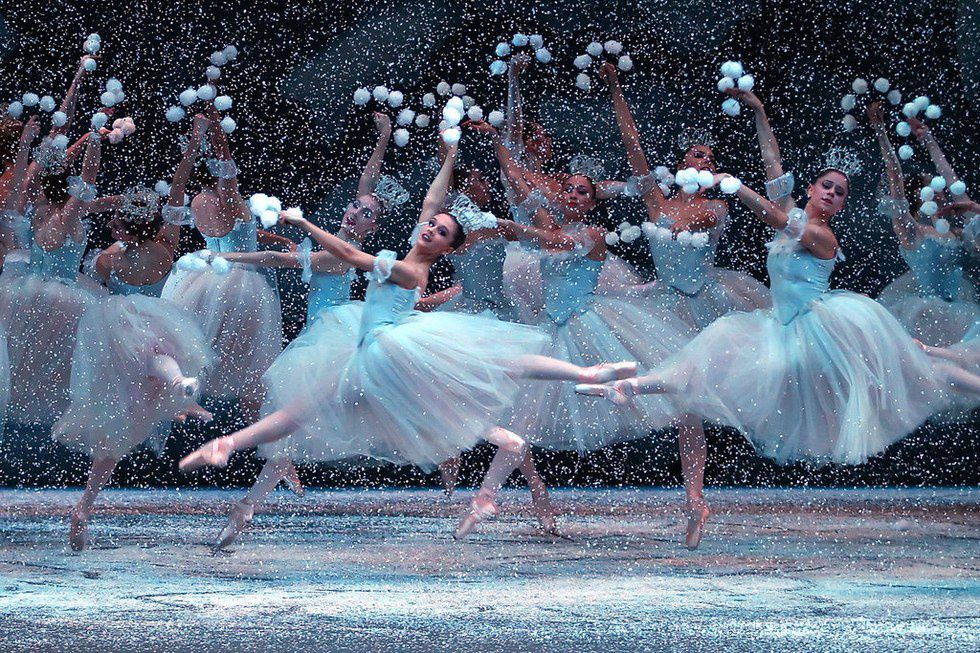 What could be more magical than a show of beautifully trained ballet dancers performing The Nutcracker? Nothing else, that's the answer! This is an amazing performance that people of all ages can fall in love with. From your niece, to your aunt, to even annoying grandma who keeps asking if you are bringing that "special someone" to Christmas dinner (ugh, the holidays, am I right?!), this is a must-see show that is both, indescribable and unforgettable!
3. Be Dazzled by the Radio City Rockettes.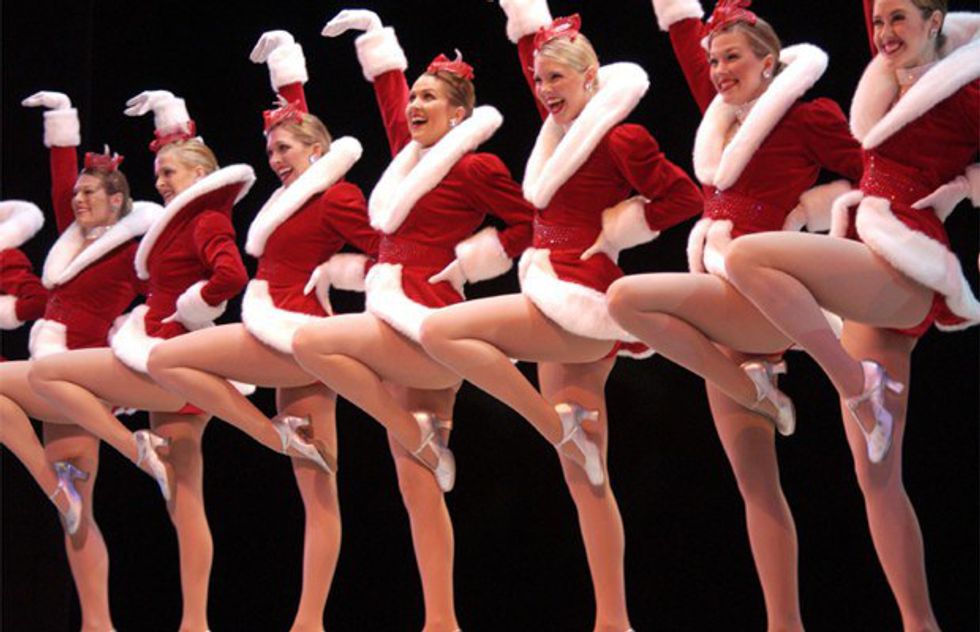 Not feeling all that spectacular in the winter chaos of NYC, well purchase some tickets for The Radio City Music Hall Christmas Spectacular and I bet you will not be disappointed! Starring the Rockettes, this is a breathtaking performance the entire family can enjoy! This show is one I look forward to every Christmas and it leaves me speechless each time. Although The Nutcracker and Christmas Spectacular are both amazing plays, if I had to choose, there is no doubt in mind I would pick the Christmas Spectacular. There is something about the Rockettes that keeps me astonished every minute of the show. Plus, what little girl does not want to be a gorgeous Rockette?!
2. Skate your way across the rink in Rockefeller Center.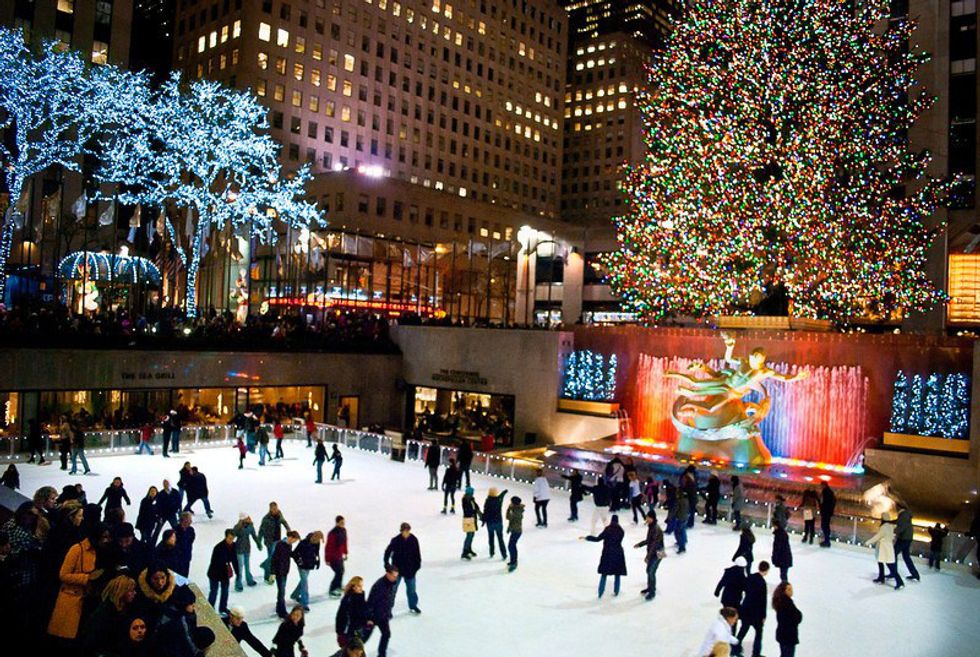 One of the most wonderful experiences is skating at Rockefeller Center! Regardless if you are an expert skater or clumsy beginner (pshhh, totally not me btw!), ice skating at Rockefeller is a magical and cheerful activity that will rally get your Christmas spirit going. It may be a small rink and on the expensive side, but for a one night splurge, it is soooo worth it because the feeling of gliding under all the Christmas lights and in the cool NYC air is one that can not be forgotten!
1. Take pictures at the Christmas Tree in Rockefeller Center.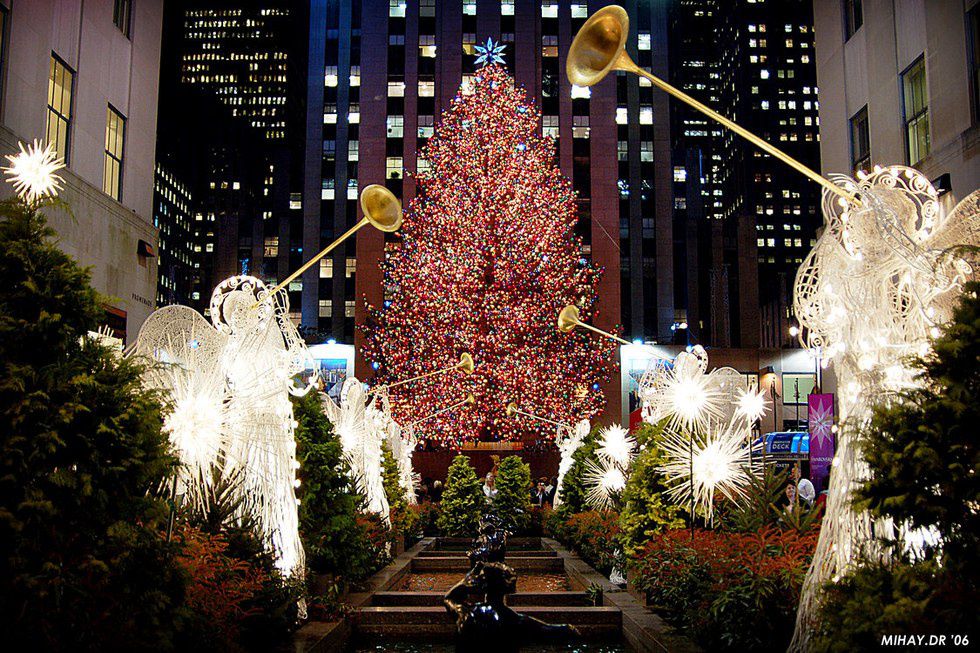 C'mon, you all saw this coming! Obviously, the Christmas Tree at Rockefeller is my number one MUST- SEE in NYC during the Christmas season. Going to NYC for the holidays and not stopping at the gigantic Christmas tree is like getting ready in the morning and forgetting to put pants on— embarrassing and just simply, crazy! If you do not stop by even for a second, you are just missing out on on the most wonderful experiences that makes Christmas so glamorous and miraculous in the Big Apple!